What's the Story: Based on true events, Dr. Francis "Frank" Tassone (Hugh Jackman) is a Long Island superintendent who is really well-loved around the Roslyn school district, where he brings a ton of levity within with his assistant Pamela Gluckin (Allison Janney). When sophomore reporter Rachel Bhargava (Geraldine Viswanathan) uncovers an embezzlement scheme at school of where all the money is going, it wildly becomes one of the most infamous American scandals in history.
I've heard so much positive buzz surrounding Bad Education this past weekend, so I gave it a watch just to see what all the fuss is about. Kind of think of it, I never watched the trailer when it dropped a month ago. This premiered last fall at the Toronto International Film Festival (TIFF), which I remembered hearing some good things about it, but didn't know $20 million for HBO Films to be the distributor. Many of us didn't even know they based this on a true story and was adapted from a New York magazine article called "The Bad Superintendent." The best thing about true stories is that it allows us to get a fictionalized look and give us a pretty fascinating drama that you can't believe actually happened.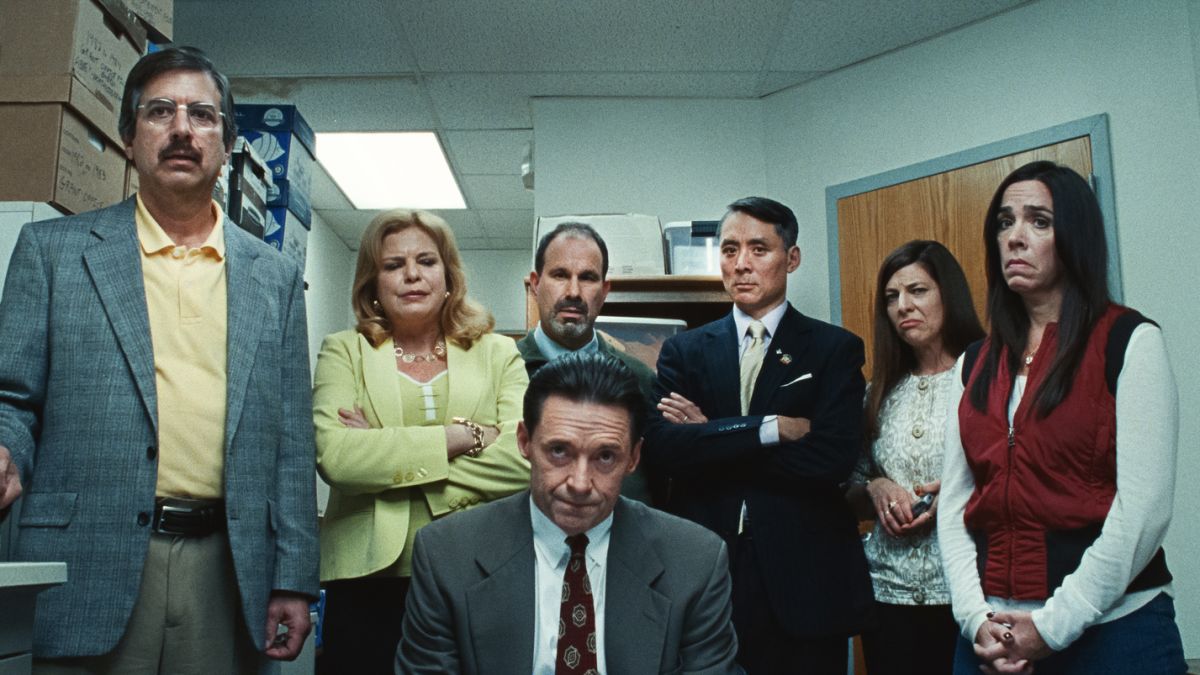 Is there anything Jackman can't do? We all know the type of performance he will give. He does a great job of portraying a character that's nice to his students and faculty, remembering details about them, and just coming off as someone with no problems in life. What we don't know yet is there we aren't aware there's another shade of him we aren't seeing. This is another movie where I didn't see him as Hugh Jackman but a real superintendent. Pushing Wolverine aside, this is right up there with his amazing performances in Prisoners and Les Misérables as one of his best roles he's given in his career that shows he has range. Janney as Pam Gluckin gives another great performance. I'm always looking forward to anything she's in, even if it's just a small role that's only a few minutes. Not in here since the Oscar-winner gave it her all. She handles all of her dramatic scenes so well when everything is about to come full circle in how this scheme started to appear. They also shared some great chemistry with each other, especially a scene where they sit on the school bleachers.
Then you got other supporting performances who did a fair job at not having any dull moment whenever they show up on the screen. One of my favorite breakout stars Geraldine Viswanathan as Rachel sets out to dig deep into her investigation of the school's finances; Ray Romano doesn't have a lot of scenes in the film, but he has a great screen presence as Big Bob Spicer; and Blindspotting's Rafael Casal shows up as Kyle Contreras, one of Frank's former students that he remembers. But out of everyone, Viswanathan is an actress to always look out for when she's in anything. Her character, Rachel, was the one who broke word about the scheme since she uncovered the truth when Tassone encouraged her to do more instead of doing an actual puff piece. 
Cory Finley makes his second feature film after directing 2018's dark comedy Thoroughbreds, which I never saw but heard it was good from my peers, and he has proven to be a prominent face in helming smaller films. Just the look of it felt like they have shot it in 2002 since I quickly noticed they shot it on film. Perfecting this as a documentary rather than a drama would've been more informative, but it still reached a high effort and keeping your attention throughout. Even more so as I was watching it, this sort of reminded me a bit of Alexander Payne's Election (just watched it last month and it's great), except the comedy in this doesn't overplay how serious of an issue of when this was going down back then.
The screenwriter of Bad Education is Mike Makowsky, who was a Roslyn middle school student when the real Tassone was arrested. This was interesting to find out somebody who lived in the area where it all went down wrote a film that isn't hard to believe. Knowing this wasn't made up was the reason why I kept watching how it all wraps out, and it was what I expected. These kinds of situations happen all the time, and it makes you look at the people who were involved in somehow very different since the impression that's always given is perfect without realizing the flaws beneath them. Learning about how much money they stole with no one noticing for a long time is beyond astounding. How would you feel if your money was being used for expensive trips or basic products? I couldn't help but felt bad for Frank or Pam during this time because they don't look like people who take pleasure in doing such a crime. My mind was wondering if my school district ever did such a thing, but probably not. The real moral of the story is don't be an idiot and take money from the school because the chances of getting caught are very high these days.
As for problems from what was keeping this from being great, it does suffer some pacing issues right around the second or third act where I was wondering what is this all going to lead to. And though Janney was excellent, I would've love to see more of her later since I felt like her character was forgotten in the middle. Just make sure you're not looking for this to be the next Spotlight or The Big Short in terms of speaking the truth out. 
It's a good thing Bad Education is being talked about now and not lost in the shuffle like most movies to come from HBO since this is one of the more original movies that's getting attention than anything else. Owned by a well-constructed script and direction, I can easily see this getting a few Golden Globe nominations from Jackman and Janney. The same goes for the Emmys since this technically premiered on television rather than it being released in the theaters. You come to realize that the relevance of it all holds nothing back in how reality sets in. It's worth the watch if you have HBO and want to be intrigued.
Overall Grade: B