Films like The Last Black Man in San Francisco is a good enough reason more people should take time out of their lives and see independent movies if there's an indie theater around your area. It's a good way of seeing certain new talents in the world of filmmaking and putting together something that could be considered overlooked in a year or so. Luckily enough, this should be something to throw on your wishlist to feel genuinely relaxed.
What's the Story: Jimmie (Jimmie Fails) and his best friend Montgomery "Mont" (Jonathan Majors) try to reclaim the house built by Jimmie's grandfather, launching them on a poignant odyssey that connects them to their past, even as it tests their friendship and sense of belonging in the place they call home.
This is the last film from last year's Sundance I haven't watched yet, and I'm surprised it took me this long to check it out. Its impression was so popular of Joe Talbot's feature debut that it won Best Directing and the Special Jury Award from the festival. The Last Black Man in San Francisco probably isn't an A24/ Plan B produced movie many heard of since it's another drama in their filmography that didn't come out everywhere when it came out last summer. I only saw the trailer once over a year ago and didn't know a lot about it. Even if I didn't love it, this is an excellent drama everybody should see.
From watching it, there was something about the story that made it feel personal. That's only to find out Talbot and Fails grew up together in the namesake city. He wrote the screenplay with Rob Richert, and if there was another movie that felt similar in its dealing with gentrification, Blindspotting would be the answer. Talbot told this story as it was like poetry coming to life in the form of feeling close to what's presented in front of us. Representing all things that people like in San Francisco and capturing the love between a man and his old house didn't appear unauthentic. For a first-time director, I honestly wouldn't even notice since his direction is ambitious in telling a story like this in a following odyssey of beauty. Whatever project he takes on next, that had to be something to experience in the theater.
The performance from its two leads, Jimmie Fails and Jonathan Majors, is what I believe was what made this excellent from beginning to end. I loved them. They had the brightest chemistry in the world, and you believe they've been best friends for a long time. All the scenes they shared are never once dull as we're seeing them through this journey together is something I wouldn't mind seeing in my lifetime. I wouldn't believe you if you told me Fails hasn't acted in anything before this, but it was, and Majors isn't an actor I haven't been beforehand. After this, seeing this in more films wouldn't bother me. Even in another reality where the film didn't live up to standards, these are two breakthrough performances that won't be forgotten after its two hours are up. Never did I thought two people riding on one skateboard was possible, but that's what you call friendship goals.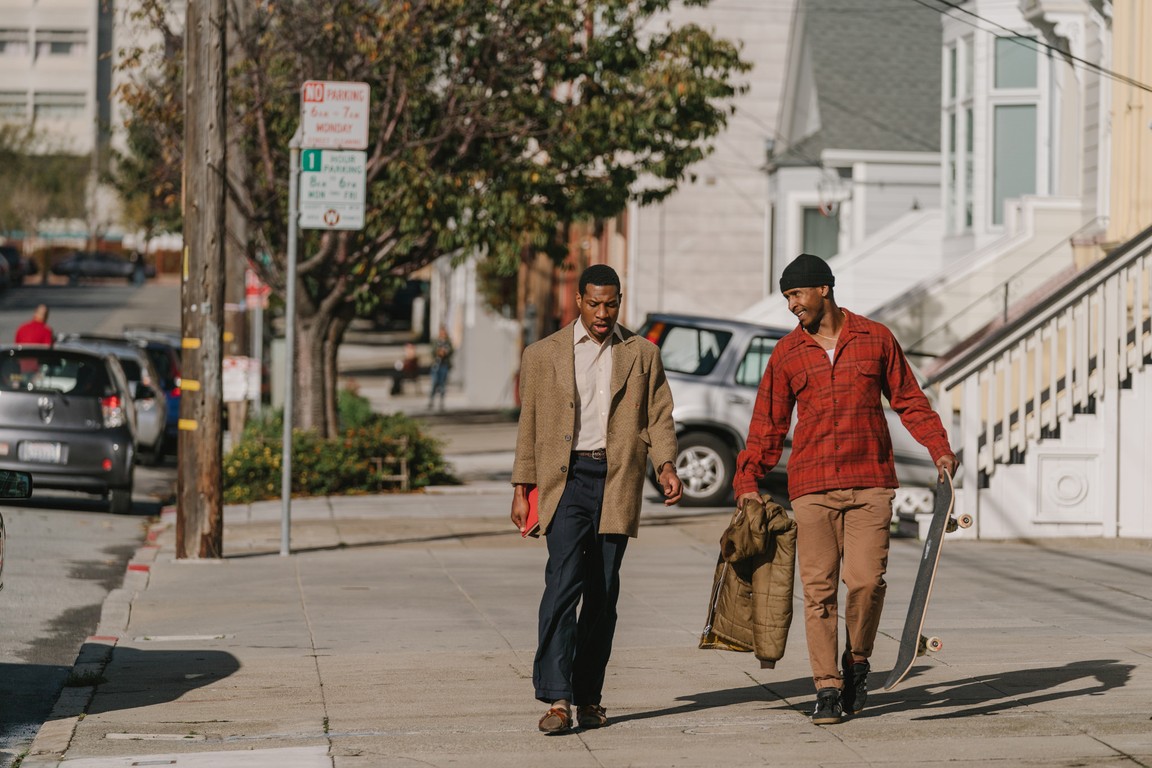 The supporting cast also needs to get a mention from the great Danny Glover, Tichina Arnold, Rob Morgan, Jamal Trolove, and Finn Wittrock. All of whom gave well-worthy performances in the scenes they provided in.
This is what you call a beautiful film from every shot with its gorgeous cinematography from Adam Newport-Berra. From the outside look of the city, to inside the house itself that I wouldn't mind living in, it was almost like looking through a dreamy portrait of someone's life. But besides the phenomenal acting and everything else surrounding it, the majestic score by Emile Mosseri was incredible listening to throughout. One of the best musical scores I've listened in a while that made me want to heart it again on Spotify after it was over. Everything technical about this was perfect.
Its honors the theme of home is important to get from the film. Seeing how Jimmie has a deep connection to this $4 million house can feel for him as well. I believe we've all been in that place in time where we reminisce about living in our old houses when we were growing up. Losing a home isn't always the best thing. Even I have dreams where the setting might be in my previous house my family lived in for nine years. For most, it's all about moving on and remembering those memories that made a childhood home special. Where is home? Is there a sense of belonging in the city? What does it mean to be somebody in a world that's changing in front of you? Not only that, but the relationship between Jimmie and Mount shows that friends are willing to help one out in accomplishing anything if they put their heart to it, even if that means finding out about that person along the way. Everybody about the film didn't have the look or feel of a movie, where I thought I was watching real people.
The only thing that almost made this a great movie was feeling like the third tended dragging out just a little. There were a couple of moments where I was thinking it was going to be the climax, and it wasn't, wondering where is this going when it gets to a theatrical play.
The Last Black Man in San Francisco is just one of those positive dramas that's very needed right now, and I'm glad to see why people enjoyed it when it came out. This probably wouldn't have made it on my best list of last year, but Talbot's ode to the city is beautifully told with outstanding performances from Fails and Majors. Seek this out because I highly recommend it to all of you.
Overall Grade: B