The Power of the Dog sees the long-awaited return of writer/director Jane Campion after a 12-year break. Most will recognize her name based on her 1993 film The Piano, for which she won the Oscar for Best Original Screenplay. However, since then, it seems her follow-ups haven't gotten the same attention. So now, she brought her filmmaking over to Netflix with her latest dramatic western based on the 1967 novel by Thomas Savage. Word of mouth has been strong with this one since its debut at Venice International Film Festival, where Campion won the Silver Lion for Direction. This did play at the Heartland Film Festival, but it was one I can wait two months. Was I ready to be in the camp of liking it rather than love it? That's the case, but that's enough to have this as the streaming service's big push for the Oscars.    
What's the Story: Set in 1925 Montana, Phil Burbank's (Benedict Cumberbatch) is a ranch owner along with his little brother George (Jesse Plemons). There's a fundamental difference between the two siblings. Phil will say what's on his mind and give off a demanding attitude to anyone around him, probably brought to him by his late mentor Bronco Henry. A quick stop at an Inn owned by Rose Gordon (Kirsten Dunst), a widow, and her young son Peter (Kodi Smit-McPhee) as Phil's behavior towards him has Rose in tears. George comforts her, leading them into marriage and has moved into the ranch mansion. Much to the resentment of Phil wanting nothing to do with them, he starts this unlikely bond with Peter in what it means to be a true cowboy.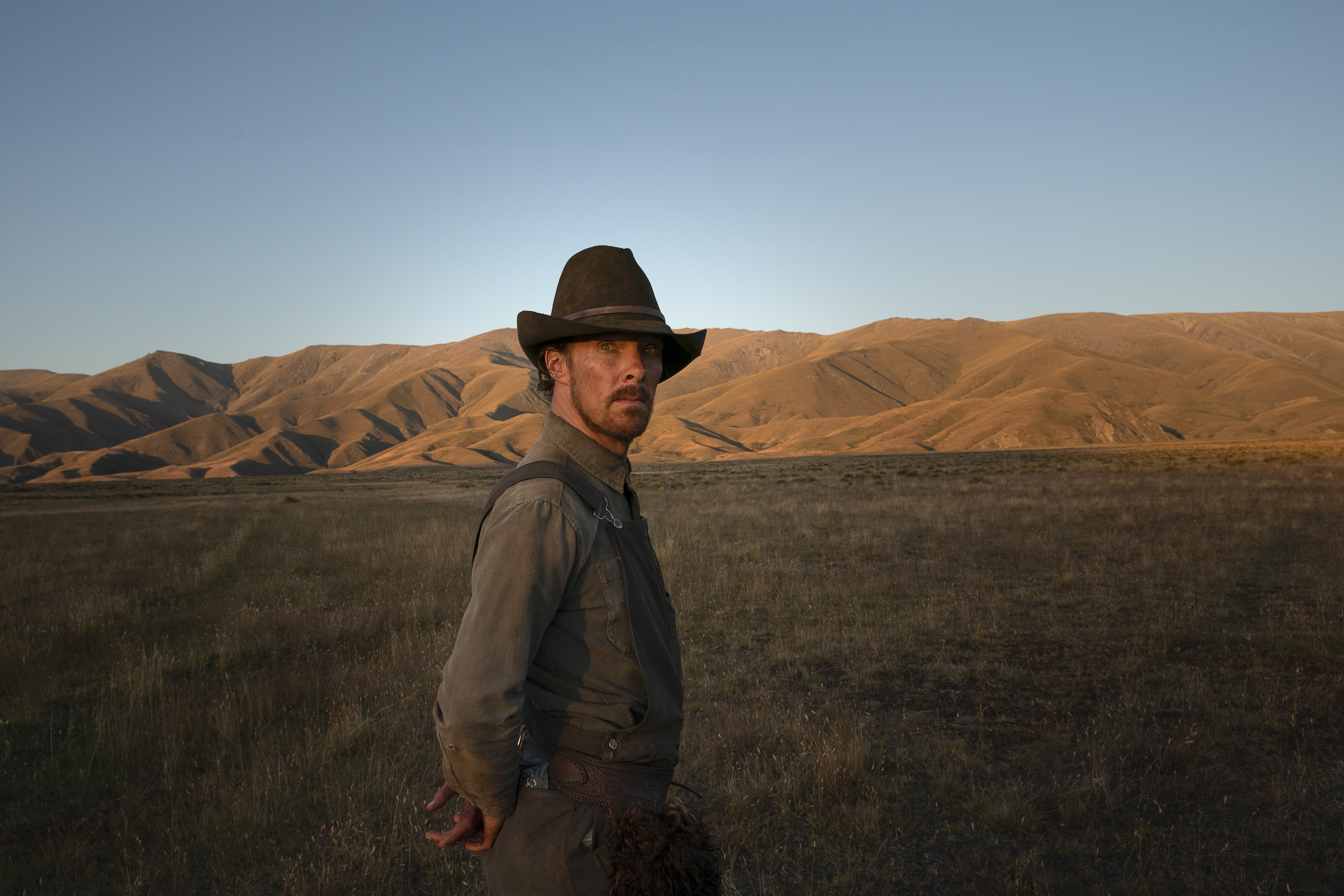 Throughout The Power of the Dog, Campion throws you into this quiet atmosphere that can sneak up on you without knowing. This stands apart from any typical western, that disguises itself as a psychological thriller, out there that will purposely challenge yourself with how it presents specific themes that'll perceive differently after it's over, and a director like her will go out of their way to give this image of the American west a hard and dirty look that won't have anybody transport to that time. And this is a film I didn't know much before pressing play and that impression still stands after watching the trailers. Those expectations of how they went about this were better than I thought. You'll find there's a lot to take in from the story that'll have you sleep on to make it unexpectedly appealing.
Nothing about this screams action when what you're getting is a slow burn. That's mainly the problem the general audience will understand since it does move at a pace one would think of with a period western. I thought that, but never boring, though the first half does take its time to get moving for an intriguing character study pulled off well enough. As dialogue-heavy it was, there's never a weak spot with Campion's adaptation that plays it straightforward, leaving any rebalance behind.
Here we have one exceptional cast that wouldn't be great with a commanding lead in Benedict Cumberbatch. But, for an actor to switch from these smaller movies to blockbusters shows the ambition he's been carrying for years with Phil Burbank his best role recently. The thing about his character is that he's meant to be this dominating, unlikeable man who evokes toxic masculinity to everyone in his sight, even his brother. Not a role I would ever think of when given to Cumberbatch, but there isn't a single moment not deserving of your attention worthy of getting his second Best Actor nomination. If nobody took Kirsten Dunst seriously before, they will now in what's got to be her best performance in a film in what feels like forever, especially when she gets more to do after the first act. To sympathize with Rose was very easy since Phil never gets her the light of day when he thinks she married his brother for the wealth. It's a problematic relationship to come by. Especially a moment where Rose's playing a song on the piano with the few keys she knows and Phil one-upping her in playing it better on his banjo.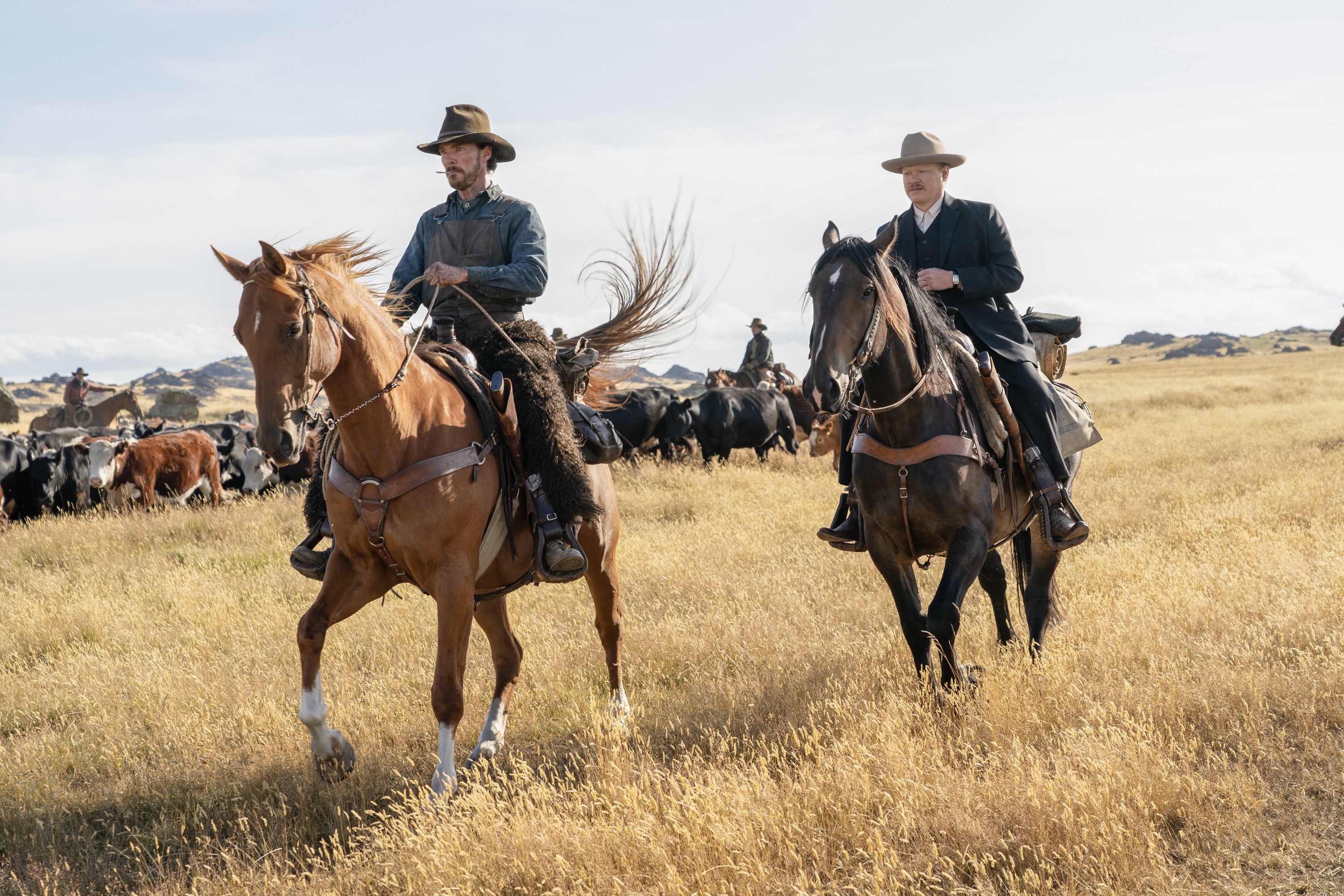 This was probably the best from Kodi Smit-McPhee (who I just discovered is Australian) when his talents weren't at all wasted. As Peter, he's this shy potential doctor worried about his mother when she resorts to alcohol, seeing Phil as a threat that requires his role to come off as subtle when he comes home from school for the summer. Phil doesn't take kindly to him when his appearances sometimes isn't exactly how a cowboy of that time would dress or how he's more effeminate than anyone he's ever met. A "Nancy boy" some might call him. So their relationship takes a turn I had planned in my head, but goes in an unexpected route that takes much of the attention riveting later on. Oddly enough, Plemons wasn't in it as much as I wanted him to be with his role of gentle George, but it's pretty nice to see him share the screen with his real-life fiancé, Dunst. 
A strength Campion brought to bring this story to life is not rushing in getting through these characters in what makes them tick and where they are during this time. Most notably, bringing some underlining homoerotic tendencies that were probably caught early on between Phil and Peter, showing this complex notion that comes from both. The beautiful cinematography from Ari Wegner of Campion's native New Zealand backdrop to fill in for Montana never feels wasted in establishing its location. And just coming off his work for Spencer, composer Jonny Greenwood continues to deliver another haunting and unsettling score that's not only his best yet, but there's also a strong chance he'll earn another Oscar nomination in the same year. The way it ended came as a surprise for me, but it could land differently with other people. Out of everything Netflix has come out this year, this will be the one that'll get the most attention during this awards season. We could be seeing nominations for Best Picture, Director, Actor, and many more. In addition, there could be a chance Campion will win for Best Adapted Screenplay, either that or West Side Story. 
In the end, The Power Of The Dog is the quiet, slow-burn western I expected. While I wouldn't call it one of my favorites this year, Jane Campion's tale of toxic masculinity is haunting and old-fashioned with career-best performances from Benedict Cumberbatch and Kirsten Dunst, respectively.
Grade: B