Since the end of the year is upon us, this is around the I find myself catching up on what to see in theaters and at home. What I'm have left to see in theaters will be a full review of them coming up soon. I've done this in the past, but this is another round-up post of me discussing a few movies I watched a couple of months ago and want to give my thoughts on them: Raya and the Last Dragon, The Green Knight, The Many Saints of Newark, and Finch.
This is the first of a few reviews that'll be like this, maybe, and it'll depend if they're worth speaking over. Either way, check out what I have to say about these four.
'Raya and the Last Dragon'
*Watched Date: October 12, 2021*
What's the Story: Long ago, in the fantasy world of Kumandra, humans and dragons lived together in harmony. However, when sinister monsters known as the Druun threatened the land, the dragons sacrificed themselves to save humanity. Now, 500 years later, those same monsters have returned, and it's up to a lone warrior named Raya (voiced by Kelly Marie Tran) to track down the last dragon and stop the Druun for good.
Sometimes, you got to trust Disney with original animations in front of them, with one of their latest in the form of Raya and the Last Dragon, that can be compared to the timeless classics of before. Its announcement piqued my interest, but it took me so long to finally watch it because I felt unsure about paying $30 on Disney+. Now watching it for free, I started to worry this would be one of the few movies from the studio to be deemed disappointing. But I actually ended up liking it, making it a fun fantasy for all to enjoy. 
I won't lie when I didn't know how to feel during its first 30 minutes where it does an extraordinary job at world-building this world of Kumunda, and it concerned me it wasn't going to leave me invested for those two hours. But I think when the prologue was over, and you now understand the journey Raya must go on, that was when it hooked me. It was directed by Don Hall (Big Hero 6) and Carlos Lopez Estrada (Blindspotting), and you can tell they wanted to have a story to resemble the golden days of Disney, where I couldn't help but be reminded of both Mulan and Moana. So we're seeing an adventure of a heroine willing to go through dangerous paths to finally make her world come with peace, which is what we should be doing in real-life. And even for a family movie, this can be considered one of the most mature animated features from them in years.
Kelly Marie Tran of Star Wars fame voices Raya. And it's not only great to see her talents put to use, but she gives so much confidence in this character to make her a headstrong and believable protagonist for its younger audience to love after it's over. And I was a little nervous about how Awkafina would fit with her character of the dragon, Sisu. But she wasn't the annoying animal sidekick I feared she would be where the pairing of her and Raya was a ton of fun to watch the whole time. Again, this has a kind of friendship bonding that my mind thought would be a take from the How to Train Your Dragon's playbook, but it wasn't; it stands on its own in its creative way.
Throughout their journey to collect all the orb pieces, they go to these different parts of the country, where they also meet some people who lost loved ones because of the Drunn. But the supporting characters were better than I thought they would be. There's Boun (voiced by Izaac Wang), Little Noi and her trio of Money-type animals, and warrior Tong (voiced by Benedict Wong) that surprisingly made me care about them when they lost families to the Drunn. And then there's Namarri (voiced by Gemma Chan), who broke a trust with Raya when they were kids and became rivals with each other as adults where it's hard to know if they'd resolve their differences without resorting to fighting.
And speaking of the fights, it's been a long time since the animators over at Disney made some impressive action sequences. The animation itself might be one of the most beautiful looking from them as it seemed almost realistic from the character designs and every location they go through. This was also one of those times where I forgot I wasn't watching a musical since it has a princess in the lead, but it's a story that doesn't require everyone to burst into song. Even with musical numbers, you still got James Newton Howard's score that's genuinely one of my favorites of his in a while as it's able to be uplifting and adventitious at the same time. You know it's a great score when listening to it is the main priority as soon as it ends.
The first act was the only time its exposition got in the ay of digging through, keeping in how to treat the characters in this world. And based on that, the predictability of it all doesn't come as a surprise, but it wasn't much better since I eventually became intrigued by how it will end. However, the makers provided their viewers with messages of hope and courage that are hard not to remember, especially for the times we're still dealing with now in the world. I forgot to mention this has good moments of humor that weren't cheap. Most of them came from Sisu and there's a funny joke of taking items from a village they visit by using "credit."
While I wouldn't call Raya and the Last Dragon one of Disney's most extraordinary outings, I have a feeling it'll grow on me in time. But I dug it, thanks mainly to its incredible animation, committed vocal performances from Tran and Awkafina, and a solid story to find fantastical and fun for everyone. Maybe it will, perhaps it won't, but there's a chance it could score an Oscar nomination for Best Animated Feature.
Grade: B
'The Green Knight'
*Watched Date: November 2, 2021*
What's the Story: An epic fantasy adventure based on the timeless Arthurian legend, "The Green Knight" tells the story of Sir Gawain (Dev Patel), King Arthur's reckless and headstrong nephew, who embarks on a daring quest to confront the eponymous Green Knight, a gigantic emerald-skinned stranger and tester of men. Gawain contends with ghosts, giants, thieves, and schemers in what becomes a deeper journey to define his character and prove his worth in the eyes of his family and kingdom by facing the ultimate challenger.
The Green Knight was a film I was planning on seeing in theaters back in the summer, but I got involved in something that caused me to have a breakdown of sorts. So months later, after it was available On Demand, here we are. For a studio like A24 to do a take on an Arthurian story to please a specific target audience, it was about time people would come to acknowledge a good one in our hands, not trash like King Arthur: Legend of the Sword. Whether it was meant to come out last or this year, this had the most intrigue out of anything they've put out. Especially with writer/director David Lowery bringing to life a poem. The last time he and the studio paired up was for 2017's A Ghost Story, which I couldn't stand watching and thought was the most pretentious drama I've observed that fall. All I know is this has to be a better experience than that, which is why I found entertainment for a film that might not have me on the love side, but one easy to admire.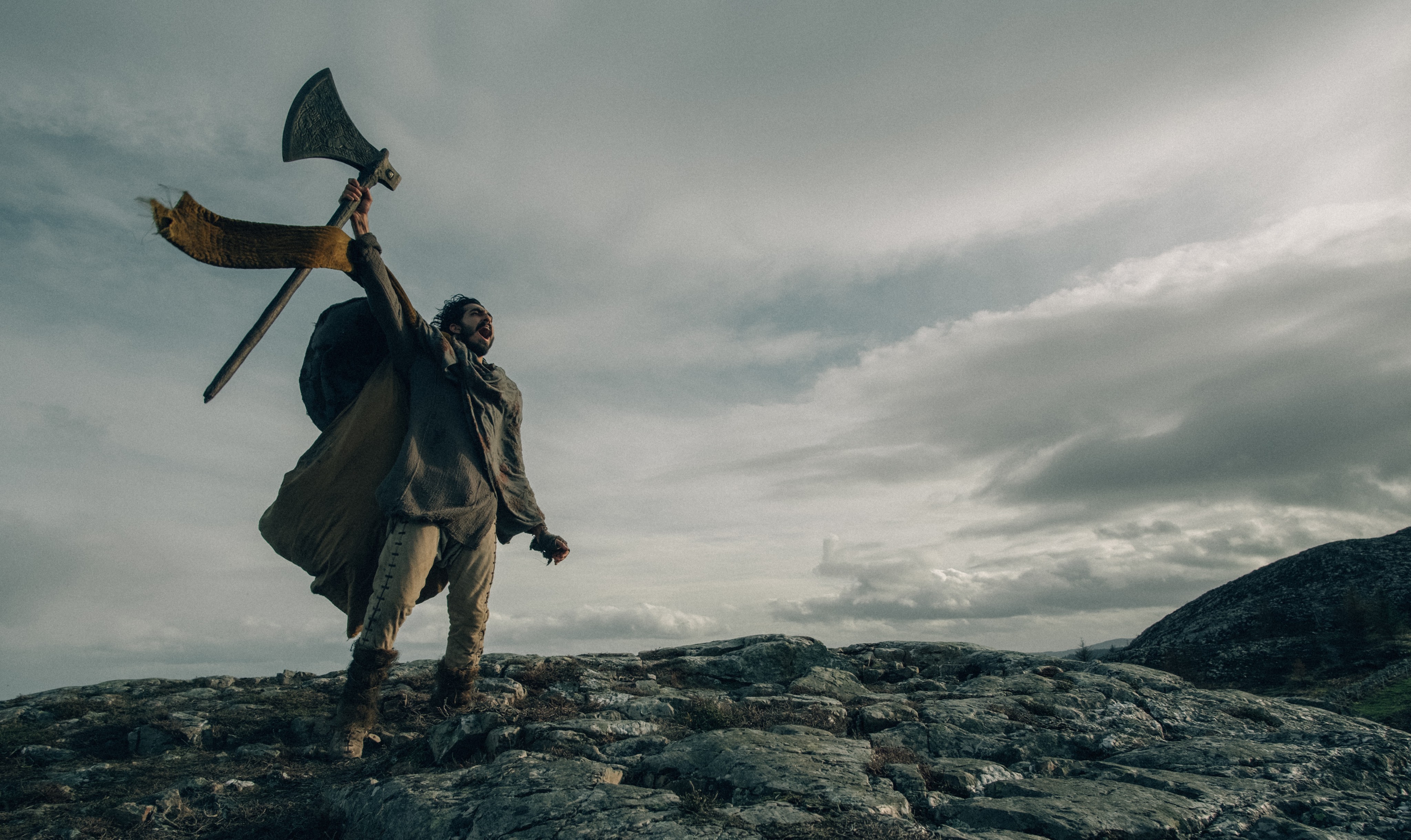 Just from watching the trailers, there was no way a film like this would be action-heavy when it serves more of a story of self-discovery, and that's what I knew right away. Right up front, Lowery thought it would be best to make this story from the past and give it that feel of being immersed with a tale, unlike anything that came before. Even people like me will quickly notice this will go in the route in many allegories and themes to catch on that I'll read all about later on. I might not have gotten it, but there's a lot for our protagonist to go through that isn't simple as getting from point A to B. Everything The Green Knight goes for is a darker coming-of-age tale showing a journey of one's worth and what it means to be a true potential knight. The style Lowery shows is that moody, atmospheric tone that can only serve this narrative that won't please everyone, but there's barely a moment here it goes for an uplifting feeling.
You're watching as if you're reading the most engaging novel to be put in front of you, and it's funny how it's told in chapters where we see Garwin comes across people that will have you question if they'll be of any help to him. My favorite one had to be with Garwin in an abandoned house which is asked for him by a young girl named Winifred, and everything in between makes for an ambitious time that's on the scale of an indie blockbuster most will fall for instantly.
Seeing Dev Patel in a fantasy-like this is strange since it's to believe the Oscar-nominated actor wants to keep away from anything big-budget after The Last Airbender proved to be a major disaster. All that said, his performance as Sir Garwin might be his very best, whereas this is a person proving to show his dedication, even if it means getting beheaded. He really carries this when I think he's in almost every scene and his performance will have us thinking if we're worthy of becoming who we're really destined to be in life. And while the supporting cast doesn't have a ton to do with their characters and screen time, Barry Keoghan, Alicia Vikander, Joel Edgerton, and Sean Harris made their presence welcome. 
Technically, it would be nonsensical not to call this film so beautiful. I wish I saw this in theaters since it would've been amazing seeing Andrew Droz Palermo's cinematography on screen when you can't help to find them striking in a Blade Runner 2049 kind of way. Daniel Hart's haunting score gets the mood in this world when needed, and the use of visual and practical effects wasn't that distracting, except a CGI fox that required more work. But the character of The Green Knight, played by Ralph Ineson, looked great when it wasn't even CGI when filming. 
Just know beforehand this goes that slow-moving fashion. Some probably didn't even notice, but it did for me since the slow pace couldn't keep the balance of intrigue to the story. It fits well with how this wasn't the romanticized King Arthur shown before, but I wouldn't go as far as saying it was boring because it wasn't. Sometimes most shots stay on for too long, though this could change when it's time to give it a rewatch. And watching the ending will split some, and it was growing on me as it was reaching its climax where I've come to be surprised. That whole ending could've been its own short to be captivated.
Overall, The Green Knight carries through its slow pace with ease to consider this an entertaining watch, though it won't be one to recommend to everybody highly. And while I might be the only one who wouldn't call this one of my favorites this year, David Lowery's medieval fantasy is flawlessly stunning to capture this Arthurian adaptation. Again, absolutely divisive, but that shouldn't come as a surprise for many.
Grade: B
'The Many Saints of Newark'
*Watched Date: October 24, 2021*
What's the Story: Young Anthony Soprano is growing up in one of the most tumultuous eras in Newark, N.J., history, becoming a man just as rival gangsters start to rise up and challenge the all-powerful DiMeo crime family. Caught up in the changing times is the uncle he idolizes, Dickie Moltisanti, whose influence over his nephew will help shape the impressionable teenager into the all-powerful mob boss, Tony Soprano.
It's been quite a while since a movie was based on a famous HBO series. Though everybody wants to forget about the Sex and the City movies and Entourage for a small group of people, The Many Saints of Newark will probably be pleased by longtime fans of The Sopranos. Admittedly, I still haven't watched the show. The Sopranos was one of the few I planned on watching this past summer before the movie came out, but there wasn't enough time. Still, I've heard nothing but glowing things about one of the most incredible television series ever made.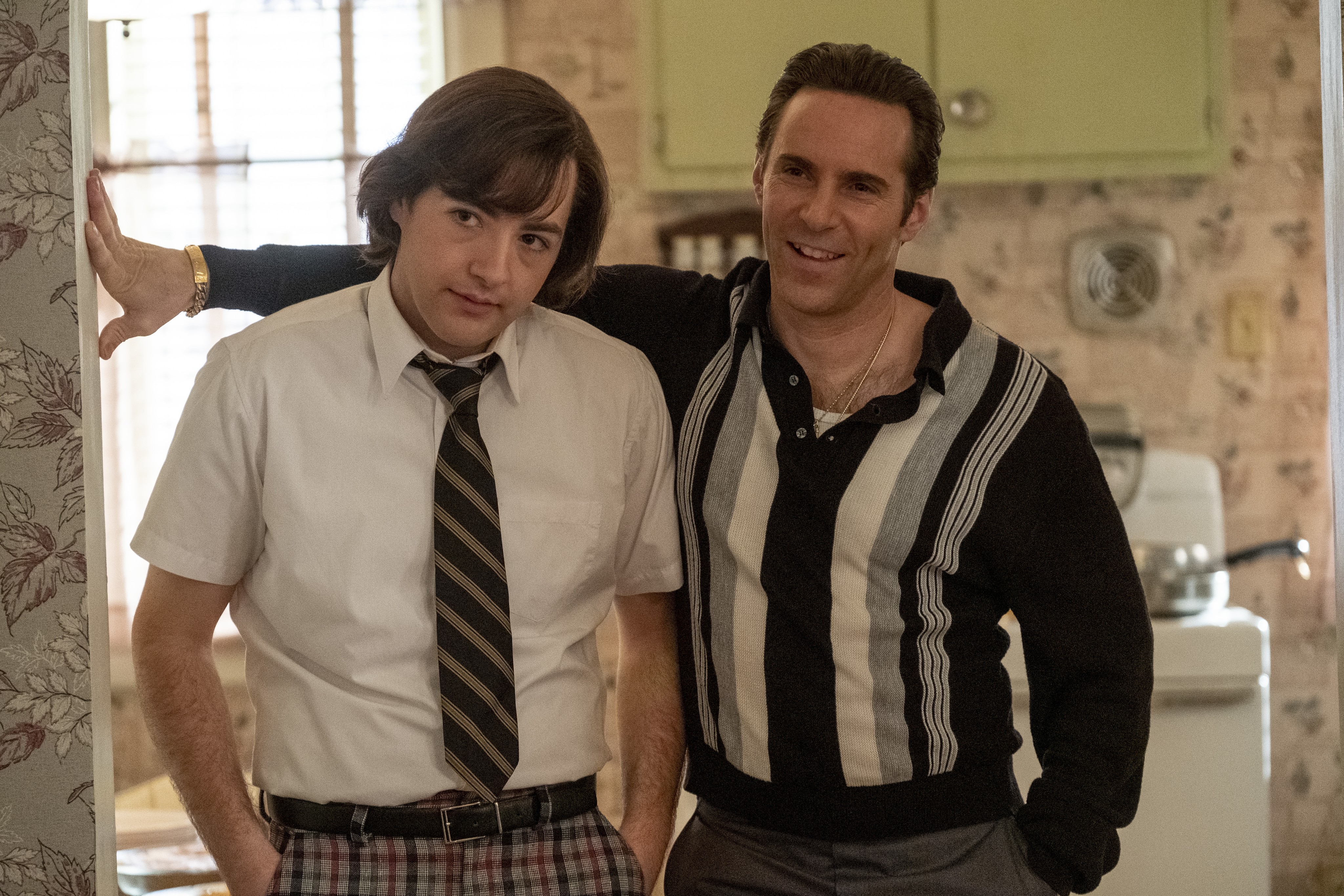 That said, I was still pretty there was not only a movie, but it'll serve as a prequel to how Tony Soprano first became legend. Not many mob movies have come out lately, and despite never watching a single episode, I still wanted to be enlightened with bringing what fans loved before. With that, I felt indifferent about The Many Saints of Newark.
The general idea going into this based on the trailers was thinking this would be all about Tony. They mislead the viewers since it's focused on Dickie Moltisanti rather than the rise of Tony. By that, I didn't mind too much if that was the choice. It plays out into familiarly to give what people loved about David Chase's series in exploring the life of someone in the mob. Though it was handled excellently in something like Goodfellas, some parts really interested me and other parts that leave the story muddled with its many subplots. Alan Taylor behind this already had me caution. Even though he actually directed nine episodes, he still hasn't been convinced he has a good movie under his name with after Thor: The Dark World and the horrible Terminator: Genysis. I can easily say this is his best film that had its feet in the air, for the most part.
What you think about Chase and Lawrence Konner's script and their involvement with the show itself, it's a surprise figuring out how much it elevates its time to other characters and side stories that aren't important to remember, and it would be easy to pull this off and strength it into a miniseries instead of condensing everything into a feature-length movie. Rather, most of the time, I forgot I was watching a Sopranos movie when this could've been any straightforward crime drama that stands on its own without the recognizable characters. I also didn't pick up on the nods to give off those fan services moments, but fans will get them quickly.
The best performance that carried the movie on its shoulders is Alessandro Nivola as Dickie Moltisanti; he's basically the lead to follow the drama and challenges of being part of a crime family. Nivola wholly owns the character of Dickie that makes him unexpectedly compelling. Those who've watched the show said this was somebody Tony always talked about in the show. We also have Michael Gandolfini playing his dad's iconic role, which I thought was a fascinating choice. Even though he's sidelined as a supporting character, he gives a nice performance when he looks like his late father, and it's a young character who looks up to his uncle. Everybody else ranges from good towards Ray Liotta, Jon Bernthal, and Corey Stall to mixed feelings from Vera Farmiga to Billy Magnussen's lousy performance as a younger Paulie Waulnuts. Leslie Odem, Jr. as Harold McBrayer, Dickie's former partner, is good too, but even his character feels forgotten about and doesn't know how to wrap his arc up.
Sometimes it's hard to make a prequel work, especially from a popular property. So it's understandable The Many Saints of Newark will work for many people and lukewarm for others. This left me feeling this was just okay; not the most groundbreaking drama to ever live. As I said, it would be better as a miniseries where young Tony would explore more. I won't mind a potential sequel if it's better executed. It's a film I can watch once and won't desire to view it again.
Grade: C+
'Finch'
*Watched Date: November 9, 2021*
What's the Story: After a massive solar flare destroyed the ozone layer, turning Earth into an uninhabited wasteland, scientist Finch Weinberg (Tom Hanks) is one of the few survivors to keep himself safe along with his dog Goodyear and a robot helper named Dewey. He's been working on a robot companion that'll take care of Goodyear once Finch is gone. With the android giving himself the name Jeff, all of them embark on a journey to San Francisco in their motorhome when a storm is approaching their area of St. Louis.
There was a new movie on Apple TV+ featuring the lovable Tom Hanks, and it barely got any attention last month? Well, if you're looking to stream a post-apocalyptic drama with shire hope of optimism, there won't be harm here. Finch had some interest, especially when it was initially titled BIOS and set from Universal Pictures. But I didn't know how this would be since the trailer didn't grab me when this could end up as another unmemorable movie holding similar traits to others. Nevertheless, I found myself thinking positively about this by the end, to my surprise.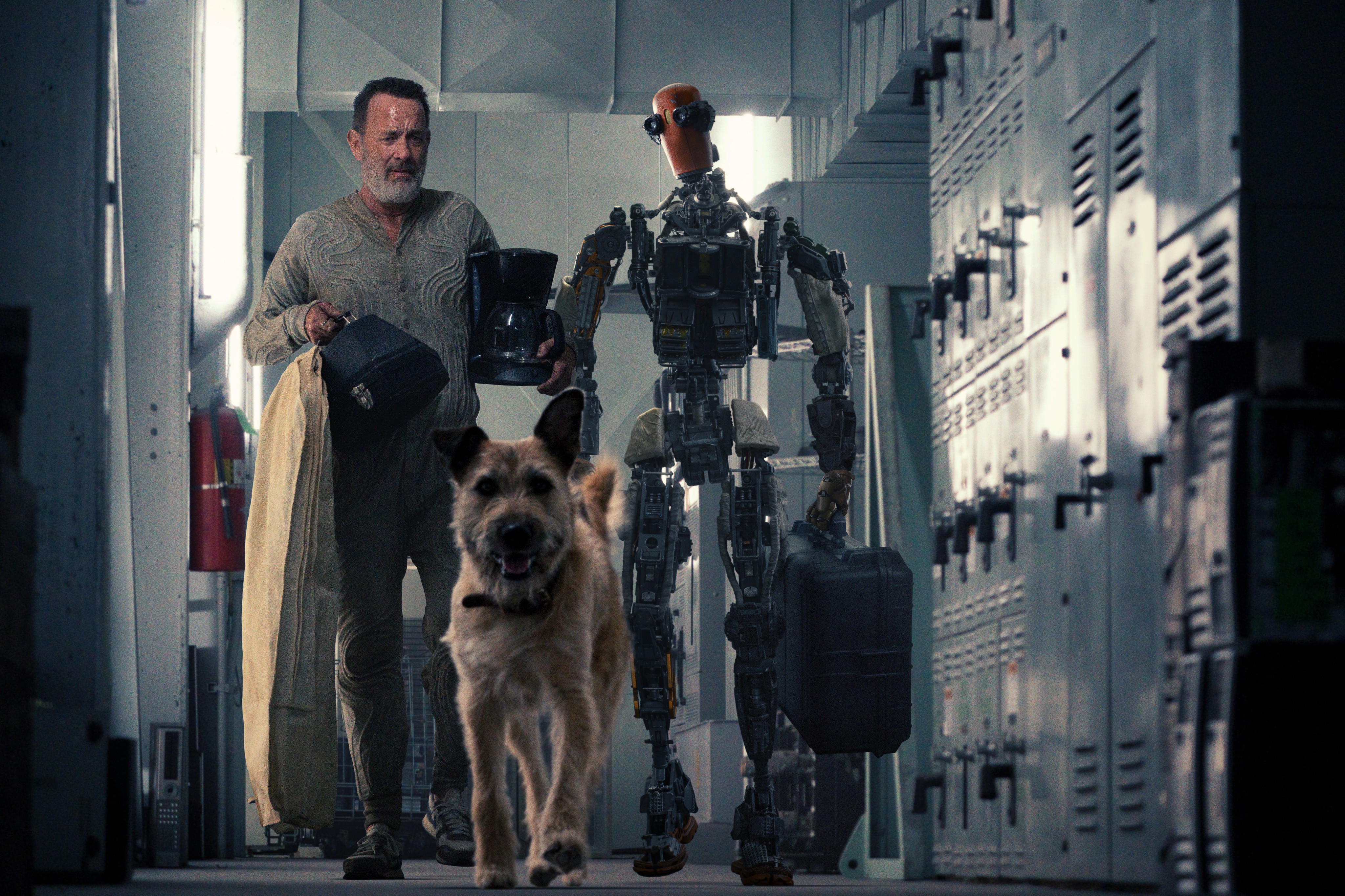 Many movies have been out about the future or the wasteland of humanity. Finch isn't the one that's destined to be a cinematic game-changer, but it's all about the journey of what goes on here. Unfortunately, there isn't much context about how everything came to the way it is, and that aspect could've been delved into more. But it's an original premise I could've sworn was based on a graphic novel or something. Directed by Miguel Sapochnik, who did Repo Men and my all-time favorite Game of Thrones episode "Battle of the Bastards," he knew what he intended to make is a road trip movie not become tedious, and it doesn't matter when a trio consisting of a man, his dog, and a robot. Who wouldn't follow them? If the latter was actually good, it does play itself out as a mix of Cast Away meets Chappie. 
Tom Hanks is really the only human here, and he's no stranger to being in films that test his survival skills. I still haven't seen a disappointing performance from him, which isn't a surprise. His role as the titular Finch is significant as this likable, smart guy trying to survive. It's even more impactful when this relationship with Jeff proves to be ultimately touching. Speaking of which, Caleb Landry Jones was equally great as the lovable Jeff. That could've easily been an annoying character to chare the runtime with, but you have to look at this robot like a child learning about the world for the first time, and he might learn what it means to be human. And it can't be a survival tale without the accompaniment of a trusty dog, who I wouldn't mind keeping me safe. They're the only characters seen throughout that don't fall short of not being compelling since you're able to care about all of them, hoping nothing harms them to their destination.
The visual effects work exceeded my expectations for how great the motion-capture Jones performs throughout, where I wouldn't even know that was somebody in a suit and not just a made-up CGI thing interacting with Hanks. It does follow familiarity and not having that many stakes along the way, but what this ends up being is a heartfelt film that says what it needs to be said when it comes to representing hope for those around you during these times. Trust me, the last 20 minutes will be touching where you're glad it didn't become forgotten.
Finch isn't the most pivotal post-apocalyptic sci-fi we've seen, but it certainly impressed me by how invested I was watching this. Surrounded by the unexpected heart the story has going with great performances from Tom Hanks and Caleb Landry Jones, and it's a surprise for me.
Grade: B