I've always wanted to see a movie where Muse's music is involved all the way through. One can dream. While Hollywood won't have the mindset to make that a reality, the band has graced the world by releasing a concert movie in IMAX based on their 2018 album Simulation Theory. Since the pandemic and theaters have been closed for months, feeling like we've all been caged in simulations, this was the first movie I've seen outside my house since March, and I honestly wasn't going to miss Muse: Simulation Theory, even if it will be released digitally in the next few days.
What's the Story: A team of scientists as they investigate the source of a paranormal anomaly appearing around the world. Blurring the lines between narrative and concert film, virtual and reality, Muse's most theatrical tour to date launches the viewer through a supernatural spectacle, questioning the world around us.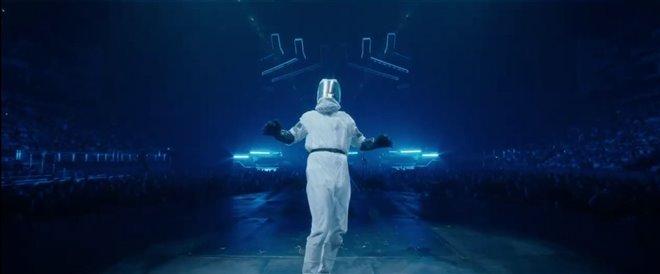 Besides movies, I love music- especially in the rock or alternative rock genre. No other band has made my love for it clear than Muse, as they've been my number one favorite band for almost a decade. They are the many groups for making me love rock for this time with their fuse of space and alternative rock. The English band consisting of lead singer Matt Bellamy, bassist Chris Wolstenholme, and drummer Dominic Howard just has this sound that never leaves your head after listening to any of their fantastic music, spanning from their eight albums. Bellamy announced a concert film was coming out in the summer during an interview with Apple Music. What did I think? Let me have it! I wanted to see them live in concert when they were in Chicago last year, but I couldn't make the drive. Thankfully, the IMAX theater at the Indiana State Museum was going to be playing it there for only three days. This was something I couldn't pass on for being the dedicated fan I am.
Directed by Lance Drake, who's responsible for directing many of the band's music videos for this album, it was filmed at The O2 Arena in London on September 14 and 15, 2019. From what Drake said on the band's site, he said, "the goal for Simulation Theory was to capture the scale of the electrifying live show and to expand upon its connection to the DNA of the world we built for the past three years in music videos for Muse. In a strange turn, the film's alternate reality eerily started to mirror our own." It's safe to say it worked. We don't see a ton of musicians transition into films, or at least those that aren't pointless.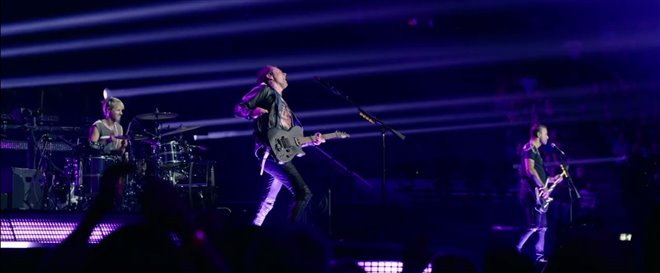 When discussing a concert movie, I've only seen a few of them, and it's a major embarrassment how two of them at a young age: Hannah Montana and Miley Cyrus: Best of Both Worlds Concert and Jonas Brothers: The 3D Concert Experience. But similar to Metallica: Through the Never, this also has a narrative to go along with the concert footage. It makes sense when it comes to Simulation Theory. When I usually listen to it in-full, I always thought there was some kind of story to string along with the music. Bellamy stated this was going to be their version of Pink Floyd's The Wall, which has its fans and detractors. Following this fictional sci-fi story won't be the most memorable aspect of the entire thing, but it's still cool since it's all about this team trying to stop this virus from spreading around the world. How strange is it we are currently living in a world where the same thing is happening, hoping anyone of us wouldn't be in a "Thought Contagion?" A song like this is more relevant now more than ever. If only listening to their music helps make the world better and we'd live in a better place.
Though the album received mixed reviews from music critics (which I don't understand), I feel it's underrated since the concept this time around was being influenced by the '80s and science fiction. Also, considering this and Imagine Dragons' last album was released on the same day is a day worth remembering. It's a beautiful and original sound they experimented with. Even the unique music videos have this visually pleasing look to all of them when combining them with the futuristic vibes it brings.
With talking about everything else with the concert portion of the film, you get this sensation of feeling alive when the band is playing on stage. TThe goosebumps were already starting with the introduction to "Algorithm" (Alternate Reality version). The overall sound is incredible, despite sounding different from what I hear through online and on my phone, and the staging and production value inside the arena were visually pleasing when it just fits their style of music. You know you're a loyal fan when you're singing along to all the songs while performing, feeling like you're part of the humongous crowd of people in the arena. It's a good thing I had my mask on the entire time, and the audio was loud enough so many can hear me. Plus, it was such a good feeling hearing Muse's music in not a terrible movie for once in my life (Hellboy, 6 Underground, The Twilight Saga). From "Pressure, "The Dark Side," "Uprising" (My favorite)," to "Supermassive Black Hole," I was feeling the energetic atmosphere throughout the theater with its loud booming sound. Bellamy has the voice of an angel. Bellamy has the voice of an angel. That might sound weird, but no one has vocals as he does. There was one guy on the auditorium's left who was having a good time when I looked over a couple of times.
The scenes were intercut with some visual storytelling we haven't seen before and some scenes from their music videos. At this point in life, these guys should be doing a musical score to a movie.
Going into the negatives with what I didn't like about it, the story itself was fine. I feel more people will be more invested in the concert footage. I also expected to hear a few songs that I've heard they played at their previous concerts, so it might've been a time thing since this was only 90 minutes. And it sort of ends abruptly where I didn't know if this was going to conclude in the typical way these movies are, but since there's a story behind it, it was something I need to know more about, for some reason.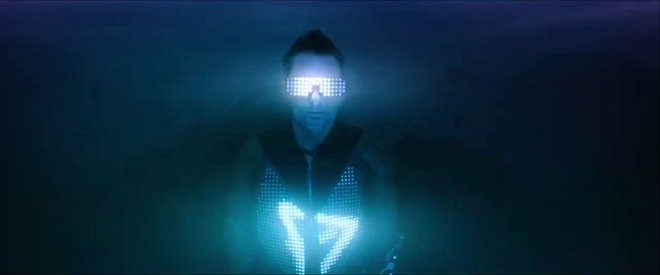 Did I have a great time with Muse: Simulation Theory? Absolutely! This is what you call an experience. Even though it's on a huge IMAX screen, you still feel very immersed with the story and feeling like you're at the concert. Like I said before, I was practically singing and tapping my feet through every track, and there's nothing to be ashamed about. Since this was only for a few days in select theaters, it's a good thing it will be available very soon so you can rock out with this sweet band.
Grade: B+
Top 10 Muse Songs: