Writer/director Trey Edward Shults makes his third feature effort with his recent family drama Waves. If his name sounds familiar, he's responsible for directing the very divisive horror film It Comes at Night in 2017.  Many moviegoers were let down by it when it was more of a psychological thriller than straight-up horror. Misleading marketing? Sure, but I guess I'm in the minority by saying I enjoyed it. His latest surely tackle how we deal with problems that come on horizons with ourselves and overcoming with what life brings in the unexpected.
What's the Story: In Southern Florida, Tyler (Kevin Harrison Jr.) is a high school athlete living with his African American family- his father Ronald (Sterling K. Brown), stepmother Catherine (Renée Elise Goldsberry, Hamilton), and his quiet sister Emily (Taylor Russell)- are living as the family that deals with keeping one another succeeding in life after a tragedy occurs.
Waves was a film I was eager to check out when the first released online, but it was only playing at the art house theater in town, and I was going to try my best to see it since I got out of school. The bummer was that it only lasted one week and was taken off. It seems unfair, especially when most A24 movies expand to my area about a couple of weeks after. Besides the point, this has been getting positive reactions outside of the Telluride Film Festival and Toronto International Film Festival, respectively.
How Schults shows us how this family dynamic is portrayed didn't go down the predictable route and seeing how when one thing goes wrong, these situations could lead to everything else not going the same way in life. There was some backlash about how a white filmmaker is depicting a black family and its struggles. That didn't bother me at all. Drew Daniels' cinematography with the usage colors was beautiful to the point of taking my breath away showing the unexpected gorgeousness of Southern Florida. An interesting choice of direction are  360° shots whenever a character is driving and being aware of their surroundings.
The performances were excellent from everybody. Two of the biggest standouts of the film were Harrison Jr. and Russell, respectively. This is the second time Harrison has worked with Edward Shults since they previously worked together in It Comes at Night. While his character progression I wasn't a fan of, him as Tyler brought this emotionally and deeply rooted side of him that was unexpected. He was another film in 2019 indie called Luce, which I didn't see, but I'm excited to see him in other projects.
Russell, on the other hand, impressed me. The only other movie role that I recognize her was in Escape Room from a year ago, but her talents are well-suited here when the story centers on her for a little. Sterling K. Brown as the patriarch isn't a performance that's Oscar-worthy, but I might come around to understanding his role if I think about it more.
Rounding out the cast is one of my favorites Lucas Hedges appearing later on sharing some screen time with Russell, and Euphoria's Alexa Demie playing Tyler's girlfriend Alexis, and she does a great job working alongside Harrison.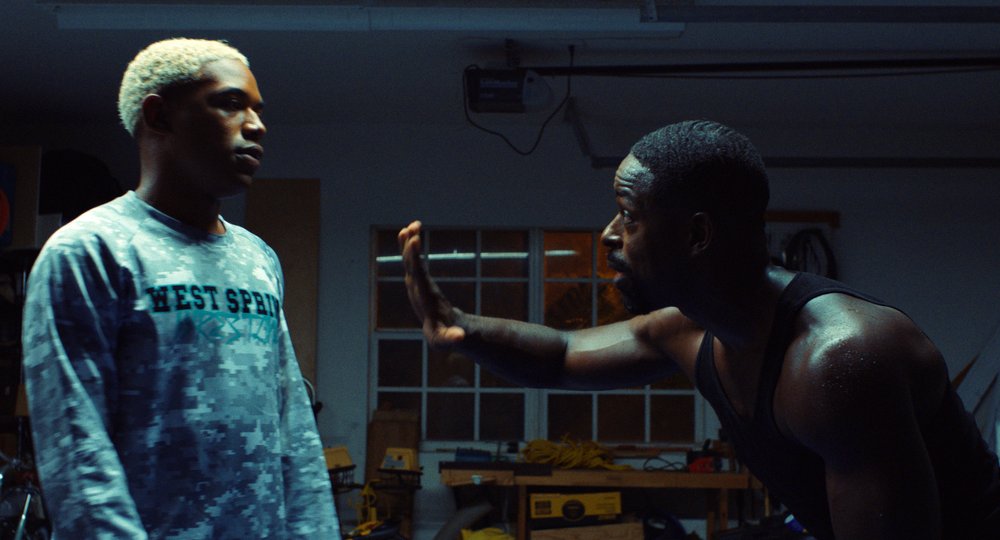 I feel though the story was why I didn't have the same reaction of loving it like everyone else. I didn't know what to expect from this since most of the plot and the trailer gave nothing away. Essentially, Waves turn into two movies: The first half that's harrowing; the second half slows its pedals down a bit. The latter half of the film is where I enjoyed the most. I can't say the first act was a gut-punch from what everyone else was thinking.
There was a point where it totally surprised me that will affect the characters, but it almost left me in anger for a decision someone made. There were some aspect radio changes between acts that I don't fully get when I thought it was going to be at one rate the entire time, but at least it has a point where Lucy in the Sky has them for no reason. I completely understood what the entire film is trying to convince, though it isn't something that will be an attachment to be. How a certain tragedy is like a ripple effect on a family shows that it's hard to fully get when it might come as a surprise, seeing how we all need to heal and move forward with our lives.
This feels like a little like Moonlight, where it's also an A24 film set in Florida about an African American dealing with himself and toxic masculinity. Moonlight is better and well-crafted than this.
By the end, Waves is perfectly fine. Edward Shults' follow-up wasn't emotionally moving as I thought it would be. Some things worked, while some didn't. While its performances and stunning cinematography are unforgettable, there was something about the way they executed the story that didn't grab me as it should've. This could improve my thoughts later on in time to see if it resonates with me, but I was a bit letdown wanting to enjoy it. Still good, but not one of the best movies of the year.
Grade: B-