Guess what time of the month it is? Movie Time Capsule, meaning I'm cutting in close once again, but it's been a while since I last did this segment. Truthfully, I was in the middle of writing for December 2011, and I decided I didn't like what I wrote down. So I threw it in the trash and went straight to the new year for my sake. So apologies for not having one last month, but we're looking into the now. If you're new, every month, I discuss what movies came to theaters a decade ago because there's nothing better than refreshing our memories about the past.
2022 is all about looking back at ten years ago: 2012. Around this time in January, I started my second semester of high school. A few friends and I moved up to choir Chamber singers, Key & Peele premiered on Comedy Central to become one of the funniest sketch shows ever, and a sad time when the Regal theater I went to regularly closed down, destroying it and turning it into a LA Fitness. The biggest thing I took away from this time was my discovery of YouTube critic Jeremy Jahns, who instantly became one of my inspirations to become a movie reviewer. I watched all of his old videos and found his critiquing skills amusing. But, do I still like him now? Not as much since I tend to disagree with his opinions more often in the last six years.
But looking back at January 2012, it's your typical batch of movies released during the first month of the year, with early contenders for the worst people paid money to see and one that turned out to be an early surprise. Of course, a large majority of these didn't last too long in people's memories, but do any of the following nine ring any bells?
Also, Moving forward with Movie Time Capsule, I've thought about a few things that would help: 1) I'm not going to talk about movies that I haven't seen because I haven't checked them out yet. As a result, there will be a few gaps throughout the months, and 2) because 2012 saw a lot of 3D re-releases, they will be skipped over as well.
January 6: 'The Devil Inside'
Cast: Fernanda Andrade, Simon Quarterman, Evan Helmuth, and Suzan Crowley
Directed By: William Brent Bell
Synopsis: Twenty years after Maria Rossi (Suzan Crowley) murdered three people, her daughter, Isabella (Fernanda Andrade), seeks the truth about that terrible night. Isabella travels to an Italian hospital for the criminally insane — where Maria is locked away — to find out whether her mother is mentally ill or demonically possessed. With the help of two young exorcists (Simon Quarterman, Evan Helmuth), Isabella tries to cure Maria — and engages four demons in a battle for her mother's soul.
Domestic Box Office: $53.2 Million/ Worldwide: $101.7 Million
RT Score: 5%
My Thoughts: It's the beginning of a new year, and it was keeping in the tradition of studios releasing a horror movie on opening weekend. Unfortunately, its victim back in 2012 was The Devil Inside. A part of me thought it would be a decent exorcism-found footage movie based on the creepy trailer. My sister actually saw it on opening day while I checked it out from the library later that summer. Oh, boy. The Devil Inside is the perfect example of why Hollywood studios should never release a horror movie the very first week of the New Year because they're never good. Besides the opening where it has the 911 phone call, the rest is never frightening nor terrifying at any moment. The found footage is unnecessary by all means trying to be the next Paranormal Activity and it fails on all grounds. The story is trying to be like a rip-off of The Exorcist that isn't anything special but cheap, boring and not remotely scary, bo thanks to its dumb jump scares. If anything, it would be more effective if this was meant to be a narrative instead of riding the found-footage craze. And if the poor performances and lack of scares weren't enough, this bar none has the worst ending I've ever watched in my life. Seriously, when it was starting to get somewhere, it cuts to black so anti-climatic, and I gave the movie the middle finger. So, no, I'm not going to go to a website to learn more information.
January 13: 'Contraband'
Cast: Mark Wahlberg, Kate Beckinsale, Ben Foster, Caleb Landry Jones, Giovanni Ribisi, Lukas Haas, Diego Luna, and J. K. Simmons
Directed By: Baltasar Kormákur
Synopsis: Ex-smuggler Chris Farraday (Mark Wahlberg) gave up his criminal ways long ago. But, he's forced back into the game after his brother-in-law, Andy (Caleb Landry Jones), botches a drug deal for a crime lord (Giovanni Ribisi), leaving Chris to settle the debt. With the help of his best friend (Ben Foster), Chris assembles a team to run to Panama to retrieve a fortune in counterfeit bills. When things go awry, Chris must call on his rusty skills to complete the task before his family pays the price.
Domestic Box Office: $66.5 Million/ Worldwide: $96.2 Million
RT Score: 51%
My Thoughts: Not even the biggest Mark Wahlberg fans will call Contraband one of their favorite movies from him. I thought it was alright ten years ago, but as years passed on, it was very lame. This wasn't anything new but an average crime thriller that isn't all that original to count as a memorable time watching. Wahlberg did the best he could when working on this predictable and cliché movie everybody has seen a million times before. Still, there's nothing worth caring about with him or any of the other characters who could potentially be in danger. It turns into a convoluted story that runs out of momentum to keep things interesting. Not all the action didn't have a good style, but it could be watchable at best if it wasn't trying to do it like Michael Mann desperately. It could've been worse for a smuggling thriller for a January action movie. I wouldn't blame you if you forgot about this.
'Joyful Noise'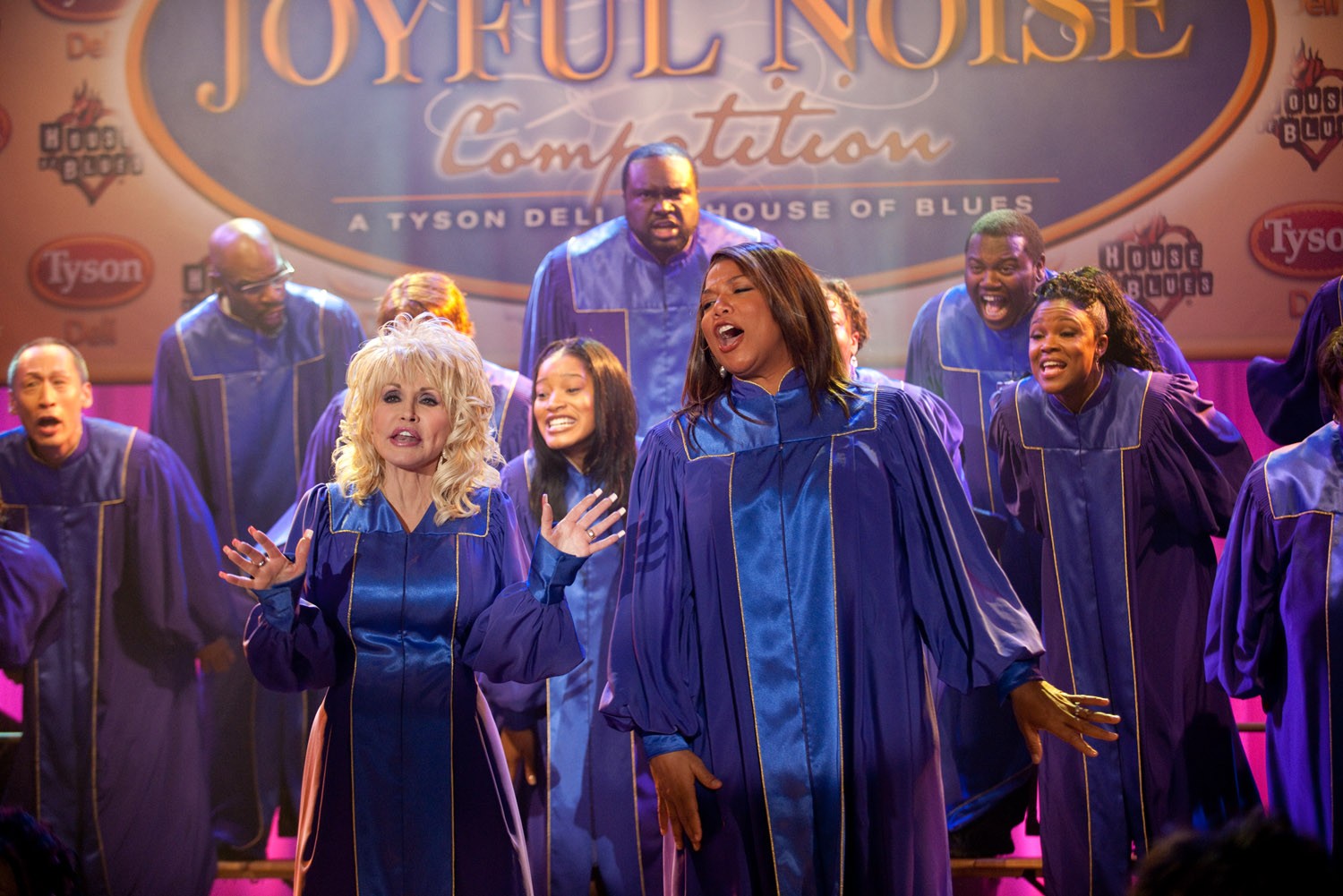 Cast: Queen Latifah, Dolly Parton, Keke Palmer, Jeremy Jordan, Courtney B. Vance, and Kris Kristofferson
Directed By: Todd Graff
Synopsis: Hard times have fallen on Pacashau, Ga., but the townspeople have faith that the Divinity Church Choir will lift their spirits by winning a national competition. The choir has always made beautiful music, but now, its two leading ladies have hit a sour note. Vi Rose (Queen Latifah) believes that a traditional style is the key to victory, but G.G. (Dolly Parton) thinks tried-and-true means tired-and-old. The two singers must find a harmonious chord or risk losing everything.
Domestic Box Office: $30.9 Million/ Worldwide: $31.1 Million
RT Score: 32%
My Thoughts: If Joyful Noise feels like going to church, this would've been a bad Sunday service. And the reason I didn't join my church choir was caused by how distasteful it turned out to be. This is one of those movies that's easy to make jokes about since I don't know anybody who actually enjoyed sitting through this. Unfunny scenes of dialogue that wouldn't make a laugh and scenes where it's supposed to be dramatic didn't work. It's not like we don't care about this choir since you don't have to be a genius to predict they'll take the crown. When this has both Queen Latifah and Dolly Parton in the leads and you pretty much wasted their performances, that's just a sin on itself. However, this isn't a total disaster like Rhinestone. I actually liked Keke Palmer and she's probably the only character worth liking. But besides her, there's nothing too bad with the musical numbers since they don't make you feel uncomfortable with the songs they're singing out when it's appropriate. Unfortunately, nothing comes close to resembling a heartwarming movie anywhere.
January 20: 'Underworld: Awakening'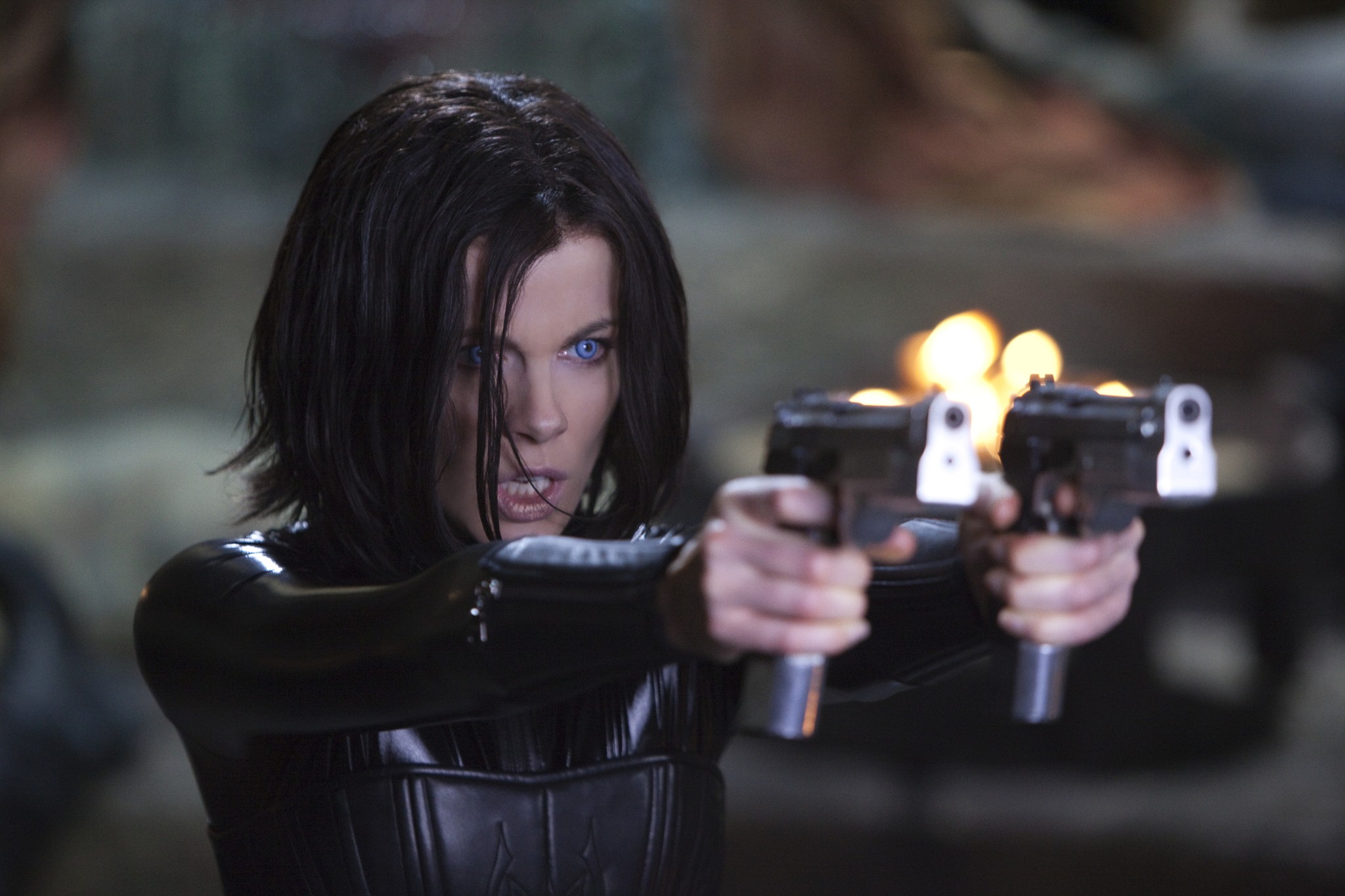 Cast: Kate Beckinsale, Theo James, Michael Ealy, India Eisley, Stephen Rea, and Charles Dance
Directed By: Måns Mårlind and Björn Stein
Synopsis: In the years since she and her human-lycan lover, Michael, defeated Elder Marcus, vampire warrior Selene (Kate Beckinsale) has been taken captive by humans, while they wage an all-out war against both lycans and vampires. Awakening after more than a decade, Selene discovers that Michael is dead, but that she has given birth to his daughter, Eve. Shunned by nearly all surviving vampires, save one (Theo James), even Selene seems powerless against her latest opponent: a genetically enhanced lycan.
Domestic Box Office: $62.3 Million/ Worldwide: $160.1 Million
RT Score: 26%
My Thoughts: Maybe it was dumb on my end to watch Underworld: Awakening without having the time of courtesy to seek out the previous three movies. The interest for this was nowhere since these movies don't look all that good. But sitting through the others won't be the case then and now since the fourth installment in the gothic vampire franchise was horrible. Most fans will get a kick out of it, but from what I watched, this consists of unoriginal action, a nonsensical story to pay attention, and having no essence of fun when it's freakin' vampires and lycans. And if the action wasn't bad enough, does every scene have to have annoying flickering lights to indicate it's supposed to be scary? Then it failed. Kate Beckinsale did the best she can reprise her role as Selene, but she isn't enough to save this from being dull and bleak fourth installment, making it one of the earliest movies of 2012 to be crowned the worst.
'Red Tails'
Cast: Nate Parker, David Oyelowo, Ne-Yo, Elijah Kelley, Cuba Gooding Jr. and Terrence Howard
Directed By: Anthony Hemingway
Synopsis: During World War II, the Civil Aeronautics Authority selects 13 black cadets to become part of an experimental program at the Tuskegee Institute in Alabama. The program aims at training "colored personnel" to become fighter pilots for the Army. However, discrimination, lack of institutional support and the racist belief that these men lacked the intelligence and aptitude for the job dog their every step. Despite this, the Tuskegee Airmen, as they become known, more than prove their worth.
Domestic Box Office: $49.8 Million/ Worldwide: $50.3 Million
RT Score: 40%
My Thoughts: It's a historical action movie about the Tuskegee Airmen, produced by George Lucas (which was in talks since the '90s), and it wasn't good enough to be rewatched? It's not that Red Tails could've been a great story about these African-American pilots since they deserve to be portrayed respectably, but there wasn't much meat to make it fascinating for its viewers. It's a fantastic true story that gets some points since it delivers on some impressive dogfight sequences. Still, the rest of the time is a tedious and cliche story that needs to put more interest in the characters and better writing that has them overcoming the challenges of letting them fight. Despite its strong potential, Red Tails wasn't significant enough to remember in what came out as an underwhelming drama deserving better.
'Haywire'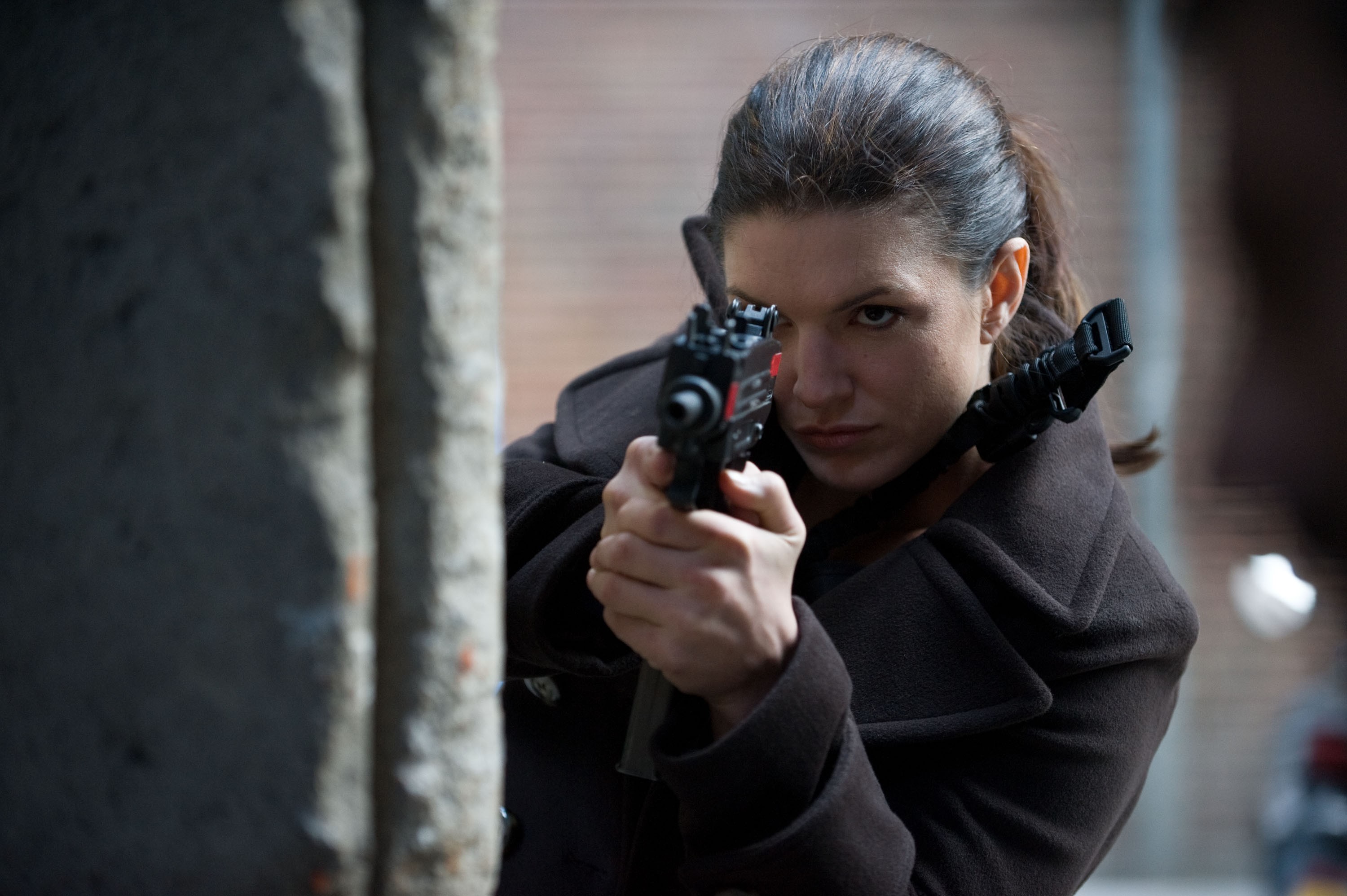 Cast: Gina Carano, Michael Fassbender, Ewan McGregor, Bill Paxton, Channing Tatum, Antonio Banderas, and Michael Douglas
Directed By: Steven Soderbergh
Synopsis: Mallory Kane (Gina Carano) is a highly trained operative for a government security contractor. Her missions take her to the world's most dangerous areas. After Mallory successfully frees a hostage journalist, she's betrayed and left for dead by someone in her own agency. Knowing her survival depends on learning the truth behind the double-cross, Mallory uses her black-ops training to set a trap. But when things go awry, Mallory knows she'll die unless she can turn the tables on her adversary.
Domestic Box Office: $18.9 Million/ Worldwide: $34.5 Million
RT Score: 80%
My Thoughts: We're fortunate to get many action movies with female protagonists in the last decade, and I think Haywire is one of those Steven Soderbergh films that was liked back then but not so much now based on the audience score on Rotten Tomatoes. For the Oscar-winning filmmaker to do his by-the-numbers payback thriller, it's not great by any means, but it's pretty alright. Back when she didn't ruin her career, the star formally known as Gina Carano made her film debut in becoming the next big action star based on her MMA background, and while her acting was less than stellar, she made up for it with her action scenes since you can see she did them herself. And around the spy situations, Soderbergh handled the action realistically, even though it's not posed to be the next Bourne or anything. Besides having that pace the director has that's either good or bad, it's just a run-of-the-mill spy thriller that had Carino's voice entirely dubbed over, which I didn't know until after it came out. Overall, I can't remember too much about Haywire, but I didn't mind it.
January 27: 'The Grey'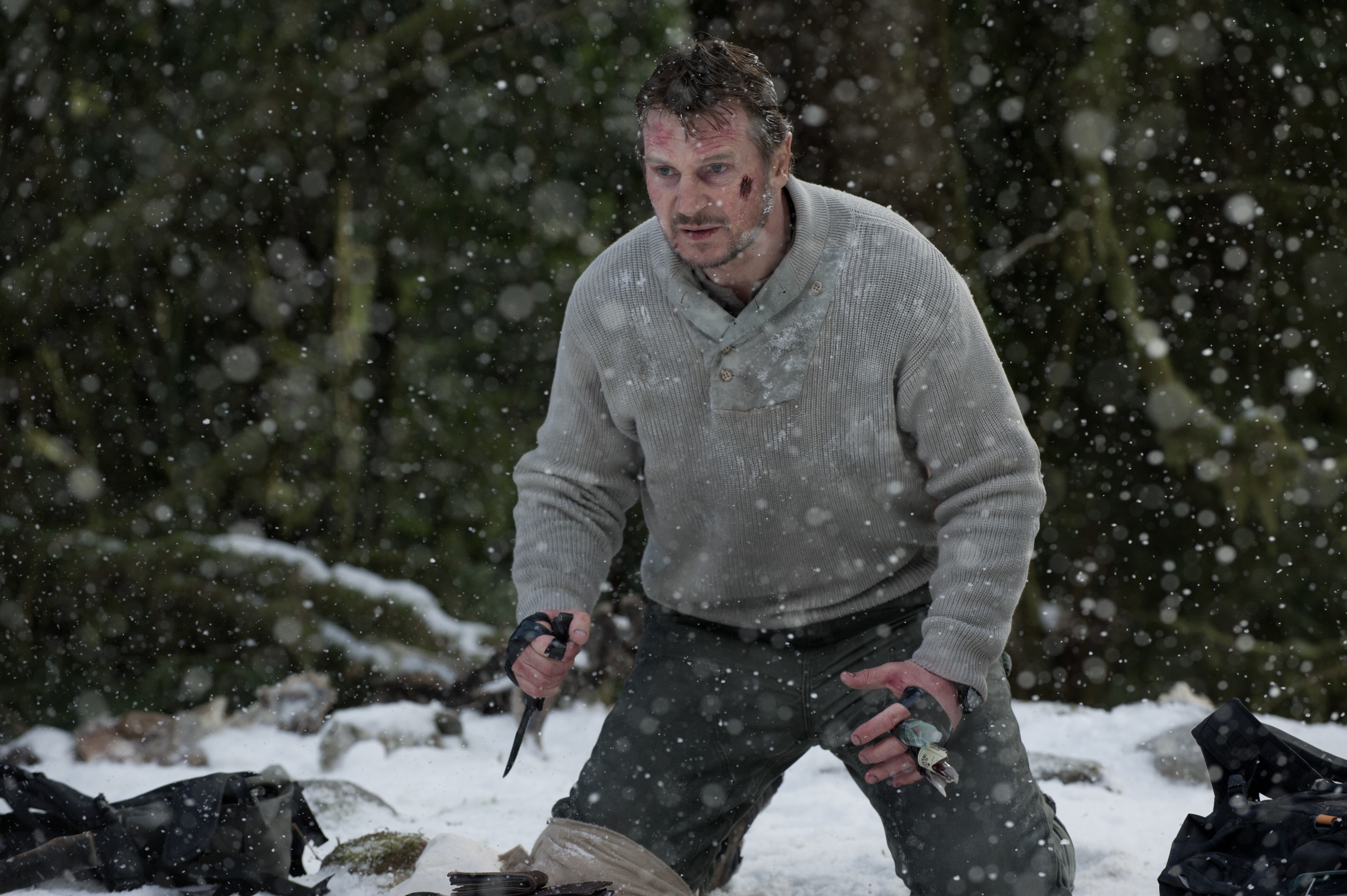 Cast: Liam Neeson, Frank Grillo, Dallas Roberts, Joe Anderson, Nonso Anozie, and Dermot Mulroney
Directed By: Joe Carnahan
Synopsis: Following a grueling five-week shift at an Alaskan oil refinery, workers led by sharpshooter John Ottway (Liam Neeson) are flying home for a much-needed vacation. A brutal storm causes their plane to crash in the frozen wilderness, and only eight men (Frank Grillo, Dermot Mulroney), including Ottway, survive. As they trek southward toward civilization and safety, Ottway and his companions must battle mortal injuries, the icy elements, and a pack of hungry wolves.
Domestic Box Office: $51.5 Million/ Worldwide: $79.7 Million
RT Score: 79%
My Thoughts: In the first surprise of the year and all of January, The Grey is the perfect example of a man vs. nature story. Hearing that it was good, I hate that I missed this in theaters when I saw Man on a Ledge instead. Something about the trailers didn't grab me despite the thrills of survival movies. Luckily, this is one of the best survival movies to come out in a long time that made me afraid of being in the cold and being killed by wolves. Neeson fighting off wolves to survive could've easily been a lame excuse for another one of his movies to be released in the winter, but The Grey felt like I'm in the coldness of the Alaskan weather and hoping to make it out alive. Neeson easily carries the film's shoulders based on his totally reliable character and is attached to this eternal struggle he's facing. But also brought the intense action to the ground and is gripping at any possible moment with great directing by Joe Carnahan, including one of the terrifying plane crash sequences ever put to film. The film goes for that unexpected slow burn that was fine, and while I'm still pretty conflicted in how it ended, The Grey was so much better than I anticipated; an underrated drama.
'Man on a Ledge'
Cast: Sam Worthington, Jamie Bell, Elizabeth Banks, Edward Burns, Anthony Mackie, Genesis Rodriguez, and Ed Harris
Directed By: Asger Leth
Synopsis: When disgraced ex-cop Nick Cassidy (Sam Worthington) steps onto the ledge of the highest floor of New York's famous Roosevelt Hotel, more than just his life is at risk; he threatens to bring the city to its knees. There are some very nervous people around with some very big secrets to hide. As police negotiator Lydia Spencer (Elizabeth Banks) tries to talk Nick in from the ledge, she begins to suspect that he has an ulterior motive behind his actions.
Domestic Box Office: $18.6 Million/ Worldwide: $47.6 Million
RT Score: 31%
My Thoughts: The first movie I decided to see in theaters of the new year was Man on a Ledge, which has got to be one of the most generic action movies these eyes have seen. Maybe Sam Worthington needed work and thought this was a good idea since it's nothing too high budget. But, unfortunately, everything that came from this is effortless for an action movie that's pretty much said just from the boring title alone. There isn't anything special with the acting or writing that also deals with pointless plot lines that don't matter in 102 minutes that's a 99 cent version of Phone Booth and The Fugitive that has the appeal of a DVD movie. And it has a good cast, including Sam Worthington, Elizabeth Banks, Ed Harris, Jamie Bell, and others that give little to work with by how dull this is. Not even the heist element of the plot wasn't cool. I watched it again six months later out of nowhere and my reaction remanded the same. Seriously, Man on a Ledge fits perfectly in the bin of movies nobody wants at your local grocery store.
'One for the Money'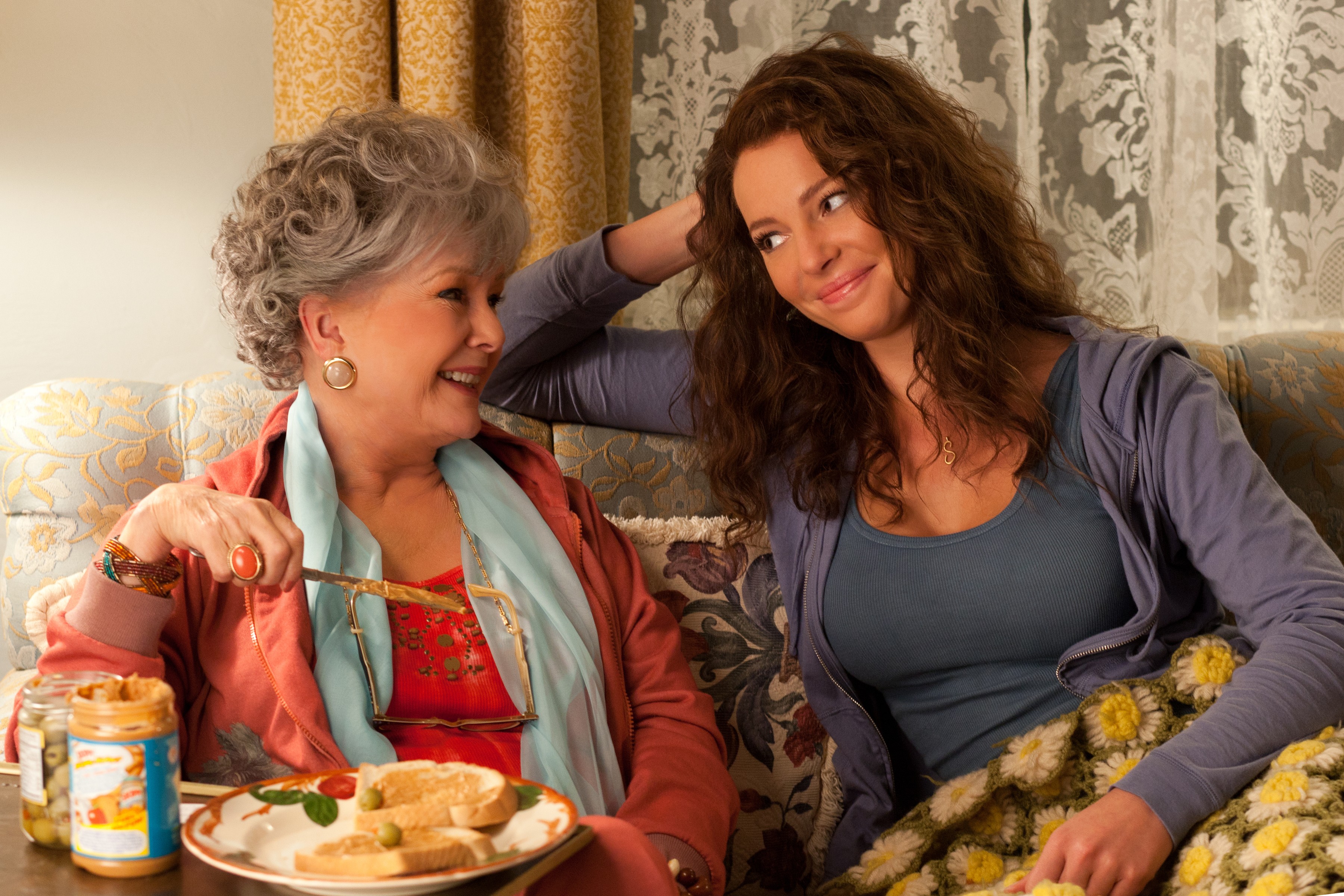 Cast: Katherine Heigl, Jason O'Mara, Debbie Reynolds, Daniel Sunjata, and Sherri Shepherd
Directed By: Julie Anne Robinson
Synopsis: New Jersey native Stephanie Plum (Katherine Heigl) has plenty of attitude, even if she is broke after six months of unemployment. Desperate for money, Stephanie convinces her cousin to give her a job as a recovery agent with his bail-bond company. What she lacks in experience she makes up for in moxie, and she intends to bring in her cousin's biggest bail-jumper: Joe Morelli (Jason O'Mara), a former vice cop and murder suspect who broke Stephanie's heart when she was in high school.
Domestic Box Office: $26.4 Million/ Worldwide: $38.08 Million
RT Score: 2%
My Thoughts: One for the Money, two for the show; three to make ready, and I hate it. Just when everyone thought Killers was a career-killing move, Katherine Heigl had to waste our time once more with this adaptation of Stephanie Plum's novel. First off, I don't know why I watch this since I know I was going to hate it because she's leading a comedy nobody asked her to be in, and I was right. It's just another comedy that makes The Bounty Hunter or Killers look tolerable by comparison. I never thought anything made me laugh, and I completely stopped caring very early on when nobody else would give a crap what the plot was unfolding, which didn't come as a surprise why it bombed with critics and at the box office. One for the Money can be perfectly summed up by one word: Bland. And it's sad enough learning this was the last movie the late Debbie Reynolds was in before her death. If I had a girlfriend during freshman year and she dragged me to see this, my mind is off deep somewhere else that had more interest than this. Now you can find it on Lifetime or somewhere.