Welcome back to this month's entry of Movie Time Capsule, and this is probably the earliest I have gotten this month done as I wrote everything in three days. This shows how much a fair amount of time I have to write about these movies at work. For those new to reading these, this segment is all about the films released in theaters ten years ago, reminiscing about being good or bad. And out of the fall movie season back then, this month had more hits, with a couple of noticeable stinkers.
Thankfully, this won't be like last year when I posted last year's two months later. What about November 2011 do I remember? Donald Glover's only stand-up special Weirdo aired on Comedy Central and made a great impression on me, still laughing my ass off to this day. And the power of loving Florence + The Machine's latest album grew stronger with time. There was a lot of variety throughout this month, with a few I wished I had seen in theaters. Not only that, but we also got ourselves our winners for Best Picture and Worst Picture, respectively. Out of the 13 I'll be discussing today, I'll only haven't seen two.
Have you seen any of these a decade ago? Anything pops back in your brain? As always, let's take a walk through memory lane to think back at what came out.
November 4: 'Tower Heist'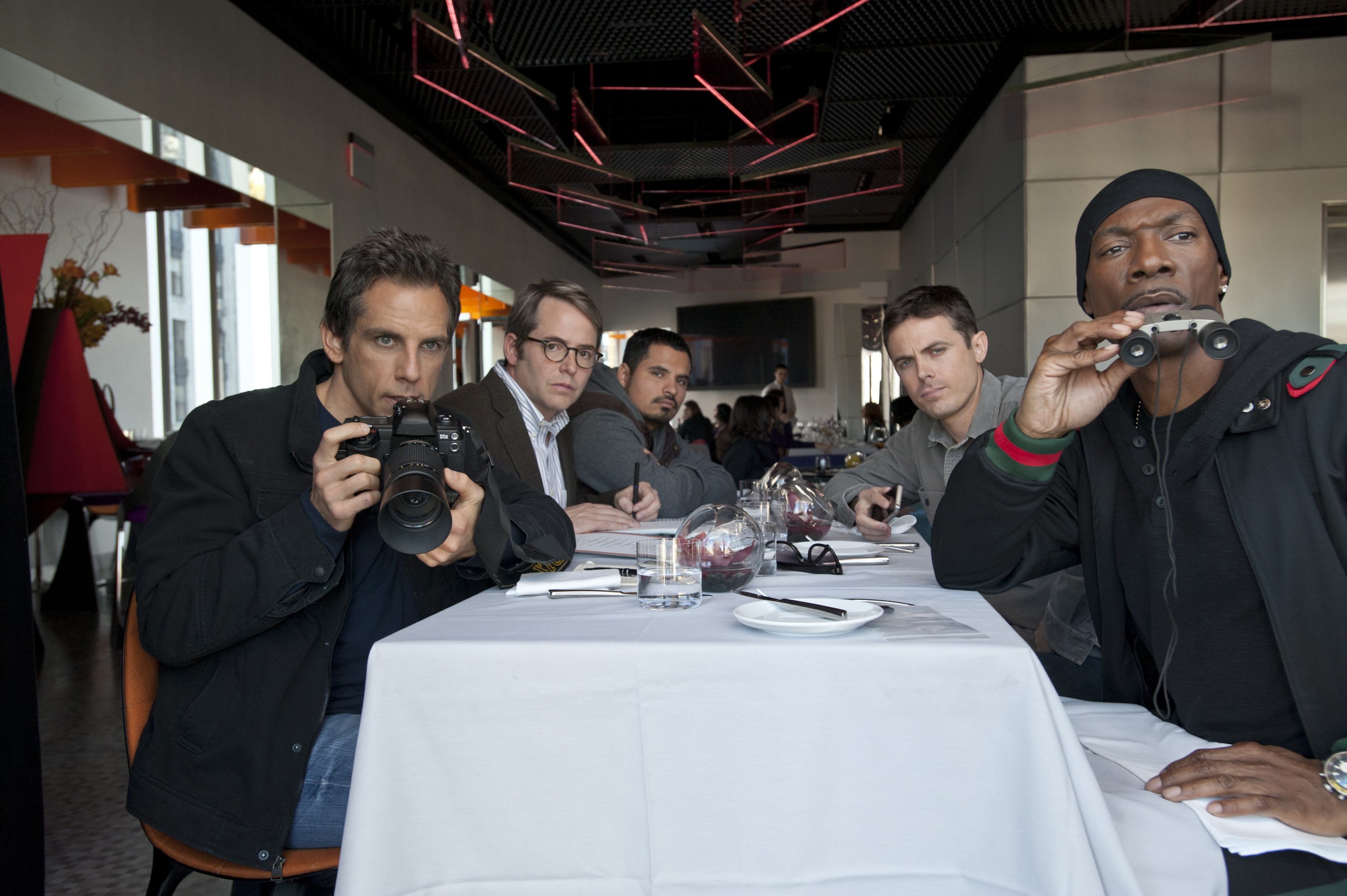 Cast: Ben Stiller, Eddie Murphy, Casey Affleck, Alan Alda, Matthew Broderick, Judd Hirsch, Téa Leoni, Michael Peña, and Gabourey Sidibe
Directed By: Brett Ratner
Synopsis: For more than 10 years, Josh Kovaks (Ben Stiller) has managed one of New York City's most luxurious and well-secured residences. One of the condo's most-notorious residents, Arthur Shaw (Alan Alda), is currently under house arrest for the theft of more than $2 billion from his investors — including Josh and his co-workers. Determined to reclaim the retirement funds Shaw stole from them, they turn to a petty crook named Slide (Eddie Murphy) to help them break into Shaw's home.
Domestic Box Office: $78 Million/ Worldwide: $152.9 Million
RT Score: 68%
My Thoughts: Brett Ratner is terrible as a director and a person since his filmography usually consists of disappointments. With Tower Heist, though, this was a heist comedy I didn't find myself hating, probably his best since the original Rush Hour. The formula of those wanting payback for money isn't particularly new, but with an approach in the style of Ocean's Eleven, there's enough fun in here to make it through. The cast is stacked, all led by Ben Stiller, who gives off his usual comedic charm, but it was great seeing Eddie Murphy in his best role in years as Slide. Did they need him to pull off this plan? Probably not, but he completely steals every scene, and he shares good comedic timing with Stiller. Everybody else from Casey Affleck, Matthew Broderick, Alan Alda, and the rest didn't do too bad playing off each other. There are quite a few laughs, though not the biggest laughs, and when it's a story surrounding a heist, it goes about the predictable fashion that could've used more surprises or more realistic. But I liked Tower Heist when it came out. Even when it was not the most memorable comedy a decade ago, you gotta hand it to a slob like Rather for delivering a tolerable film for once.
'A Very Harold & Kumar 3D Christmas'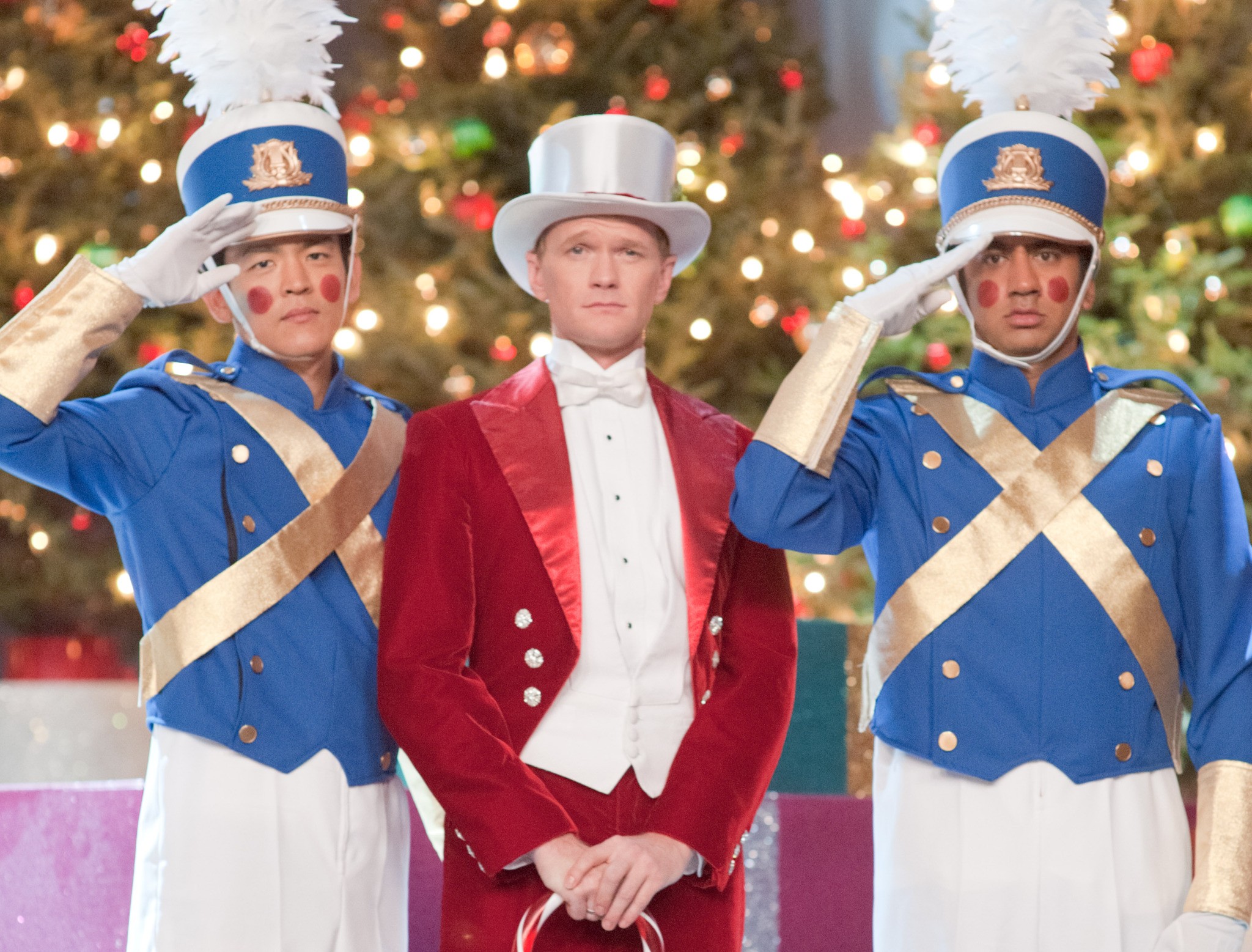 Cast: John Cho, Kal Penn, Neil Patrick Harris, Danny Trejo, Danneel Harris, Elias Koteas, Paula Garcés, Amir Blumenfeld, and Thomas Lennon
Directed By: Todd Strauss-Schulson
Synopsis: Six years after their last adventure, stoner pals Harold (John Cho) and Kumar (Kal Penn) have grown apart and found new friends. As each is busy making holiday preparations, a mysterious package mistakenly arrives on Kumar's doorstep. Unfortunately, Kumar's attempt to redirect the package to Harold goes up in smoke — along with a prize Christmas tree belonging to Harold's father-in-law. The pair's journey across New York City to find a replacement tree threatens to blow Christmas Eve sky-high.
Domestic Box Office: $35 Million/ Worldwide: $36.1 Million
RT Score: 68%
My Thoughts: With this stoner franchise, Harold & Kumar Go to White Castle is one of my favorites I always get a kick out of, and its sequel, Escape from Guantanamo Bay, wasn't good. In centering around the holidays with the third installment, A Very Harold & Kumar 3D Christmas serves as a much better improvement. Christmas comedies rarely get that R-rating or are any good nowadays, but who better to go on another crazy adventure than these pals? I watched it again last year and I still think it's hilarious. It's always nice to see John Cho and Kal Penn reunite again on this unpredictable Christmas Eve. For a plot about finding a tree, it involves them getting claymated, interacting with a robot who makes waffles, and accidentally shooting Santa in the face, all to show these two shouldn't grow apart. And with every movie, there's Neil Patrick Harris just crushing it with the time he has on-screen, and he explains how it's alive. For a 3D comedy, it was pretty great usage of the technology for what I thought would be completed stupid to pull off. Because of that, I wasn't expecting to see weed smoke presented in that dimension. A Very Harold & Kumar 3D Christmas serves as a better sequel than its predecessor in giving its devoted fans a funny and raunchy holiday comedy good enough for them.
November 9: 'J. Edgar'
Cast: Leonardo DiCaprio, Armie Hammer, Naomi Watts, Josh Lucas, and Judi Dench
Directed By: Clint Eastwood
Synopsis: As head of the FBI for nearly 50 years, J. Edgar Hoover (Leonardo DiCaprio) becomes one of America's most-powerful men. Serving through eight presidents and three wars, Hoover utilizes methods both ruthless and heroic to keep his country safe. Projecting a guarded persona in public and in private, he lets few into his inner circle. Among those closest to him are his protege and constant companion, Clyde Tolson (Armie Hammer), and Helen Gandy (Naomi Watts), his loyal secretary.
Domestic Box Office: $37.3 Million/ Worldwide: $84.9 Million
RT Score: 43%
My Thoughts: J. Edgar is only one of two Clint Eastwood movies from the 2010s I've never seen. A biopic about J. Edgar Hoover sounded interesting in this retelling of this man's life, and it could even make a splash in the Oscars race. But when you have Eastwood directing and Oscar-winning screenwriter Dustin Lance Black to contribute, I haven't heard marvelous things about J. Edgar, surprisingly. The element that earned praise was Leonardo DiCaprio's performance as the FBI director in giving a more in-depth role of the character. But other than him and the production value, everything else I heard was that it has confusing time jumps in the storytelling and that it's very boring, which isn't shocking from the director. The funniest thing I kept hearing is the creep Armie Hammer is in this, and his makeup looks so bad when it had to make him look older, looking like the Six Flags guy. For many, they would consider J. Edgar a disappointing effort from the iconic director, and I never had the urge to watch this.
November 11: 'Immortals'
Cast: Henry Cavill, Stephen Dorff, Luke Evans, John Hurt, Isabel Lucas, Kellan Lutz, Freida Pinto, Joseph Morgan, Daniel Sharman, and Mickey Rourke
Directed By: Tarsem Singh
Synopsis: Power-hungry King Hyperion (Mickey Rourke) and his ruthless army march across Greece, leaving burned-out villages and the corpses of the innocent in their wake. Hyperion's goal is to find the long-lost Bow of Epirus; with this invincible weapon, he can cast the gods out of Mount Olympus and become master of the world. A stonemason named Theseus (Henry Cavill) heeds the words of the sibylline oracle (Freida Pinto), who convinces him that he is the key to stopping the bloodthirsty king.
Domestic Box Office: $83.5 Million/ Worldwide: $226.9 Million
RT Score: 47%
My Thoughts: Something told me Immortals had the potential to be a million times better than Clash of the Titans. And it was that, luckily, but that doesn't mean I liked it. Not many Greek mythology fantasies made a lasting impression on me, but with visionary director Tarsem Singh doing it, I thought it would surprise me. Unfortunately, the movie is more of mixed bad that made it hard to remember. Immortals have a unique style that looks outstanding when a bloody action set-piece happens; more importantly, you have a villain wanting to unleash the Gods. This was the first time I witnessed a pre-Superman Henry Cavill, who plays the protagonist Theseus, and watching this was good enough to convince me he can put on the cape. But other than the action and performances from Cavill and an evil Mickey Rourke. I couldn't care one bit about this. Why? Tarsem never took the time to have a more engaging story and a lack of actual captivation, making for a stylized film that's poorly paced throughout. Immortals has cool moments sprinkled in with little attention that made me not want to seek this out again. It comes out as dull, in my opinion.
'Jack & Jill'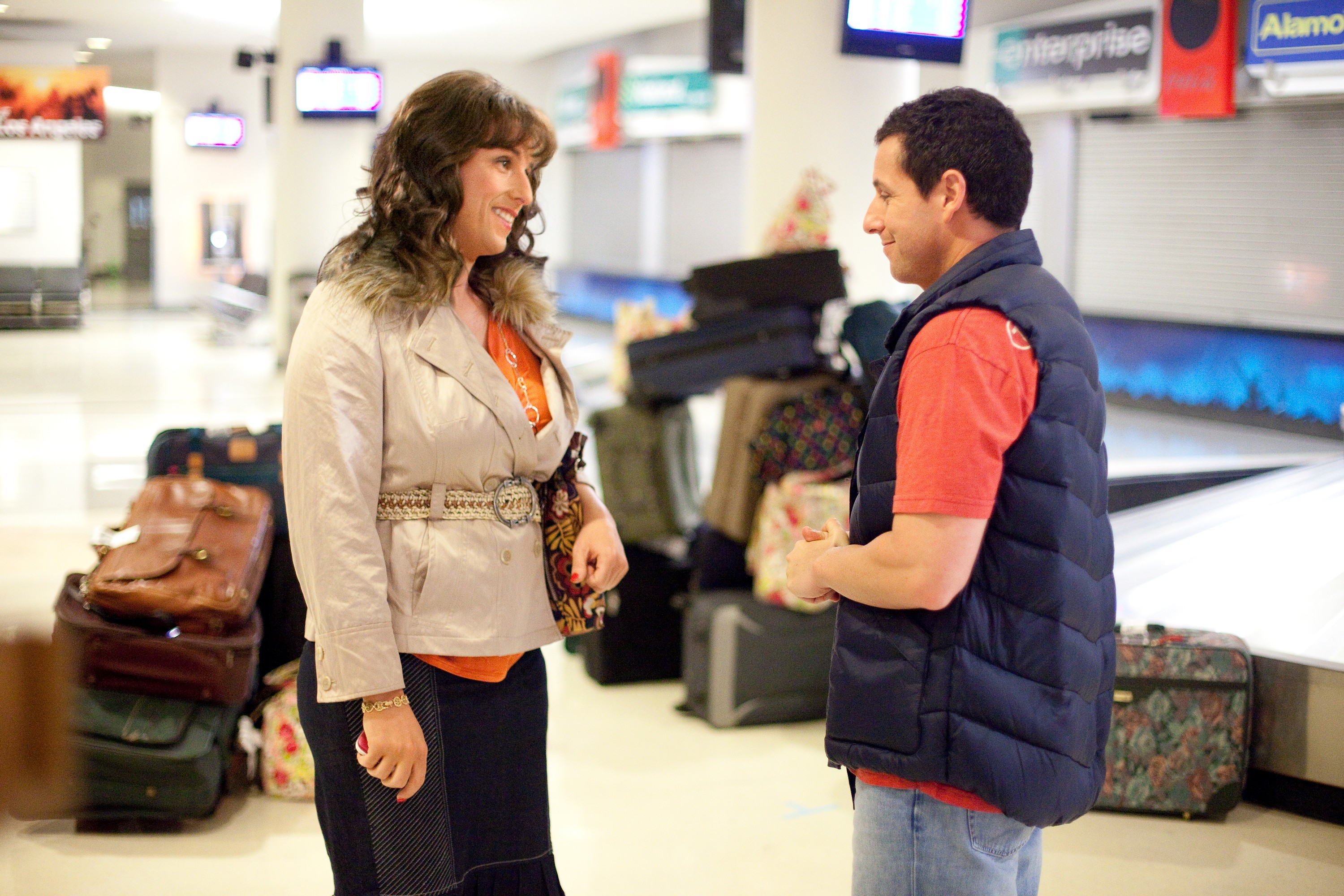 Cast: Adam Sandler, Katie Holmes, Al Pacino, and Eugenio Derbez
Directed By: Dennis Dugan
Synopsis: Thanksgiving is usually a happy time, but ad executive Jack (Adam Sandler) dreads the holiday because his twin sister, Jill (also Sandler), makes her annual visit. When Jack and his sister get off on the wrong foot, the only way to make it right is to invite her to stay through Hanukkah. But, when actor Al Pacino (Al Pacino), whom Jack desperately needs to star in a commercial, takes a shine to Jill, Jack may be forced to extend his sister's visit even longer.
Domestic Box Office: $74.1 Million/ Worldwide: $149.6 Million
RT Score: 3%
My Thoughts: That trailer could've been fake, but somebody over at Sony really thought a comedy with Adam Sandler playing twins, one of which is female, was the brightest idea ever. I watched Jack & Jill on March 11, 2012 (Never forget), and I deserved a gold medal for sitting through a total abomination of a motion picture. If you read my list of the Top 10 Worst Movies of the 2010s, you know it's placed very high because how does one take pleasure in like this? For those 91 minutes, you want to escape what I thought was an attempt at a horror movie since at no point do you ever care remotely about these siblings, as Jack comes off as a jerk, and Jill's personality is straight-up annoying from the first second she appears on-screen. It's an embarrassing dual performance from his that made everyone miss his golden days of comedies. Not even the great Al Pacino playing himself wasn't enough to give it a slight pass. The writing consists of painfully unfunny humor across the board, the amount of product placement and celebrity cameos are annoying too. If I actually saw this in theaters, I would've walked out and never looked back. I like Adam Sandler; he has proven times to be a funny guy, even when he's trying in his more off-putting movies from Happy Madison. But when you have a movie where one character is freakin' obnoxious and isn't funny, just why? With nothing redeeming, Jack & Jill is simply one of the worst movies ever made, and the worst I've seen since Superbabies: Baby Geniuses 2. The best part was it swept the Razzies, winning every category winning a total of 10.
November 16: 'The Descendants'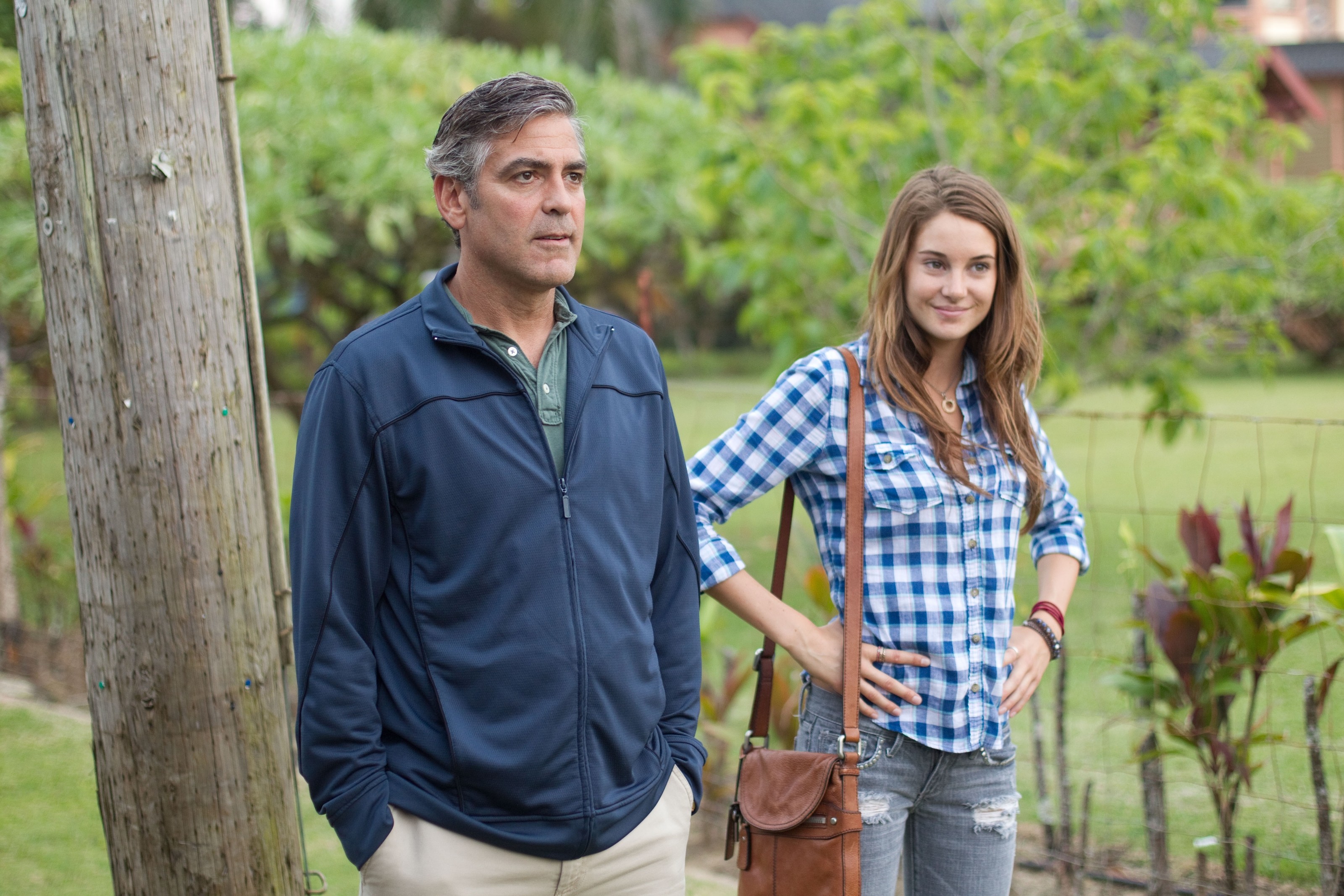 Cast: George Clooney, Shailene Woodley, Amara Miller, Beau Bridges, Judy Greer, Matthew Lillard, Nick Frause, and Robert Forster
Directed By: Alexander Payne
Synopsis: Native islander Matt King (George Clooney) lives with his family in Hawaii. Their world shatters when a tragic accident leaves his wife in a coma. Not only must Matt struggle with the stipulation in his wife's will that she be allowed to die with dignity, but he also faces pressure from relatives to sell their family's enormous land trust. Angry and terrified at the same time, Matt tries to be a good father to his young daughters, as they too try to cope with their mother's possible death.
Domestic Box Office: $82.5 Million/ Worldwide: $177.2 Million
RT Score: 87%
My Thoughts: I didn't catch The Descendants almost a year after it came out, and maybe it was because I wasn't in much of a rush to see it despite positive reviews. So I didn't know a lot about it, but it's one of Alexander Payne's best films, his best since Sideways. While it won't resonate with me even if I read Kaui Har Hemming's novel, it goes for a funny and surprisingly moving dramedy that gives a good sense of the meaning of life. Set in the backdrop of beautiful Hawaii, you feel the struggle of Clooney's Matt King where you want him to be a good father while what's going on with this land deal and finding out who his wife slept with. That's a credit to the cast, including one of Clooney's best performances that should've won him Best Actor and a breakthrough and snubbed performance from Shailene Woodley as his eldest daughter. The Descendants is probably Payne's most mature film that's moving about loss and love that'll be a great conversation piece to have with somebody. Unfortunately, the only people who dislike this don't have a heart, especially if you don't feel anything over the ending. A definitive Oscar contender, the film was nominated for five Oscars, winning Best Adapted Screenplay for Payne, Nax Faxon, and Jim Rash.
November 18: 'The Twilight Saga: Breaking Dawn- Part 1'
Cast: Kristen Stewart, Robert Pattinson, Taylor Lautner, Billy Burke, Peter Facinelli, Elizabeth Reaser, Kellan Lutz, Nikki Reed, Jackson Rathbone, and Ashley Greene
Directed By: Bill Condon
Synopsis: At last, Bella (Kristen Stewart) and Edward (Robert Pattinson) are getting married. When Jacob (Taylor Lautner) finds out that Bella wants to spend her honeymoon as a human, he is horrified — for Edward's passion could accidentally kill her. Bella does indeed survive her honeymoon, but a new complication arises when she discovers that she's pregnant — and the child is growing at an alarming rate. The pregnancy sets the wolves against Bella and Edward, but Jacob vows to protect his friend.
Domestic Box Office: $281.2 Million/ Worldwide: $712.2 Million
RT Score: 25%
My Thoughts: Was it a great idea to split the last Twilight book into two movies? Not in the slightest, which is why the fourth installment is the worst out of all of them. I am not kidding. I watched it once more after thinking it was alright when I first saw it. Now I see this as pure boredom. Even with Bill Condon brought in, nothing exciting happens here. Edward and Bella get married, they play chess on their honeymoon, and Bella gets pregnant with a vampire baby. You know it wasn't going to waste fans' time when Jacob literally takes off his shirt in the first minute. Watching Kristen Stewart and Robert Pattinson in this makes me glad they went on to do better things ten years later, and this sequel barely does anything to please non-Twilight fans. Actually, this was the only one with the least number of people in my screening of the movies I've seen in theaters. So how did it make $138 million opening weekend? The funniest thing I remembered liking was a now-deleted Chris Stuckmann video of him reacting to the last trailer. Laced with awkward dialogue, weak performances, and everything uneventful in-between, The Twilight Saga- Breaking Dawn Part 1 earns its numerous Razzie nominations. And this winning Best Movie at the MTV Movie Awards made me lose respect for the awards program. Top 3 worst of 2011.
'Happy Feet Two'
Cast: Elijah Wood, Robin Williams, Hank Azaria, P!nk, Common, Hugo Weaving, Sofia Vergara, Brad Pitt, and Matt Damon
Directed By: George Miller
Synopsis: Mumble (Elijah Wood) the penguin, now called the Master of Tap, has an unusual problem: Erik, his son, is reluctant to dance. Erik runs away from home and encounters the Mighty Sven (Hank Azaria) — a penguin that can fly. Poor Mumble can't compete with Erik's unusual new role model. But, when the world is shaken by powerful forces, Erik gets a chance to see his father's true colors as Mumble gathers all creatures great and small to set things right again.
Domestic Box Office: $64 Million/ Worldwide: $159.1 Million
RT Score: 45%
My Thoughts: I watched the original Happy Feet a year before the sequel came out, and it's a cute animated musical. Was it amazing? I wouldn't say so, but it'll get your feet moving, and it won the Oscar for Best Animated Feature. With Happy Feet Two out five years later, it's a sequel that came and went. It's fine. Those who enjoyed the first know what to expect here by watching penguins singing and dancing in the cold environment. When I watched this, I got a kick out of the animation and the voices of Robin Williams, Brad Pitt, and Matt Damon; the latter two voiced a pair of prawns. The story came across as lousy this time, where there wasn't much importance with the humor or unmemorable musical numbers. There is a moment where the penguins sing and dance to "Numa Numa." Happy Feet Two wasn't as good as the first, but that was kinda expected.
November 23: 'The Muppets'
Cast: Jason Segal, Amy Adams, Chris Cooper, and Rashida Jones
Directed By: James Bobin
Synopsis: Walter, the world's biggest Muppet fan, is on vacation in Los Angeles with his brother Gary (Jason Segel) and Gary's girlfriend, Mary (Amy Adams). They discover that greedy Tex Richman (Chris Cooper) plans to raze Muppet Studios and drill for oil on the spot. Desperate to save the Muppets' former stomping grounds, the three friends join forces with Kermit to reunite Miss Piggy, Fozzie and the rest of the gang to hold a telethon to raise the $10 million they need to save the studio.
Domestic Box Office: $88.6 Million/ Worldwide: $165. 1 Million
RT Score: 95%
My Thoughts: Ever since Disney brought the rights to The Muppets or something, it's pretty easy to say this movie is the best from them. I loved The Muppets while walking out of the theater, and I still do after rewatching it this past summer. A throwback review is on the way, but James Bobin and co. did the possible in making Jim Henson's creations popular again, showing a new generation of children these silly characters what many loved for decades. This recaptured some of the older movies in bringing familiar faces to the big screen is fun and hilarious to move forward, all done with catchy original songs, including the Oscar-winning "Man or Muppet," and staying in tune with what fans loved before. Seeing Kermit, Fozzie, Miss Piggy, and the rest of the team with Jason Segal (who also co-wrote it) and Amy Adams puts a smile on my face. I still stand by saying The Muppets is one of the year's best family movies.
'Hugo'
Cast: Asa Butterfield, Ben Kingsley, Sacha Baron Cohen, Chloë Grace Moretz, Ray Winstone, Emily Mortimer, Helen McCrory, and Jude Law
Directed By: Martin Scorsese
Synopsis: Orphaned and alone except for an uncle, Hugo Cabret (Asa Butterfield) lives in the walls of a train station in 1930s Paris. Hugo's job is to oil and maintain the station's clocks, but to him, his more important task is to protect a broken automaton and notebook left to him by his late father (Jude Law). Accompanied by the goddaughter (Chloë Grace Moretz) of an embittered toy merchant (Ben Kingsley), Hugo embarks on a quest to solve the mystery of the automaton and find a place he can call home.
Domestic Box Office: $73.8 Million/ Worldwide: $185.7 Million
RT Score: 93%
My Thoughts: We usually don't see the matching of director Martin Scorsese and family-friendly since it seems out of left field. I thought that too, and even though the trailers didn't particularly amaze me, Hugo is one of the director's more underrated films. An adaptation of Brian Selznick's book "The Invention of Hugo Cabret," it's certainly different from anything he's done, which isn't a terrible thing. Nothing about this screamed the worry of cheese since though it's about the titular boy, it's also a love letter to cinema, offering a lesson about film history I wasn't expecting walking in. As you're watching Hugo, you start to appreciate the storytelling as the film continues, even with the only flaw being the slow pace. Scorsese blends the elements of adventure and passion for crafting a wonderful drama I usually think about this time of year. Asa Butterfield plays the role of Hugo Cabret, and this was probably the first thing I saw him in before I watched The Boy in the Striped Pajamas; he gave a solid and courageous performance, and I truly cared about this character's journey. Butterfield also worked great alongside Chloë Grace Moretz, Sacha Baron Cohen in a role that's not annoying and one of Ben Kingsley's best performances in years. But when talking about the 3D, the way Scorsese used it is one of the best times I had watching a 3D movie. But from the sets, visual effects, Howard Shore's score, and sense of imagination, you have to be insane not to like Hugo, one of my other favorites of 2011. Despite not making much noise at the box office, it earned 11 Oscar nominations, winning five: Cinematography, Art Direction, Sound Mixing, Sound Editing, and Visual Effects. And honestly, it should've won Best Picture since it was the best film out of everything nominated that year.
'Arthur Christmas'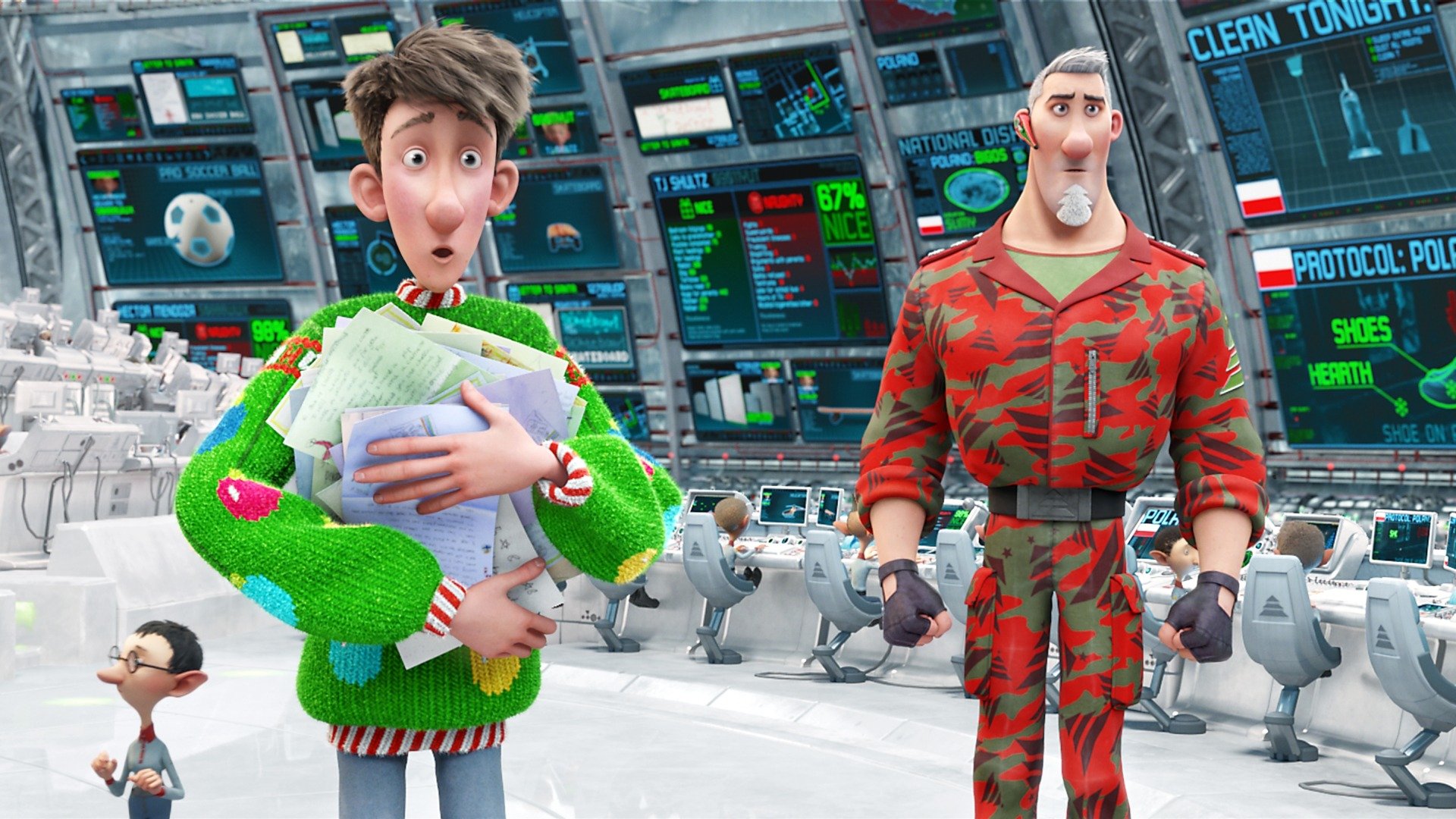 Cast: James McAvoy, Hugh Laurie, Bill Nighy, Jim Broadbent, Imelda Staunton, and Ashley Jensen
Directed By: Sarah Smith/ Barry Cook
Synopsis: Everyone knows that, each Christmas, Santa Claus delivers presents to every last child on Earth. What everyone doesn't know is that Santa accomplishes the feat with a very high-tech operation beneath the North Pole. But when the unthinkable happens, and Santa misses one child out of hundreds of millions, someone has to save the day. It's up to Arthur (James McAvoy), Santa's youngest son, to deliver a present to the forgotten tyke before Christmas morning dawns.
Domestic Box Office: $46.4 Million/ Worldwide: $146.4 Million
RT Score: 92%
My Thoughts: How did I miss Arthur Christmas when it was released? More importantly, why did it take me two years later to watch it finally? I actually wanted to see it, but there wasn't any time to catch it. Just knowing both Sony Pictures Animation and Aardman Animations would come together to make a Christmas movie for all to love was bound to happen, and it's hard to dislike. The fear I had was thinking this would be another Fred Claus in mind. Luckily, this was a different take on the classic Sanda story that's utterly charming. Arthur's determination to hive this little girl her present shows how much he cares deeply about this holiday and not have her be left out. There are fantastic voices for these characters, from James McAvoy as Arthur, Hugh Laurie, Jim Broadbent, and quite possibly my favorite, Bill Nighy as Grandsanta. I just love Nighy in general, so for him to be the funniest person wasn't the least bit shocking. It also has the type of British humor some won't get, but I laughed at given points. No matter your age, Arthur Christmas is for everyone who wants to be in the holiday spirit. Clever, beautifully animated, and a touching ending that gives you all kinds of feels, this is full-on delightful. I think it's the best animated film of 2011, along with Rango and Kung Fu Panda 2. How the hell did the Academy people not nominate this? Stupid.
'My Week with Marilyn'
Cast: Michelle Williams, Kenneth Branagh, Eddie Redmayne, Dominic Cooper, Julia Ormond, Emma Watson, and Judi Dench
Directed By: Simon Curtis
Synopsis: In 1956 England, Colin Clark (Eddie Redmayne) lands a job as a production assistant on the set of "The Prince and the Showgirl," starring Marilyn Monroe (Michelle Williams). Marilyn is also honeymooning with her new husband, playwright Arthur Miller, but the combined pressure of work and the demands of the Hollywood hangers-on is driving her to exhaustion. When Miller departs for Paris, Colin seizes the opportunity, to give Marilyn respite during a week in the idyllic British countryside.
Domestic Box Office: $14.6 Million/ Worldwide: $35 Million
RT Score: 83%
My Thoughts: My Week with Marilyn wasn't the first biopic about the famous Marilyn Monroe, and it wouldn't be the last. Never saw this, even though I like the casting of Michelle Williams as the star. How true to life was it all based on the two books? I Don't know, but it deals with the insecurities in her life. Maybe it's a plot to find relatable if any of us spent time with someone famous, but from glimpsing through other people's opinions, some liked it, while others thought it was thin and didn't offer much else. Still, Williams won her first Golden Globe award, and she, along with Kenneth Branagh as Lawerence Oliver, received Oscar nominations for Best Actress and Best Supporting Actor, respectively.
November 25: 'The Artist'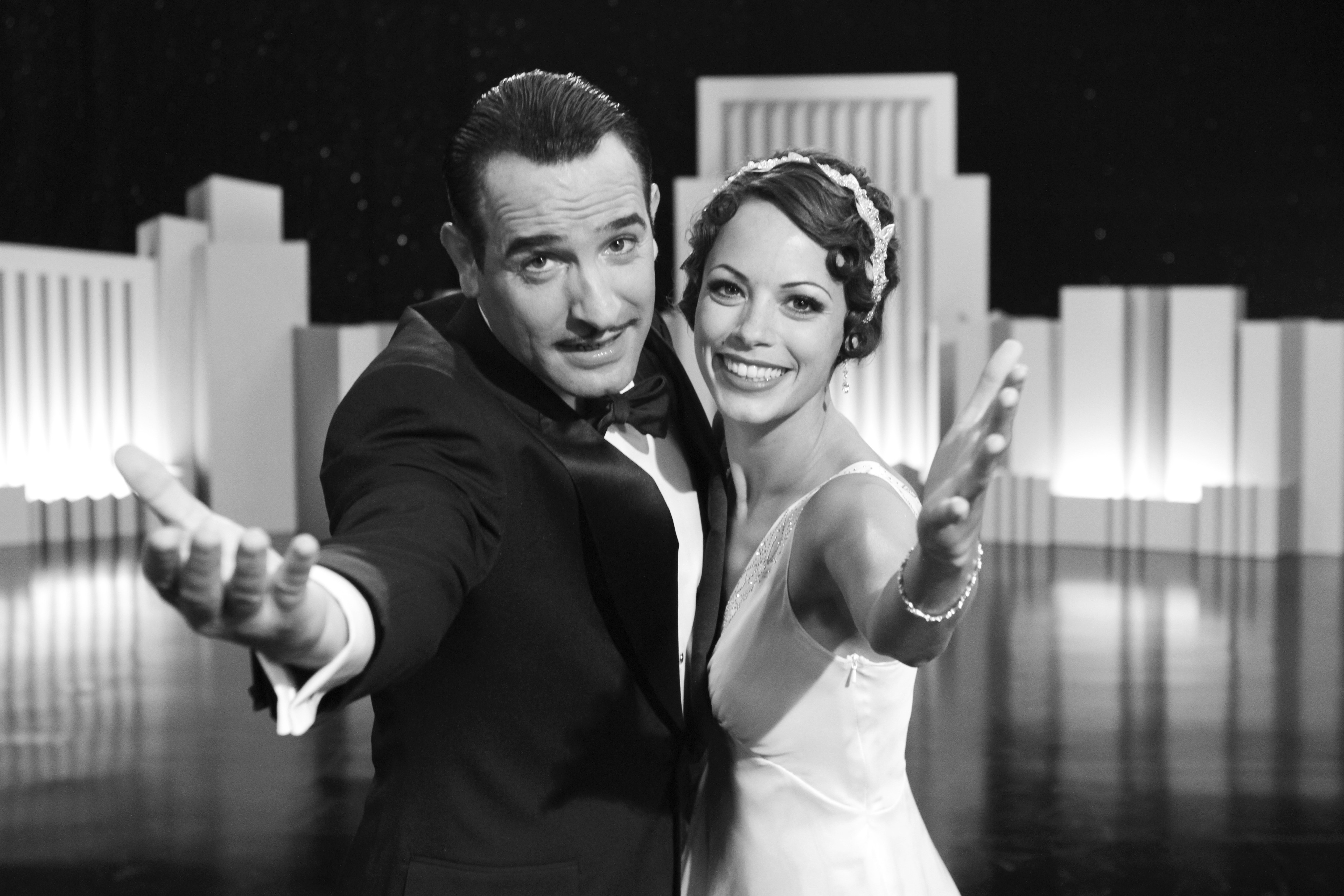 Cast: Jean Dujardin, Bérénice Bejo, James Cromwell, Penelope Ann Miller, Malcolm McDowell, Missi Pyle, and John Goodman
Directed By: Michel Hazanavicius
Synopsis: In the 1920s, actor George Valentin (Jean Dujardin) is a bona fide matinee idol with many adoring fans. While working on his latest film, George finds himself falling in love with an ingenue named Peppy Miller (Bérénice Bejo) and, what's more, it seems Peppy feels the same way. But George is reluctant to cheat on his wife with the beautiful young actress. The growing popularity of sound in movies further separates the potential lovers, as George's career begins to fade while Peppy's star rises.
Domestic Box Office: $44.6 Million/ Worldwide: $133.4 Million
RT Score: 95%
My Thoughts: Making its debut at that year's Cannes Film Festival, The Artist came out of nowhere when it was centered during awards season. Writer/director Michel Hazanavicius made his love letter to the silent era of film where it doesn't make the mistake of feeling like it belongs in the talkie's era of yesteryear. I didn't watch it until late. Ready to be blown away by this take on cinema. And it's always been a film I don't love like everybody else, sadly. It starts amazing when it transports you to the late 1920s as we're in the transition from silent films to talkies. Bu that moment in awe wears off afterward. Film fans will have a blast in capturing the magic with its delightful performances of both Jean Dujardin and Bérénice Bejo, and with it being entirely done with non-verbal dialogue, it's no surprise Lucovic Borce's score is essential. Aside from those, there's nothing too special about a black-and-white silent to come out in 2011. This has a primarily predictable premise that feels slower than I thought. However, my favorite performance was the dog, Jock, the late Parson Russell Terrier, who was too adorable for words. The Artist brought a unique style of direction when paying tribute to the past era though it doesn't quite have all the qualities to be a memorable classic a decade later. During its awards run, it was the film that won Best Picture. Not only that, but it also won Best Director, Actor for Dujardin, Costume Design, and Score. Of all the movies that won Best Picture in the last decade, it's by far the weakest winner when nobody remembers it. Rarely do I say this word because it's overused for certain people, but I always thought this was o-v-e-r-rated.