The time has come to yet another installment of Movie Time Capsule- Remember These Movies, the monthly segment where I look at what was released in theaters ten years ago. Funny enough, October 2010's entry was the last thing I wrote after taking a brief hiatus when I did this last year. Thankfully, I'm keeping things steady in getting the next remaining months done. Seeing how we're already in spooky month and the second month of the fall movie season, October had its fair share of goods and sinkers. Out of everything I'll be talking about, three of these I saw in theaters, and there's only one I haven't seen yet.
I'll be honest, I'm drawing a blank of what was going on in school besides fall break. But thinking back at what events happened, there's a few I remembered: Kim Kardashian filed a divorce from Kris Humphries after 72 days of marriage, the first official trailer for The Avengers dropped online, and Apple co-founder Steve Jobs passed away at age 56. Have you seen any of these? Did I miss a couple? Let's take a walk through memory lane, shall we?
October 7: 'Real Steel'
Cast: Hugh Jackman, Dakota Goyo, Evangeline Lilly, Anthony Mackie, Kevin Durand, and Hope Davis
Directed By: Shawn Levy
Synopsis: Charlie Kenton (Hugh Jackman) used to be a prizefighter but lost his chance to win a title when heavy, towering robots took over the boxing ring. Now working as a small-time promoter, Charlie pieces together scrap metal into low-end fighters, barely earning enough to make it from one underground venue to the next. After hitting rock bottom, Charlie reluctantly teams with his estranged son, Max (Dakota Goyo), to build and train a championship robot for a last shot at redemption.
Domestic Box Office: $85.4 Million/ Worldwide: $299.2 million
RT Score: 60%
My Thoughts: Like other films that came out before the same year, Real Steel was the surprise nobody saw coming. You can watch the trailers or read the synopsis and automatically think we got ourselves a live-action version of Rock 'Em Sock 'Em Robots. This could've been a total disaster, yet it was an enjoyable sci-fi boxing movie. Trust me; I wouldn't mind a world where robot boxing exists if it only happens in a few years from now. Instead, it's a true underdog story that managed to d those low expectations, mainly because Shawn Levy, up until recently, doesn't have the best track record. Still, it's fun and has a solid relationship to believe in between Hugh Jackman and Dakota Goyo. Both performances were nice to watch, and I'm usually rooting for Jackman outside of Wolverine. The robot action was surprisingly riveting. You never know if Atom, the sparing robot, will win. It felt almost realistic to watch, which is a credit to the Oscar-nominated visual effects. It's very predictable where it doesn't hold unexpected surprises, but for what it aimed to be, it goes for being a crowd-pleasing sports drama anyone will be pleased with while watching. Real Steel is a good time and it's one I can say is underrated since critics seemed to be mixed at the time and it doesn't get mentioned nowadays. Hopefully, there's a sequel sometime soon.
'The Ides of March'
Cast: Ryan Gosling, George Clooney, Phillip Seymour Hoffman, Paul Giamatti, Marisa Tomei, Jeffery Wright, Max Mingella, Jennifer Ehle, and Evan Rachel Wood
Directed By: George Clooney
Synopsis: As Ohio's Democratic primary nears, charming Gov. Mike Morris (George Clooney) seems a shoo-in for the nomination over his opponent, Sen. Pullman (Michael Mantell). Morris' idealistic press secretary, Stephen Meyers (Ryan Gosling), believes in his candidate's integrity and the democratic process. But Meyers' meeting with Pullman's campaign manager (Paul Giamatti) and a dalliance with a young intern (Evan Rachel Wood) set in motion events that threaten Morris' election chances.
Domestic Box Office: $40.9 Million/ Worldwide: $76.3 Million
RT Score: 83%
My Thoughts: George Clooney hasn't had a remarkable string of acclaimed hits as of lately in the director's chair, but I think we can all agree The Ides of March is considered one of his finest. Here we have a drama I didn't know what to expect because I always want to avoid talking about politics since I'll just be lost in what's being argued about five out of ten times. Thankfully, it does a pretty solid job of holding your interest in exploring its political views and going behind the scenes between politicians when running for office. I was already hooked from the huge ensemble of talents, led by Ryan Gosling's Stephen Meyers who's strong 2011 was his year, and Clooney proves to be a capable director when a good story catches his attention. Since this is adapted from the play Farragut North, it goes for that play feeling with its dialogue and characters in how one will achieve in this world of politics. Sometimes the pacing gets in the way, of me really liking it despite the writing being excellent. The Idea of March won't please some with different viewpoints, but it's smart, well-acted by everybody, and it's more interesting to watch this than anything on television some days. Even though it didn't get much awards love, the film was nominated for Best Adapted Screenplay, losing to another Clooney film, The Descendants. 
October 14: 'Footloose'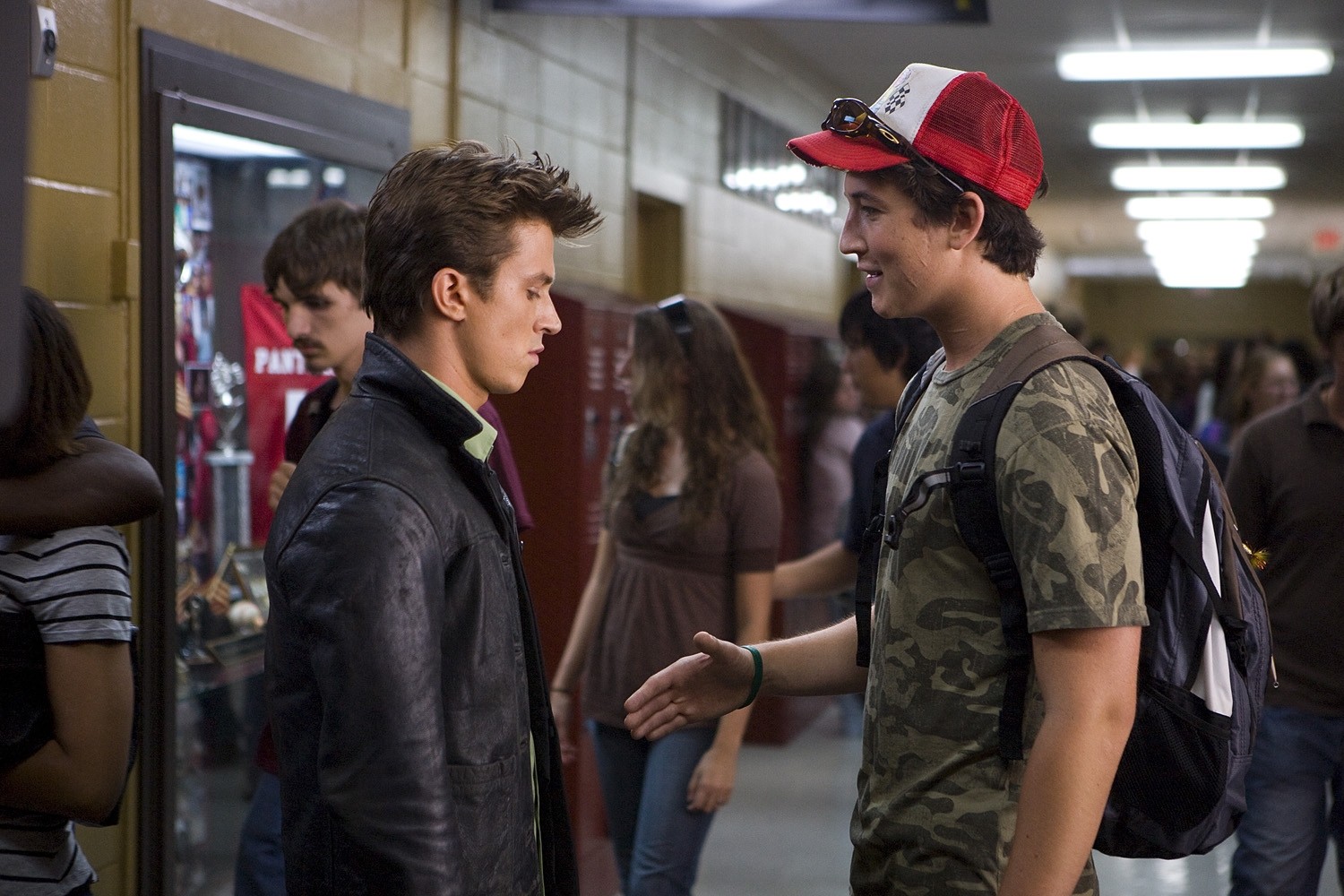 Cast: Kenny Wormald, Julianne Hough, Miles Teller, Andie MacDowell and Dennis Quaid
Directed By: Craig Brewer
Synopsis: As a transplant from Boston, teenager Ren MacCormack (Kenny Wormald) gets a big dose of culture shock when he moves to a small Southern town called Bomont. A few years prior, a fatal accident involving five youths led local councilmen and a beloved clergyman (Dennis Quaid) to enact ordinances against loud music and dancing. Ren — never one to toe the line — challenges the ban, simultaneously revitalizing Bomont and falling in love with the clergyman's troubled daughter (Julianne Hough).
Domestic Box Office: $51.8 Million/ Worldwide: $63.5 Million
RT Score: 68%
My Thoughts: The original Footloose didn't hit with critics back in the day, but it's an '80s movie remembered fondly for Kevin Bacon's performance and its fantastic soundtrack. A remake was invadable with rumors of Zac Efron and Kenny Ortega involved. But if you want a hot take from me, I prefer the 2011 version over the original. You read that right. For director Craig Brewer of Hustle & Flow fame to take this story of a music-less town brand new is tough to pull off, but it was good enough to engage with its demographic. This tried to be something different while staying true to the original, and it even does certain moments better executed in here. Though the soundtrack wasn't as memorable, some of the original songs were included. Kenny Wormald as Ren MacCormack didn't do too bad for the dancer turned actor, though I'm surprised he didn't become a big name after this. Julianne Hough as Ariel gives probably the only performance I've liked from her, and the rest from Dennis Quad, Andie McDowell, and Miles Teller led the movie well. Just like the Karate Kid remake, it seems stupid to throw in Footloose as a bad remake since it's made. But while it probably wasn't necessary, it was a surprise I didn't know it would be.
'The Thing'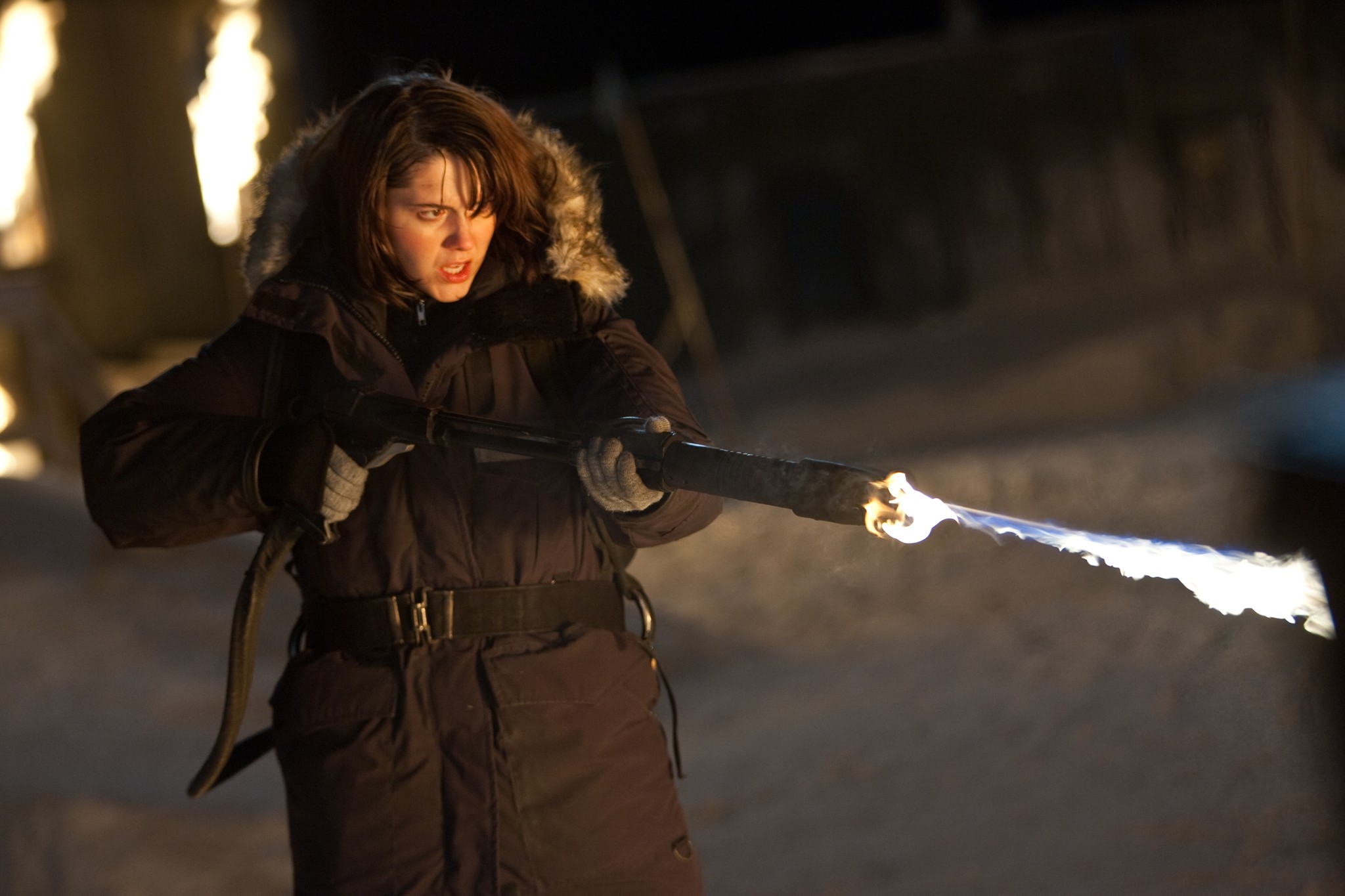 Cast: Mary Elizabeth Winstead, Joel Edgerton, Ulrich Thomsen, Adewale Akinnuoye-Agbaje, and Eric Christian Olsen
Directed By: Matthijs van Heijningen Jr.
Synopsis: After Norwegian researchers discover an alien ship buried in the ice, paleontologist Kate Lloyd (Mary Elizabeth Winstead) joins the team at the isolated Arctic outpost to investigate. She finds an organism that appears to have perished in the crash eons ago but, in fact, is about to awake. Freed from its icy prison, the insidious life-form goes on the attack. Paranoia spreads like wildfire among the crew as they fight to survive against a creature that assumes the shapes of its victims.
Domestic Box Office: $16.9 Million/ Worldwide: $31.5 Million
RT Score: 34%
My Thoughts: A title like The Thing is so vague I thought this was a remake of the John Carpenter classic, which was itself a remake. Kind of think of it, was this the first horror sequel/prequel to use the same name to make it confusing? Anyway, with that in mind, this was a prequel I didn't like. And I haven't watched the original at that point, but from what I can remember, the Artic location makes sure you will never go anywhere that cold to be killed, and the only performances I liked came from Mary Elizabeth Winstead and Joel Edgerton. The rest of The Thing relies on too much jump scares with unnecessary bloody moments that didn't grab my attention. Its mystery surrounding who's an imposter among this group of scientists still keeps that suspense going since any one of them could be an alien, yet it's not scary. Maybe with better writing or directing, The Thing could've been enjoyable. As of now or nine years later when I watched it, a lot of it didn't work for me. 
'The Big Year'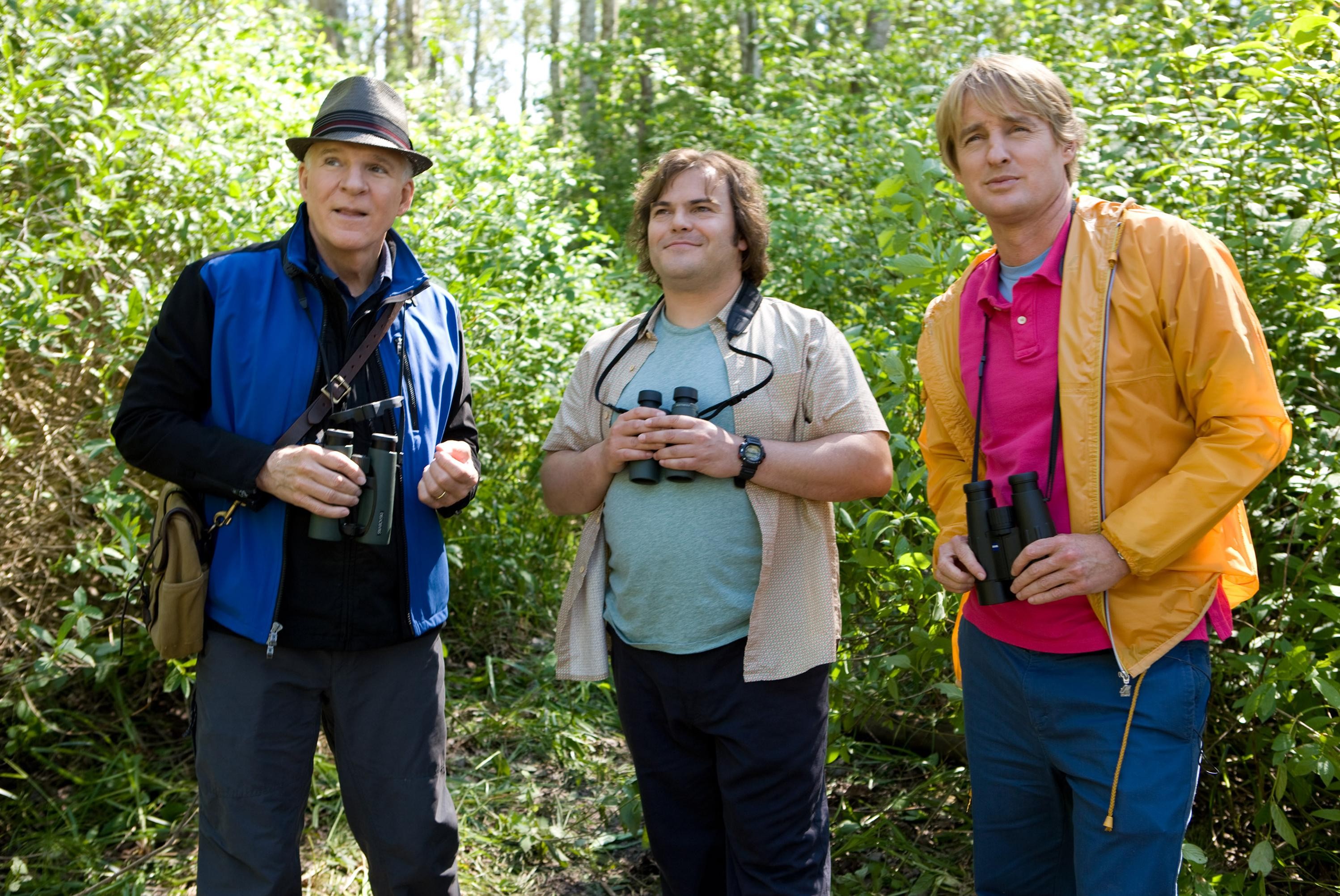 Cast: Jack Black, Owen Wilson, Steve Martin, Rashida Jones, Anjelica Huston, Rosamund Pike, Jim Parsons, and Brian Dennehy
Directed By: David Frankel
Synopsis: Three men find that they have come to a turning point. Stu (Steve Martin) faces a late-life crisis, Kenny (Owen Wilson) is in the grip of a midlife crisis, and Brad (Jack Black) is wallowing in a no-life crisis. Determined to kick-start their stagnant lives, Stu, Kenny and Brad decide to enter a prestigious contest. During the course of one calendar year, the three friendly rivals criss-cross North America in a quest to count more species of birds than anyone else.
Domestic Box Office: $7.2 Million/ Worldwide: $8 Million
RT Score: 42%
My Thoughts: A comedy about bird watching, you say? That's what The Big Year is with three of some of my favorite comedic stars, Jack Black, Owen Wilson, and Steve Martin. And it's a light-hearted time, but it is never all that funny for a comedy about competitive bird watching, which could appeal more to adults. One could get a sweet message out of watching this that isn't all that funny, and this will make you a competitive person. Probably the only people who made it gross $7 million were bird enthusiasts. The Big Year was quickly forgettable for a mildly okay movie. I liked this song called "I Like Birds" by Eels; that's the one thing I took away from this.
October 21: 'Paranormal Activity 3'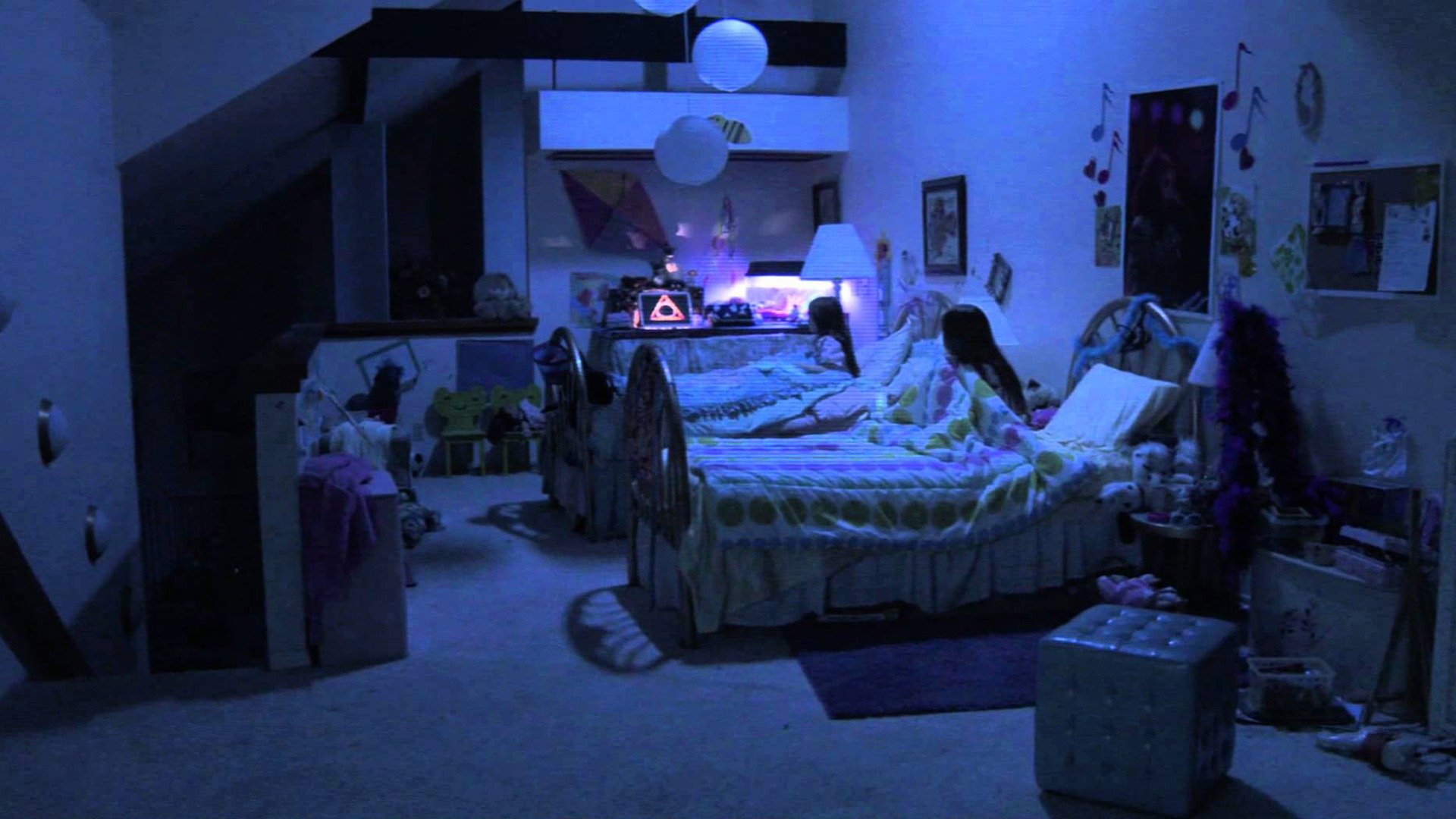 Cast: Lauren Bittner, Chris Smith, Chloe Csengery, Jessica Tyler Brown, and Dustin Ingram
Directed By: Henry Joost and Ariel Schulman
Synopsis: In 1988 sisters Katie (Chloe Csengery) and Kristi (Jessica Tyler Brown) seem to be enjoying a normal, happy childhood at home. But when strange things start going bump in the night, their father, a wedding videographer, decides to use his cameras to discover the source, especially since Kristi appears to having conversations with an imaginary friend. While the cameras do indeed reveal a flurry of supernatural occurrences, the family is unprepared for the terror that awaits.
Domestic Box Office: $104 Million/ Worldwide: $207 Million
RT Score: 66%
My Thoughts: Another year, another Halloween season to have Paranormal Activity in theaters, back when the series mattered. With this being a prequel focusing on a young Katie and Kristi, there was this uneasy feeling that this installment would be a letdown. But, in all honesty, I think Paranormal Activity 3 is the best in the franchise, at least of the ones I watched. It improves on its two predecessors because it provides more genuine scares and provides deep mythology of what we'll learn later on. We also know the formula by now where the creepiest aspects happen at night, though it's funny how they never leave the house in the first place. You'll get creeped out after it's over in the best way, and I can't forget the revolving fan mounted with a camera strapped to it since I thought it was genius. By the way, you don't ignore when a ghost is haunting you. As younger versions of the sisters, I liked Chloe Csengery and Jessica Tyler Brown, and they handled fear realistically. Sometimes it can get unbelievable, especially the way it wraps up, and the fake scares are there, but I'm glad Paranormal Activity 3 didn't waste my time. If only they stopped at three movies. 
'The Three Musketeers'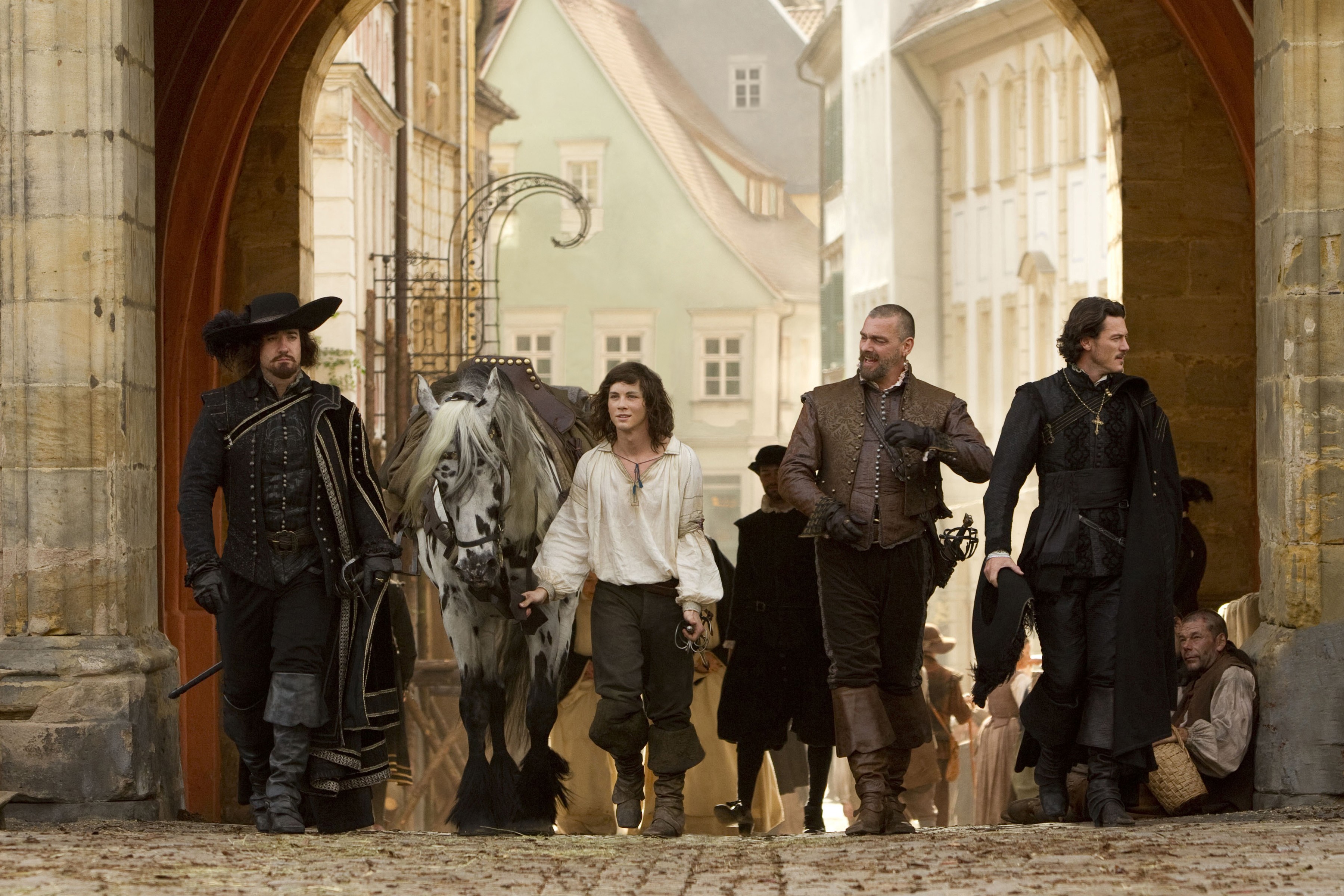 Cast: Logan Lerman, Matthew Macfadyen, Ray Stevenson, Milla Jovovich, Luke Evans, Mads Mikkelsen, Orlando Bloom, Mads Mikkelsen, Gabriella Wilde, Juno Temple, and Christoph Waltz
Directed By: Paul W. S. Anderson
Synopsis: D'Artagnan (Logan Lerman) leaves his home in rural France to fulfill his ambition of becoming one of the king's elite guardsmen, the Musketeers. In Paris he meets Athos (Matthew MacFadyen), Porthos (Ray Stevenson) and Aramis (Luke Evans) — three of the king's finest swordsmen, who have been laid low by Milady De Winter's (Milla Jovovich) betrayal. D'Artagnan rallies his new friends to foil Cardinal Richelieu's (Christoph Waltz) plot to overthrow the monarchy and crown himself king of France.
Domestic Box Office: $20.3 Million/ Worldwide: $132.2 Million
RT Score: 26%
My Thoughts: Who in the right mind thought Paul W.S. Anderson would make for a good director to do The Three Musketeers? Not only that, but nobody wanted another take on the Alexandre Dumas classic novel since we already have the Disney version from the '90s and The Musketeer ten years prior with Hong Kong martial arts. With this The Three Musketeers, it was pure awfulness right here. All this needed to accomplish is to feel like a refreshing take on the story, and it's been there, done that with that Anderson touch no one likes. We all know the story, and here we have one of the worst takes. Want captivating action? It's all terrible and the CGI and overuse of slow-motion help make matters worse. Good acting? Wasted performances when Logan Lerman wasn't entirely convincing as D'Artagnan, and the villains of Christoph Waltz, Orlando Bloom, and Milla Jovovich. Everything is so bland and unrealistic through every moment, I couldn't have fun at all. This newest attempt of The Three Musketeers fails hardcore, one of the worst of the year. We did have Take That's "When We Were Young," the group's last song with its original five members.
'Johnny English Reborn'
Cast: Rowan Atkinson, Gillian Anderson, Dominic West, Rosamund Pike, Daniel Kaluuya and Richard Schiff
Directed By: Oliver Parker
Synopsis: After a disastrous mission in Mozambique, British agent Johnny English (Rowan Atkinson) has retreated to a Tibetan monastery to try to forget his shame. But when he receives an urgent call from MI-7 to lead a mission that only he can handle, English is back in action. Using his questionable combat skills and an assortment of high-tech gadgets, English, along with his new partner, Agent Tucker (Daniel Kaluuya), must foil a plot to kill the Chinese premier.
Domestic Box Office: $8.3 Million/ Worldwide: $160 Million
RT Score: 38%
My Thoughts: There was a sequel to Johnny English eight years later with the appropriately titled Johnny English Reborn with the return of Rowan Atkinson as the bumbling secret agent. If you're one of the few who liked the original, this is on par with Atkinson's witty humor and good performance. Unfortunately, I've always thought of this as a throwaway sequel for a character many forgotten about and didn't show up to see. Probably better than most spy spoof comedies, but there's not much to get out of Johnny English Reborn. However, this was the first appearance I ever saw from future Oscar-winner Daniel Kaluuya, so that's nice.
October 28: 'Puss in Boots'
Cast: Antonio Banderas, Salma Hayek, Zach Galifianakis, Billy Bob Thornton, and Amy Sedaris
Directed By: Chris Miller
Synopsis: Long before meeting Shrek, Puss in Boots (Antonio Banderas) — just named a hero for saving a woman from a charging bull — is run out of town on suspicion of bank robbery, even though the real villain is Puss' friend, Humpty Dumpty (Zach Galifianakis). Though there is still animosity between them, Puss and Humpty reunite to steal a goose that lays golden eggs. Joining them for the adventure of nine lifetimes is notorious cat burglar, Kitty Softpaws (Salma Hayek).
Domestic Box Office: $149.2 Million/ Worldwide: $554.9 Million
RT Score: 86%
My Thoughts: After Shrek originally ended, it didn't come as a surprise DreamWorks wanted to do a spin-off of the lovable fan-favorite cat who's just too adorable. Puss in Boots turned out to be a reasonably decent family adventure, showing very well a character like him having his own movie works. For one, Antonio Banderas voices the titular feline to perfection at this point where it's easy to see him as another take on Zorro, and lucky enough, he reunites with his Desperado co-star Salma Hayek, who voices Kitty Softpaws. Setting on keeping the fairy tale element in the story, it meshes well with a swashbuckling tale that's good fun for families. What's even more of a surprise is that the fast-paced animation and humor brought this sense of energy I wasn't expecting. And I didn't plan on seeing this in 3D, but it was really impressive, which shouldn't be surprising from the studio. While the story itself or villains are the most memorable aspects, Puss in Boots is fun for all, even when I don't think it's one of my favorites that has come from DreamWorks. Along with a sequel planned to come out next year, it did earn an Oscar nomination for Best Animated Feature, losing to Rango. 
'In Time'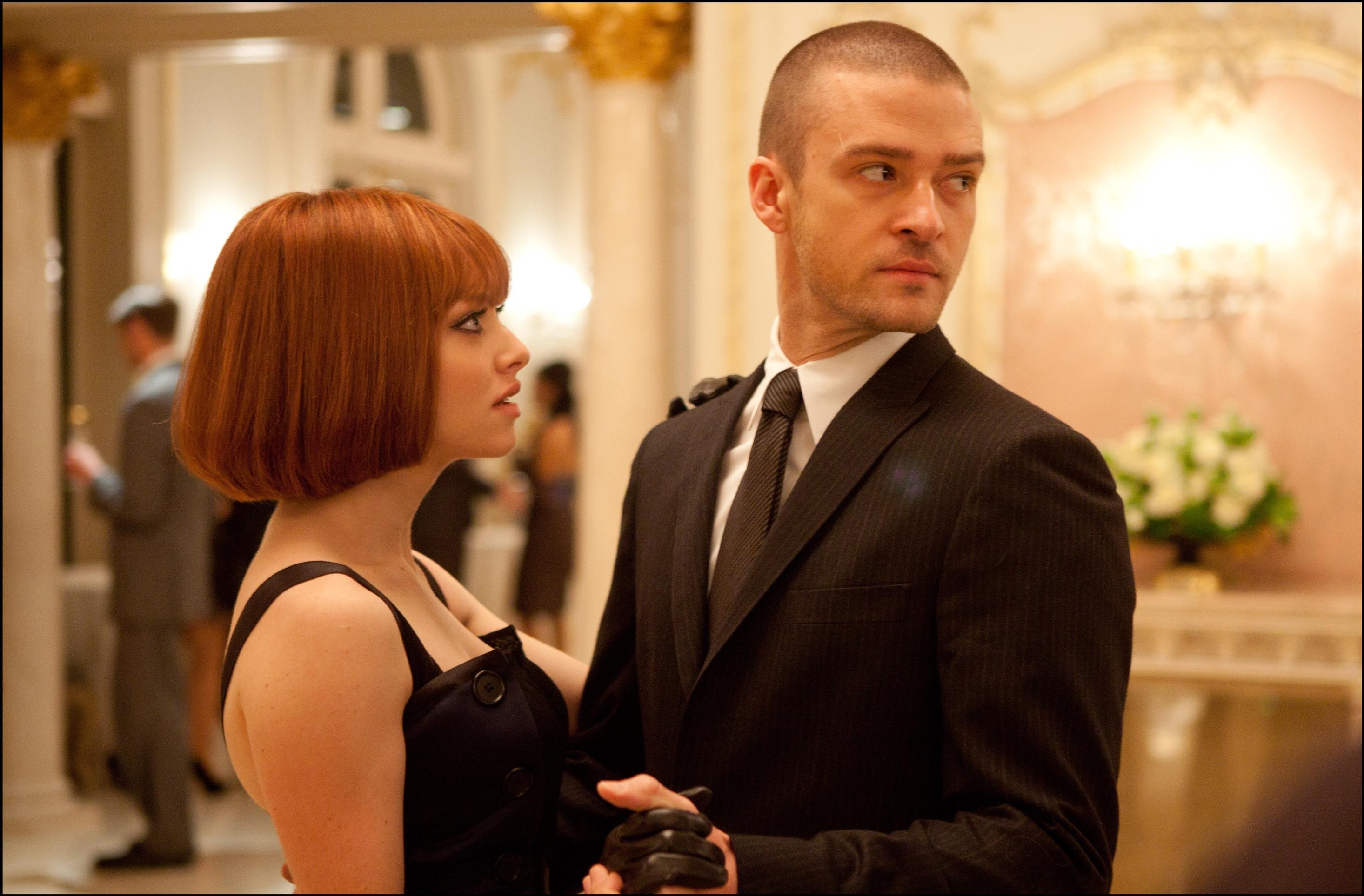 Cast: Justin Timberlake, Amanda Seyfried, Cillian Murphy, Vincent Kartheiser, Olivia Wilde, Matt Bomer, Johnny Galecki, and Alex Pettyfer
Directed By: Andrew Niccol
Synopsis: In a future where people stop aging at 25, but are engineered to live only one more year, having the means to buy your way out of the situation is a shot at immortal youth. Here, Will Salas finds himself accused of murder and on the run with a hostage – a connection that becomes an important part of the way against the system.
Domestic Box Office: $37.5 Million/ Worldwide: $173.9 Million
RT Score: 37%
My Thoughts: In Time probably has one of the coolest premises in the world of science fiction. The question that has us pondering is what we would do if we had all the time in the world. The idea of having time being currency sounded exciting, especially coming from writer/director Andrew Niccol to make it better than something like Repo Men or The Island. Unfortunately, a great concept fails to live up to those expectations. Everything kind of starts off strong, and then it turns into a futuristic Bonnie & Clyde that doesn't say anything significant in the end. Besides being poorly paced and not having the best writing, there was no natural development of how this world works. Justin Timberlake and Amanda Seyfried's chemistry didn't have a spark to it, and that might be due to not finding Timberlake to be the right lead this time. Cillian Murphy wasn't too bad, though, because he's always the best part in mediocre movies. Roger Deakins' cinematography is nice to look at, but that's not enough to say it's good. In Time is just dull that couldn't pass the basis of an awesome premise in hand. It's not underrated; it's just bland. 
'The Rum Diary'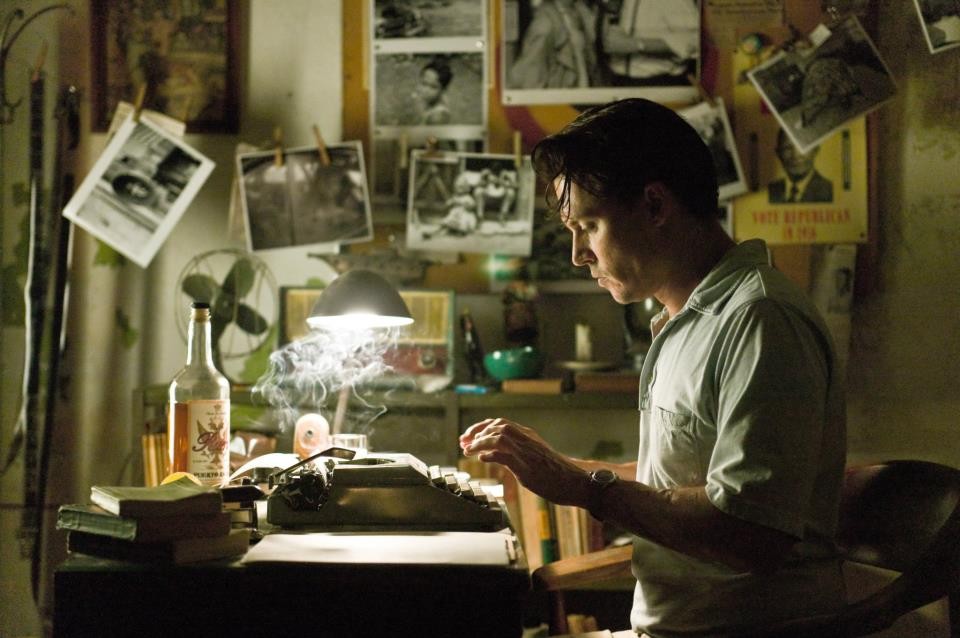 Cast: Johnny Depp, Aaron Eckhart, Michael Rispoli, Amber Heard, Richard Jenkins, and Giovanni Ribisi
Directed By: Bruce Robinson
Synopsis: American journalist Paul Kemp takes on a freelance job in Puerto Rico for a local newspaper during the 1960s and struggles to find a balance between island culture and the expatriates who live there.
Domestic Box Office: $13.1 Million/ Worldwide: $30.1 Million
RT Score: 51%
My Thoughts: Watching The Rum Diary made me feel hungover while sitting through it one early afternoon. Since this was based on Hunter S. Thompson's book, you can call this a spiritual sequel to Fear and Loathing in Las Vegas, and you'll know where to land on this based on your opinion on Fear and Loathing. Truthfully, this was the closest I came to falling asleep during a movie because of how painfully boring this turned out to be. The pacing was the worst part, amongst other things. Though this tried hard to be weird, especially when it didn't have any essence of a plot, it rides the line of being instantly forgettable right from the start. The location is excellent, and a couple of decent performances, not including Johnny Depp. I barely remember a lick about The Rum Diary, and that's fine by me. If there's one thing to take away from this movie, this was the start of the very controversial relationship between Depp and Heard that would forever be in infamy.
'Anonymous'
Cast: Rhys Ifrans, Vanessa Redgrave, Joely Richardson, David Thewlis, Xavier Samuels, Sebastian Armesto, Rafe Spall, Edward Hogg, Jamie Campbell Bower, and Derek Jacobi
Directed By: Roland Emmerich
Synopsis: As royal troops set fire to the Globe Theatre, Elizabethan-era playwright Ben Jonson (Sebastian Armesto) is tortured by Robert Cecil (Edward Hogg), who demands to know if Edward de Vere, the Earl of Oxford (Rhys Ifans), is the true author of the writings attributed to William Shakespeare (Rafe Spall). Flashbacks reveal Oxford's passionate affair with Queen Elizabeth I and how — in his younger days — Oxford charmed her with plays like "A Midsummer Night's Dream."
Domestic Box Office: $4.4 Million/ Worldwide: $15.3 Million
RT Score: 45%
My Thoughts: I wanted to see Anonymous at first since I had never heard of the Oxford theory of Shakespeare being a fraud and the trailers had Radiohead. But it was in minimal release, and from the reactions heard, maybe Roland Emmerich wasn't the right director for this historical drama for this scope. Anonymous will only seek the attention of those who honestly believe this conspiracy theory with him changing history. There's a lot of people in here, but I heard Rhys Ifans was the standout as the Earl of Oxford. The controversy surrounding the film dealt with the fact people will believe what's told to them when it isn't for two hours, and I heard the time jumps become annoying. During my second semester of junior year in college, I took a Shakespeare class, and for our final, we had to write a research paper concerning his work. So, I decided to do mine on the theory. I think I did well; I passed the class. Anonymous looks like classic Oscar bait, although it only earned one nomination for Costume Design.
'Like Crazy'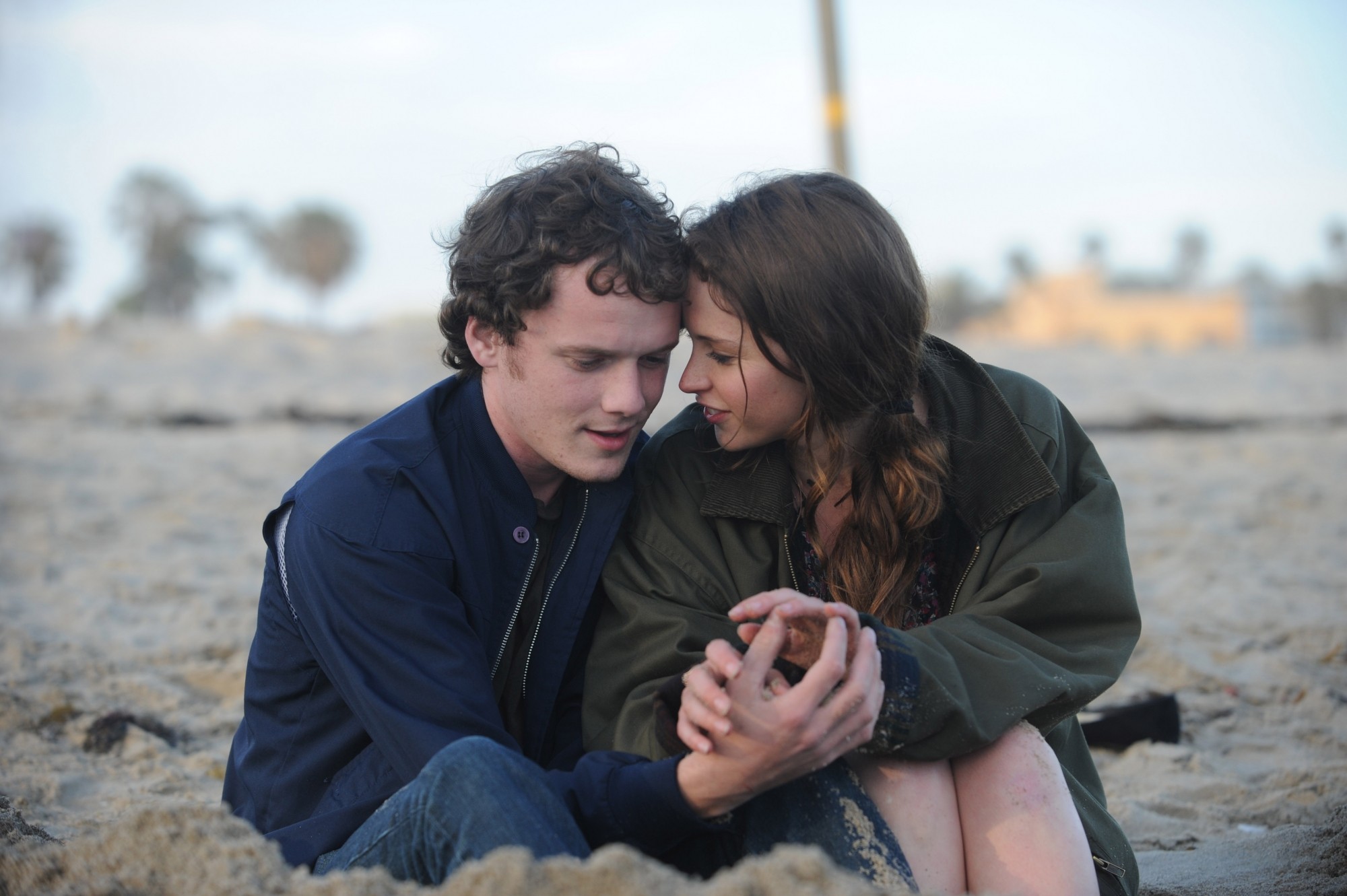 Cast: Anton Yelchin, Felicity Jones, and Jennifer Lawrence
Directed By: Drake Doremus
Synopsis: While attending college in Los Angeles, Jacob (Anton Yelchin), an American, and Anna (Felicity Jones), who hails from London, fall madly in love. However, the young lovers are forced apart when Anna violates the terms of her visa and must return to England. Jacob and Anna discover the difficulties of maintaining a long-distance relationship in the face of their changing lives. Yet, no matter how often circumstances pull them apart, they always find themselves back together again.
Domestic Box Office: $3.3 Million/ Worldwide: $3.7 Million
RT Score: 72%
My Thoughts:  I caught Like Crazy about five years ago, and what made me finally want to watch it is because I heard good things about it, and I still missed Anton Yelchin. It plays out like Blue Valentine, except this won't make you depressed. What makes this a good watch is that it's not as predictable as it may seem with this beautiful love story being told. There's some excellent, nuanced chemistry between Yelchin and Felicity Jones throughout as one would depict a long-distance relationship that doesn't go as planned. Based on Doremus's own experience, I didn't know if this was the most realistic romance ever portrayed on film, but as time passed, I felt the frustrating weight Jacob and Anna must've gone through to keep what they have alive. My favorite scene in my mind is this fight between them, showcasing how great performers they are. So if you haven't seen Like Crazy, give it a watch, as long as you watch it by yourself and not with your significant other.