Is it that time again? Yes, I'm back with a brand new monthly installment of Movie Time Capsule- Remember These Movies. Like always, we're going to be looking back at the movies that came out in theaters ten years back, and it's all about the August releases. Near the end of the summer movie season has its fair of successes and losses. Thankfully, there were only two hits that grossed over $100 million and ruled the box office, while a few bombed that made my worst list of the year.
Believe it or not, around this time a decade ago was when I was just a freshman in high school. Man, I'm getting old. It was kinda an easy start where I got to reconnect with old and new friends while getting through my classes. As for what's going to be talked about, there are only two I haven't watched; while the rest are just quick reviews. But have you seen any of these I'll be discussing? Let's reminisce about what Hollywood gave us.
August 5: 'Rise of the Planet of the Apes'
Cast: Andy Serkis, James Franco, Freida Pinto, John Lithgow, Brian Cox, Tom Felton, and David Oyelowo
Directed By: Rupert Wyatt
Synopsis: Will Rodman (James Franco), a scientist in San Francisco, is experimenting with a drug that he hopes will cure his father's (John Lithgow) Alzheimer's disease. After his work is deemed a failure, Will becomes the guardian of Caesar, an infant chimp who was exposed in-utero to Will's drug. Caesar displays unusual intelligence, and Will decides to continue his experiments secretly. But as Caesar's intellect and abilities grow, he comes to represent a threat to man's dominion over Earth.
Domestic Box Office: $176,760,185/ Worldwide: $481,800,873
RT Score: 82%
My Thoughts: Did any of us think Rise of the Planet of the Apes would be anywhere near good? It's kinda hard to say since it was like Hollywood was running out of original ideas and just wanted to reboot franchises. Remember when Fox and Tim Burton remade the 1968 original a decade before and it resulted terribly with a ridiculous ending? To my surprise, this turned out to be a very good film that serves as an intriguing prequel to how the apes ruled the world. Does this quality as the last entertaining film of the summer? Indeed. I've always loved Andy Serkis as an actor, and no character is more brilliant of the 2010s than Caesar. Above all else, this film belongs to him. This is somebody who's becoming intelligent and not like the other apes without speaking a word of dialogue. Serkis brings so much gravitas to this role through the emotions he gives to have Caesar feel realstic, so great in fact that he should've gotten an Oscar nomination since it's a performance showcasing how important motion-capture is in telling a story. The rest of the performances from James Franco, Freida Pinto, and John Lithgow do their parts well enough
And while the Oscar-nominated visual effects might not hold up well today, I believed those were real apes in those scenes, especially during the incredible sequences on the Golden Gate Bridge, which is a credit to director Rupert Wyatt and the visual effects artist at Weta. When I saw it in theaters for the first time, my reaction to when Caesar yelled, No!" was unforgettable because it was so unexpected. Upon re-watching it several times, I don't think it's a great movie even though it's solid. The second half, where Caesar's in the primate shelter, loses me a bit as it felt too long, in my opinion. For me, the first and third acts were the strongest as they captivated me. Still, Rise of the Planet of the Apes was a major surprise on all cylinders with its fantastic visuals and Andy Serkis' phenomenal performance that'll have people wanting more. If you ask me, I love the two sequels, Dawn of the Planet of the Apes and War for the Planet of the Apes, even more. 
'The Change-Up'
Cast: Ryan Reynolds, Jason Batman, Leslie Mann, Olivia Wilde, and Alan Arkin
Directed By: David Dobkin
Synopsis: Once inseparable pals, Dave (Jason Bateman) and Mitch (Ryan Reynolds) have drifted apart over the years. Dave is an overworked lawyer and family man, while Mitch has thus far avoided most of the normal responsibilities of adulthood. Each is envious of the other's life, and following a drunken binge, the men awake to find they have somehow switched bodies. Dave and Mitch soon discover that things are not as rosy as they seemed and try to find a way to return their lives to normal.
Domestic Box Office: $37,081,475/ Worldwide: $75,450,437
RT Score: 25%
My Thoughts: Have we seen body-swapping movies before? Well, The Change-Up isn't the first movie to have a story of this kind, yet it was rare to see it done as a raunchy R-rated comedy that's basically Freaky Friday for dudes from the writers of The Hangover. Despite not being original, I was hoping to get a ton of laughs, which I didn't. Why this concept doesn't work too much here is because despite the talent in front and behind the camera was some sophomoric and gross jokes in here didn't land, which shouldn't have gross-out humor like the baby pooping in Bateman's mouth to start the movie. And as much as I love both Jason Bateman and Ryan Reynolds, there was something about their chemistry I couldn't buy since I never bought the fact these two are best friends, and what's worse is that I didn't buy them pulling off each other's character's—not believable. You already expect the type of performances you'll likely get from both of them, but it didn't work for me, unfortunately. Not one of the worst movies to come out that year, but The Change-Up is in no way earns the right to be called the funniest comedy when it doesn't do that. Two flops for Reynolds in one year? Well, I'm glad his career is better currently.
August 10: 'The Help'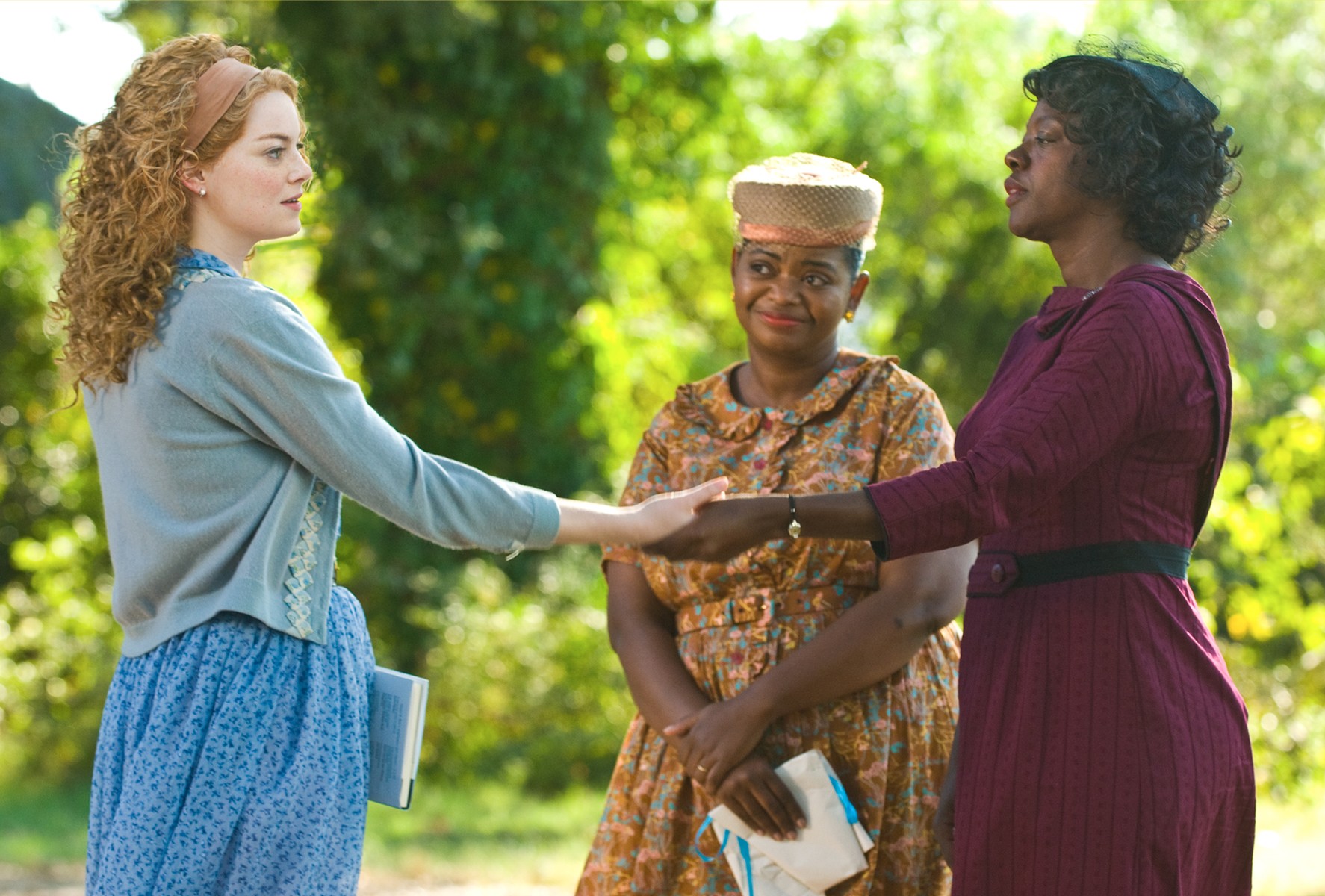 Cast: Emma Stone, Viola Davis, Octavia Spencer, Jessica Chastain, Bryce Dallas Howard, Allison Janney, Sissy Spacek, and Cicely Tyson
Directed By: Tate Taylor
Synopsis: In 1960s Mississippi, Southern society girl Skeeter (Emma Stone) returns from college with dreams of being a writer. She turns her small town on its ear by choosing to interview the Black women who have spent their lives taking care of prominent white families. Only Aibileen (Viola Davis), the housekeeper of Skeeter's best friend, will talk at first. But as the pair continue the collaboration, more women decide to come forward, and as it turns out, they have quite a lot to say.
Domestic Box Office: $169,708,112/ Worldwide: $216,639,112
RT Score: 76%
My Thoughts: The Help hasn't gotten the best reputation as the years followed since everybody has to go out and ruin the reality of a good movie in putting it in the category of being a film leaning on the white savior narrative. Which when I was only a teenager, that never came to my mind unless it's brought up years later. This was never going to be a film to solve the problem of racism (no film will), but I guess I'm still on the side of those who still enjoy this period drama based on Kathryn Stockett's 2009 novel of the same name. The film shows what life in Jackson, Mississippi was like for black maids when they must've been treated unfairly, but it took courage to have someone, like an aspiring writer, listen to their stories to expose the truth. Times like these are why I'm glad I didn't grow up in that decade but feel bad for those I knew who did who didn't get respect. We have here is a huge ensemble of female talents, and all of them were given outstanding performances, including Emma Stone, Viola Davis, and Octavia Spencer, which her performance as Minny made her the star we know her now. Not just them, but this was the first time I've ever seen Jessica Chastain in a movie and I thought to myself, "She's very talented." And I have no problem with Bryce Dallas Howard, but I never thought she would be a contender for one of the year's best villains because it's easy to not root for this character. I think one of the funniest and most memorable moments out of any film of 2011 involves Minny, Hilly, and some pie.
Personally, I didn't think I was going to enjoy it since I thought it would gear towards a certain audience, but it wasn't; I believe it's made for those who wants to see the good in disappointing places. It might be too long, but The Help gets points for how well-acted it was, the writing, and how director Tate Taylor brought this adaptation to the big screen. Regardless of the backlash, the film managed to be a sleeper hit at the box office, beating out Rise of Planet of the Apes for the number one spot after its third weekend through good word of mouth, I suppose. That's not the only success, as Octavia Spencer won the Oscar for Best Supporting Actress, along with earning nominations for Best Picture, Best Actress (Davis), and Supporting Actress (Chastain).
August 12: '30 Minutes of Less'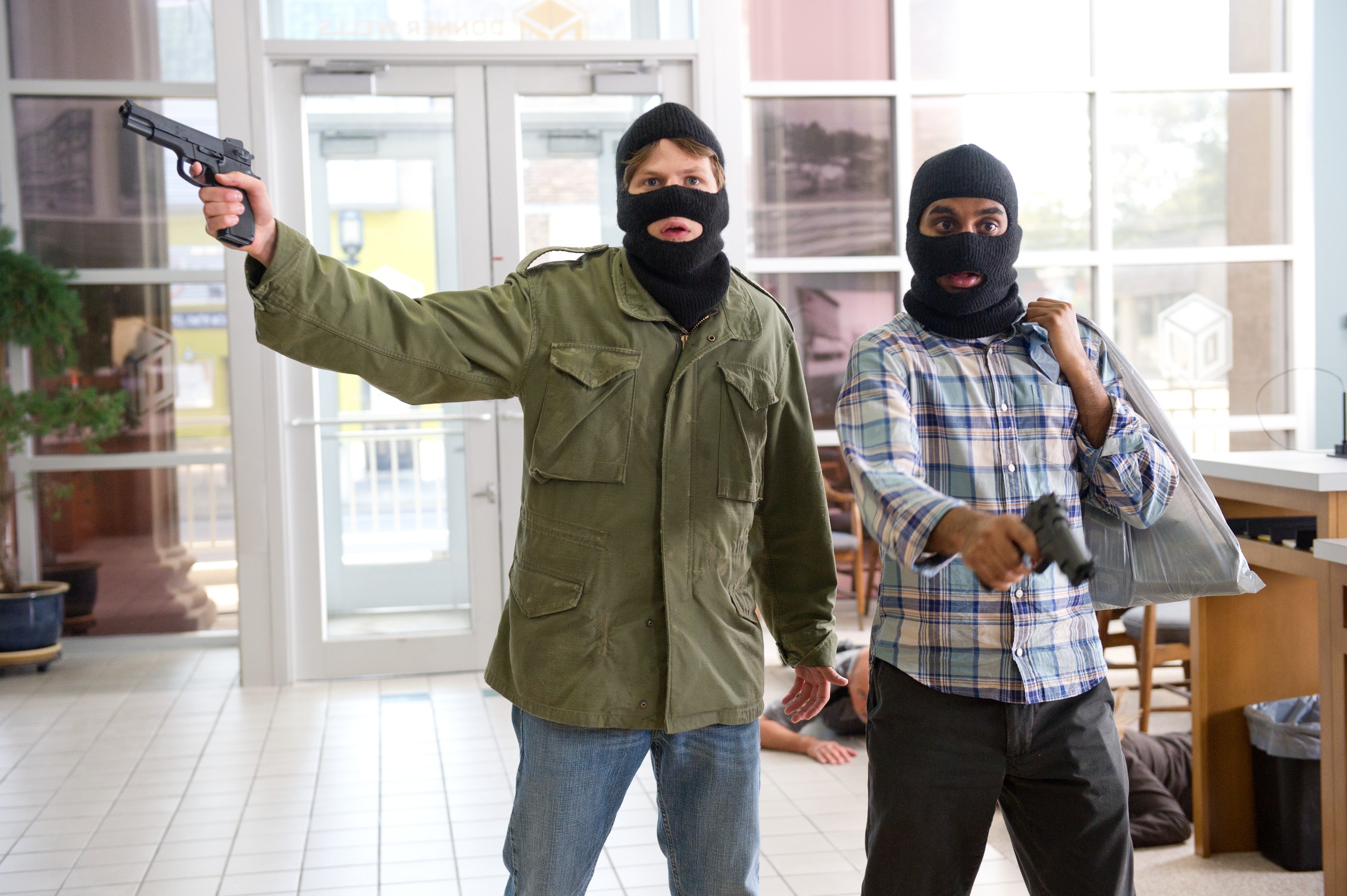 Cast: Jesse Eisenberg, Danny McBride, Aziz Ansari, Nick Swardson, Michael Peña, Dilshad Vadsaria, and Fred Ward
Directed By: Ruben Fleischer
Synopsis: Nick (Jesse Eisenberg) is a pizza deliverer who lives a fairly ordinary, boring life — until he crosses paths with two aspiring criminal masterminds (Danny McBride, Nick Swardson), who kidnap him, strap a bomb to his chest and force him to rob a bank for them. Nick doesn't get much time to pull off the difficult task, so he enlists the aid of Chet (Aziz Ansari), his estranged pal. As time ticks away, Nick and Chet face many obstacles, not the least of which is their volatile relationship.
Domestic Box Office: $37,053,924/ Worldwide: $40,662,632
RT Score: 45%
My Thoughts: 30 Minutes or Less was the last movie I saw on summer break before I started school, and I thought it would be better. The lesson to remember this by is never taking a job in pizza delivery. I'm always up for any crime comedy when it has an absurd premise behind it. The promising cast of funny people (Jesse Eisenberg, Aziz Ansari, Danny McBride, Nick Swardson) and Ruben Fleischer's follow-up to Zombieland could've made for a hilarious 80 minutes. Was it? No. Just from the writing and direction of the story (kind of inspired by what happened with Brian Wells), it had a hard time figuring out what it wants to be, which makes the laughs not flow well with characters not worth caring about. These aren't the best performances from any of the stars, but I thought Ansari was the best out of all of them. From what I can remember, the whole bank robbery scene probably had a few laughs, and that's about it. But there was also this car chase that wasn't too bad. Only re-watched this once, and after that, I thought little else about 30 Minutes or Less when it's another forgettable comedy with wasted potential nobody remembers.
'Final Destination 5'
Cast: Nicholas D'Agosto, Emma Bell, Miles Fisher, Jacqueline MacInnes Wood, Arlen Escarpeta, P. J. Byrne, David Koechner, Courtney B. Vance, and Tony Todd
Directed By: Steven Quale
Synopsis: During a bus ride with his colleagues to a corporate retreat, Sam (Nicholas D'Agosto) experiences a horrifying vision: the suspension bridge that they — and many others — are crossing starts to crumble around them. When his vision ends and, almost immediately, starts to come true, Sam takes quick action that saves a number of people, including his girlfriend, Molly (Emma Bell), and his best friend, Peter (Miles Fisher). However, the survivors soon find that Death will not be denied.
Domestic Box Office: $42,587,643/ Worldwide: $157,887,643
RT Score: 62%
My Thoughts: There's no shame in saying the Final Destination franchise is perhaps the most repetitive horror franchise to exist. All the movies follow the same formula: The protagonist has a premonition of a freak disaster, saving most of the survivors that will lead to Death killing them off in creative and horrific ways. That said, while Final Destination 5 remains a mediocre sequel that's unnecessary, I say it's the second-best since the original. As expected, there's still some terrible acting that's at least better than the performance in the fourth installment. But I'll give this one credit for not only having a pretty cool sequence with the bridge, but everyone goes into these movies wanting to experience the death scenes. It certainly delivers on some memorable deaths that did their job at freaking me out with how over-the-top gory they were, while a few were underwhelming. I was already over with the franchise after The Final Destination was completely horrible, but this makes up for it in trying to make something different. And without giving anything away, the ending caught me off guard in a way nobody expected.
'Glee: The 3D Concert Movie'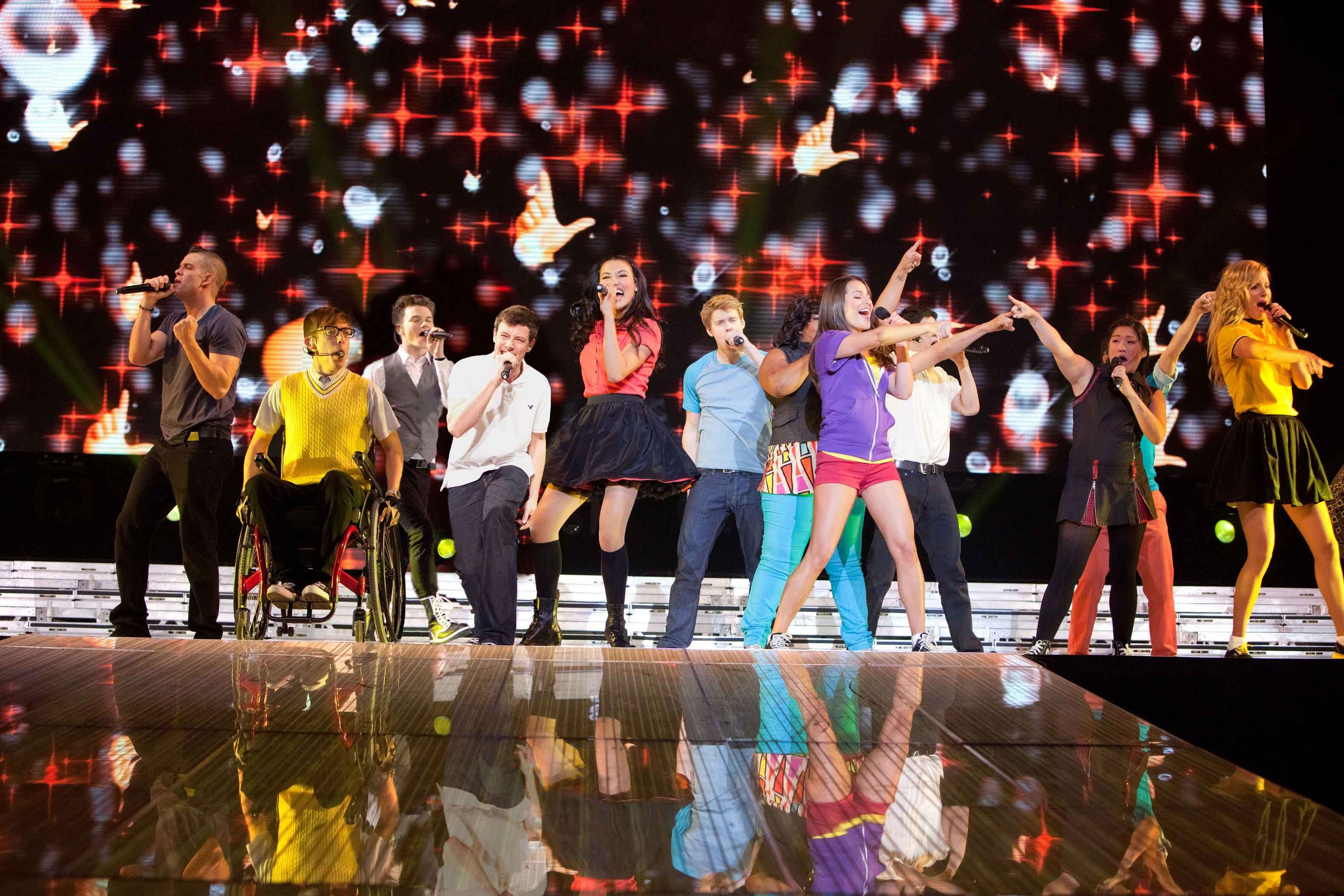 Cast: Dianna Agron, Chris Colfer, Darren Criss, Kevin McHale, Lea Michele, Cory Monteith, Heather Morris, Amber Riley, Naya Rivera, Mark Salling, Jenna Ushkowitz, Harry Shum Jr., Chord Overstreet, and Ashley Fink
Directed By: Kevin Tancharoen
Synopsis: New Directions hits the road to perform a summer concert tour. Rachel (Lea Michele), Finn (Cory Monteith), Kurt (Chris Colfer), Mercedes (Amber Riley) and the rest of the Glee Club perform the songs that took them all the way to Nationals, including "Sing," "I'm a Slave 4 U," "Somebody to Love," "Born This Way" and their anthem, "Don't Stop Believin'. Also included is footage of the young singers backstage, as well as performances by Blaine (Darren Criss) and the Warblers.
Domestic Box Office: $11,862,398/ Worldwide: $18,663,238
RT Score: 60%
My Thoughts: Back when the world cared about the popularity of the musical series Glee, they just had to make a concert documentary since that tread was over about two years ago. I think I watched the entire second season of the show when it aired and didn't think it was too bad. But I didn't get why Fox wanted to release an entire movie from their concert tour with the actors (besides Matthew Morrison) reprising their characters covering songs from the show. The movie does provide some of the more favorable covers fans will recognizable, including their overused take on "Don't Stop Believing." However, I never saw the point of paying $3 extra for what you could watch at home for free. The concert stuff is admittedly amusing, but whenever it cuts to the stories of a few fans who love Glee was just fine, but I wanted them to go back to the songs since I already know the show has a connection to everyone. The only people who will have a blast with Glee: The 3D Concert Movie are the hardcore fans who were probably the only people who saw it the opening weekend; others don't need to sit through it.
August 19: 'Fright Night'
Cast: Anton Yelchin, Colin Farrell, Toni Collette, Imogen Poots, Christopher Mintz-Plasse, and David Tennant.
Directed By: Craig Gillespie
Synopsis: Charley (Anton Yelchin) is a high-school senior who's in with the "in" crowd and dating Amy (Imogen Poots), the most sought-after gal on campus. But trouble enters his world in the form of Jerry Dandridge (Colin Farrell), a charismatic new neighbor. After witnessing some unusual activity next door, Charley concludes that Jerry is a vampire. Of course, no one believes him. After seeking advice from illusionist Peter Vincent (David Tennant), Charley sets out to destroy Jerry himself.
Domestic Box Office: $18,302,607/ Worldwide: $41,002,607
RT Score: 72%
My Thoughts: I think I'll save my full thoughts on Fright Night since I'm thinking about reviewing it around Halloween time, but after re-watching earlier this month, this horror vampire comedy is a fun remake of the 1985 original. If you're a fan of the good vampire movies or just a fan of the original, this is right up your alley. The biggest standout comes from Colin Farrell as the main antagonist Jerry, who steals every scene he's in where it's hard to know if he's a trustworthy guy underneath his cold and bloody persona. But I can't forget about Anton Yelchin and Doctor Who's David Tenant for their likable performances. If you missed out on Fright Night when it came out, I highly recommend it. How this didn't perform well at the box office annoys me when it's the better movie that came out that weekend.
'Spy Kids: All the Time in the World'
Cast: Jessica Alba, Joel McHale, Alexa Vega, Daryl Sabara, Rowan Blanchard, Mason Cook, Ricky Gervais, and Jeremy Piven
Directed By: Robert Rodriguez
Synopsis: Marissa Cortez Wilson (Jessica Alba) is a retired spy who keeps that identity hidden from her clueless husband and whip-smart twin stepchildren, Rebecca (Rowan Blanchard) and Cecil (Mason Cook). However, when a villain called Timekeeper (Jeremy Piven) threatens to conquer the world, Marissa springs back into action as head of the OSS, home of the now-defunct Spy Kids Division. With help from some cool gadgets and two former spy kids, Rebecca and Cecil join the fight to save Earth.
Domestic Box Office: $38,538,188/ Worldwide: $85,564,310
RT Score: 22%
My Thoughts: It wouldn't be a surprise to learn most didn't know this existed. What was going through Robert Rodriguez's head to think the moviegoers wanted a fourth Spy Kids movie? We all thought the series was over with the third movie, but then he came with the most unnecessary sequel in the world: Spy Kids: All the Time in the World. By all accounts, this had got to be the worst family movie of 2011 and the worst movie in the director's career, as the fans who loved the original ten years prior didn't care about this, and those who saw it turned dumb. From the look of it, all there's to think about is why this looks like a cheap direct-to-DVD movie essentially set out to theaters, or why adults have to sit through the dumbest humor imaginable. You don't have the original characters in the lead this time, but at no point does your brain give you the capacity to care for Rowan Blanchard and Mason Cook as these new "Spy Kids." Though it makes you wonder why Jessica Alba keeps making bad career moves. And if 3D wasn't the biggest gimmick to drag people in, they used "4D Aroma-scope" where you can use a scratch & sniff card to smell different stuff when the number pops on screen. Did I experience it? Yeah, right. I put all the blame on Rodriguez, especially the fart jokes. Spy Kids: All the Time in the World is such a travesty, I laugh to keep the pain away.
'Conan the Barbarian'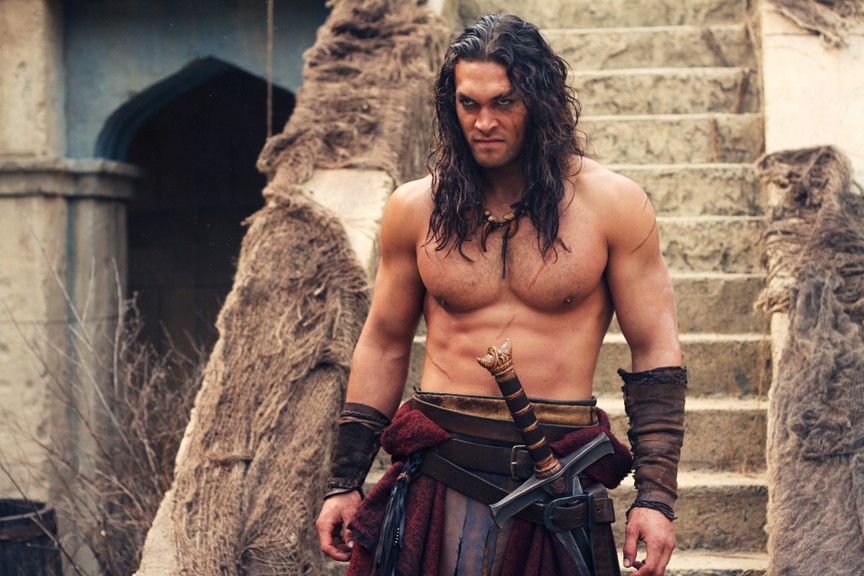 Cast: Jason Momoa, Rachel Nichols, Rose McGowan, Stephen Lang, and Ron Perlman
Directed By: Marcus Nispel
Synopsis: A powerful Cimmerian warrior, Conan (Jason Momoa) carves a bloody path across the land of Hyboria on a personal vendetta. That soon turns into a an epic battle against evil, for Conan's mortal enemy, Khalar Zym (Stephen Lang), seeks the legendary Mask of Acheron. The artifact will enable Khalar Zym to raise his wife from the dead and achieve immortality for himself, but it will also unleash a malevolent force upon the land, and only Conan and his companions can stop it.
Domestic Box Office: $21,295,021/ Worldwide: $63,523,283
RT Score: 22%
My Thoughts: Anytime the topic of the worst remakes to come from the 2010s will come out, there's no hesitation Conan the Barbarian will be included because how could you not hate this. A remake of the 1982 Arnold Schwarzenegger and another take of Robert E. Howard's source material, I didn't see anything wrong with them doing another movie to reach a new audience. Boy, if I had seen this in the theater, I would've walked out since I hate Conan the Barbarian with every bone in my body. It was dumb enough for director Marcus Nispel to ruin the remakes of The Texas Chainsaw Massare and Friday the 13th with another remake to show he should remain in Hollywood jail. I was prepared to watch a dumb action movie, but it didn't need to be this ridiculous with no trace of fun found with a $90 million budget (how?). A non-bearded Jason Momoa tried his hardest with his performance as Conan, but even it couldn't make this horrendous dialogue help him, as well as the acting from Stephen Lang, Rachel Nichols, and the worst I've seen from Rose McGowan. Every action sequence was terribly filmed, and the most annoying part is every time somebody gets killed bloody spills out like a freakin' firehose. And when there isn't any stupid action on screen to focus on the essence of a plot, it becomes so boring to where I almost went asleep. Was there anything positive to say? The red band trailer used Hollywood Undead's "Undead," and I'm glad nobody saw it. Other than that, Conan the Barbarian is a useless piece of trash.
August 26: 'Colombiana'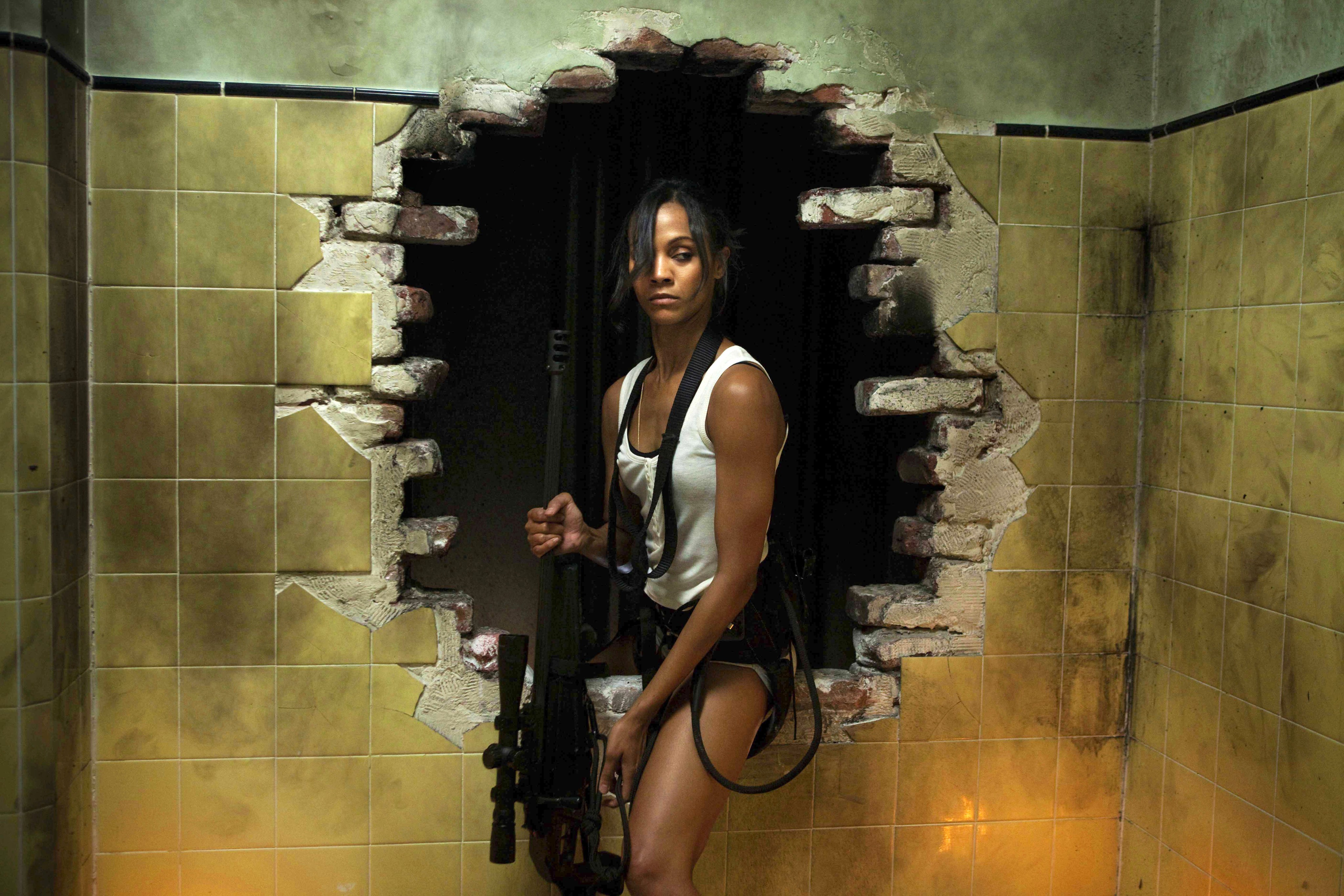 Cast: Zoe Saldana, Michael Vartan, Cliff Curtis, Lennie James, Callum Blue, and Jordi Mollà
Directed By: Olivier Megaton
Synopsis: In 1992 Bogota, a little girl (Amandla Stenberg) watches crime lord Don Luis (Beto Benites) and his henchman Marco (Jordi Mollà) murder her parents. Fifteen years later, the now-grown Cataleya (Zoe Saldana), who is named for a Colombian orchid, works as a contract killer for her Chicago-based uncle (Cliff Curtis). Leaving a lipstick drawing of her namesake on every victim, Cataleya carries out her assignments with cold, frightening efficiency and dreams of avenging her family.
Domestic Box Office: $36,665,854/ Worldwide: $63,458,440
RT Score: 27%
My Thoughts: It's always best to stay away from any movie with Olivier Megaton's name attached to it because that never means an action movie won't be good. In this case, Colombiana. If this was trying desperately to be another classic revenge tale similar to Leon: The Professional, then producer and co-writer Luc Besson needs to stop repeating the success he brought before. Even though the character of Cataleya isn't shown to be the most sympathetic, I thought Zoe Saldana's performance was Colombiana's saving grace since this shows how capable she is as an action star, while every other character appears one-dimensional. She's not to blame for this; it's more on the direction and the terrible writing. Was I bored out of my mind? Yes, because besides not having fun, nothing from this made me care emotionally enough to be attached to the main character, and the action was so poorly done. Proof of how bad of a director Megaton is. The bathroom fight scene, in particular, is one of the worst examples of how not to film. Honestly, don't know what to say for those who think this is one of the best action movies ever when there are much better ones that won't rot your brain.
'Our Idiot Brother'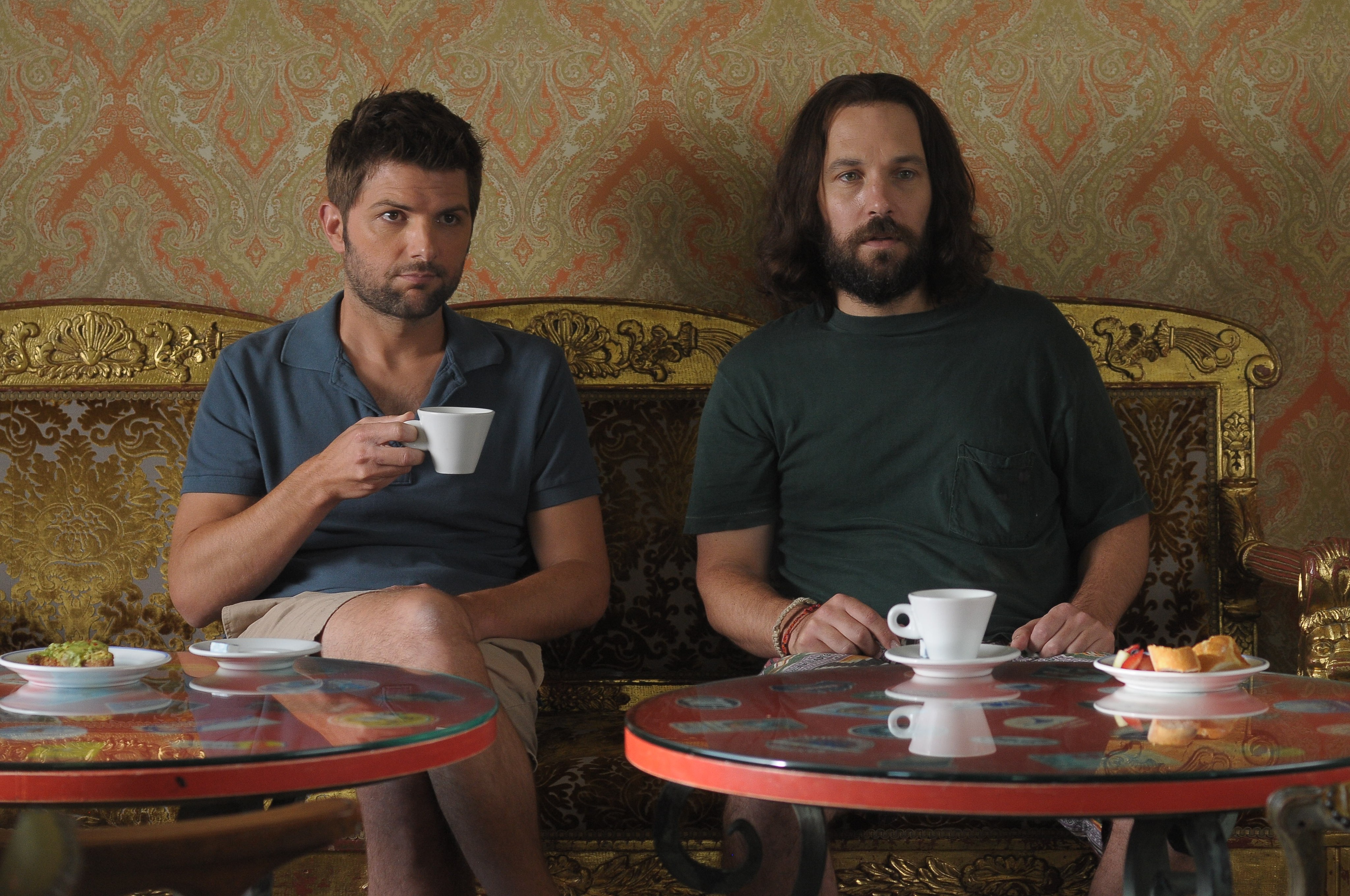 Cast: Paul Rudd, Elizabeth Banks, Zooey Deschanel, Emily Mortimer, Steve Coogan, Hugh Dancy, Adam Scott, Kathryn Hahn, Rashida Jones, T. J. Miller, and Shirley Knight
Directed By: Jesse Peretz
Synopsis: Easygoing, dimwitted slacker Ned Rochlin (Paul Rudd) makes the biggest mistake of his so-far uninspired life when he sells some pot to a cop. Homeless and jobless upon his release from jail, Ned must prevail upon his three sisters (Elizabeth Banks, Zooey Deschanel, Emily Mortimer) for help. Though Ned himself is utterly without a shred of ambition or guile, it's a different story with his sisters, who find their carefully ordered lives thrown into chaos whenever he's around.
Domestic Box Office: $24,816,118/ Worldwide: $25,804,448
RT Score: 70%
My Thoughts: When you look at Paul Rudd's filmography, I can see where Our Idiot Brother is one of his movies that has been lost in the shuffle. I can see why because I see this as a movie that'll most likely split people's opinions where one side will love it and the other thought it was more of a dramedy for hipsters. I know I only watched it once and found myself enjoying it. Now, this is more in the middle for me when I think about it more. Rudd gives a great performance where he plays a kind, well-meaning person who loved to see the good in everything, and I thought Elizabeth Banks, Zooey Deschanel, and Emily Mortimer as his sisters all had good chemistry with each other. But I will say Our Idiot Brother's weakness is that the script could've used some improvement on dealing with tone. The first half is funny, the other switches to drama unexpectedly, and it's not the type of movie most were expecting from the trailers. Our Idiot Brother fits more as a rental rather than going out to the theater to seek it out.
Don't Be Afraid of the Dark
Cast: Katie Holmes, Guy Pearce, Bailee Madison, Jack Thompson, Alan Dale, Garry McDonald, and Julia Blake
Directed By: Troy Nixey
Synopsis: Lonely and introverted, young Sally (Bailee Madison) has just arrived at the 19th-century mansion that her father (Guy Pearce) and his girlfriend (Katie Holmes) are restoring. While exploring the sprawling estate, Sally discovers a hidden, long-undisturbed basement. Unwittingly, she unleashes a race of malevolent, dark-dwelling creatures who intend to drag her and her family down into the mansion's bottomless depths.
Domestic Box Office: $24,046,682/ Worldwide: $38,269,529
RT Score: 60%
My Thoughts: I never saw Don't Be Afraid of the Dark, a remake of the made-for-television movie from 1973 with visionary Guillermo del Toro serving as a producer and co-writer. The teaser trailer is probably the scariest trailer I've ever seen, but as someone who enjoys sleeping at night, this horror movie got mixed reviews. From what I gathered from other reviews, they said it had a creepy atmosphere and the performances weren't too bad. The main criticism when this is bought up is hearing it wasn't all that scary, which doesn't help anyone when it can consists of jump scares. I'm guessing it didn't have the same effect as what the trailer did with the usual pieces put together to hand over a disappointing horror movie for some.
August 31: 'The Debt'
Cast: Helen Mirren, Sam Worthington, Jessica Chastain, Ciarán Hinds, Tom Wilkinson, Marton Csokas and Jesper Christensen
Directed By: John Madden
Synopsis: In 1965, young Mossad agent Rachel Singer (Jessica Chastain) and two comrades (Sam Worthington, Marton Csokas) are involved in a secret mission to capture a Nazi war criminal known as the Surgeon of Birkenau (Jesper Christensen). The mission ends with the man's death on the streets of East Berlin. Thirty years later, a man claiming to be the doctor has appeared, and Rachel (Helen Mirren), haunted by memories of past events, must return to Eastern Europe to uncover the truth.
Domestic Box Office: $31,177,548/ Worldwide: $45,636,368
RT Score: 77%
My Thoughts: Never saw The Debt because it wasn't going to be one of those movies to sit down on the couch after school and watch a captivating spy thriller. But it got generally positive reviews despite probably not a lot of people knowing it was coming out. I heard the performances were excellent, from Helen Mirren, Jessica Chastain, Tom Wilkinson, and even Sam Worthington, and it had an interesting story to pay attention to through the end. What surprised me the most a few years ago was it was co-written by Matthew Vaughn and Jane Goldman. Them alone is worth giving it a shot, but I'll take people's word when saying The Debt was a surprise to them. It's currently on HBO Max at the moment, if you have interest in watching it.