Another Movie Time Capsule- Remember These Movies in a week? That's one of the few things going right this week. Welcome back! Like always, I will be talking about what movies were released in theaters during July ten years ago while giving a brief review of them.
July has always been one of my favorite months since I rarely have anything to do and it's also the biggest month for some of the best blockbusters, which this month offered two that are still talked about a decade later. I took two trips during the month: Chicago and Orlando, and our first attempt at riding Harry Potter and the Forbidden Journey at The Wizarding World of Harry Potter was a no-go due to the insanely long line. The worst part during my summer break was taking P.E. online, which was a better opinion than doing it in person, but I didn't enjoy it.
But July pretty much had two stinkers and had one decent movie coming out each weekend, including the highest-grossing and best film of the year. Have you seen any of the 12 movies that will have to think back to a decade ago? Let's take a look back at what July 2011 had to give its audiences.
July 1: 'Larry Crowne'
Cast: Tom Hanks, Julia Roberts, Bryan Cranston, Gugu Mbatha-Raw, Wilmer Valderrama, Pam Grier, Cedric the Entertainer, Taraji P. Henson, Rami Malek, and George Takei
Directed By: Tom Hanks
Synopsis: Once well-respected at his company, Larry Crowne (Tom Hanks) finds himself on the unemployment line after a wave of corporate downsizing. Drowning in debt and unsure of what to do with his life, Larry enrolls in college, where he becomes part of a community of misfits who are all trying to carve out a better future. The possibility of romance enters the picture when Larry meets Mercedes Tainot (Julia Roberts), an instructor who has lost her passion for both teaching and her marriage.
Domestic Box Office: $35,608,245/ Worldwide: $75,055,070
RT Score: 37%
My Thoughts: Larry Crowne marks Tom Hanks' second feature behind the camera after his 1996 hit That Thing You Do!. You got yourself what I can call a free-spirited comedy written by Hanks and Nia Vardalos that must've been written while listening to a Tom Petty or ELO classic. All Larry Crowne is a laid-back dramedy that gives people the idea to make good choices when going through a mid-life crisis and staying positive while losing your job, and after it's over, you don't tend to think about it ever again a day later. It's okay, but there was never anything special about this from a story standpoint since you don't have a clue what it wanted to beHanks gives a likable performance as the main character, and the scenes with him and Julia Roberts as his Speech professor were fine, but nothing appeared important as I was watching. To Me, Larry Crowne couldn't find its way that only makes this a rental.
'Monte Carlo'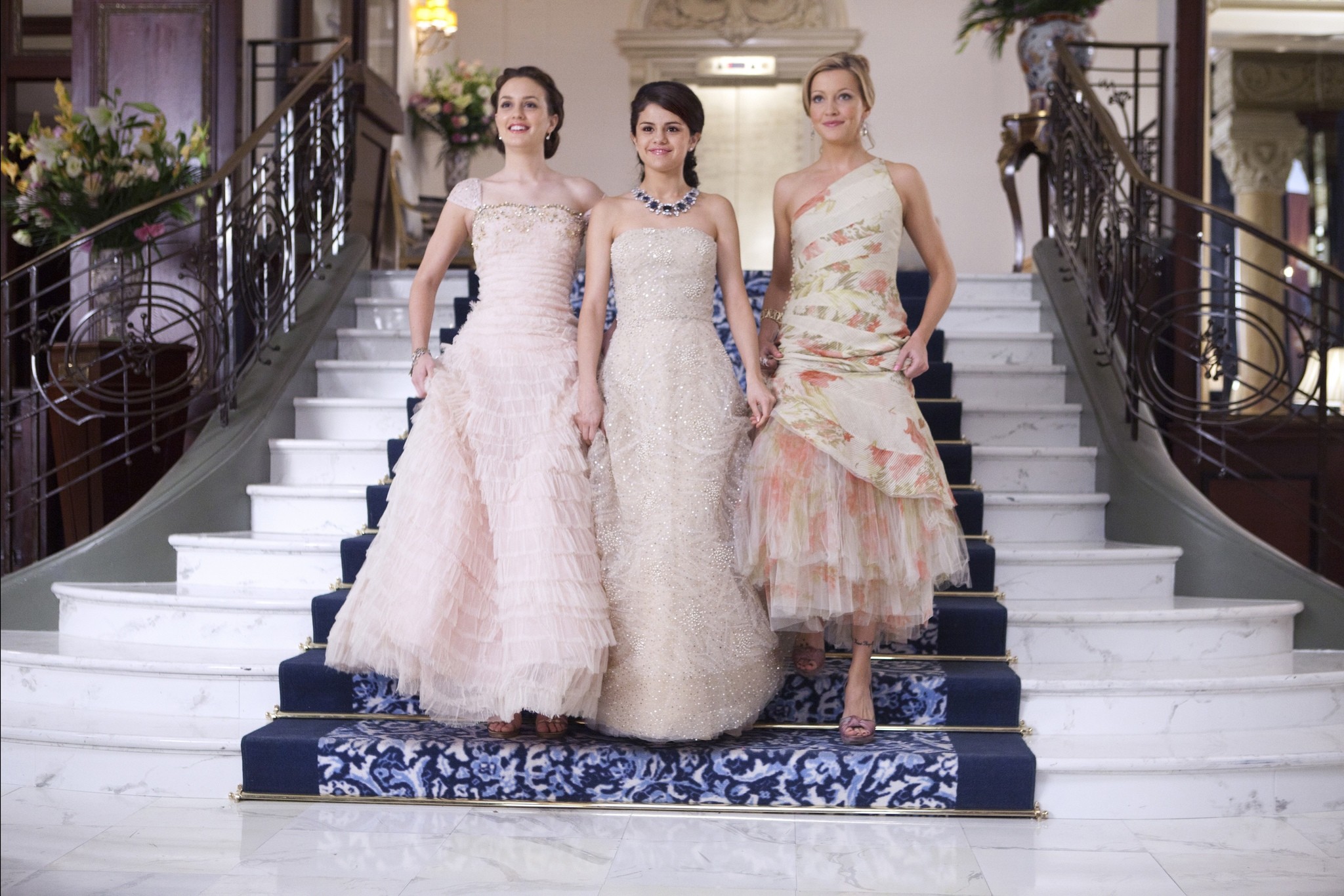 Cast: Selena Gomez, Leighton Meester, Katie Cassidy, Cory Monteith, Andie MacDowell, Pierre Boulanger, Luke Bracey, and Catherine Tate
Directed By: Thomas Bezucha
Synopsis: Grace (Selena Gomez), who is vacationing in Paris with her best friend Emma (Katie Cassidy) and stepsister Meg (Leighton Meester), is mistaken for a British heiress. The three women are whisked away to Monte Carlo, where they discover royalty and romance.
Domestic Box Office: $23,186,769/ Worldwide: $39,782,683
RT Score: 40%
My Thoughts: I think the main reason I watched Monte Carlo was that I thought Selena Gomez, Katie Cassidy, and Leighton Meester were cute, and I didn't give second thoughts about what it was about. Honestly, this is one of those movies that solely belongs to the other girl-centric movies of the 2000s geared towards teenagers. I can see the three lead actresses had fun while filming, but that's it.
July 8: 'Horrible Bosses'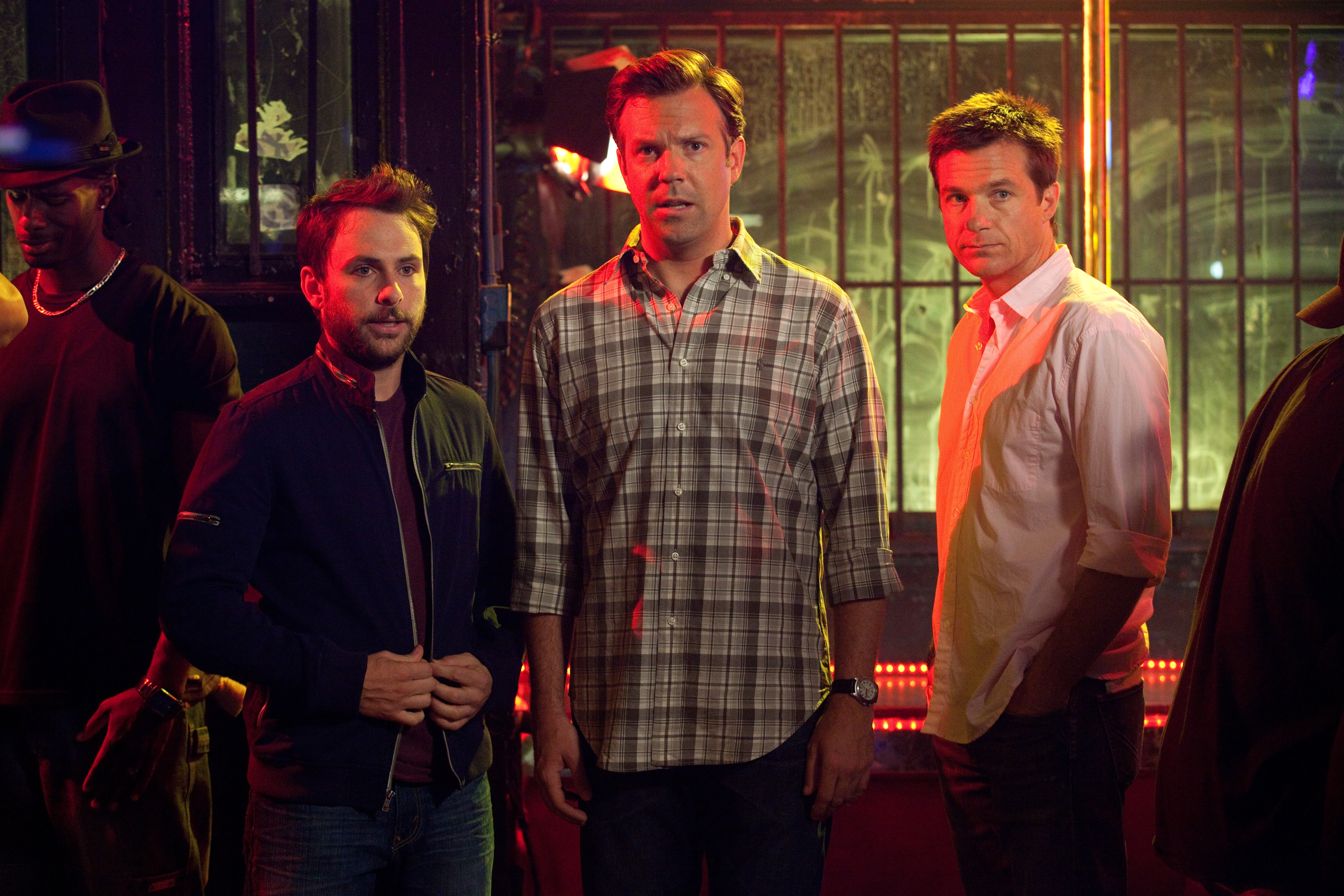 Cast: Jason Bateman Charlie Day, Jason Sudeikis, Kevin Spacey, Colin Farrell, Jennifer Aniston, Donald Sutherland, and Jamie Foxx
Directed By: Seth Gordon
Synopsis: Nick (Jason Bateman), Dale (Charlie Day) and Kurt (Jason Sudeikis) are workers who would like nothing better than to grind their oppressive employers into the dirt. Quitting their jobs is not an option, so — fueled by alcohol and dubious advice from a criminal (Jamie Foxx) — the men devise a complex and seemingly foolproof plan to permanently rid themselves of their terrible bosses. The problem is, any plan is only as clever as the brains behind it.
Domestic Box Office: $117,538,559/ Worldwide: $209,838,559
RT Score: 69%
My Thoughts: Think Horrible Bosses as a dark comedy in the same vein as Office Space and 9 to 5 with a more fast-paced advantage. It's a premise every person in the world has thought if they've ever worked under someone horrible, and it's not one to take seriously or do in real life if a motive like this would work. As for what I liked about the movie, I thought the chemistry/ performances between Jason Bateman, Charlie Day, and Jason Sudeikis worked well when you know them well with the type of characters they'll play. And their common goal in getting rid of their bosses leads to a ton of hilarious moments that leaves you wondering if they can accomplish their plan. When it comes to the bosses themselves, you see how terrible these people are. I have to give credit to the artist formerly known as Kevin Spacey for playing an a-hole too good that you don't mind seeing him getting axed off at any time; Colin Farrell was unrecognizable to some in one of his funniest roles yet, and for Jennifer Aniston not playing the same role in previous bad movies made for sexy and funny performance. Not every joke landed for me and I wasn't expecting it to get dark that quick, but I think Horrible Bosses is a bit of an underrated summer comedy that's more watchable than the forgettable sequel years later.
'Zookeeper'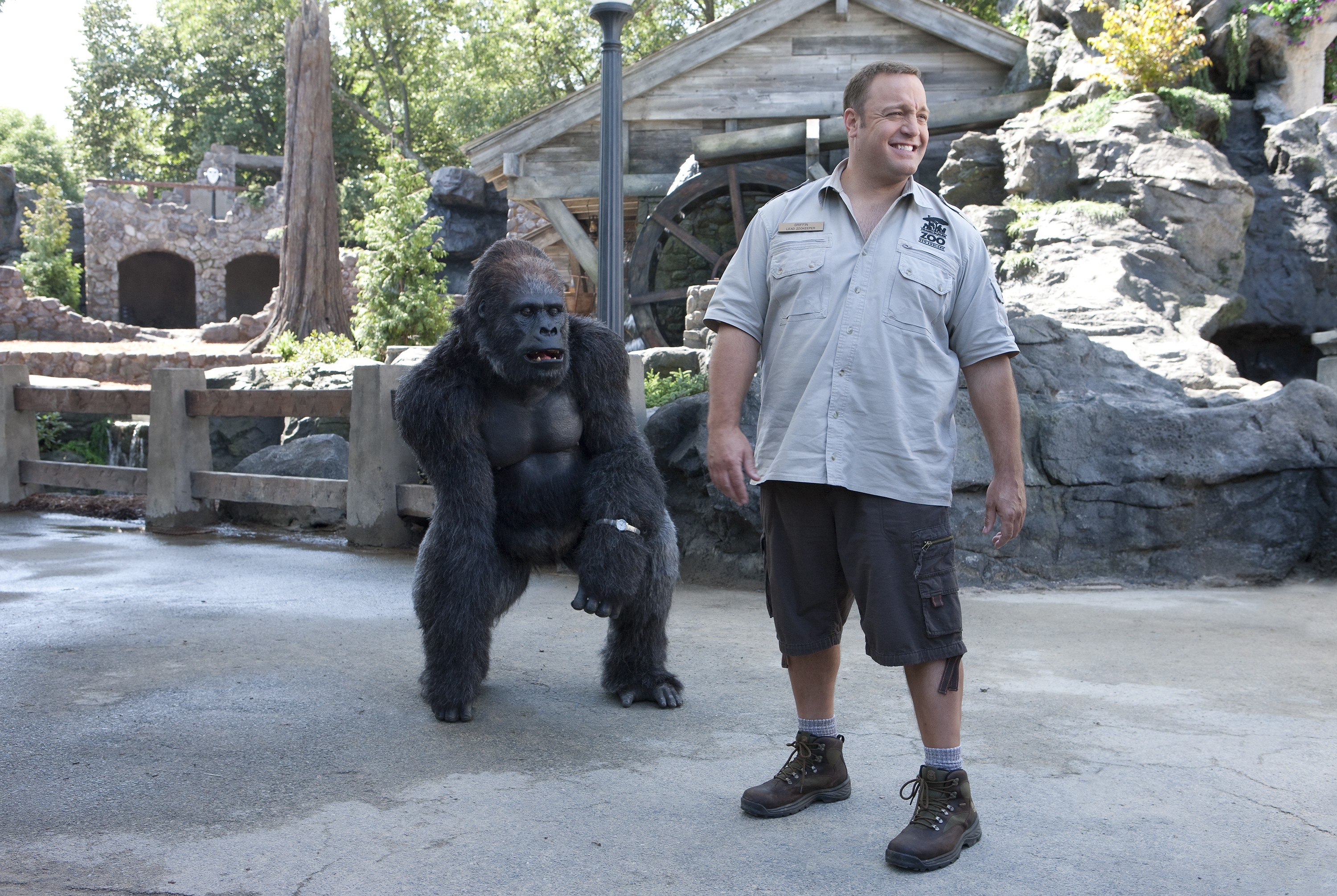 Cast: Kevin James, Rosario Dawson, Leslie Bibb, Nick Nolte, Sylvester Stallone, Adam Sandler, Don Rickles, Judd Apatow, Cher, Maya Rudolph, Jon Favreau, and Faizon Love
Directed By: Frank Coraci
Synopsis: Kindhearted Griffin Keyes (Kevin James) is one of the best-loved caretakers at the Franklin Park Zoo, but since he is more comfortable with the animals than with females of his own species, his love life is lacking. When Griffin decides that the only way to get a girlfriend is to find a more-glamorous career, the animals panic. To keep him from leaving, they reveal their secret ability to talk and offer to teach him the rules of courtship, animal style.
Domestic Box Office: $80,360,843/ Worldwide: $169,852,759
RT Score: 14%
My Thoughts: What happens when the people over at Happy Madison decide to make a movie that's a mix of Dr. Dolittle and Paul Blart: Mall Cop? One that fails on all fronts. Zookeeper already sounded like it's going to be a waste of time among those who saw it in theaters, and it's probably one family wanted their money back. Some part of me wanted to like this since there has to be one movie that's good enough for star Kevin James. Wrong? You'll get more laughs from the trailers than the actual movie. James being in this makes you feel bad for wasting his comedic talents in talking to a bunch of animals with celebrity voices, including Adam Sandler as money, Judd Apatow as an elephant, Sylvester Stallone as a lion, and Nick Nolte as a gorilla (the best part). Not only that, but this is a total laugh-free comedy aimed solely at kids who shouldn't take a lesson in "marking your territory in public," and there's some great music that shouldn't be associated with this. In this unbelievably predictable story that didn't even try to make it original, because you don't have to be the brightest person in the room to know James will end up with Rosario Dawson. Zookeeper is neither an entertaining family flick nor a potential rom-com when nothing about its script screams amazing. Nice product placement for T.G.I. Friday's btw.
July 15: 'Harry Potter and the Deathly Hallows- Part 2'
Cast: Daniel Radcliffe, Rupert Grint, Emma Watson, Helena Bonham Carter, Robbie Coltrane, Warwick Davis, Ralph Fiennes, Michael Gambon, John Hurt, Jason Isaacs, Gary Oldman, Alan Rickman, Maggie Smith, David Thewlis, and Julie Walters
Directed By: David Yates
Synopsis: A clash between good and evil awaits as young Harry (Daniel Radcliffe), Ron (Rupert Grint) and Hermione (Emma Watson) prepare for a final battle against Lord Voldemort (Ralph Fiennes). Harry has grown into a steely lad on a mission to rid the world of evil. The friends must search for the Horcruxes that keep the dastardly wizard immortal. Harry and Voldemort meet at Hogwarts Castle for an epic showdown where the forces of darkness may finally meet their match.
Domestic Box Office: $381,011,219/ Worldwide: $1,341,511,219
RT Score: 96%
My Thoughts: Harry Potter and the Deathly Hallows- Part 2 was going to be the most talked-about film of the entire month because what else was everybody excited for besides getting the chance to witness the conclusion to Hollywood's biggest fantasy franchises? My recent review explains why I love the final installment, but why it remains amazing ten years later is that most of us grew up with these characters from the beginning, and it was the best way of wrapping everything up, including the confrontation between Harry and Voldemort. Did I want it to end? No, which is why it was hard to let it go. Almost everything about Harry Potter and the Deathly Hallows- Part 2 from David Yates' direction, visual effects, emotional stride, and performances from everyone is enough to say it's my favorite in the series, with Prisoner of Azkaban as a close second. After watching it again, I can't believe I didn't see it twice in the theater. Call me a fanboy, but I still consider this the best film of the year. My Review—> RIGHT HERE
'Winnie the Pooh'
Cast: Jim Cummings, Jack Boulter, Travis Oates, Bud Luckey, Craig Ferguson, Tom Kenny, Kristen Anderson-Lopez, and Watt Hall
Directed By: Stephen Anderson and Don Hall
Synopsis: Three stories inspired by A.A. Milne add up to a very busy day for Winnie the Pooh (Jim Cummings) and friends. Upon learning that Eeyore (Bud Luckey) has lost his tail, the residents of the Hundred Acre Wood start a contest to see who can find a new one for the melancholy donkey — with a pot of honey going to the winner. Amid the goings-on, Owl (Craig Ferguson) mistakenly relates the news that Christopher Robin has been abducted. However, all ends well when Pooh finds a land of sweet delights.
Domestic Box Office: $26,692,846/ Worldwide: $49,871,429
RT Score: 91%
My Thoughts: It had been six years since we last saw Pooh and his friends on the big screen after 2005's Pooh's Heffalump Movie, so it was a welcome return to seeing another adventure with the simply titled Winnie the Pooh. The animated Disney movie is one harmless for anyone to watch and kids who were being raised on the property will eat this up since it's nice to see them stick with the traditional animation style, not making it 3D, and hearing the voices of the characters from familiar talents doesn't hurt anybody. It's a non-complex story with these characters sticking to what author A. A. Milne captured well in her books and what most kids watched with the television shows. One thing I never noticed until now is Christopher Robin can't spell to save his life. Did I always think it had to be shown in theaters since it's a very short movie with a runtime of 69 minutes? I wouldn't say so when it wouldn't make a difference if it aired on Disney Junior, and it came out the same weekend as Harry Potter. Overall, Winnie the Pooh is a breezy watch that doesn't try to play dumb to its young audience when everything about this movie is fun for all ages.
July 22: 'Captain America: The First Avenger'
Cast: Chris Evans, Hugo Weaving, Tommy Lee Jones, Hayley Atwell, Sebastian Stan, Dominic Cooper, Neal McDonough, Derek Luke, and Stanley Tucci
Directed By: Joe Johnston
Synopsis: It is 1941 and the world is in the throes of war. Steve Rogers (Chris Evans) wants to do his part and join America's armed forces, but the military rejects him because of his small stature. Finally, Steve gets his chance when he is accepted into an experimental program that turns him into a supersoldier called Captain America.
Domestic Box Office: $176,654,505/ Worldwide: $370,569,774
RT Score: 80%
My Thoughts: Captain America: The First Avenger was the fifth entry inside the Marvel Cinematic Universe and the second Phase 1 released in 2011 following Thor just a few months prior. It was hard to remember if I was looking forward to this since there was an off-beat chance it could be another failed attempt of bringing one of the most popular superheroes to life when it could be very cheesy like the one from the '90s. Luckily, director Joe Johnston pulls off a solid standalone movie that's certainly the weakest in the trilogy, but still a good film. There have been countless films set during the days of World War II with the armies going up against the Nazis, but has it been done with a hero who stands for freedom, truth, and America? Not this way we haven't. Chris Evans wasn't the first actor that came to mind when the casting was announced. But there's nobody else to imagine now since he became Steve Rogers/ Captain America since he's a guy who wants to serve his country and takes this super supreme to makes him the strongest soldier imaginable. The film overall had this old-school style feel to it that still makes it a blockbuster set inside the MCU, and it was at a time where I forget these films connect in some way. I'm always going to complain about how they sped through the action in the middle. While the sequels are better, I think Captain America: The First Avenger gets more enjoyable as time passes that delivers on the pulpy action one would expect. And it was a cool lead way to what to come for The Avengers the next year.
'Friends with Benefits'
Cast: Justin Timberlake, Mila Kunis, Patricia Clarkson, Jenna Elfman, Bryan Greenberg, Nolan Gould, Woody Harrelson, and Richard Jenkins
Directed By: Will Gluck
Synopsis: Jamie (Mila Kunis) is a New York-based executive recruiter who entices Dylan (Justin Timberlake), an art director from Los Angeles, to take a job at the New York office of GQ magazine. Finding that they have much in common, the two become fast friends. Feeling jaded by a number of broken romances, Dylan and Jamie decide that they are ready to quit looking for true love and focus on having fun. However, complications unfold when the two best pals add sex to their relationship.
Domestic Box Office: $55,802,754/ Worldwide: $149,542,245
RT Score: 68%
My Thoughts: Friends with Benefits is the second romantic comedy of 2011 to focus on the tale of two attractive people who have a platonic friendship following No Strings Attached with Natalie Portman and Ashton Kutcher back in January. The question in a discussion that must be answered in wondering which of the two is better? I would probably go with No Strings Attached since I didn't have many expectations, but that's not to say Friends with Benefits is bad. The most surprising aspect about the movie that works was the chemistry from Justin Timberlake and Mila Kunis, showing how I bought the fact these two could end up together, and the comedic timing between them wasn't as bad as I thought it is for a rom-com couple. And what I liked from Will Gluck's (Easy A) direction is that it makes fun of the troupes normally found in rom-com that also do the same here. This also has familiar faces like Woody Harrelson, Jenna Elfman, and Richard Jenkins in the supporting role I enjoyed watching. But you walk into this movie knowing 100% how it will play out, which can lead to the issue of predictability that brings nothing new that we've also seen six months ago. Still, Friends with Benefits is a likable raunchy comedy to sit back and get a few laughs out of that's worth a quick watch on TV. And this was the movie responsible for bringing "Jump" by Kris Kross and "Closing Time" by Semisonic back in the limelight.
'Cowboys & Aliens'
Cast: Daniel Craig, Harrison Ford, Olivia Wilde, Sam Rockwell, Adam Beach, Clancy Brown, Paul Dano, and Noah Ringer
Directed By: Jon Favreau
Synopsis: Bearing a mysterious metal shackle on his wrist, an amnesiac gunslinger (Daniel Craig) wanders into a frontier town called Absolution. He quickly finds that strangers are unwelcome, and no one does anything without the approval of tyrannical Col. Dolarhyde (Harrison Ford). But when Absolution faces a threat from beyond Earth, the stranger finds that he is its only hope of salvation. He unites townspeople, outlaws and Apache warriors against the alien forces in an epic battle for survival.
Domestic Box Office: $100,240,551/ Worldwide: $174,822,325
RT Score: 44%
My Thoughts: You look at a movie called Cowboys & Aliens and think it sounds ridiculous to be real. That might be the case considering the title sells it completely. But there are a lot of things that were hyping up the hybrid of sci-fi and western: The star power of Daniel Craig and Harrison Ford, Jon Favreau directed it, producers Steven Spielberg along with Ron Howard and Brian Grazer behind, and the premise sounds fun for a summer blockbuster. Does that all make for a great movie? It makes for a rather disappointment. Cowboys & Aliens deliver what the title promises, but I thought it wasn't as exciting as I thought it would be without taking the route of cheesiness I was worried about. Those high expectations were the cause that just made this fine; nothing special besides the likable performances of Craig and Ford, decent visual effects knowing to not take it seriously from the graphic novel of the same name. I've only seen it once, but I'm optimistic to watch it again to see it hold my attention more.
'The Smurfs'
Cast: Neil Patrick Harris, Jayma Mays, Sofía Vergara, Hank Azaria, Jonathan Winters, Katy Perry, George Lopez, Anton Yelchin, Fred Armisen, and Alan Cumming
Directed By: Raja Gosnell
Synopsis: Evil wizard Gargamel (Hank Azaria) has plagued the happy, peaceful Smurfs for a very long time. Finally, he succeeds in chasing the little blue people from their village and through a magic portal — which transports them to Manhattan and into the life of ad executive Patrick Winslow (Neil Patrick Harris). Only three apples high and lost in the Big Apple, the Smurfs (Jonathan Winters, Alan Cumming, Katy Perry) must find a way back to their world before Gargamel tracks them down.
Domestic Box Office: $142,614,158/ Worldwide: $563,749,323
RT Score: 21%
My Thoughts: Who in the world thought making a live-action take on The Smurfs would be a great idea, and who are the only people in society to even like this? I didn't grow up watching the original cartoon based on the work of artist Peyo, so I didn't care about this coming out. After watching it at home, I wanted those two hours back. The Smurfs was so terrible, and it's one I feel bad for the parents who took their children to the theater and wanted a refund for an experience that makes Alvin and the Chipmunks or Fat Albert look like Inception. This has a stacked voice cast which includes the likes of Jonathan Winters as Papa, Katy Perry as Smurfette, Anton Yelchin as Clumsy, and usually talented actors like Neil Patrick Harris and Hank Azaria as the villain Gargamel. These are talented people with nothing to work here, especially Azaria giving an embarrassing performance. But this proves Raja Gosnell will never make a good movie in his career as a director as nobody wants to see the Smurfs on this adventure in New York City around a noticeable abundance of product placement with boring human characters. There have been so many live-action adaptations of popular cartoons; it comes as no surprise it doesn't work here with its awful humor and the tendency to ruin what people loved before. Not that anybody was expected this to be good, but it didn't have to make those watching it furiously angry. How The Smurfs made half a billion dollars worldwide and an equally abysmal sequel is what I'm still wondering to this day. At least we get to hear Panic! At the Disco's "Ready to Go" during the end credits. Smurf this movie and everything about it.
'Crazy, Stupid, Love'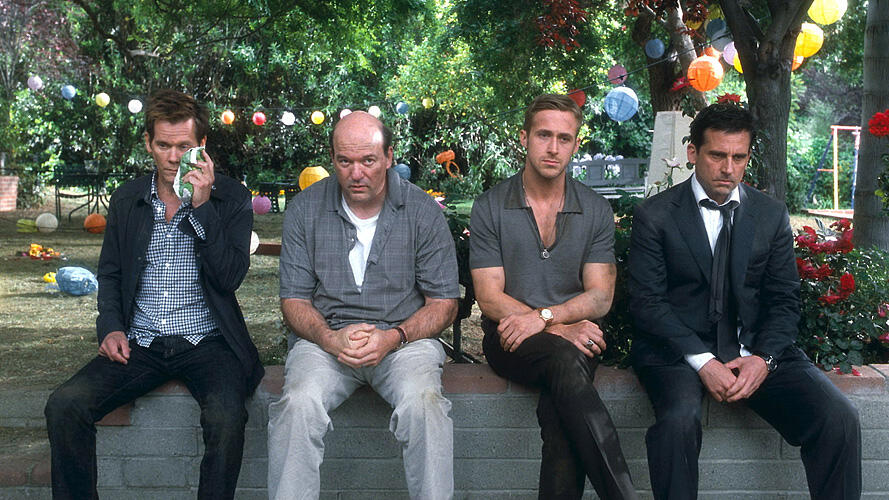 Cast: Steve Carell, Ryan Gosling, Julianne Moore, Emma Stone, Marisa Tomei, Kevin Bacon, John Carroll Lynch, Josh Groban, Jonah Bobo, and Lio Tipton
Directed By: Glenn Ficarra and John Requa
Synopsis: Cal Weaver (Steve Carell) is living the American dream. He has a good job, a beautiful house, great children and a beautiful wife, named Emily (Julianne Moore). Cal's seemingly perfect life unravels, however, when he learns that Emily has been unfaithful and wants a divorce. Over 40 and suddenly single, Cal is adrift in the fickle world of dating. Enter, Jacob Palmer (Ryan Gosling), a self-styled player who takes Cal under his wing and teaches him how to be a hit with the ladies.
Domestic Box Office: $84,351,197/ Worldwide: $145,051,197
RT Score: 79%
My Thoughts: If you haven't seen Crazy, Stupid, Love, then you're missing out on one of the best romantic comedies of the last decade that doesn't get enough love. Just as the title suggests, love can make us crazy and stupid. The most positive aspect to come from this is knowing it doesn't fall under those predictable cliches typically found in rom-coms, which makes it funnier and sweet when you watch it again. With all these characters involved with different storylines, it was surprising to know there isn't one that should've been out of the story completely. A great ensemble with some of my favorites from Steve Carell, Ryan Gosling, Emma Stone, Julianne Moore, Kevin Bacon, and Marisa Tomei with nobody feeling wasted in their performances in providing at least one memorable, funny moment. This might've been the movie where I started to respect Gosling as an actor since I couldn't get enough of his character, and it worked as he got a Golden Globe nomination out of the film. I re-watched this again back in May, and there's a chance I'll be reviewing it later this year.
'Attack the Block'
Cast: John Boyega, Jodie Whittaker, Alex Esmail, Franz Drameh, Leeon Jones, Simon Howard, Luke Treadaway, Jumayn Hunter, and Nick Frost
Directed By: Joe Cornish
Synopsis: South London teenagers (John Boyega, Alex Esmail, Leeon Jones) defend their neighborhood from malevolent extraterrestrials.
Domestic Box Office: $1,024,175/ Worldwide: $6,206,022
RT Score: 90%
My Thoughts: Attack the Block is a movie that came out of nowhere for those who don't live outside the U.S. and I think the studio, Screen Gems, kept this hidden and released it in certain cities. I haven't even heard of it until the end of the year. From my experience, I watched half of Joe Cornish's directorial debut five years ago, which turned out to be entertaining for what I've seen so far where it looked like The Goonies with aliens. The film didn't have recognizable faces besides Nick Frost, but it was a lot of introductions to future Star Wars star John Boyega in his breakout performance as Moses and current Doctor Who actress Jodie Whittaker. And back in May, news broke out Cornish is working on a sequel, so that sounds exciting.