Have no fear; there was no way I would skip a month with my recurring series Movie Time Capsule- Remember These Movies. Unfamiliar? This is my monthly segment where I throw back to the movies that came out in theaters ten years ago, giving my usual quick thoughts on them in the meantime.
This would've been up a month ago, but I was on vacation and was more preoccupied with other reviews to finish, but here we are. Looking back ten years ago, the biggest thing for me was when I graduated from middle school and couldn't have been more relieved. On the film circuit, every week of June gave us a blockbuster, which had a serving of favorites or disappointments. As always, have you seen any of these that I'll be talking about? Let's look back at what the month of June offered.
June 3: 'X-Men: First Class'
Cast: James McAvoy, Michael Fassbender, Jennifer Lawrence, Rose Byrne, January Jones, Nicholas Hoult, Oliver Platt, and Kevin Bacon
Directed By: Matthew Vaughn
Synopsis: In the early 1960s, during the height of the Cold War, a mutant named Charles Xavier (James McAvoy) meets a fellow mutant named Erik Lehnsherr (Michael Fassbender). Despite their vastly different backgrounds — Charles grew up with a wealthy family, while Erik lost his parents at Auschwitz — the two become close friends. As the world teeters on the brink of a nuclear war, Charles and Erik with other mutants join forces to save humanity. However, a situation soon tears the friends apart.
Domestic Box Office: $146,408,305/ Worldwide: $352,616,690
RT Score: 86%
My Thoughts: I have already talked X-Men First Class about in full during a Summer Blockbuster Friday at the beginning of June, but I still want to say it's one of the best in the franchise. It was unbelievable how this was taking everything back and make a sequel not on the same level as The Last Stand and Origins: Wolverine. But thanks to Matthew Vaughn, it turns out to be a memorable superhero prequel that boasts fans' confidence for later installments (mostly). James McAvoy and Michael Fassbender were the perfect castings as a young Charles Xavier/ Professor X and Erik Lehnsherr/ Magneto in a premise of forming the X-Men during The Cuban Missile Crisis wasn't destined to fail. Everybody I know loves X-Men: First Class, and it's easy to see why. My review—> RIGHT HERE.
'Beginners'
Cast: Ewan McGregor, Christopher Plummer, Mélanie Laurent, and Goran Višnjić
Directed By: Mike Mills
Synopsis: After his mother dies, Oliver (Ewan McGregor) is stunned when his father, Hal (Christopher Plummer), recently diagnosed with terminal cancer, comes out of the closet. When Hal passes away a few years later, Oliver grows depressed, struggling with his failing career as an artist while constantly remembering his childhood and time spent with his dad. Oliver's loneliness is eased when he meets actress Anna (Mélanie Laurent), but their relationship is threatened by their mutual fear of commitment.
Domestic Box Office: $5,790,894/ Worldwide: $14,311,701
RT Score: 85%
My Thoughts: I've been meaning to watch Beginners last fall after the sad news of Christopher Plummer passing away. But from the reactions I heard after it premiered at the Toronto International Film Festival is that it has heart. Director Mike Mills' follow-up to Thumbsucker is more autographical based on his own experience, which I can tell it's a story close to him that will give the chance people to learn about our parents and starting over in life. Its performances from Ewan McGregor, Mélanie Laurent, and Plummers were well-earned by critics as I expect were deeply layered characters, and I'm more than likely to watch it since there's a Jack Russell Terrier in this. Those who have seen it loved nearly everything about it, including the Academy, which awarded Plummer the Oscar for Best Supporting Actor in 2012. Even if I suspect it won't find an attachment to me, I still want to see what Beginners offers. 
June 10: 'Super 8'
Cast: Joel Courtney, Elle Fanning, Kyle Chandler, Riley Griffiths, Ryan Lee, Gabriel Basso, Zach Mills, Ron Eldard, and Noah Emmerich
Directed By: J.J. Abrams
Synopsis: In 1979 Ohio, several youngsters (Elle Fanning, Joel Courtney, Gabriel Basso) are making a zombie movie with a Super-8 camera. In the midst of filming, the friends witness a horrifying train derailment and are lucky to escape with their lives. They soon discover that the catastrophe was no accident, as a series of unexplained events and disappearances soon follows. Deputy Jackson Lamb (Kyle Chandler), the father of one of the kids, searches for the terrifying truth behind the crash.
Domestic Box Office: $127,004,179/ Worldwide: $260,095,986
RT Score: 81%
My Thoughts: J. J. Abrams is the man, but out of the films he's directed, Super 8 doesn't get enough love anymore. Another one I reviewed around this time last year, the earlier work of producer Steven Spielberg inspired Abrams, and it made for an entertaining coming-of-age sci-fi film that captures the feel of nostalgia. It was nice knowing the marketing was surrounding this with secrecy, as most movies from Bad Robot are, which lead to being all kinds of amazing for two hours straight. The performances from its young cast in Joel Courtney and Elle Fanning were true standouts; the blending of fantasy and suspense benefited it, and Michael Giacchino's score is one of his best I couldn't get enough of when first hearing it. Super 8 is so much fun, and it's one of the most underrated movies in the past ten years. If it's streaming anywhere, it should be on your watchlist. My Review—> RIGHT HERE.
'Judy Moody and the Not Bummer Summer'
Cast: Jordana Beatty, Heather Graham, Parris Mosteller, Preston Bailey, Garrett Ryan, Taylar Hender, and Jaleel White
Directed By: John Schultz
Synopsis: Judy (Jordana Beatty) has planned the most awesome summer ever and can't wait to have adventures with her best friends, Rocky and Amy. Then she finds out that Rocky is off to tame lions and that Amy is flying to Borneo with her mother to save a lost tribe. Judy is bummed to be left home with her rotten brother, Stink (Parris Mosteller), and her second-best friend, Frank Pearl. And, what's worse, her parents go to California and leave her with an aunt (Heather Graham) she's never even met.
Domestic Box Office: $15,013,650/ Worldwide: $15,691,640
RT Score: 21%
My Thoughts: The only time Judy Moody and the Not Bummer Summer was referenced after it came out was from an episode of the sitcom Happy Endings when Max told Brad not to tell anyone they saw the movie. I think I remember hearing about the Megan McDonald books following the title character, but I couldn't stand watching this movie. You're sitting down watching this family comedy, though it just was giving you nothing worth remembering for the adults. The story itself goes along with moments stitched together to make a convincing story, and it doesn't help when there's no point in liking the main character of Judy Moody. Even while I was watching this at 15, I didn't think kids will find enjoyment out of this. There was this one song played during a montage that I liked despite sounding Disney Channel-esque, but no full version has been found online, unfortunately. Yeah, Judy Moody and the Not Bummer Summer is a bummer.
June 17: 'Green Lantern'
Cast: Ryan Reynolds, Blake Lively, Peter Sarsgaard, Mark Strong, Angela Bassett, Tim Robbins, Taika Waititi, Geoffrey Rush, and Michael Clarke Duncan
Directed By: Martin Campbell
Synopsis: Sworn to preserve intergalactic order, the Green Lantern Corps has existed for centuries. Its newest recruit, Hal Jordan (Ryan Reynolds), is the first human to join the ranks. The Green Lanterns have little regard for humans, who have thus far been unable to harness the powers of the ring each member wears. But Jordan, a gifted and cocky test pilot, may be the corps' only hope when a new enemy called Parallax threatens the universal balance of power.
Domestic Box Office: $116,601,172/ Worldwide: $219,851,172
RT Score: 26%
My Thoughts: Who would've thought Green Lantern was the worst comic book movie of the year? I was planning on seeing this in the theater, but it was a smart move on my end to change my mind that Sunday afternoon. Watching it a few months later, this was not the movie I expected. Maybe it was the thought of making a Green Lantern that sounded complicated since the DC superhero has a rich history behind the character and the Green Lantern Corps, and the trailers (minus the horrible first trailer) had potential to be something special after it's been talked about in development for years. What did this end up being? One failed attempt to bring this origin story to life. You're watching not only noticing there are better movies just like this, but I sensed director Martin Campbell didn't care for the source material enough when it more focused on CGI and having an interesting story to get fans hooked. Reynolds brought little to his portrayal of Hal Jordan since I thought he was kind of miscast. Pretty terrible CGI, which includes the stupid suit and mask, and villains like Parallax and Hector Hammond (Peter Sarsgaard) were lame.
Green Lantern leaves an unimpressive mark on the character that leaves you not caring for the rest of the runtime when the tone and pace couldn't measure up to the better superhero movies that came out the same year. It didn't perform well with critics and at the box office, making the sequel a lost cause. There were two positives things to come out of Green Lantern: 1) While their chemistry was bland, Reynolds and Blake Lively fell in love after this came out; and 2) It was a blessing knowing Reynolds would come back to play Deadpool again in five years later.
'Mr. Popper's Penguins'
Cast: Jim Carrey, Carla Gugino, Madeline Carroll, Maxwell Perry Cotton, Angela Lansbury, Desmin Borges, Philip Baker Hall, Dominic Chianese, Clark Gregg, Ophelia Lovibond, and Jeffrey Tambor
Directed By: Mark Waters
Synopsis: Mr. Popper (Jim Carrey) is a successful real estate developer in Manhattan. He lives in a posh apartment on Park Avenue, and is on the fast track to a partnership in a prestigious company. However, his life changes radically when he receives a final gift from his late father — a live penguin, which is soon joined by five more penguins. The birds' antics soon win over Mr. Popper, and as he bonds with the penguins, his chilly relationship with his ex-wife (Carla Gugino) and kids begins to thaw.
Domestic Box Office: $68,224,452/ Worldwide: $187,361,754
RT Score: 47%
My Thoughts: I love Jim Carrey, but don't remember a thing about Mr. Popper's Penguins. I didn't know this was based on the book by Richard and Florence Atwater since it was never read to me as a kid. All I remember is Carrey has to take care of a bunch of cute penguins, which I think a couple of them pooped in his mouth, and it's a bond lesson for him to spend time with his family. To quote Jeremy Jahns, "I was sick of seeing penguins sh*t." Mr. Popper's Penguins is made for little kids who aren't old enough to watch better Carrey comedies until their older, having to sit through a predictable story with CGI animals and trying hard not to be cold while watching. It's more forgettable in the comedian's filmography.
June 24: 'Cars 2'
Cast: Owen Wilson, Larry the Cable Guy, Michael Caine, Emily Mortimer, John Turturro, and Eddie Izzard
Directed By: John Lasseter
Synopsis: Lightning McQueen (Owen Wilson) and his tow-truck buddy, Mater (Larry the Cable Guy), have had their share of adventures together but nothing like what they experience when they head overseas for the first-ever World Grand Prix. While Lightning has his eye on the road to the championship, Mater takes a detour to international espionage when he meets British master spy Finn McMissile (Michael Caine) and stunning spy-in-training Holley Shiftwell (Emily Mortimer).
Domestic Box Office: $191,452,396/ Worldwide: $559,852,396
RT Score: 40%
My Thoughts: Cars 2 was the first Pixar movie I skipped to see in theaters during its opening weekend. That might be because though the original from 2006 was the definition of ok, this wasn't a property that wasn't asking for a sequel. The main reason this cash grab sequel got made is the merchandising that made this franchise popular. When I finally watched it when my little cousin got the DVD for Christmas, it's safe to say I was unimpressed. To this day, Cars 2 remains the only Pixar movie with a rotten rating on Rotten Tomatoes, and everyone will agree this is Pixar's worst movie. There's nothing wrong to say about the animation, honestly. But it's the story this time around where the writers were foolish enough to make the annoying Mater (voiced by Larry the Cable Guy) get wrapped up in a spy espionage plot with others thinking he's a spy that doesn't even try to be funny. I thought there was no charm, and it still cannot make the audience care for these characters. Unlike the previous Pixar movies where kids and adults will love it, Cars 2 is strictly made for kids that have nothing important to remember it by since this was the first lackluster from the critically acclaimed studio. We should all be thankful they did not nominate it for a Best Animated Feature Oscar.
'Bad Teacher'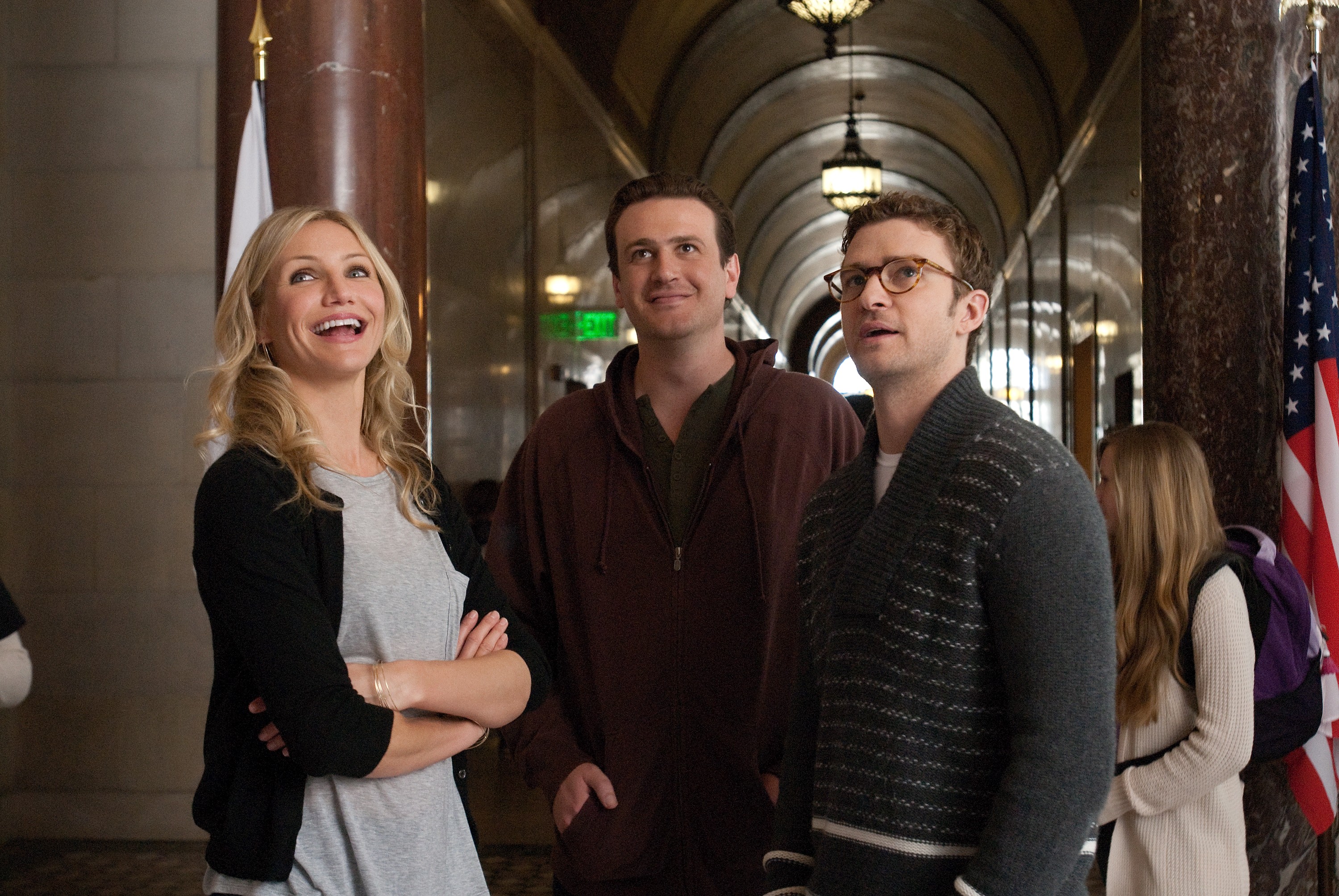 Cast: Cameron Diaz, Justin Timberlake, Jason Segel, Lucy Punch, John Michael Higgins, and Phyllis Smith
Directed By: Jake Kasdan
Synopsis: For most, teaching is an honorable profession — except for Elizabeth (Cameron Diaz). The foul-mouthed, boozy woman can't wait to marry a rich man and quit her job, but she has to rethink her plans when her sugar daddy dumps her. Then Scott Delacorte (Justin Timberlake), a substitute teacher who's cute and rich, arrives. Elizabeth can't wait to sink her teeth into a new meal ticket, but she faces stiff competition from Amy (Lucy Punch), a popular and perky colleague.
Domestic Box Office: $100,292,856/ Worldwide: $216,197,492
RT Score: 45%
My Thoughts: We've all had that one teacher throughout school you can tell doesn't give a crap about teaching its students, and Cameron Diaz is one of them in Bad Teacher. One of my least favorite teachers from high school taught geometry, and I didn't get a cool vibe from him. From the premise and trailer, I thought this would be a pretty good R-rated comedy. It gets the job done at being that, but I found it to be underwhelming. Diaz's performance is what I expected, but the problem was her character was never likable enough to know if she'll get her act together and doesn't even develop as the movie concludes; she stays the same the whole time. The potential was there, but it doesn't offer too many laughs as I wanted, which leads to the story feeling barebones. Even Justin Timberlake's performance as the substitute Diaz has the hots for wasn't as good as I thought and someone else has played him. The funniest performances came from both Jason Segel and Lucy Punch, the latter of whom has this rivalry with Diaz in who can be the best teacher at the school. And this also gives the impression teachers can get away with anything and not get caught. Sure, there's nothing wrong with watching movies all day because that's what a cool teacher does, but Bad Teacher doesn't want to take a valuable lesson after it's over. I wished there was more effort put into the script to make it on the level of good. There was also a short-lived CBS television series with Ari Graynor that came and went with nobody noticing.
June 29: 'Transformers: Dark of the Moon'
Cast: Shia LaBeouf, Josh Duhamel, John Turturro, Tyrese Gibson, Rosie Huntington-Whiteley, Patrick Dempsey, Kevin Dunn, Julie White, John Malkovich, and Frances McDormand
Directed By: Michael Bay
Synopsis: Sam Witwicky (Shia LaBeouf) and his new girlfriend, Carly (Rosie Huntington-Whiteley), join the fray when the evil Decepticons renew their longstanding war against the Autobots. Optimus Prime (Peter Cullen) believes that resurrecting ancient Transformer Sentinel Prime (Leonard Nimoy), once the leader of the Autobots, may lead to victory. That decision, however, has devastating consequences; the war appears to tip in favor of the Decepticons, leading to a climactic battle in Chicago.
Domestic Box Office: $352,390,543/ Worldwide: $1,123,794,079
RT Score: 35%
My Thoughts: If someone asked me what's a trailer better than the actual movie itself, I would throw in Transformers: Dark of the Moon to that conversation. I already provided my full thoughts from one of my recent reviews for Summer Blockbuster Friday not too long ago. But just talking about it briefly, the third installment in the sci-fi franchise is a better sequel than Revenge of the Fallen, but that still makes this a bad movie. As time went on, I dislike it more when you can see Michael Bay tried his hardest to make a better movie this time, and while the effort is clear, those problems associated with the previous film are still in here that don't make it entertaining. To no one's surprise, it's loud, the characters don't seem to give it their all, and it goes on for too long when you're just waiting for it to be over. But it when it's the last half-hour that almost makes up for the lack of fun during the first two acts when you're seeing the Autobots and Decepticons fight each other while an awesome score is playing. Personally, Transformers: Dark of the Moon is more or less a disappointment that kept this franchise at a standstill, but it's at least the second-best with Bay serving as a director. The one thing we know for sure is it's not worse than the next two. My Review—> RIGHT HERE.