After getting this completed in two days from the free time I had, now looks like a good time to welcome back another monthly entry in Movie Time Capsule- Remember These Movies. For those who aren't familiar, this is where I take a look back at what movies came out ten years ago, whether or not they were good.
Who doesn't love May, as it signifies the beginning of the summer movie season, my favorite time of the year? Hopefully this year, we'll start seeing new movies back in theaters, which I hope to accomplish at the end of the month. But ten years ago, we got ourselves a major movie about every week that grossed more than $100 million domestic, even if a couple of sequels weren't the best. What was going on with me around this time? Not much; all I was doing was waiting until it was Memorial Day. There's a lot to talk about, so let's travel back to what came out in May ten years ago.

May 6: 'Thor'
Cast: Chris Hemsworth, Natalie Portman, Tom Hiddleston, Stellan Skarsgård, Colm Feore, Ray Stevenson, Idris Elba, Kat Dennings, Rene Russo, and Anthony Hopkins
Directed By: Kenneth Branagh
Synopsis: As the son of Odin (Anthony Hopkins), king of the Norse gods, Thor (Chris Hemsworth) will soon inherit the throne of Asgard from his aging father. However, on the day that he is to be crowned, Thor reacts with brutality when the gods' enemies, the Frost Giants, enter the palace in violation of their treaty. As punishment, Odin banishes Thor to Earth. While Loki (Tom Hiddleston), Thor's brother, plots mischief in Asgard, Thor, now stripped of his powers, faces his greatest threat.
Domestic Box Office: $181,030,624 / Worldwide Box Office: $449,326,618
RT Score: 77%
My Thoughts: Thor was the fourth entry in the MCU where we were going to see the God of Thunder on the big screen without making the tone cheesy. And what do you know, it was better than most expected. This is everybody's second favorite in the trilogy, and seeing this character in this fish-out-of-water stays grounded despite not having a lot of sequences on Asgard. Chris Hemsworth wasn't a big name at the time, but became a namesake in the superhero world with his portrayal of Thor with a solid performance, and that goes the same with Tom Hiddleston as his brother Loki, becoming one of the more popular villains in the MCU. Thor has always been the Phase 1 movie that doesn't get enough credit for succeeding and being an origin story that worked, though not as great as what we've seen in Iron Man. Kenneth Branagh's direction sometimes is off with his dutch angles distracting and they did not give Natalie Portman and her team good material to work it. Thor is a big-screen transition that might be please fans of the comics to start the summer.
'Jumping the Broom'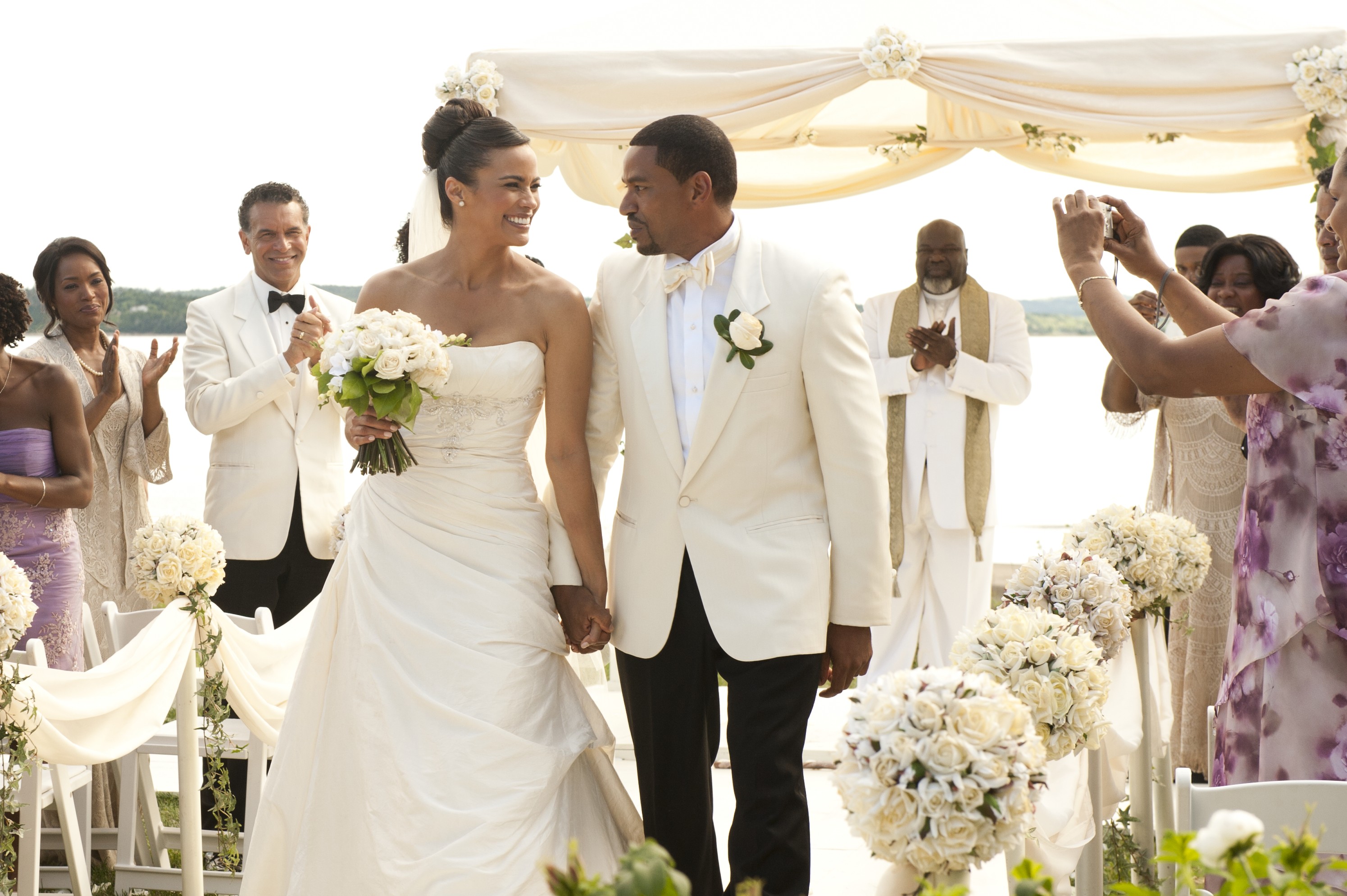 Cast: Angela Bassett, Paula Patton, Laz Alonso, Loretta Devine, Valarie Pettiford, Mike Epps, Brian Stokes Mitchell, Meagan Good, and Tasha Smith
Directed By: Salim Akil
Synopsis: Sabrina Watson (Paula Patton) is a successful corporate lawyer who comes from an old-money family. When she meets Jason Taylor (Laz Alonso), she thinks she's found Mr. Right and eagerly accepts the Wall Street worker's marriage proposal after a whirlwind courtship. However, when Sabrina's aristocratic parents (Angela Bassett, Brian Stokes Mitchell) meet Jason's postal-worker mother (Loretta Devine) at their estate on Martha's Vineyard, the class division seems very wide indeed.
Domestic Box Office: $37,295,394 / Worldwide Box Office: $38,158,601
RT Score: 58%
My Thoughts: Jumping the Broom probably isn't one people remember too much of after it came out, or at least in the Black community. But I thought it wasn't too bad. It benefits from a good cast with Paula Patton, Angela Bassett, Lorette Davine, and others that have a story in line with The Best Man and probably a better movie than Our Family Wedding. Though it's pretty predictable and doesn't hit the comedic beats too well, it could've been written better, in my opinion. Years later and never having the urge to watch it again, I still put it under watchable.
'Something Borrowed'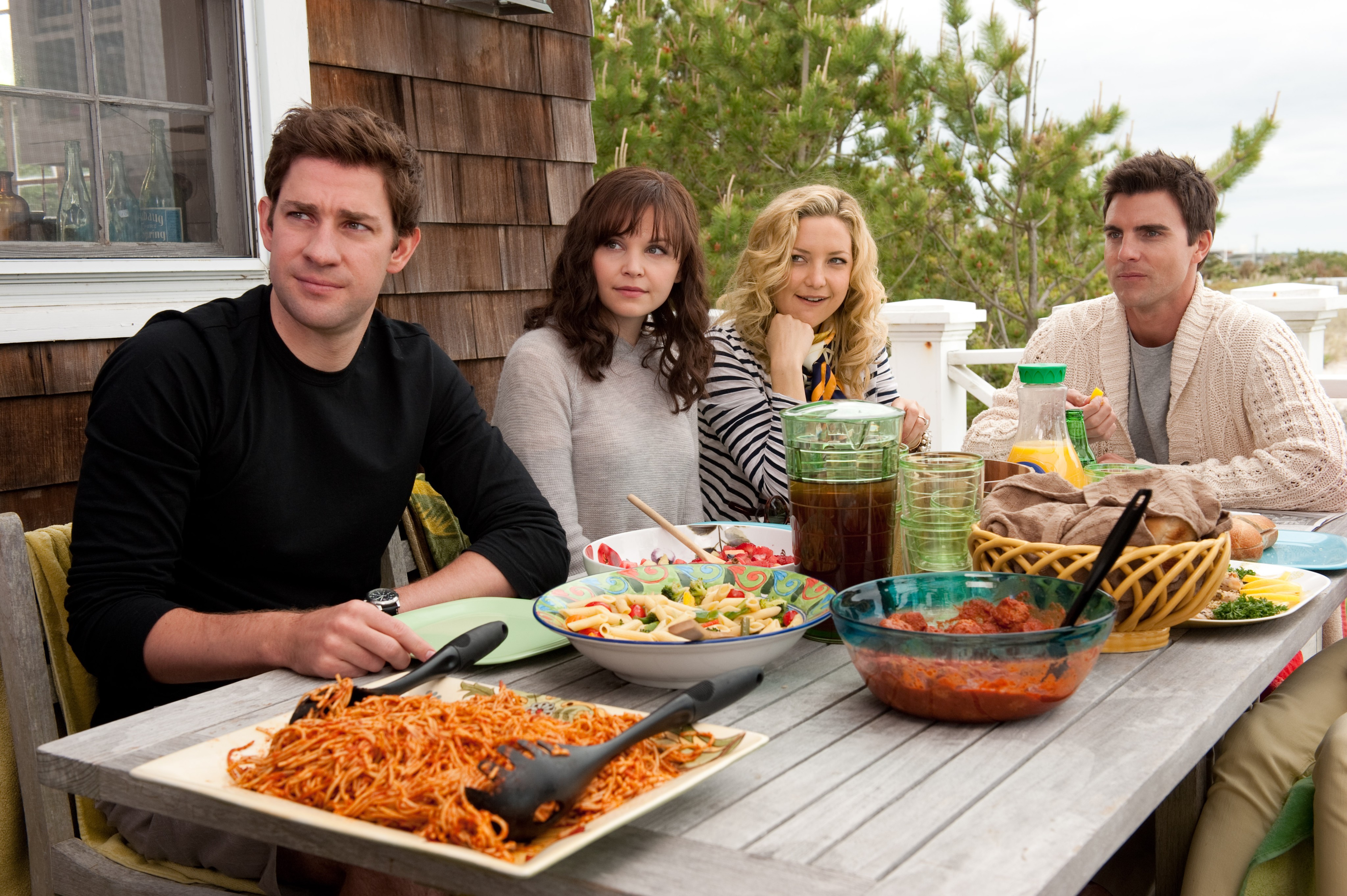 Cast: Ginnifer Goodwin, Kate Hudson, Colin Egglesfield, and John Krasinski
Directed By: Luke Greenfield
Synopsis: Though Rachel (Ginnifer Goodwin) is a successful attorney and a loyal, generous friend, she is still single. After one drink too many at her 30th-birthday celebration, Rachel unexpectedly falls into bed with her longtime crush, Dex — who happens to be engaged to her best friend, Darcy (Kate Hudson). Ramifications of the liaison threaten to destroy the women's lifelong friendship, while Ethan (John Krasinski), Rachel's confidant, harbors a potentially explosive secret of his own.
Domestic Box Office: $39,046,489/ Worldwide Box Office: $65,100,369
RT Score: 15%
My Thoughts: It's movies like Something Borrowed that give romantic comedies a bad name. What was I thinking watching this when I knew full well it wasn't meant for me? I'm still wondering about that myself years later. Something Borrowed has a cast of fine actors, but they're in this very cliche plot with unsympathetic characters to never root for in what they want. Kate Hudson is an actress I've never been a fan of and she was just unlikeable throughout, and Ginnifer Goodwin isn't much better as the protagonist with the chemistry between her and Colin Egglesfield never believable. The only saving grace of the entire movie falls under John Krasinski, who's the one character smart enough to call out Goodwin and her mistakes and at least tries to make the script decent. This doesn't respect our intelligence, and I hated it.
May 13: 'Bridesmaids'
Cast: Kristen Wiig, Maya Rudolph. Rose Byrne, Melissa McCarthy, Ellie Kemper, Wendi McLendon-Covey, Chris O'Dowd, Rebel Wilson, and Jill Clayburgh
Directed By: Paul Feig
Synopsis: Annie (Kristen Wiig) is a single woman whose own life is a mess, but when she learns that her lifelong best friend, Lillian (Maya Rudolph), is engaged, she has no choice but to serve as the maid of honor. Though lovelorn and almost penniless, Annie, nevertheless, winds her way through the strange and expensive rituals associated with her job as the bride's go-to gal. Determined to make things perfect, she gamely leads Lillian and the other bridesmaids down the wild road to the wedding.
Domestic Box Office: $169,106,725/ Worldwide Box Office: $288,383,523
RT Score: 90%
My Thoughts: I have talked about Bridesmaids a few times in past posts and I just did a review of it just recently for Summer Blockbuster Friday. But what else can I praise about it; it's one of the biggest surprises I didn't expect to be any good. For a comedy I was scared it would be another Bride Wars on our path, this turned out to be a funny female comedy that delivers on some iconic comedic moments and a host of actresses playing to their strengths, including Kristen Wiig, Maya Rudolph, and the scene-stealing Melissa McCarthy, whose performance earned the breakout star her first Oscar-nomination. It was Bridesmaids that made me pay attention to what director Paul Feig does next in the genre's realm and thus was the reason for seeing more R-rated comedies like this. The funniest movie of the year, if you ask me.
'Priest'
Cast: Paul Bettany, Cam Gigandet, Maggie Q, Karl Urban, Lily Collins, Brad Dourif, Stephen Moyer, and Christopher Plummer
Directed By: Scott Stewart
Synopsis: A veteran warrior, Priest, breaks his sacred vows to hunt down the blood-thirsty vampires who kidnapped his niece. His niece's boyfriend, Hick, and Priestess, a former warrior, join him in the quest.
Domestic Box Office: $29,137,000/ Worldwide Box Office: $78,309,505
RT Score: 15%
My Thoughts: Who at Sony/ Screen Gems thought Legion was a critical and commercial hit and decided the same director and lead actor should do another garbage movie with Priest? For the record, I didn't think it would be good as someone who refuses to watch Legion and I never read the South Korean graphic novels, but wanting to watch a sweet vampire movie with rogue priests didn't sound terrible.Instead, all we got is a boring and poorly constructed action/ horror hybrid that never knows when to have fun with itself. You can't make a movie like this and not have surprises. No performance is good since they're underdeveloped, the action never raises above imperfect and has a story unfulfilling to be good. I feel bad for Paul Bettany at this point in his career, honestly.
May 20: 'Pirates of the Caribbean: On Stranger Tides'
Cast: Johnny Depp, Penélope Cruz, Ian McShane, Geoffrey Rush, Kevin McNally, Sam Claflin, and Àstrid Bergès-Frisbey
Directed By: Rob Marshall
Synopsis: The checkered past of Capt. Jack Sparrow (Johnny Depp) catches up to him when he encounters Angelica (Penélope Cruz), a beautiful pirate that Jack once loved then left. Angelica forces him to accompany her to the Queen Anne's Revenge, the ship of the notorious Blackbeard (Ian McShane). Accompanied by a zombie crew, the trio sets sail to find the legendary Fountain of Youth. However, Jack's rival, Barbossa (Geoffrey Rush), also seeks the fountain, as does a ship from Spain.
Domestic Box Office: $241,071,802 / Worldwide Box Office: $1,045,713,802
RT Score: 33%
My Thoughts: Considering this was the fourth movie in Disney's swashbuckling adventure franchise, was anyone excited about this? Pirates of the Caribbean: On Stranger Tides came out four years after the bloated mess of At World's End, but as much director Rob Marshall (Chicago, Nine) tried here, it's a very forgettable sequel that showed this franchise has gotten old. It doesn't have memorable action sequences, Johnny Depp's Jack Sparrow wasn't as charming as he was in the first movie, and for a plot about finding the Fountain of Youth, it somehow becomes complicated with other people searching for it too and other quests to get there. The only thing I remember while watching this was the power going out in my theater during an action scene but came back on about a minute later. Memorable, indeed. The rest of the cast from Ian McShane Blackbeard was fine as the movie's villain. Any other actress has played Penelope Cruz as Angelica, and trying to make two new characters as replacements for the new Elizabeth and Will was unneeded. Pirates of the Caribbean: On Stranger Tides never pulls through in amazing you when everything surrounding this sequel is fairly dull. I am still shocked this is the most expensive film to date ($379 million).
'Midnight in Paris'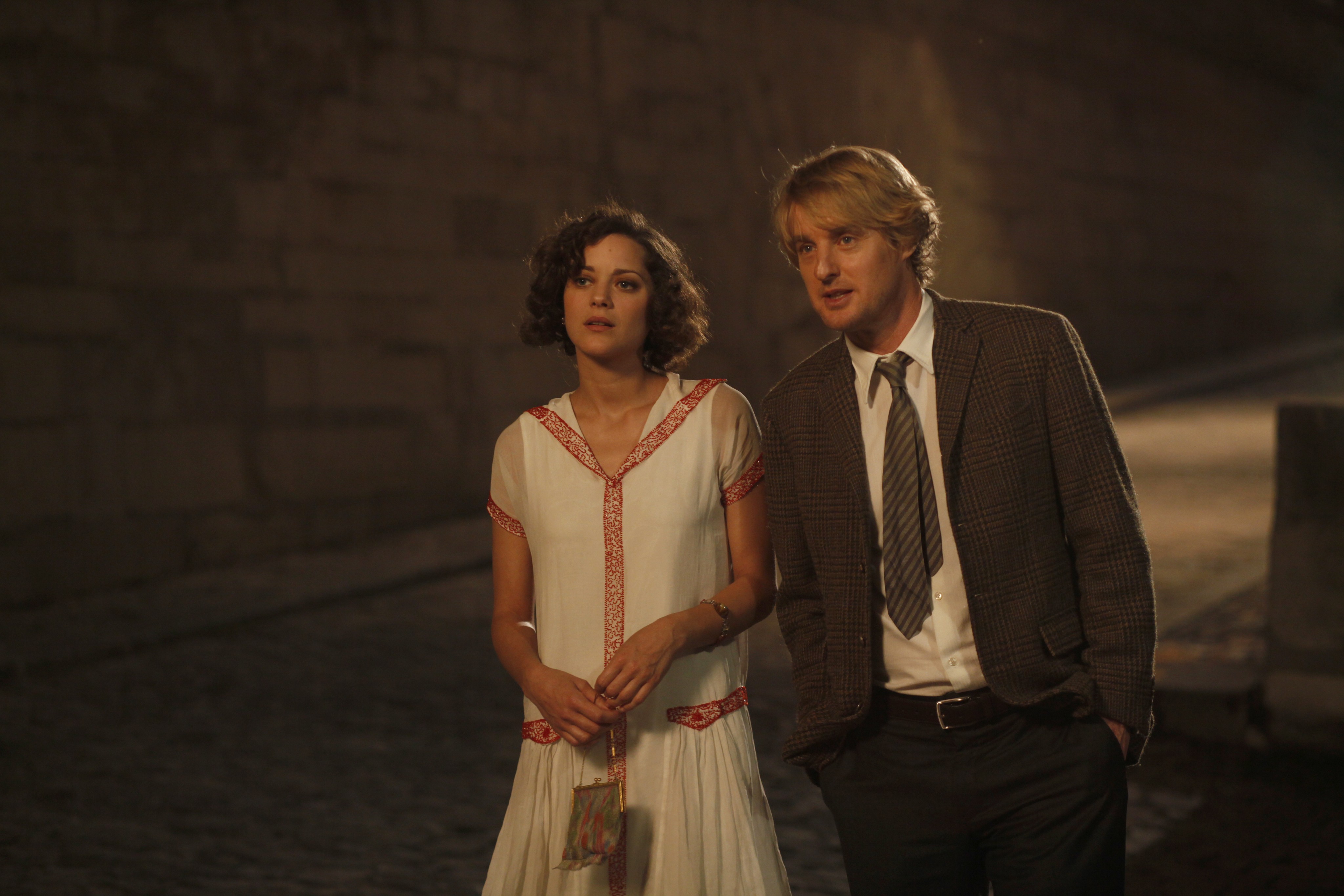 Cast: Owen Wilson, Rachel McAdams, Kathy Bates, Adrien Brody, Carla Bruni, Tom Hiddleston, Marion Cotillard, and Michael Sheen
Directed By: Woody Allen
Synopsis: Gil Pender (Owen Wilson) is a screenwriter and aspiring novelist. Vacationing in Paris with his fiancee (Rachel McAdams), he has taken to touring the city alone. On one such late-night excursion, Gil encounters a group of strange — yet familiar — revelers, who sweep him along, apparently back in time, for a night with some of the Jazz Age's icons of art and literature. The more time Gil spends with these cultural heroes of the past, the more dissatisfied he becomes with the present.
Domestic Box Office: $56,817,045/ Worldwide Box Office: $153,959,590
RT Score: 93%
My Thoughts: Woody Allen is a terrible person, there my two cents. I've only watched two movies from his filmography: Annie Hall and Midnight in Paris. His career as a prolific writer/director has been hit-and-miss, but this 2011 fantasy dramedy is one fans' have a positive reaction to. I knew nothing before watching it a year after it came out beside the cast, and the biggest compliment I can give is his original it is. Owen Wilson gives one of his best performances as Gil, an aspiring writer that gets the chance to interact with these ironic figures in a time where the world didn't seem fake and almost full of itself. This was my first exposure to any of Allen's work, but the dialogue between the characters sounds natural, which came off as charming and mildly humorous. Writers will love this since what other movie has Hemingway, F: Scott Fitzgerald, or Salvador Dali and find an understanding to know we shouldn't be living in the past and focus on the now. Midnight in Paris was named one of the best films of the year, earning three Oscar nominations, including winning Best Original Screenplay for Allen.
May 26: 'The Hangover Part II'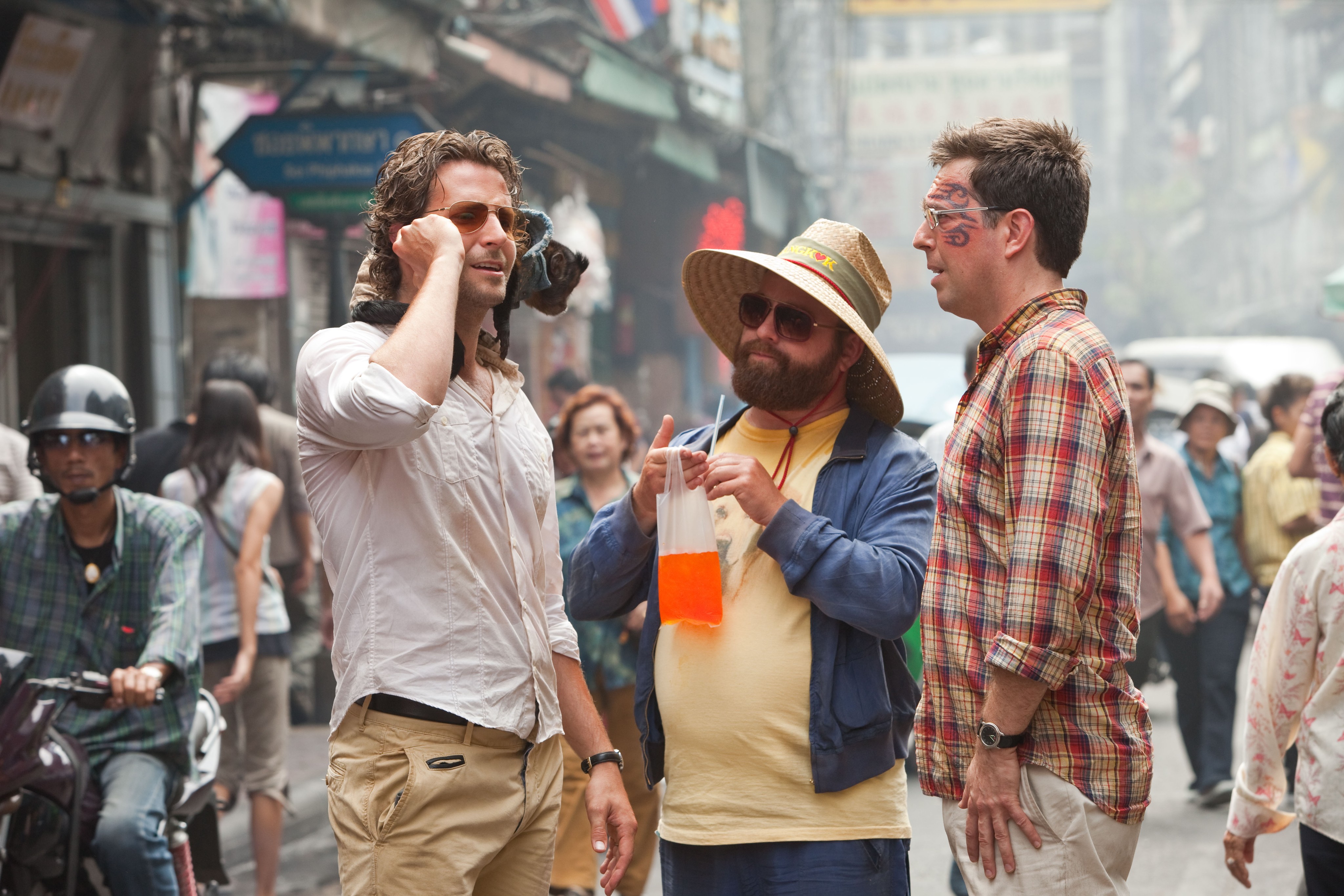 Cast: Bradley Cooper, Ed Helms, Zach Galifianakis, Ken Jeong, Jeffrey Tambor, Justin Bartha, and Paul Giamatti
Directed By: Todd Phillips
Synopsis: Two years after the disastrous events in Las Vegas, it is now Stu's (Ed Helms) turn to walk down the aisle. Since his bride is from Thailand, Stu decides to hold the wedding there. Desperately hoping to avoid the mayhem of Doug's (Justin Bartha) bachelor party, Stu chooses what he thinks will be a safe option: an alcohol-free, prewedding brunch. But this being Thailand, and with Phil (Bradley Cooper) and Alan (Zach Galifianakis) again in attendance, anything can happen.
Domestic Box Office: $254,464,305/ Worldwide Box Office: $586,764,305
RT Score: 33%
My Thoughts: As someone who unexpectedly loves the first installment years back, I should've expected The Hangover Part II to be just as funny if not better. I left school early to see it opening day and I don't know why I thought it was good at 15 when reevaluating what I liked about it… very few positives. Here's a classic example of why most comedy sequels cannot be as good because this sequel was just a copy of the first movie except in a new location: Thailand. All we wanted was another fun adventure with the Wolfpack, but it's a more mean-spirited quest with no laughter and makes it even bigger. Even the cast felt like this was a waste, especially when Zach Galifianakis' Alan turns into a jerk this time. A massive disappointment that didn't deserve to make that much money (Beating Home Alone as the highest-grossing comedy), The Hangover Part II lost resemblance of fun from before by making it appear lazy. Though I'll say it wasn't as terrible as the third film in the trilogy.
Prelude: I saw both The Hangover Part II and Kung Fu Panda 2 on opening day, the first person in my grade to see them, so I'm pretty sure I texted a friend of mine that I thought the former was good while waiting for the other movie to start. What a liar I am.
'Kung Fu Panda 2'
Cast: Jack Black, Angelina Jolie, Dustin Hoffman, Seth Rogen, Lucy Liu, David Cross, James Hong, Jackie Chan, Gary Oldman, Michelle Yeoh, and Jean-Claude Van Damme
Directed By: Jennifer Yuh Nelson
Synopsis: Now known as the Dragon Warrior, Po (Jack Black) protects the Valley of Peace alongside his friends and fellow kung fu masters, the Furious Five. However, a dangerous villain threatens Po's awesome new life with plans to use a secret weapon to wipe out the martial art and conquer China. In order to defeat the new enemy, Po finds he must recall his past and unlock secrets of his mysterious origins; only then will he find the strength to vanquish his foe.
Domestic Box Office: $165,249,063/ Worldwide Box Office: $665,692,281
RT Score: 81%
My Thoughts: Do I think the Kung Fu Panda series of movies are underappreciated amongst the DreamWorks Animation community? Yes. Do I also think the second installment is the best? Absolutely. Maybe it was because I love the original, but Kung Fu Panda 2 doesn't fall back at providing some impressive action, funnier humor, and being able to be unexpectedly deep to the story to where we find out about Po's past. Certainly made for kids, I believe this Oscar-nominated animation shows class also for being a little darker but doesn't ruin the silly nature of it all. Jack Black still is the perfect choice to voice Po, and Gary Oldman as the villain Lord Shen can make a peacock threatening. Kung Fu Panda 2 is a win that ran with the formula it took from its predecessor and made it more action-packed and visually pleasing for families everywhere.
May 27: 'The Tree of Life'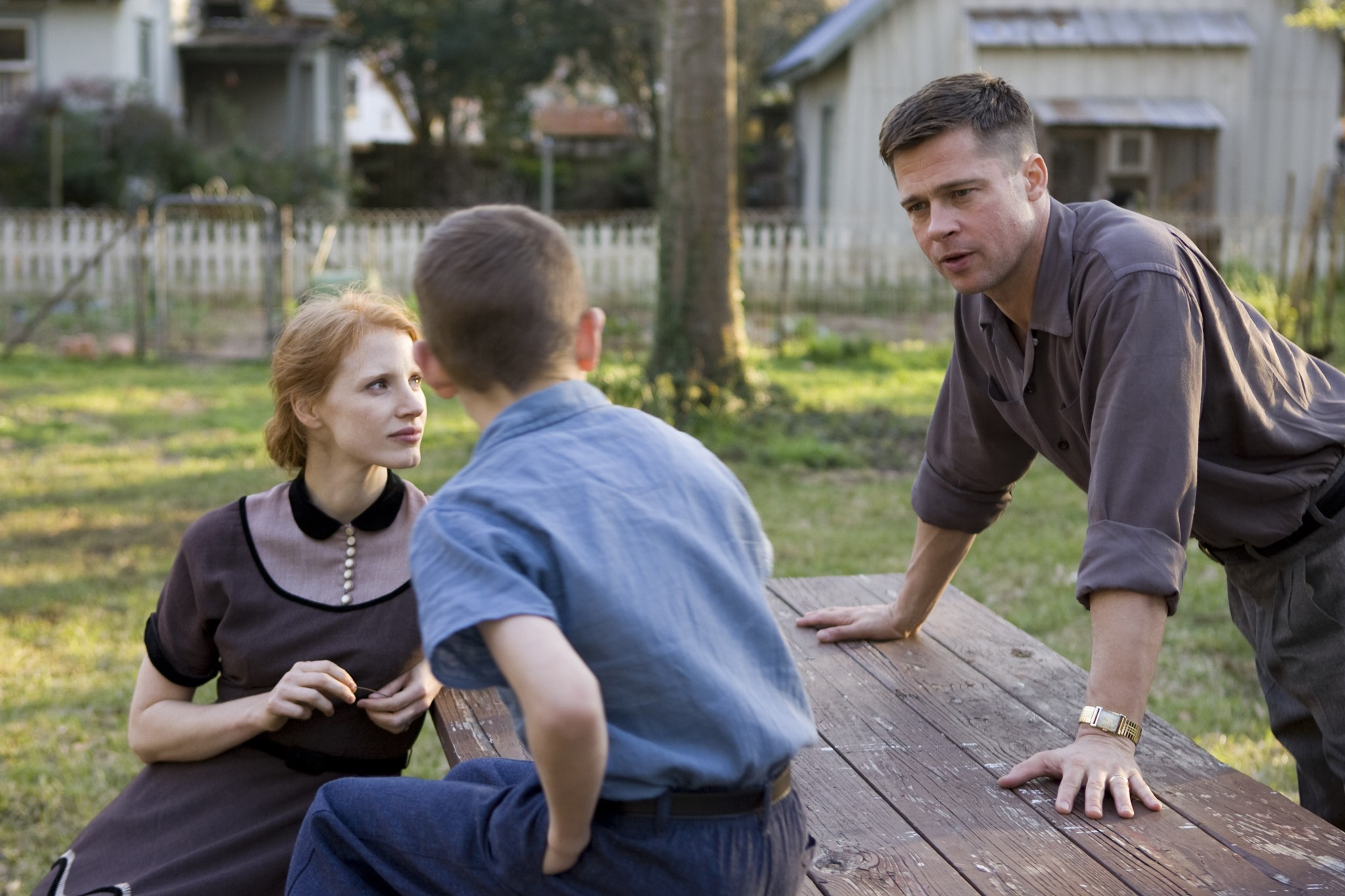 Cast: Brad Pitt, Sean Penn, Hunter McCracken, Laramie Eppler, Jessica Chastain, and Tye Sheridan
Directed By: Terrence Malick
Synopsis: Young Jack (Hunter McCracken) is one of three brothers growing up as part of the O'Brien family in small-town Texas. Jack has a contentious relationship with his father (Brad Pitt), but gets along well with his beautiful mother (Jessica Chastain). As an adult, Jack (Sean Penn) struggles with his past and tries to make sense of his childhood, while also grappling with bigger existential issues.
Domestic Box Office: $13,303,319/ Worldwide Box Office: $58,409,247
RT Score: 84%
My Thoughts: Never seen it. I know tons of cinema lovers who declare The Tree of Life as a masterpiece or the greatest film of the decade. Why haven't I checked it out? Because I think Terrence Malick is a pretentious filmmaker whose films I know I won't appreciate. Looks like The Tree of Life touches on the themes of human existence and nature through visuals and limited dialogue. It's the type of movie that screams divided opinions, and I never care to watch it since I know it'll bore me and possibly hate it. Why was it nominated for Best Picture and director for Malick? Because they forgot better and more important films to choose from instead.