Nothing says the end of April like providing the latest entry of Movie Time Capsule- Remember These Movies before it suddenly turns into May. Unfamiliar with this monthly segment? This is where I look back at what came out in theaters ten years ago and remember the good and bad movies that are still remembered or forgotten months after they came out.
Nothing new was going on in April, from what I can remember. I was just hoping school is over quickly when we just got done with spring break. Though I remember being one of the more mature students in my choir class while a majority of the others were just annoying, which made me frustrated for the rest of the day.
Thinking about what came out, there were a couple of contenders for the best movies of the year, while it also had its fair share of duds that bombed at the box office. Have you seen all of these? Let's take a throwback to what April had to deliver!
April 1: 'Hop'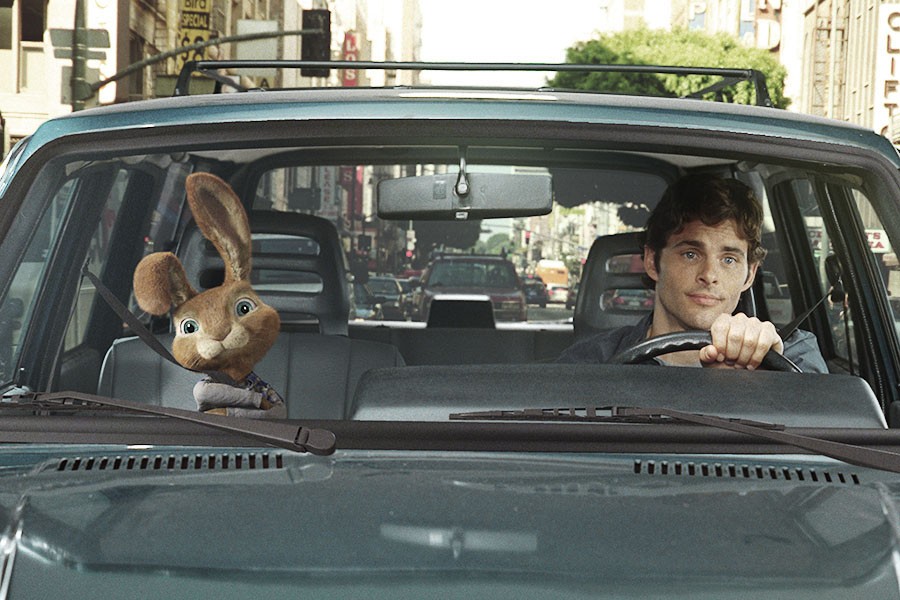 Cast: Russell Brand, James Marsden, Kaley Cuoco, Hank Azaria, Hugh Laurie, Gary Cole, and Elizabeth Perkins
Directed By: Tim Hill
Synopsis: Beneath Easter Island, in a giant factory that manufactures the world's Easter candy, the popular rabbit is preparing to pass the mantle to his son, E.B. (Russell Brand). But E.B. has no interest in the job and would rather be a drummer. He runs away to Los Angeles, where an unemployed slacker named Fred O'Hare (James Marsden) accidentally runs into him. Feigning injury, E.B. tricks Fred into giving him shelter, but an oversized chick is planning a coup back on Easter Island.
Domestic Box Office: $108,085,305/ Worldwide Box Office: $183,953,723
RT Score: 24%
My Thoughts: Hop remains Illumination Studio's first and only CGI/live-action hybrid. A kid-friendly movie centering on a bunny who loves to drum needed to be a hit following the studios' success with Despicable Me. Plus, we've never had a straight-up Easter movie before, and did it succeed? Nope, it's fine for kids to watch on the holiday, but it doesn't have that much redeeming stuff for everyone else. The plot about a Russell Brand bunny wanting to be a drummer sounded so uninteresting and bring poor James Marsden made us feel sorry for him. You'll likely get a single chuckle, which hopefully won't be the part where the CGI bunny poops jelly beans. Seriously, Hop's a very forgettable family movie that does it carry much effort, pushing this to be the studio's least favorite out of everything they've done. And I had to wait a whole year to watch it since they released it on home media on Easter the following year.
'Source Code'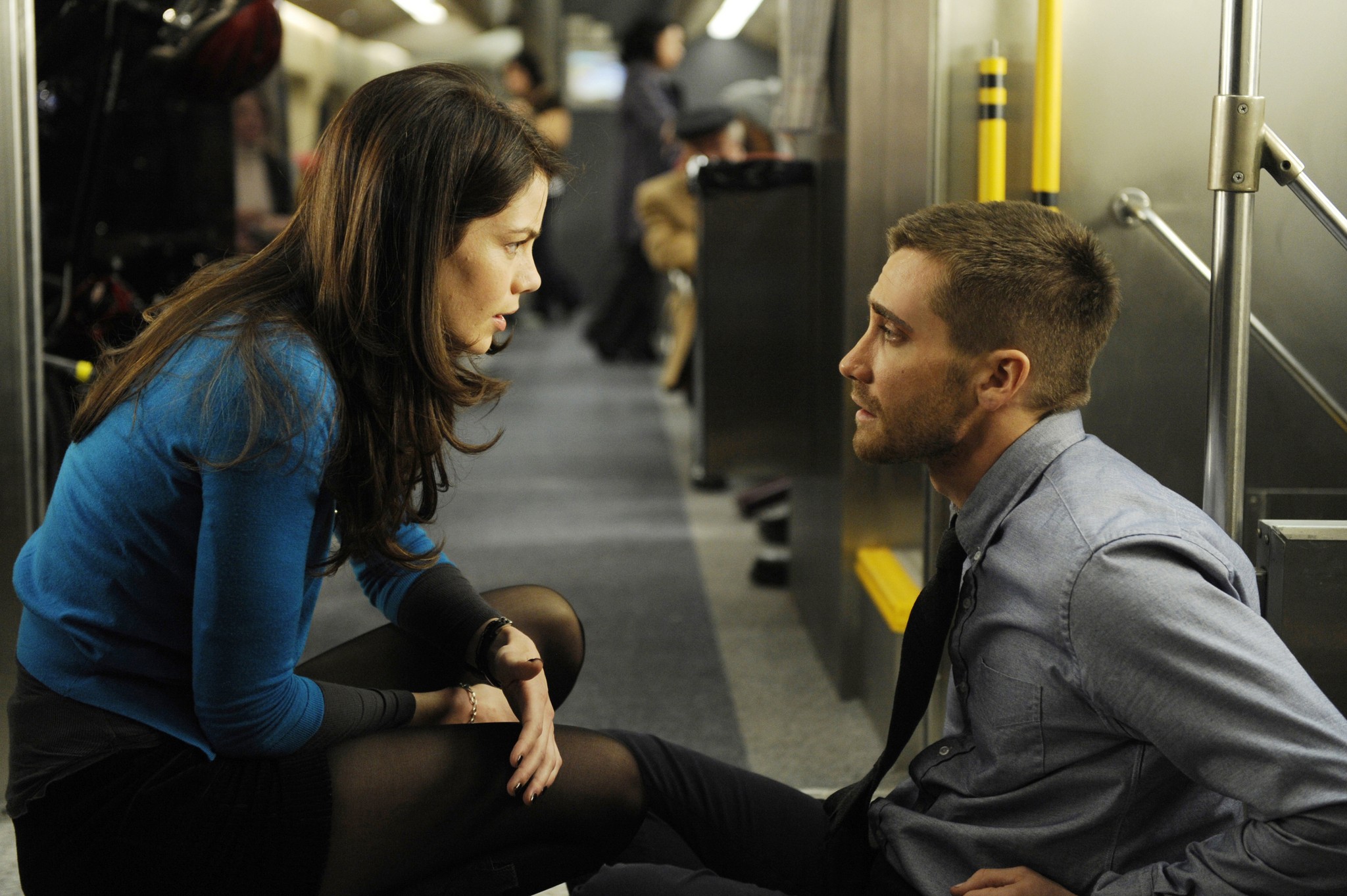 Cast: Jake Gyllenhaal, Michelle Monaghan, Vera Farmiga, and Jeffrey Wright
Directed By: Duncan Jones
Synopsis: Helicopter pilot Colter Stevens (Jake Gyllenhaal) is part of a top-secret military operation that enables him to experience the last few minutes in the life of Sean Fentress, a man who died in a commuter-train explosion. The purpose of Colter's mission is to learn the identity of the bomber and prevent a similar catastrophe. As Colter lives Sean's final moments, he becomes more certain that he can prevent the first tragedy from occurring — as long as he doesn't run out of time.
Domestic Box Office: $54,712,227/ Worldwide Box Office: $147,332,697
RT Score: 92%
My Thoughts: Source Code is Duncan Jones' second feature following the critically acclaimed Moon, and he delivers another intriguing film for the sci-fi genre. It was taking the time-loop premise of Groundhog Day and put it in a sci-fi twist that worked better than most thought. The reason this concept works for Source Code is that you feel the crisis for those eight minutes every time, which makes Jake Gyllenhaal's performance compelling when he wants to save the lives in the train and figure out who did it. Becoming repetitive was never the case when I was invested from start to finish. It brought this complex feel that I kind of understood a decade later that even the smartest people would remember easy glimpses, though would I use the eight minutes to flirt with a girl I just met? Sure, if it's Michelle Monaghan. Source Code rarely gets mentioned now, but it was one of the first great movies of 2011.
'Insidious'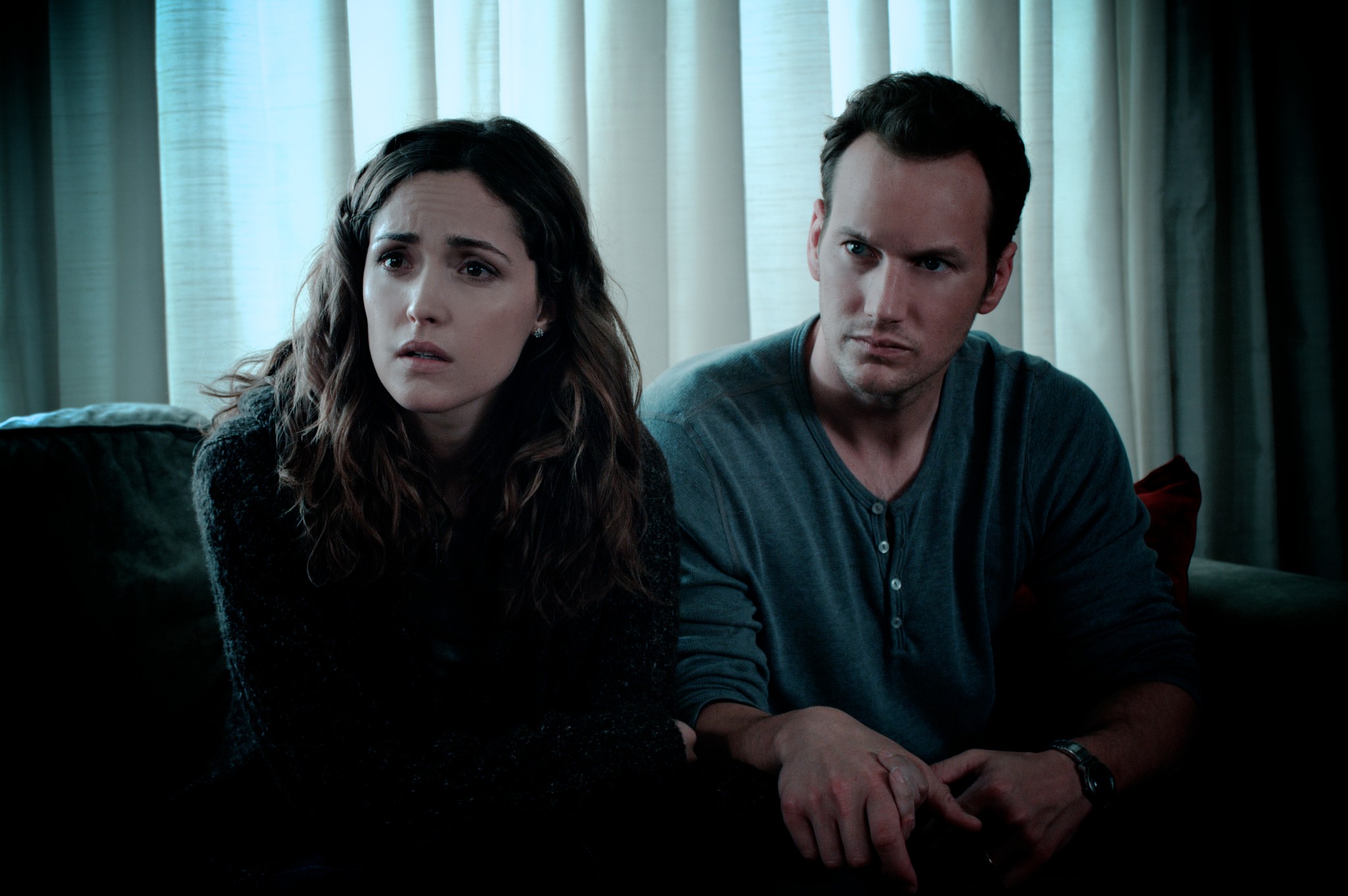 Cast: Patrick Wilson, Rose Byrne, Lin Shaye, Ty Simpkins, Barbara Hershey, Leigh Whannell, and Angus Sampson
Directed By: James Wan
Synopsis: Parents (Patrick Wilson, Rose Byrne) take drastic measures when it seems their new home is haunted and their comatose son (Ty Simpkins) is possessed by a malevolent entity.
Domestic Box Office: $54,009,150/ Worldwide Box Office: $99,557,032
RT Score: 66%
My Thoughts: Many cite Insidious as one of the scariest horror movies in recent memory, and it's understandable why. It's a fairly creepy movie that proves wisely scary movies can also work with a PG-13 rating. James Wan and writer Leigh Whannell made an effective low-budget film that doesn't go for the cheap scares, while the performances from Patrick Wilson, Rose Byrne, and Lin Shaye made the first installment in the franchise the best. I'll agree somewhat on the second half bit being the strongest, but Insidious would be good to show someone for the first time for those wanting to get into the genre. Trust me, I only watched it once and was afraid of the "Darth Maul" moment before it happened.
April 8: 'Arthur'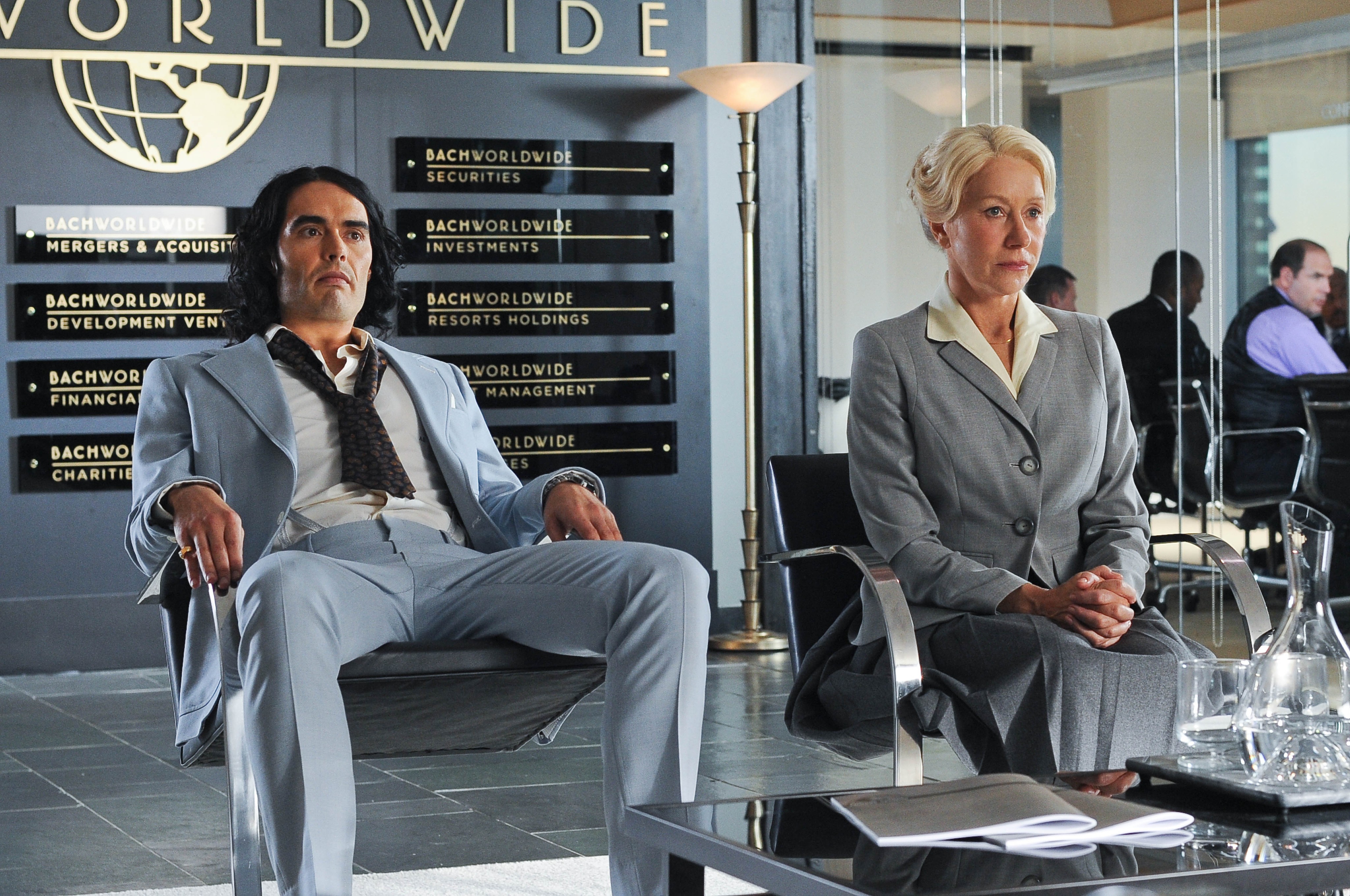 Cast: Russell Brand, Helen Mirren, Jennifer Garner, Greta Gerwig, and Nick Nolte
Directed By: Jason Winer
Synopsis: Irresponsible playboy Arthur Bach (Russell Brand) has always relied on two things to keep him out of real trouble: his great wealth and the advice of his lifelong nanny, Hobson (Helen Mirren). But now Arthur must undertake the most-expensive risk of his life. He must choose between an arranged marriage that will keep him in the money or a more-modest life with the only woman (Greta Gerwig) he has ever loved.
Domestic Box Office: $33,035,397/ Worldwide Box Office: $48,147,945
RT Score: 26%
My Thoughts: Do comedy remakes ever work? Well, they never will be iconic as the original. Arthur *is* a remake of the 1981 film starring Dudley Moore, Liza Minnelli, and John Gielgud in an Oscar-winning performance. But was anyone asking for another movie, especially with Russell Brand? Probably not. I haven't watched the original, but the problem with this comedy is nothing stood out in making the audience care for the overall story. Brand wasn't the right fit to play Moore's most popular character when I didn't find him charming, but I thought Helen Mirren as his nanny Lillian was the best part. But then you have Jennifer Garner and Greta Gerwig were given poor material to work with when the romance between the latter and Brand didn't work for me. Arthur wasn't one of the worst movies of that year, but it's just so unnecessary.
'Hanna'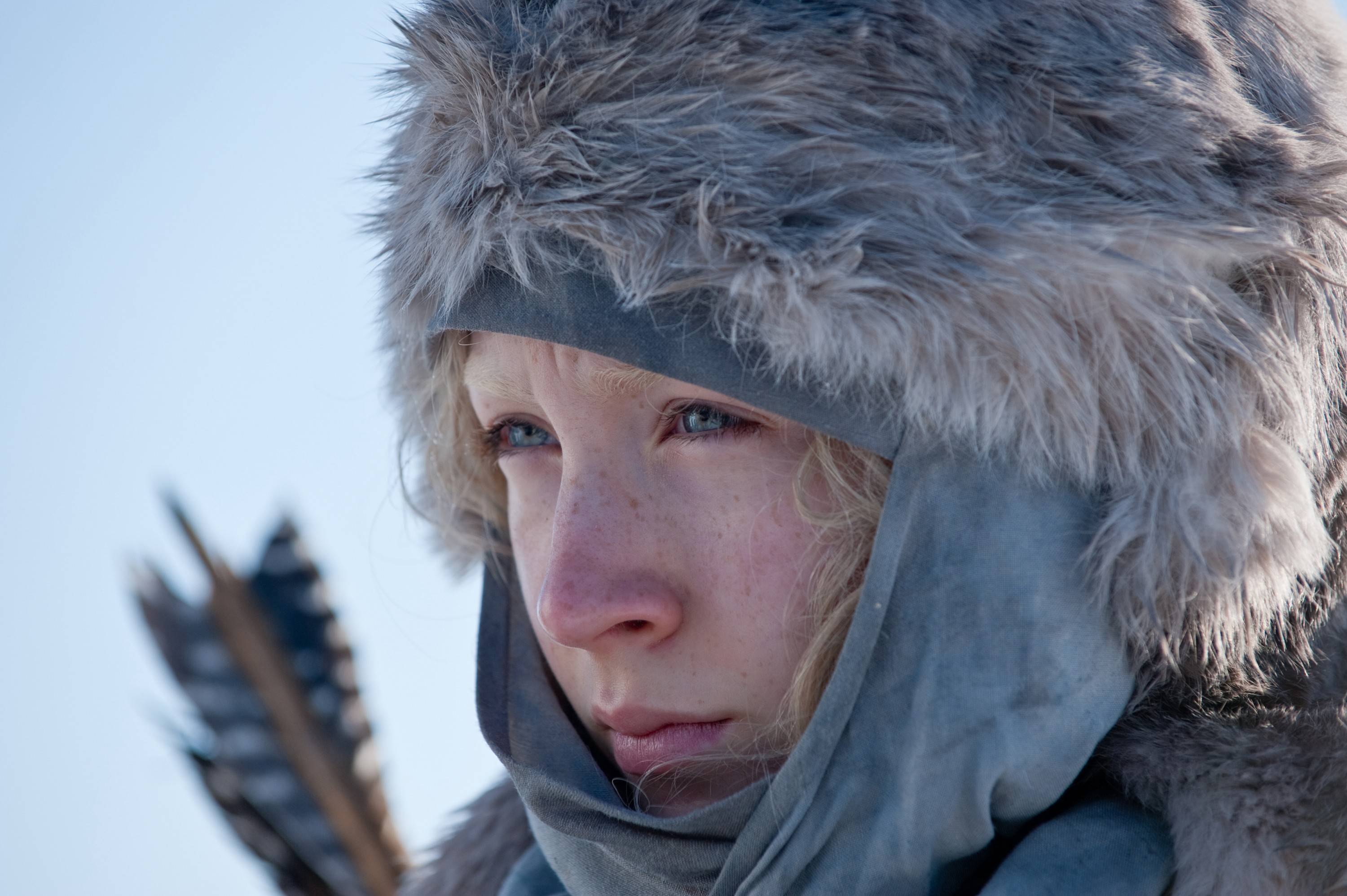 Cast: Saoirse Ronan, Eric Bana, Cate Blanchett, Tom Hollander, Olivia Williams, and Jason Flemyng
Directed By: Joe Wright
Synopsis: Raised by her father (Eric Bana) in the Finnish wilderness, teenage Hanna (Saoirse Ronan) has trained all her life to be the perfect assassin. Her father sends her on a mission, and she stealthily makes her way across Europe while evading agents sent after her by a ruthless operative named Marissa (Cate Blanchett), who once worked with Hanna's father. As she draws closer to her target, Hanna faces startling revelations about her existence and begins to question her humanity.
Domestic Box Office: $40,259,119/ Worldwide Box Office: $63,782,078
RT Score: 71%
My Thoughts: Hanna is like if Joe Wright wanted to make a Luc Besson movie good for once. This one is under the category of action-thriller, but its style shows off more serious fairy tale elements most would probably understand from its apparent themes. Saoirse Ronan as Hanna stayed grounded in her performance, and Eric Bana and Cate Blanchett did enough to consider them good. The action is what impressed me the most since Wright's known for his period pieces, but they're fairly entertaining, especially this one-take that I didn't see coming. Did I know it would be a slow burn than what the trailer led me to believe? I did, which made it hard to follow sometimes. I only watched it once, but I thought it was alright for what it tried to be. And I never watched the Amazon Prime show they based this on.
'Soul Surfer'
Cast: AnnaSophia Robb, Helen Hunt, Dennis Quaid, Lorraine Nicholson, Carrie Underwood, Kevin Sorbo, Sonya Balmores, Branscombe Richmond, and Craig T. Nelson
Directed By: Sean McNamara
Synopsis: A natural talent in the sport of surfing, teenager Bethany Hamilton (AnnaSophia Robb) loses an arm in a shark attack. Bolstered by the love of her parents (Helen Hunt, Dennis Quaid) and refusing to give up, she plans to return to competition, although questions about her future continue to trouble her.
Domestic Box Office: $43,853,424/ Worldwide Box Office: $47,120,948
RT Score: 45%
My Thoughts: Soul Surfer wasn't all that bad for telling the story of athlete Bethany Hamilton, and it's been a while since we had a surfing movie that combines Blue Crush with Lords of Dogtown. For the most part, it's a by-the-numbers biopic for those who've been following her from the beginning. As someone who knew little aside from the horrific shark attack, it should've offered more to get us to be attached to AnnaSophia Robb's performance as Bethany. Could've been more impactful instead of being cliche? Yes, but it's take it or leave it. I'll give it a point for playing "Underdog" by Kasabian because that song is awesome.
'Your Highness'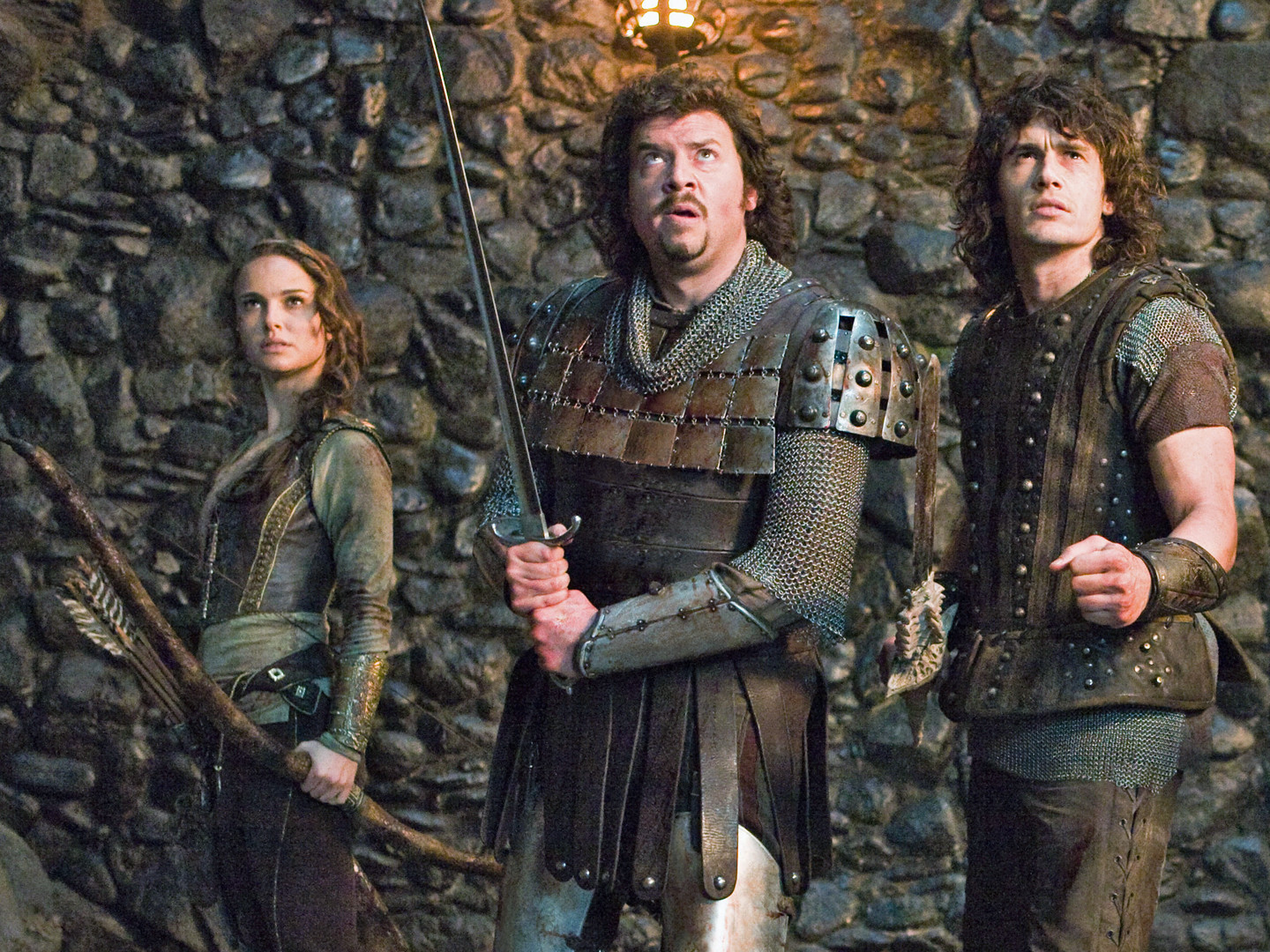 Cast: Danny McBride, James Franco, Natalie Portman, Zooey Deschanel and Justin Theroux
Directed By: David Gordon Green
Synopsis: Prince Thadeous (Danny McBride) has always lived his life in the shadow of his brother, the heir apparent, Prince Fabious (James Franco). Tired of always being passed over, Thadeous is now content to slack off, drink mead and enjoy the company of a maiden or two, while Fabious has fabulous adventures. But when an evil wizard kidnaps Fabious' fiancee (Zooey Deschanel), Thadeous has no choice but to find his inner hero and join his brother's quest to save her.
Domestic Box Office: $21,596,445/ Worldwide Box Office: $28,013,733
RT Score: 27%
My Thoughts: On paper, Your Highness sounds like a funny fantasy, especially with the team behind it. The trailers made me laugh when it was going to be Pineapple Express meets Dungeons and Dragons and The Princess Bride for stoners. Yet, with all that potential, this ended up as a pretty bad movie that disappointed me months after it I watched. I really wanted to like this since we haven't had a medieval quest comedy in ages, but its tropes to pointlessness that could've been smarter. It wasn't even funny when the humor felt irrelevant or used profanity that's unnecessary to use in its setting. There was literally a scene where somebody gets raped by a Minotaur. The performances were a miss as well, with Danny McBride, who co-wrote it, as loser brother is unlike; James Franco's performance might be his worst, which led him to a Razzie Nomination, and Zooey Deschanel is just playing the damsel in distress and just wasted. I thought Natalie Portman was the strongest out of everyone, though this was the first movie she comes out with after winning her Oscar? Nobody saw it, not even Franco himself.
April 15: 'Rio'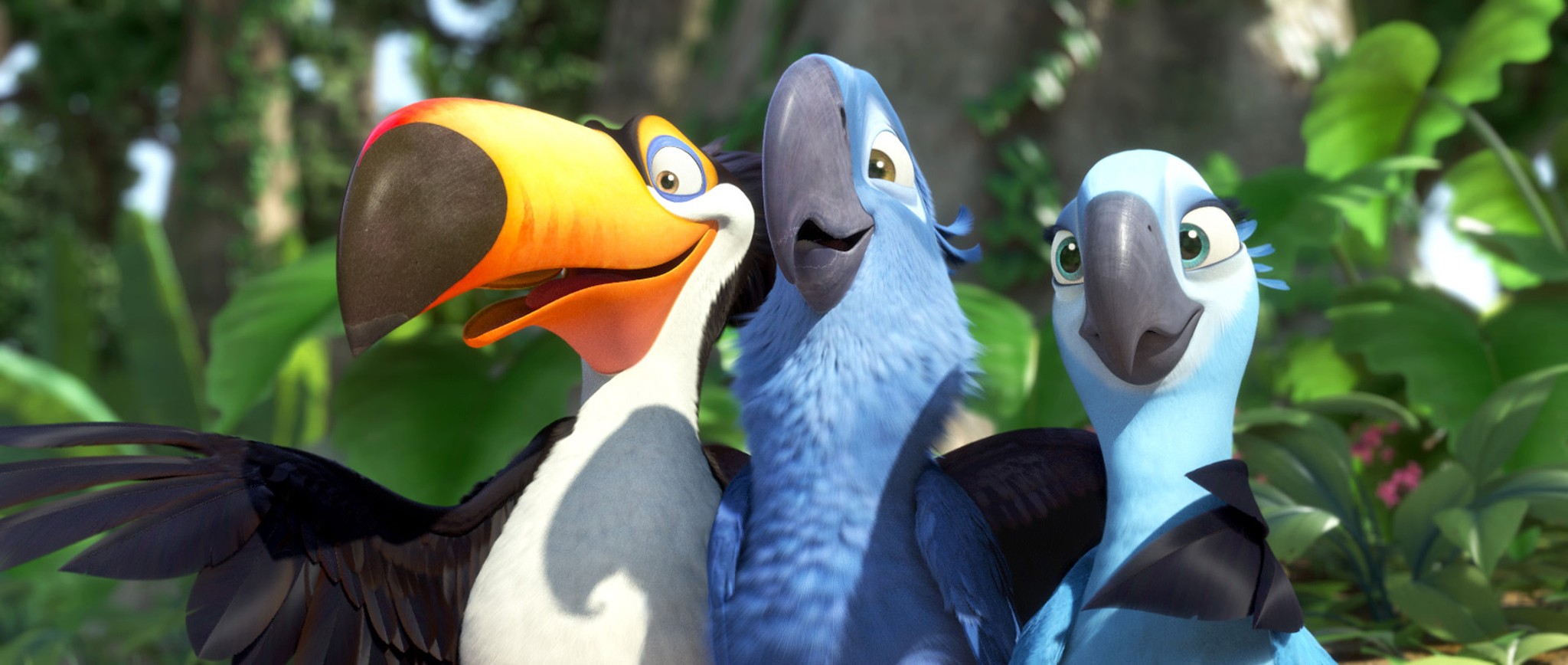 Cast: Jesse Eisenberg, Anne Hathaway, Leslie Mann, Rodrigo Santoro, Jemaine Clement, George Lopez, Tracy Morgan and Jamie Foxx
Directed By: Carlos Saldanha
Synopsis: Captured by smugglers when he was just a hatchling, a macaw named Blu (Jesse Eisenberg) never learned to fly and lives a happily domesticated life in Minnesota with his human friend, Linda. Blu is thought to be the last of his kind, but when word comes that Jewel (Anne Hathaway), a lone female, lives in Rio de Janeiro, Blu and Linda go to meet her. Animal smugglers kidnap Blu and Jewel, but the pair soon escape and begin a perilous adventure back to freedom — and Linda.
Domestic Box Office: $143,619,809/ Worldwide Box Office: $483,866,518
RT Score: 72%
My Thoughts: Rio is perhaps one of the better movies to come from Blue Sky Studios (RIP). It would be a stretch in saying one of the year's best-animated movies, but it's one families won't complain too much since this is fun, the animation is colorful, has generally fun humor, and has a stacked voice cast, including Jesse Eisenberg, Anne Hathaway, Jamie Foxx, and others. The story doesn't offer surprises when it's there as a movie with tropical birds in the titular city. But honestly, there are worse cartoons out there. The musical aspect I don't remember, but there's some creativity with the songs, with "Real in Rio" receiving an Oscar nomination for Best Original Song. And the 3D wasn't too bad for the one family movie that was good in April. Did anyone else play the Angry Birds game to promote it? I sure did.
'Scream 4'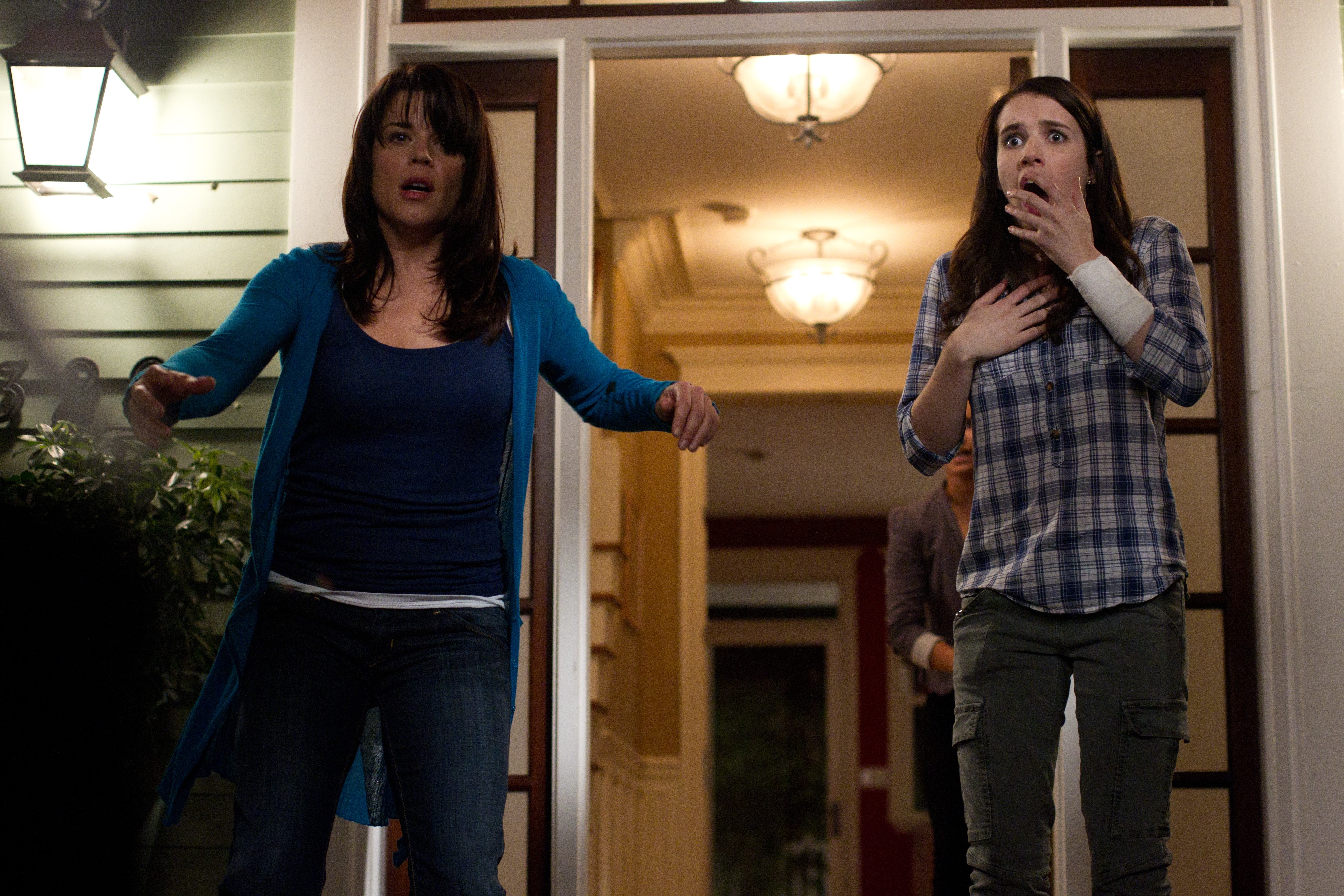 Cast: David Arquette, Neve Campbell, Courteney Cox, Emma Roberts, Hayden Panettiere, Anthony Anderson, Alison Brie, Adam Brody, Rory Culkin, Marielle Jaffe, Erik Knudsen, Mary McDonnell, Marley Shelton, and Nico Tortorella
Directed By: Wes Craven
Synopsis: It has been many years since the Ghostface Killer cut a deadly path through the town of Woodsboro. In order to get over the trauma of those horrific events, Sidney Prescott (Neve Campbell) has written a self-help book. She returns to Woodsboro for her book tour, and reconnects with old friends Gale Weathers (Courteney Cox) and Sheriff Dewey (David Arquette). However, Sidney's arrival also sparks the return of Ghostface, putting Sidney and everyone she loves in danger.
Domestic Box Office: $38,180,928/ Worldwide Box Office: $97,138,686
RT Score: 60%
My Thoughts: Scream 4 came out at the right time as I was already a fan of the series (except three), and I meant to review it this past October and will find the time to re-watch it again and provide my full thoughts out there. The best thing to say about the fourth installment I consider this the better than its predecessor by a mile. It's been 11 years since we saw Sidney, Drew, and Gail Weathers face against a new Ghost Face, and as the tag line reads, "New Decade, new rules." We have a sequel poking fun at reboots and becoming Internet famous, which I dug. This one did not scare me the most original of what we've seen, but Scream 4 is creative and amusing throughout, and it's an underrated sequel. At least Wes Craven went out on a high note.
April 22: 'Madea's Big Happy Family'
Cast: Tyler Perry, Loretta Devine, Shad "Bow Wow" Moss, Tamela Mann, Cassi Davis, Lauren London, Shannon Kane, David Mann, and Isaiah Mustafa
Directed By: Tyler Perry
Synopsis: When Shirley (Loretta Devine), Madea's niece, receives distressing news about her health, the only thing she wants is her family gathered around her. However, Shirley's three adult children (Shad "Bow Wow" Moss, Shannon Kane, Natalie Desselle-Reid) are too preoccupied with their own troubled lives to pay attention to their mother. It is up to Madea (Tyler Perry), with the help of rowdy Aunt Bam (Cassi Davis), to bring the clan together and help Shirley deal with her crisis.
Domestic Box Office: $53,345,287/ Worldwide Box Office: $54,161,287
RT Score: 38%
My Thoughts: Saying a Madea movie isn't good shouldn't surprise any person on this planet. Madea's Big Happy Family is a film adaptation of Tyler Perry's stage play, and this is another comedy-drama of his that I don't remember what happened since it's the same shtick every Madea movie goes for, which includes church. Did I even give it a semi-positive grade back then? I might've. There was a Maury Povich moment at the very end and a bunch of awful posters to promote it. At least the character was in this more than Madea Goes to Jail.
'Water for Elephants'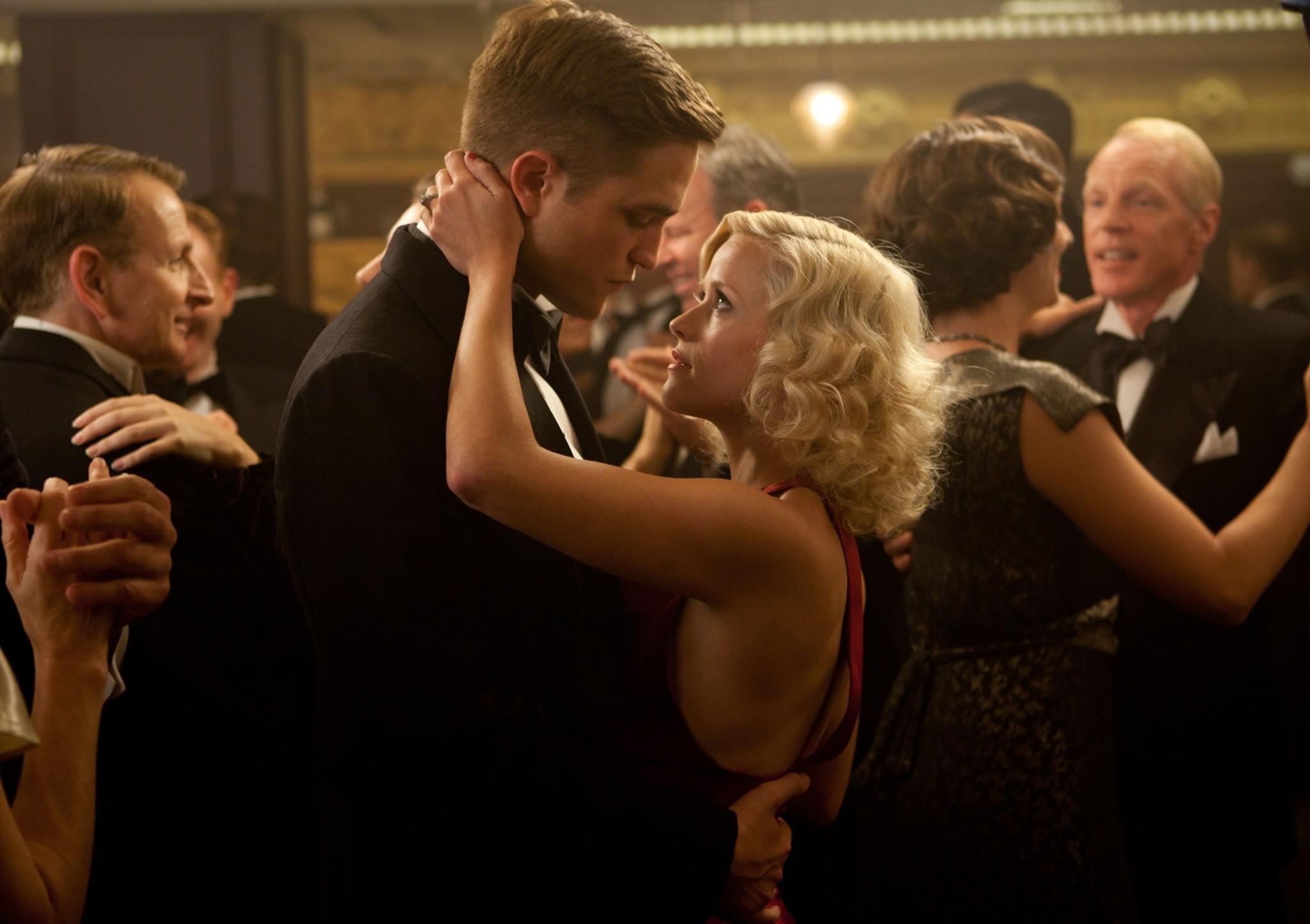 Cast: Reese Witherspoon, Robert Pattinson, Christoph Waltz, and Hal Holbrook
Directed By: Francis Lawrence
Synopsis: Jacob Jankowski (Robert Pattinson), a veterinary student, is close to graduating when a terrible tragedy forces him to leave school. With nowhere else to go, he hops on a passing train and finds it belongs to a traveling circus. Jacob takes a job as an animal caretaker and meets Marlena (Reese Witherspoon), a beautiful circus performer. Their shared compassion for a special elephant named Rosie leads to love, but August (Christoph Waltz), Marlena's cruel husband, stands in their way.
Domestic Box Office: $58,709,717/ Worldwide Box Office: $117,094,902
RT Score: 60%
My Thoughts: Water for Elephants is a romantic drama every girl in your class will gush over a day-to-day basis. I forgot it was based on the novel by author Sara Gruen, and this was one of those movies I didn't think about after I watched it; it's fine. The star power holds enough interest, and while Robert Pattinson gave a good performance and I love Reese Witherspoon, I found their chemistry lacking quite honestly where I couldn't buy them in most scenes. The story has elements that weren't too new, but there was a cute elephant. So there's that. And Christoph Waltz was great as the villain and made it watchable. I mean, this is for you if you're looking for a good old-fashioned romance that will not be the next Titanic.
African Cats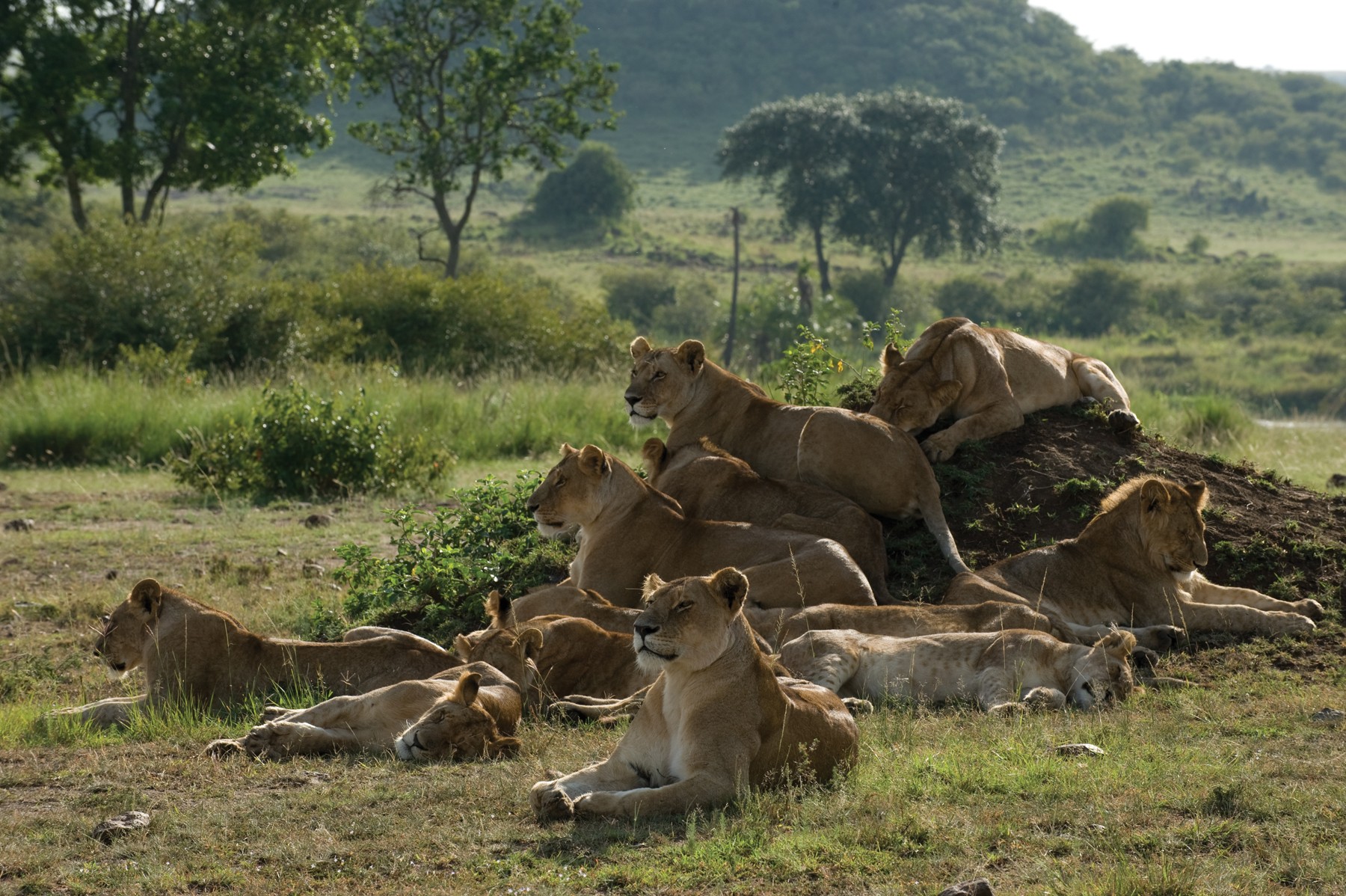 Cast: Samuel L. Jackson (Narrator)
Directed By: Alastair Fothergill and Keith Scholey
Synopsis: Meet Mara, an endearing lion cub striving to be like her mother; Sita, a cheetah and single mother of five; and Fang, a proud leader of the pride who must defend his family from a rival lion.
Domestic Box Office: $15,428,747/ Worldwide Box Office: $30,857,747
RT Score: 73%
My Thoughts: Disneynature used to release animal documentaries around Earth Day, and their third feature was African Cats. The subject matter was enough to watch it, but there's something about these nature movies that don't grab me, despite having a story surrounding it and is always mind-blowing how the filmmakers capture the footage. Once it becomes interesting, it gets slow for a runtime of 90 minutes. The narration from Samuel L. Jackson made it entertaining, though.
April 29: 'Fast Five'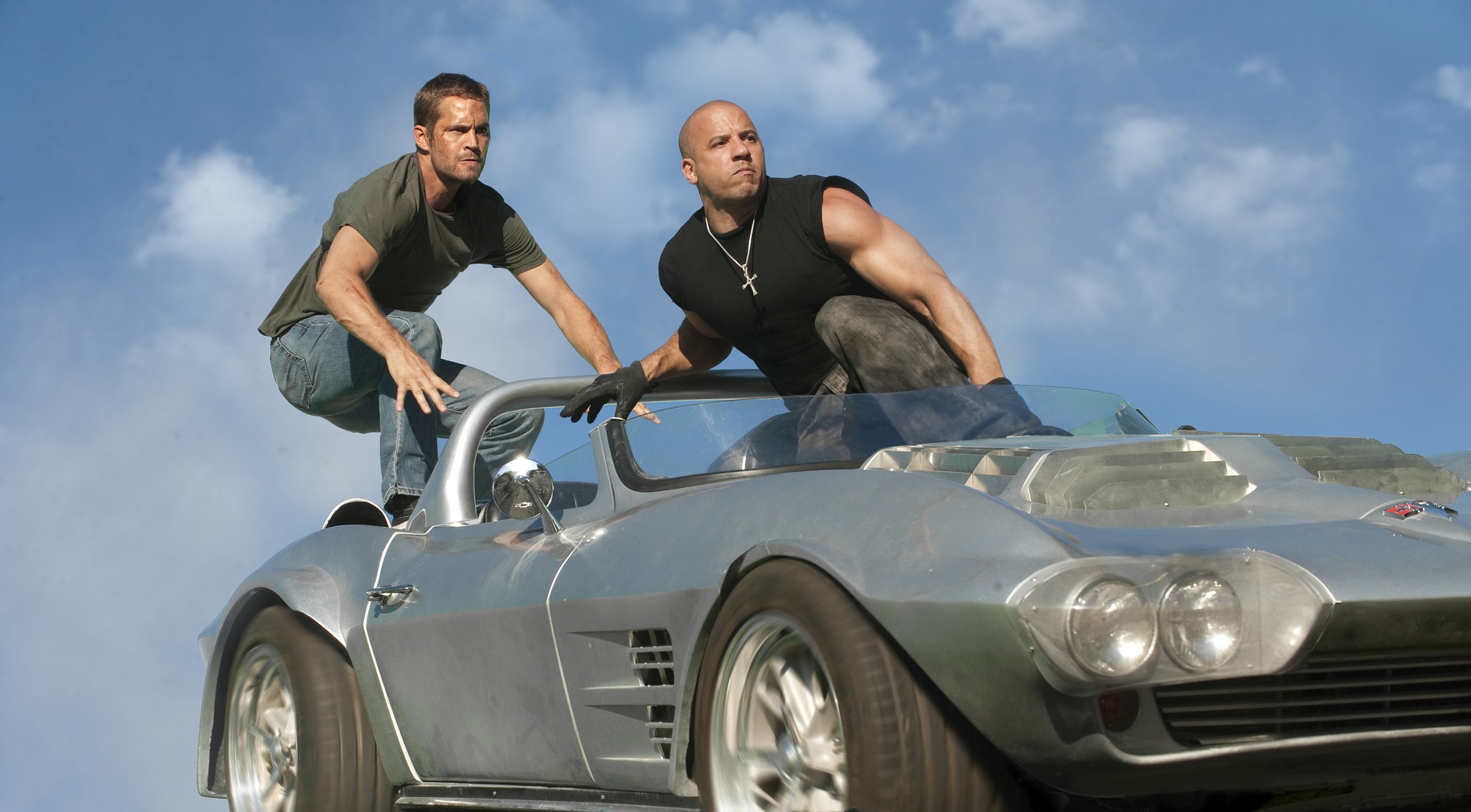 Cast: Vin Diesel, Paul Walker, Jordana Brewster, Tyrese Gibson, Chris "Ludacris" Bridges, Matt Schulze, Sung Kang, Tego Calderon, Don Omar, Gal Gadot, Dwayne Johnson, and Joaquim de Almeida.
Directed By: Justin Lin
Synopsis: Ever since ex-cop Brian O'Conner (Paul Walker) and Mia Torretto (Jordana Brewster) broke her brother Dom (Vin Diesel) out of custody, they've traveled border to border to evade authorities. In Rio de Janeiro, they must do one final job before they can gain their freedom for good. Assembling their elite team of car racers, Brian and Dom know they must confront the corrupt businessman who wants them dead, before the federal agent (Dwayne Johnson) on their trail finds them.
Domestic Box Office: $209,837,675/ Worldwide Box Office: $626,137,675
RT Score: 77%
My Thoughts: Before Fast Five got released in theaters, I wouldn't call myself a fan of the franchise since there was nothing much to say regarding the last three sequels. The first big surprise of 2011. I thought the trailers looked cool enough, but I was unsure it was going to be better or worse from what we've seen. Luckily, I couldn't believe the fifth installment was great. Gone was the street racing aspect of the series and more focused on the over-the-top action that's fun to watch, especially as the series continues. No doubt it makes little sense, and the dialogue isn't Oscar-worthy, but it doesn't entirely matter when it goes full-on Italian Job with the sequel, and it shows Justin Lin knows this best. Vin Diesel and Paul Walker still brought better chemistry than in the last film, and the addition of Dwayne Johnson as Luke Hobbs made it worth it. The action is insane, the ensemble of bringing some of the cast back from the previous movies looked to have a great time, and it marked a surprise for what's to come next, Fast Five is still my favorite in the franchise and Justin Lin's best within the franchise as well.
'Prom'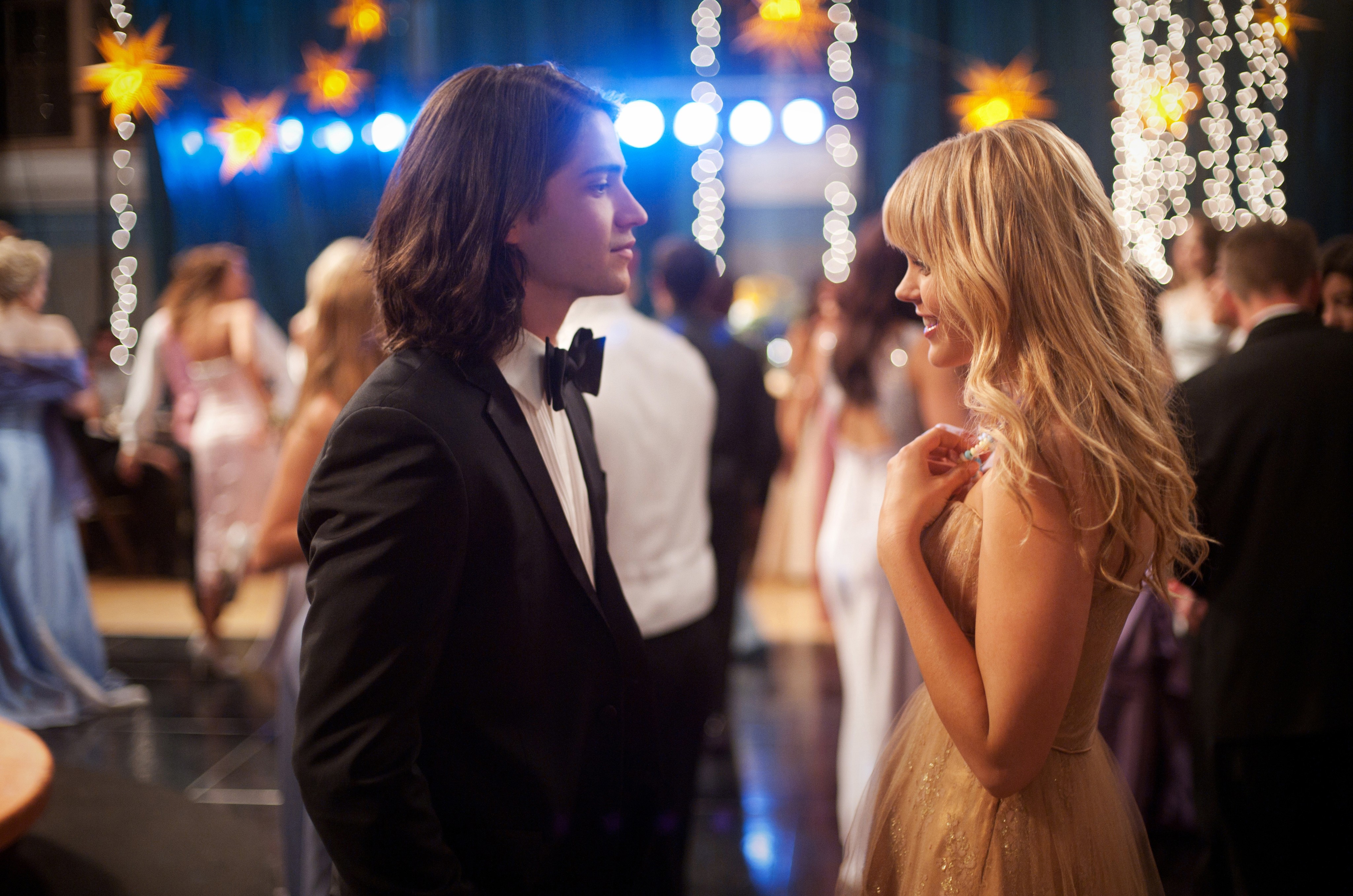 Cast: Aimee Teegarden, Thomas McDonell, Cameron Monaghan, Yin Chang, Nolan Sotillo, Danielle Campbell, Kylie Bunbury, De'Vaughn Nixon, Nicholas Braun, and Dean Norris
Directed By: Joe Nussbaum
Synopsis: For many high-school students, the prom marks the beginning of their transition from teenager to adult. Several intersecting stories unfold as one group of teens prepares for the seminal event. Nova Prescott (Aimee Teegarden) faces a battle of wills when, unexpectedly, she is attracted to the one guy (Thomas McDonell) who stands in the way of her perfect prom. Mei (Yin Chang) and Tyler (De'Vaughn Nixon) each harbor deep secrets, and excitement builds as the big dance draws closer.
Domestic Box Office: $10,130,219/ Worldwide Box Office: $10,702,246
RT Score: 35%
My Thoughts: We can throw Prom in the pile of generic Disney movies nobody cared to see. You can look at the title and plot knowing it's going to be a cliche teen movie with a bunch of characters and their storylines too boring to remember. There some familiar stars like Nicholas Braun, Cameron Monaghan, and even Dean Norris, yet it's played out like a flat Disney-fied episode of Degrassi. Prom wasn't destined to be another Can't Hardly Wait or 10 Things I Hate About You, and it probably knew that. But the soundtrack had some hits from Neon Trees ("Your Surrender"), Simple Plan ("Can't Keep My Eyes Off You"), etc.
'Hoodwinked Too!: Hood vs. Evil'
Cast: Glenn Close, Cheech Marin, Tommy Chong, Hayden Panettiere, Bill Hader, Amy Poehler, Joan Cusack, Martin Short, and Patrick Warburton
Directed By: Mike Disa
Synopsis: While training with a mysterious covert ops group known as the Sisters of the Hood, Red (Hayden Panettiere) gets an urgent call from Nicky Flippers (David Ogden Stiers), head of the top-secret Happily Ever After Agency. A wicked witch (Joan Cusack) has kidnapped Hansel (Bill Hader) and Gretel (Amy Poehler), and Red's the only one who can save them. Accompanied by the Big Bad Wolf (Patrick Warburton) and Wolf's pal, Twitchy (Cory Edwards), Red sets out to bring the children back.
Domestic Box Office: $10,143,779/ Worldwide Box Office: $23,167,844
RT Score: 11%
My Thoughts: A sequel to a movie people didn't necessarily like, and got forced to watch it when I didn't want to when I was a kid, Hoodwinked Too! has got to be called one of the worst animated movies ever released. It was already a bad sign when Burger King still promoted the toys after being pushed back a year, but the final product had little effort in the poor animation and uninteresting plot this time. I didn't like the original, but it at least tried to be witty with its fairy tale setting and characters. This, however, is more in line with a straight-to-DVD movie because it looks unappealing. Awful jokes and no fun to be had, this sequel didn't need to be made. Even Anne Hathaway was smart enough to not reprise her role as Little Red. Garbage!
MOVIE TIME CAPSULE: REMEMBER THESE MOVIES- JANURARY 2011
MOVIE TIME CAPSULE: REMEMBER THESE MOVIES- FEBRUARY 2011