Is it time for another Throwback Session- Remember These Movies? Well, it's near the end of the month, so yeah! I haven't done December 2010 yet since I can blame procrastination, so I'll get on it later on to complete those 12 months. But now we're looking back at the release calendar of 2011 and talking about what came to theaters throughout the year, whether or not I've seen them. Since there were only six movies to talk about, I wrote this in about a day when I had nothing to do or had downtime at work.
Looking back at what January brought, the second semester of school started, and it was a massive waste of time spending most of my afternoons after school for ISTEP tutoring, which I didn't even know I was going to do until the end of the day. The Social Network won the Golden Globe for Best Motion Picture-Musical or Comedy, and who could forget the time Christopher Nolan got totally snubbed for a Best Director nomination at the Oscars? There weren't a ton of new releases from this month with the occasional wide releases of a few Oscar contenders. But this month also saw the return of film critic Chris Stuckmann to reviewing movies on his YouTube channel, and he recently released a video about leaving being a Jehovah's Witness, which none of his subscribers ever knew about. Now, this first video back provides a whole new meaning ten years later.
Have you seen any of these? Let us flashback to ten years ago…
January 7: 'Season of the Witch'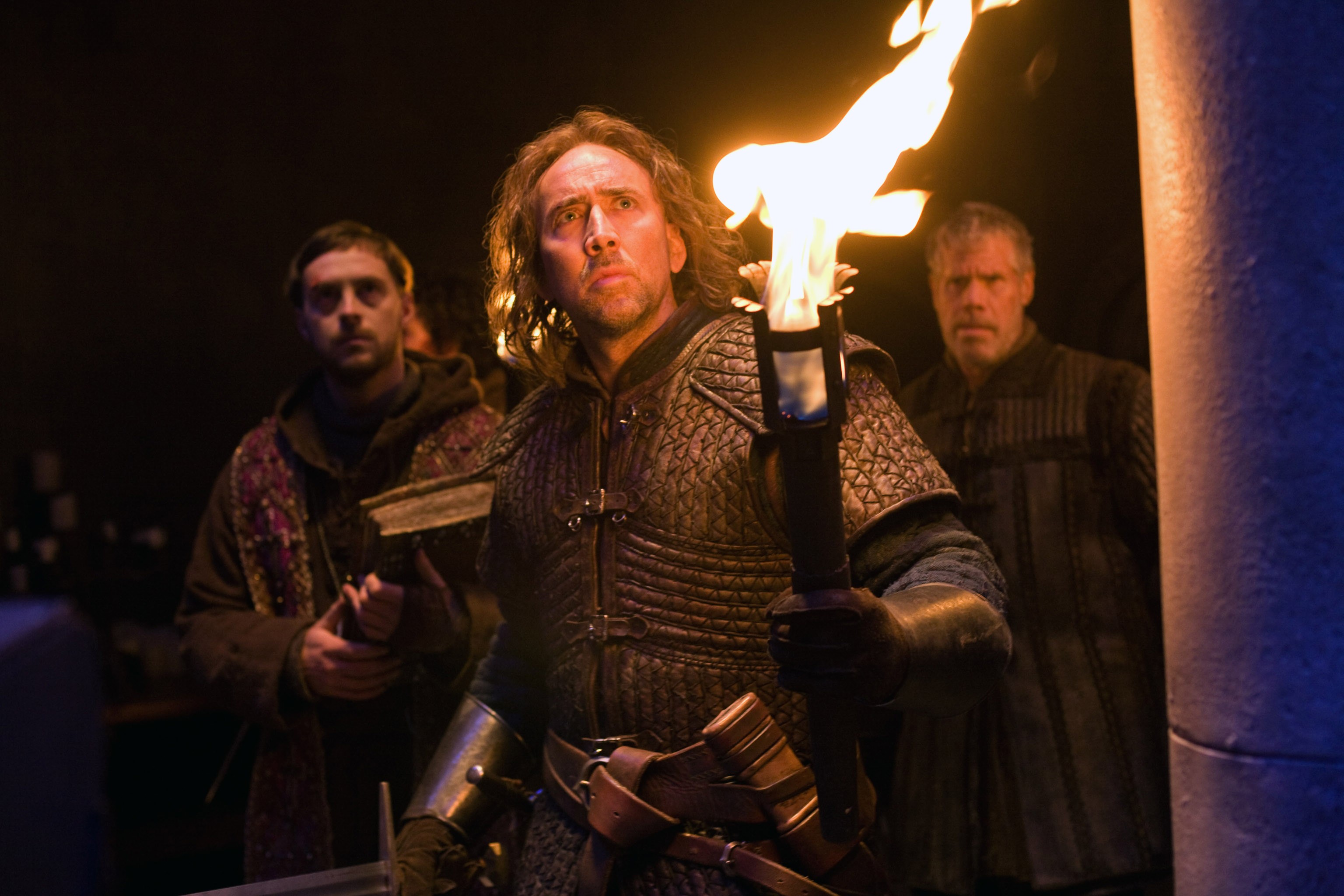 Cast: Nicolas Cage, Ron Perlman, Claire Foy, Robert Sheehan, Stephen Campbell Moore, Stephen Graham, and Christopher Lee
Directed By: Dominic Sena
Synopsis: His faith broken by many years fighting in the Crusades, a knight named Behman (Nicolas Cage) returns to Europe and finds it ravaged by the Black Plague. A dying cardinal orders Behman and his friend, Felson (Ron Perlman), to take an accused witch to a remote abbey, where monks will destroy her powers and end the pestilence. As Behman and five comrades undertake the dangerous journey, they come to realize that the prisoner is no ordinary girl, and evil forces await at the destination.
Domestic Box Office: $24,827,228
RT Score: 11%
My Thoughts: Considering how Season of the Witch was the first wide release of the year and starring Nicolas Cage, it wasn't much of a surprise nobody cared for it or enough to be the first movie included on the worst lists before the end of the year. Before getting delayed, its script got passed around different studios and writers until it got both to turn into what most have described it as "a generic fantasy." Maybe this could've sort of been a guilty pleasure type, yet those who were unfortunate to watch it found it dull and didn't know how to make it fun. I like Cage and Ron Perlman, but they aren't enough to not watch this. There's even a then unknown Claire Foy as the witch. I don't know anyone who paid money to see this, but it's no surprise to know Cage earned a Worst Actor Razzie nomination.
January 14: 'The Green Hornet'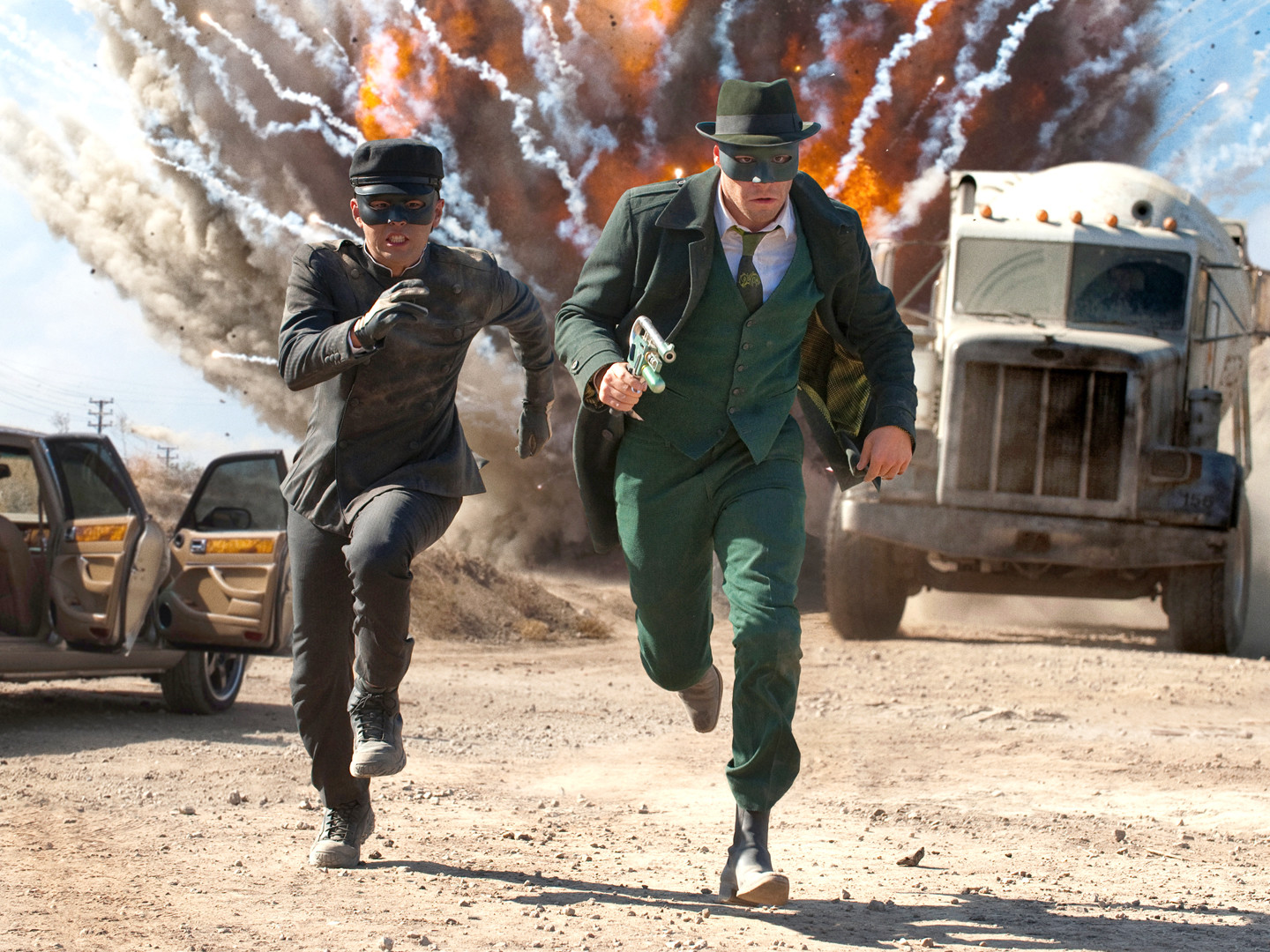 Cast: Seth Rogen, Jay Chou, Christoph Waltz, Cameron Diaz, Edward James Olmos, David Harbour, and Tom Wilkinson
Directed By: Michel Gondry
Synopsis: Britt Reid (Seth Rogen), the heir to the largest newspaper fortune in Los Angeles, is a spoiled playboy who has been, thus far, happy to lead an aimless life. After his father (Tom Wilkinson) dies, Britt meets Kato (Jay Chou), a resourceful company employee. Realizing that they have the talent and resources to make something of their lives, Britt and Kato join forces as costumed crime-fighters to bring down the city's most-powerful criminal, Chudnofsky (Christoph Waltz).
Domestic Box Office: $98,780,042
RT Score: 44%
My Thoughts: The Green Hornet was never gonna be among the best superhero movies or the best Seth Rogen movie in his filmography. But I didn't mind it. Michel Gondry of Eternal Sunshine of the Spotless Mind fame was a weird choice to adapt the classic television and radio series with Rogen & Evan Goldberg on writing duty. Some won't find that combination work, but for what it was going for, this was better than expected. At first, it seemed impossible to imagine Rogen as the main hero, and he pulled it off alongside Jay Chou as Kato, who stole every scene he's in. Most of the action sequences were pretty cool, too. I'll admit Christoph Waltz was an underwhelming antagonist as I never saw him as threatening, and does anybody remember Cameron Diaz in this forgettable role? Neither do I. The comedic element sort of distracted from the action sometimes, where it could've taken itself a bit seriously.
I didn't know until recently in a 2013 interview with Marc Maron on his podcast WTF, Rogen talked about the stress while making it while also stating, "While we were making it, it was a f–king nightmare." I can't blame him. Dumb as it was, The Green Hornet was fun enough to get by with some decent action. The 3D was good even though it was post-converted; could've just stayed in 2D, honestly. Universal is currently having a reboot in the works.
'The Dilemma'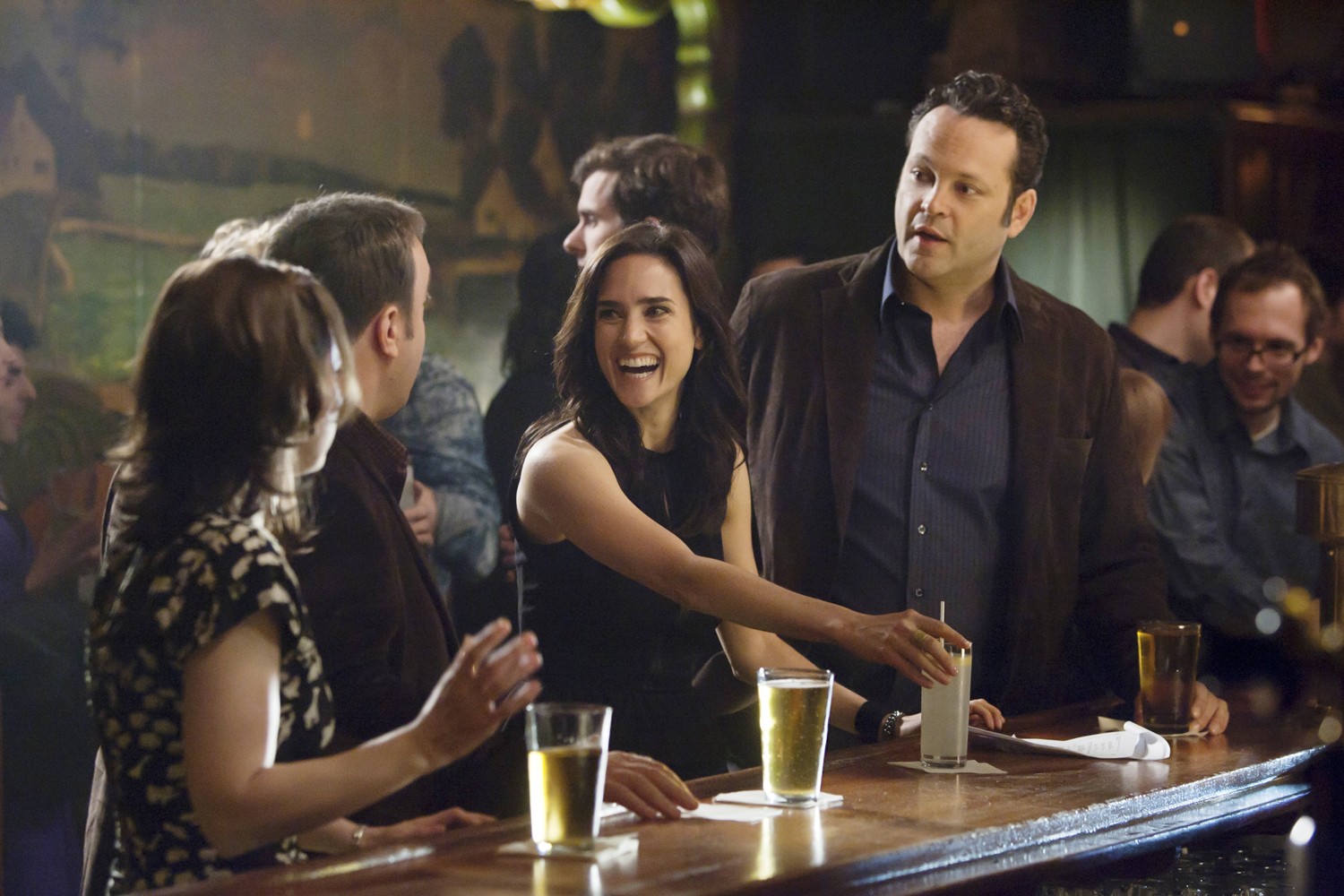 Cast: Vince Vaughn, Kevin James, Winona Ryder, Jennifer Connelly, Channing Tatum, and Queen Latifah
Directed By: Ron Howard
Synopsis: Longtime friends Ronny (Vince Vaughn) and Nick (Kevin James) are partners in an auto-design firm. They are hard at work on a presentation for a dream project that would really launch their company. Then Ronny spots Nick's wife out with another man, and in the process of investigating the possible affair, he learns that Nick has a few secrets of his own. As the presentation nears, Ronny agonizes over what might happen if the truth gets out.
Domestic Box Office: $48,475,290
RT Score: 24%
My Thoughts: As much as I enjoy Ron Howard, I've always thought The Dilemma to be his worst directed movie, and it left me so very disappointed. He hasn't made a comedy since EDtv (which I didn't like), and this is another film with a good enough premise with a stacked cast. So, what was the dilemma I had with it? It had no clue what it wanted to be. The tone was inconsistent where I couldn't tell if it was a comedy or a drama. Either way, it adds up to a movie that's hard to enjoy with a talented cast wasted. Not funny, boring, and the only character I was shocked to like was Channing Tatum's; never thought I would back then. I thought it was average when I first saw it in theaters. Then it turned to be bad after the second viewing. Talk about a misfire with a moral easy to address.
January 21: 'No Strings Attached'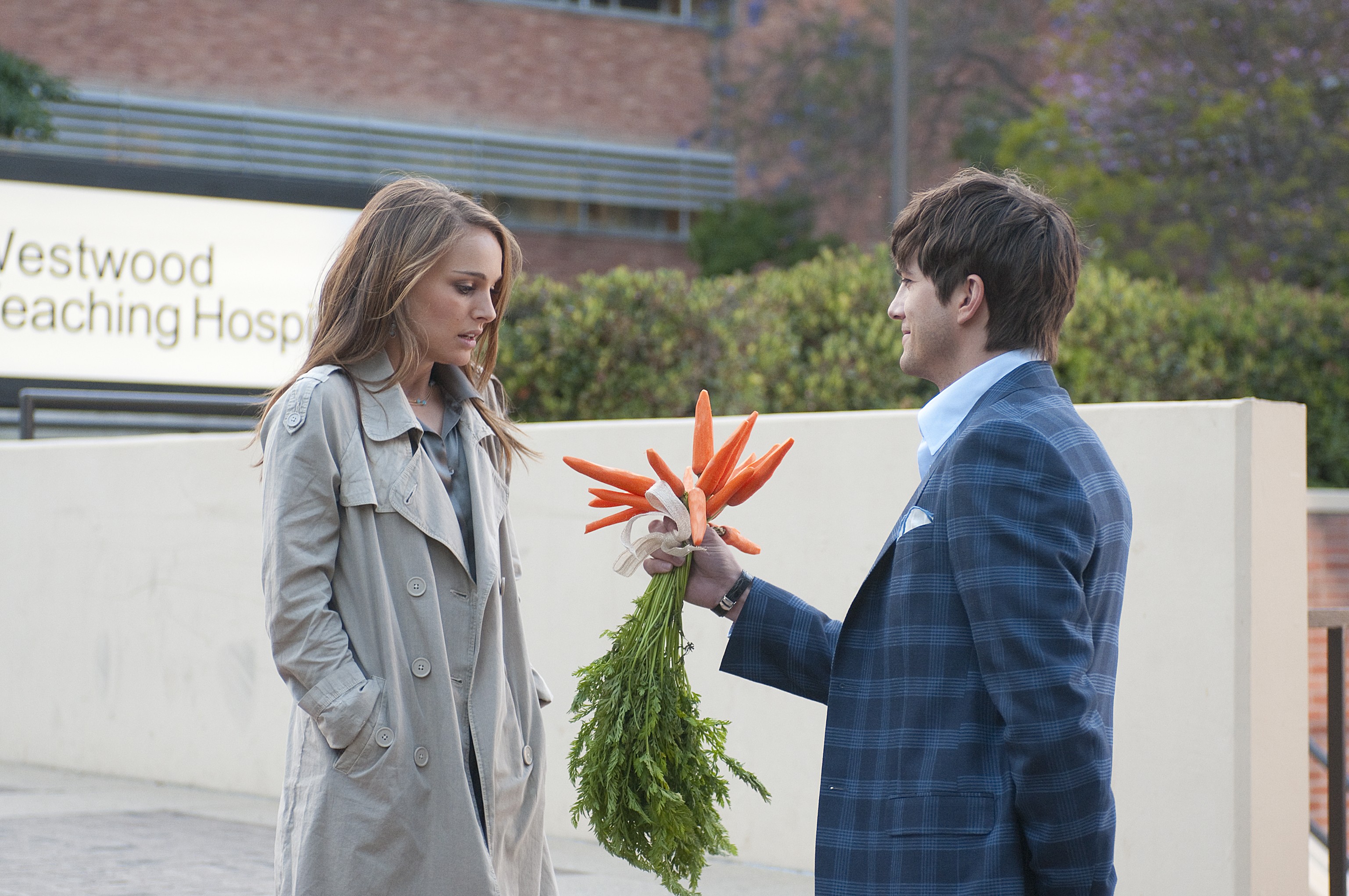 Cast: Natalie Portman, Ashton Kutcher, Kevin Kline, Cary Elwes, Greta Gerwig, Mindy Kaling, Jake Johnson, Ludacris, Lake Bell, and Olivia Thirlby
Directed By: Ivan Reitman
Synopsis: Lifelong friends Emma (Natalie Portman) and Adam (Ashton Kutcher) take their relationship to the next level by having sex. Afraid of ruining their friendship, the new lovers make a pact to keep things purely physical, with no fighting, no jealousy and no expectations. Emma and Adam pledge to do whatever they want, wherever they want, as long as they do not fall in love. The question then becomes: Who will fall first?
Domestic Box Office: $70,662,220
RT Score: 49%
My Thoughts: Never in a million years did I think I would like No Strings Attached after a rather terrible trailer a couple of months before it came out. We got his and Friends with Benefits in the same year, which two similar movies come out was a trend. An Ivan Reitman romantic comedy with Natalie Portman and Ashton Kutcher was able to be cute and funny, despite knowing how predictable it'll play out. I've never a fan of Kutcher and the romantic comedies he been in the past, but there's some good chemistry between him and his female co-star as the "friends with benefits." Portman, in particular, has never shown off her comedic side, and this was back when I still in love with her. It has a solid supporting cast as well, with Jake Johnson, Greta Gerwig, Kevin Kline as Kutcher's dad, and others. I also forgot Elizabeth Meriwether wrote the script, who would later create one of my favorite shows, New Girl. As far as R-rated rom-coms go, I didn't think it's too bad.
January 28: 'The Mechanic'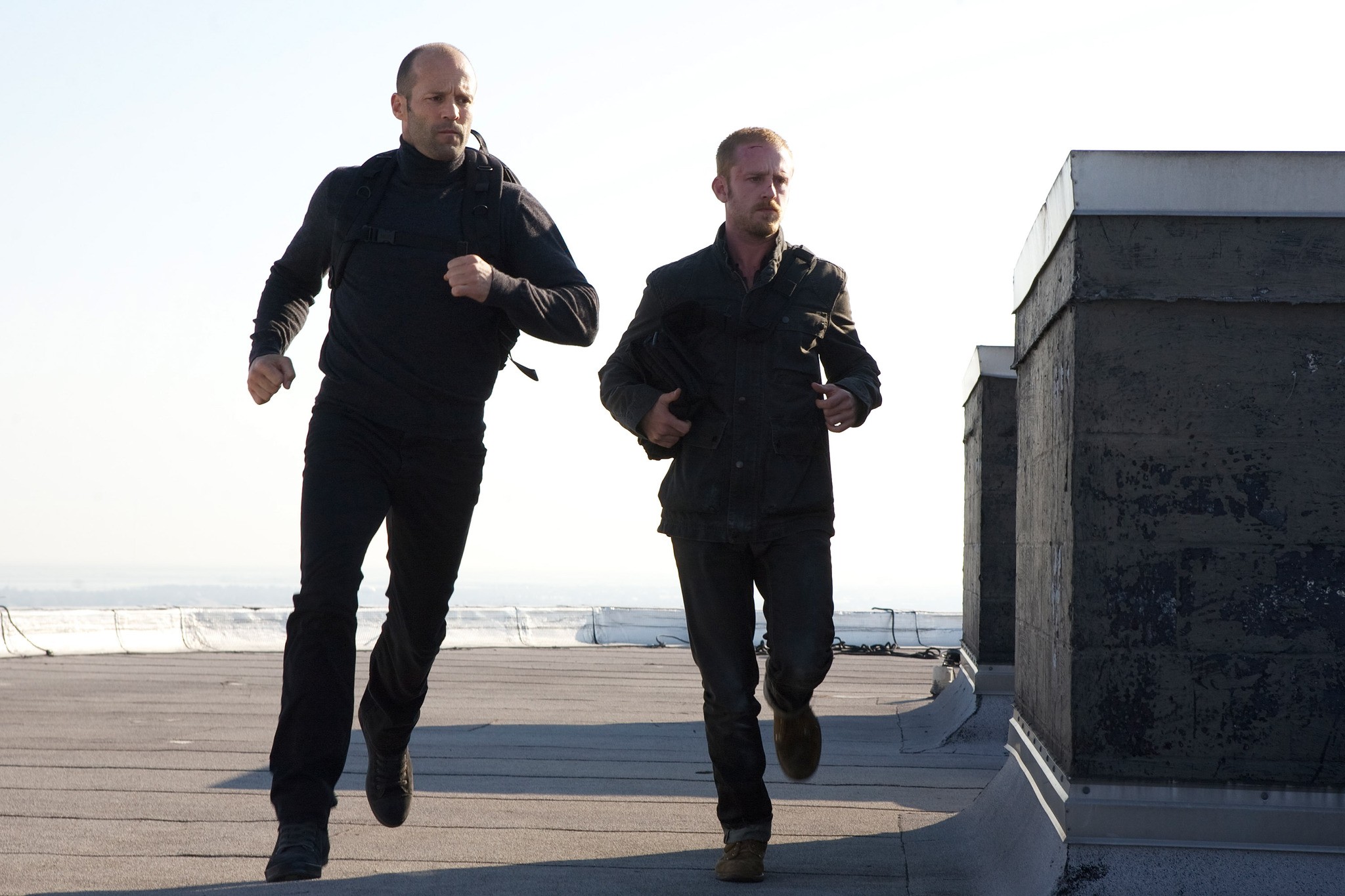 Cast: Jason Statham, Ben Foster, Donald Sutherland, Tony Goldwyn, Jeff Chase, and Mini Andén
Directed By: Simon West
Synopsis: One of an elite group of assassins, Arthur Bishop (Jason Statham) may be the best in the business. Bishop carries out his assignments with precision, detachment and adherence to a strict code, but when Harry (Donald Sutherland), his close friend and mentor, is murdered, Bishop vows revenge. Harry's son (Ben Foster) comes to him with vengeance in his heart and a desire to learn Bishop's trade, signaling the birth of a deadly partnership.
Domestic Box Office: $29,121,498
RT Score: 53%
My Thoughts: Jason Statham in an action movie was pretty much the normality where any fan will go out to see them. The Mechanic, which is a remake of the 1972 Charles Bronson, was prime to be an action-packed ride. But, and not everyone will agree with me, this is one of his worst films. This could've been another Transporter, and it wouldn't have made a difference. Simon West and his crew didn't apply any type of fun to the story when it was boring, took itself seriously, and thought it was so clever when it wasn't. Statham was fine as always, but this was back when I couldn't stand Ben Foster for an odd reason, which made me dislike his character. Watching The Mechanic made it impossible for me to get enthralled by. Not even the action helped. And it got a sequel, Mechanic: Resurrection, years later no one asked for or saw, including me.
'The Rite'
Cast: Anthony Hopkins, Colin O'Donoghue, Alice Braga, Ciarán Hinds, and Rutger Hauer
Directed By: Mikael Håfström
Synopsis: Though he is filled with doubt about the subject, seminary student Michael Kovak (Colin O'Donoghue) finds he must attend a Vatican school of exorcism. Believing possession to be the work of a troubled mind rather than actual demons, he'll urge his superiors to look for answers in psychiatry. Then Michael becomes the apprentice of Father Lucas (Anthony Hopkins), a veteran exorcist, and encounters a terrifying force that causes him to question everything he believes.
Domestic Box Office: $33,047,633
RT Score: 21%
My Thoughts: The Rite was one forgettable piece of trash when it has Sir Anthony Hopkins. Admittedly, he was the best part of what I remember about this supernatural horror movie; everything else from the cheap scares and pacing will make the viewer fall asleep. Colin O'Donoghue's an actor I haven't seen in anything before this, and he gave such a bland performance. Someone can ask me what it's about, and I can only say it's an exorcism thriller, but not the good kind. Demonic films aren't new, but you'll have a better time watching those instead.