Have no fear, Throwback Session- Remember These Movies? has finally returned! My apologies for not posting this two months ago since I was on a brief hiatus from writing. This was just my way of having a movie delayed and finally coming out months later. As far as when December and January will be out, I have written nothing yet since I've been focusing on getting reviews out recently, but they'll be out soon. But it's probably a good enough time to think back to what came to theaters in the second to last month of the year: November.
During this month, I was on fall break, which was always the best because we were off for almost all of November. And since this was my last one during middle school, I tried to enjoy it the best I can before things got cold and finishing the first semester.I started watching Man v. Food and became obsessed with the show, almost making me want to do those challenges, but even though I'm fat, even I can't consume what former host Adam Richman did. In terms of the movies that came out, we got some memorable ones, including our Best Picture winner that I didn't see until the following January.
Have you seen any of these that came out in November 2010? Take a look back and reminisced in the nostalgia.
November 5: 'Megamind'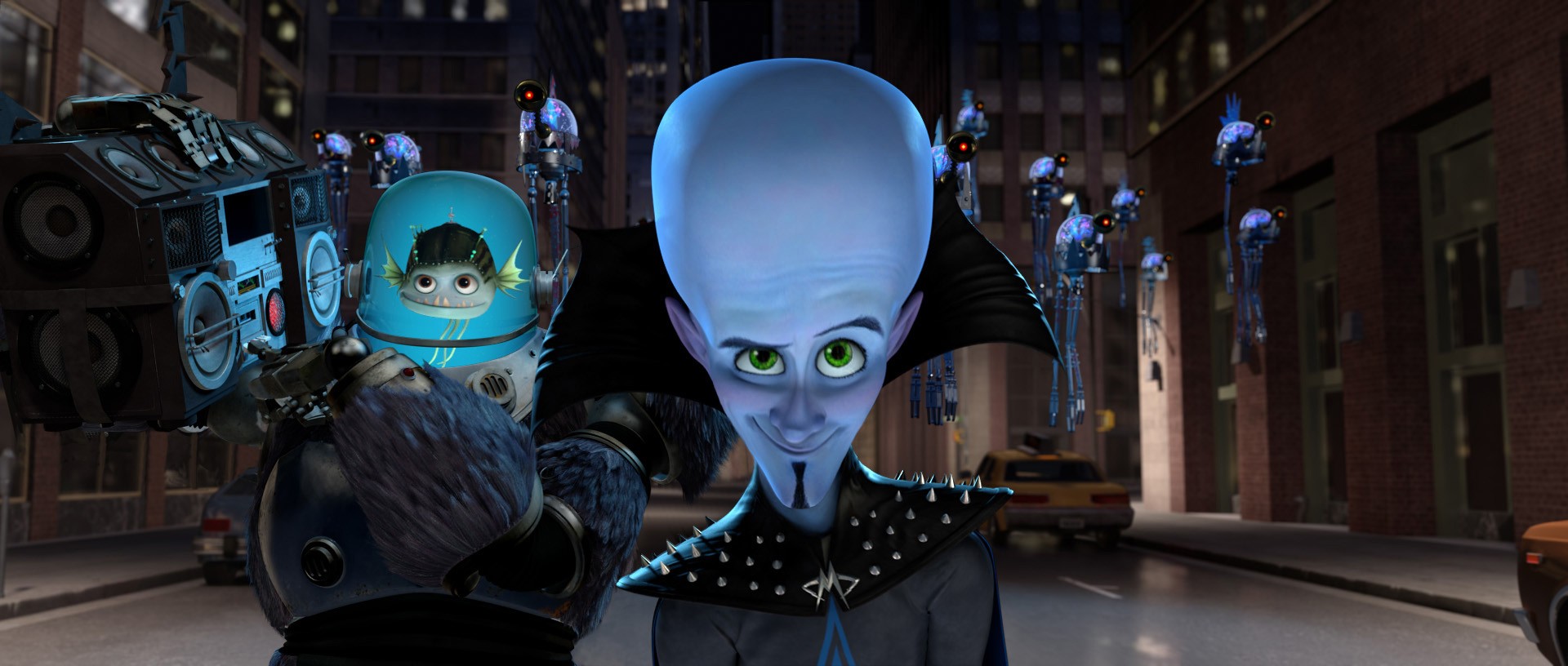 Cast: Will Ferrell, Tina Fey, Jonah Hill, David Cross, and Brad Pitt
Directed By: Tim McGrath
Synopsis: Though he is the most-brilliant supervillain the world has known, Megamind (Will Ferrell) is the least-successful. Thwarted time and again by heroic Metro Man (Brad Pitt), Megamind is more surprised than anyone when he actually manages to defeat his longtime enemy. But without Metro Man, Megamind has no purpose in life, so he creates a new opponent, who quickly decides that it's more fun to be a bad guy than a hero.
Domestic Box Office: $148,415,853
RT Score: 72%
My Thoughts: The third movie released from DreamWorks Animation that year following How to Train Your Dragon and Shrek Forever After, Megamind is perhaps the studio's more underrated movies because it's quite awesome. This came out the same year as Despicable Me, and while I like that better, you can never go wrong with an animated superhero movie anyone can enjoy that was able to subvert expectations. Not only is that animation fantastic, but it's hysterical and the vocal performances from Will Ferrell, Tina Fey, and Brad Pitt were wonderful. The story falls under familiar beats, and there's isn't anything too original here, yet it never bored me since you're watching this supervillain trying to figure out what's next in his life after defeating the hero. Megamind was just another example of animation crushing it ten years ago, and it definitely needs more recognition.
'Due Date'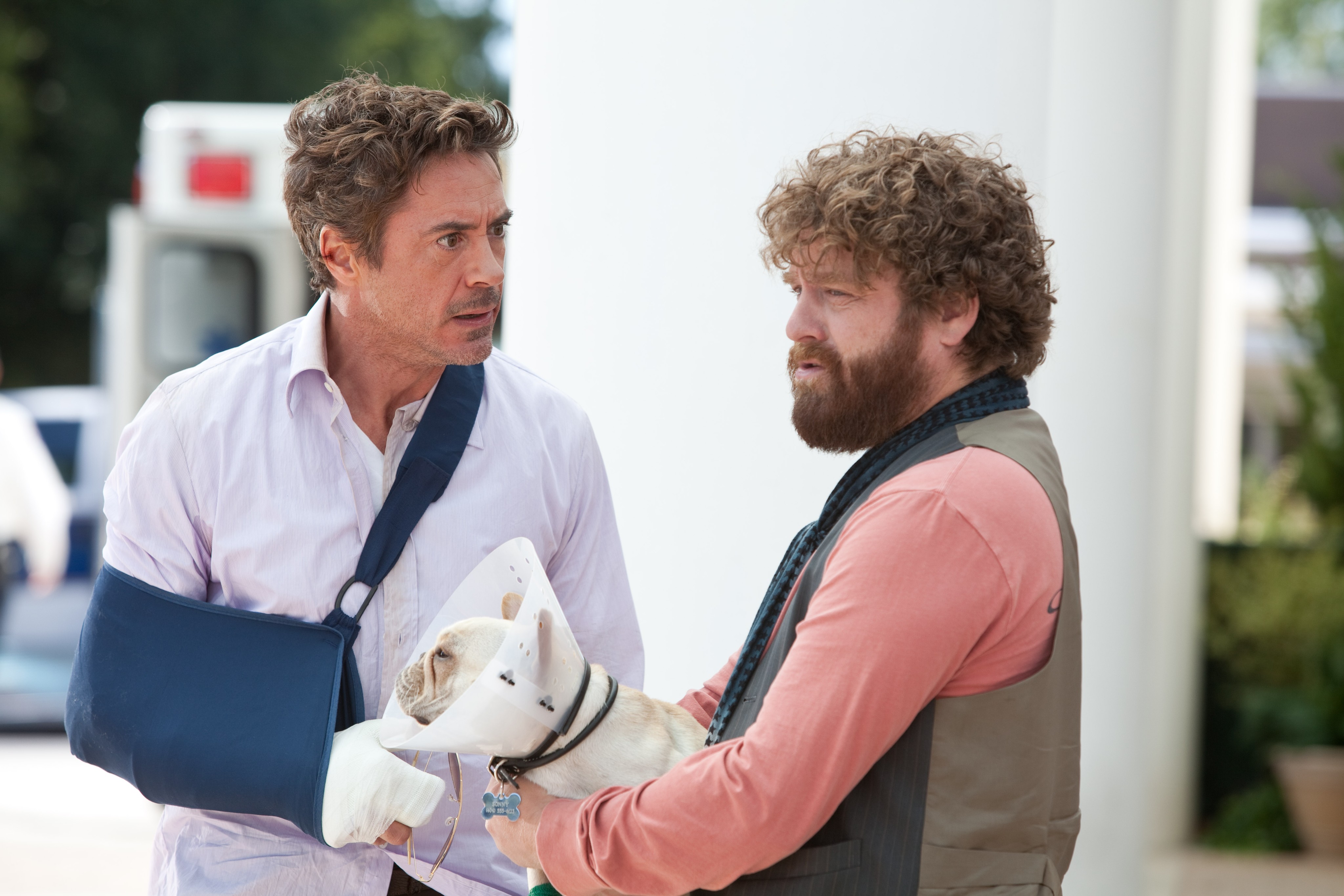 Cast: Robert Downey Jr., Zach Galifianakis, Michelle Monaghan, Jamie Foxx, and Juliette Lewis
Directed By: Todd Phillips
Synopsis: Peter Highman (Robert Downey Jr.) will be a dad for the first time when his wife gives birth in five days. He intends to catch a flight home from Atlanta so he can be there for the delivery, but a chance encounter with aspiring actor Ethan Tremblay (Zach Galifianakis) throws a monkey wrench into his plans. Desperate to reach his wife before their baby is born, Peter's sanity is tested when he must take a road trip cross-country with dog-toting Ethan.
Domestic Box Office: $100,539,043
RT Score: 39%
My Thoughts: Due Date was the one comedy I was looking forward in the fall for a few reasons: The trailers made me laugh hard, Downey Jr. and Galifianakis are its main stars, and this was Todd Phillips' follow-up to the smash hit The Hangover. Considering how this was just another Planes, Trains and Automobiles in most of our minds, this ended up being a disappointment. Road trip comedies aren't anything new, but the problem with Due Date was that not that hilarious, and that's probably because of the trailers spoiling the good moments. Downey Jr. and Galifianakis performances were okay as the odd couple getting through situation after situation, yet their chemistry wasn't there for me with a story that felt rushed and not enough joy for my time. But this movie was the reason I started watching Two and a Half Men for a while. And when my mom and I saw it opening weekend, it was just the two of us and one other woman in the entire theater. My only consumption might be there was a Colts game that evening.
'For Colored Girls'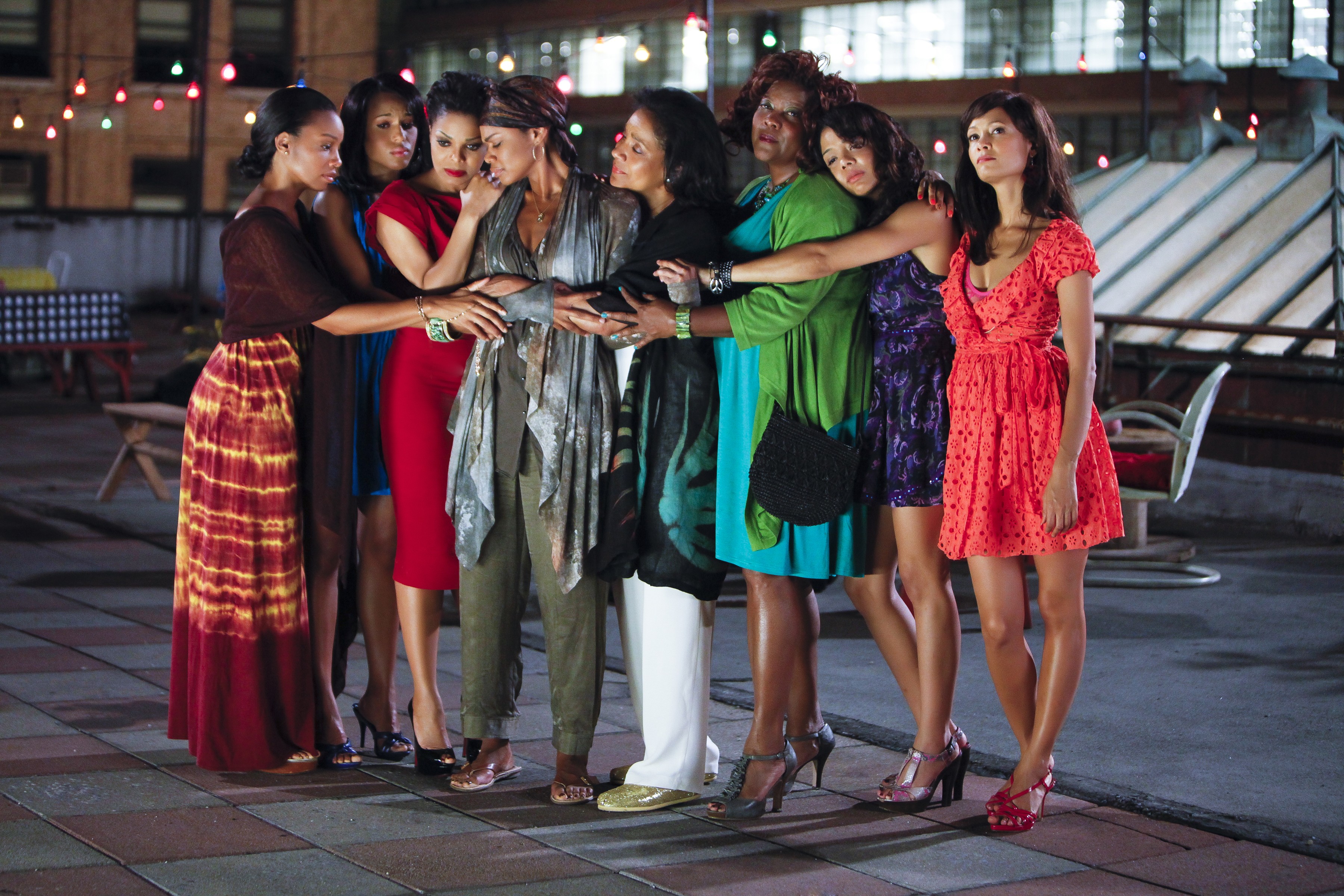 Cast: Janet Jackson, Whoopi Goldberg, Phylicia Rashad, Thandie Newton, Loretta Devine, Anika Noni Rose, Tessa Thompson, Kimberly Elise, Kerry Washington, and Macy Gray
Directed By: Tyler Perry
Synopsis: In New York, a group of black women, most of whom live in the same Harlem apartment building, faces personal crises, heartbreak and other challenges. Crystal (Kimberly Elise) faces an unhappy existence as an abused lover. Jo (Janet Jackson) is a successful magazine editor, but her husband has a secret double life. Juanita (Loretta Devine) is a relationship counselor but cannot seem to get her love life in order. These three and others become bound together by their experiences.
Domestic Box Office: $37,729,698
RT Score: 32%
My Thoughts: For Colored Girls was an adaptation of Ntozake Shange's stage play For Colored Girls Who Have Considered Suicide / When the Rainbow Is Enuf, and it happened to be the first R-rayed movie directed by Tyler Perry at that point. There're no lies the drama has a talented ensemble of black women, including Janet Jackson, Kerry Washington, and Thandie Newton. I knew a part of me didn't want to feel depressed after watching a melodramatic movie, which I gathered from the trailer. Like nearly everything from Perry, critics and fans will be completely different sides, and I was on the side of not caring about this despite themes it tried to address.
'127 Hours'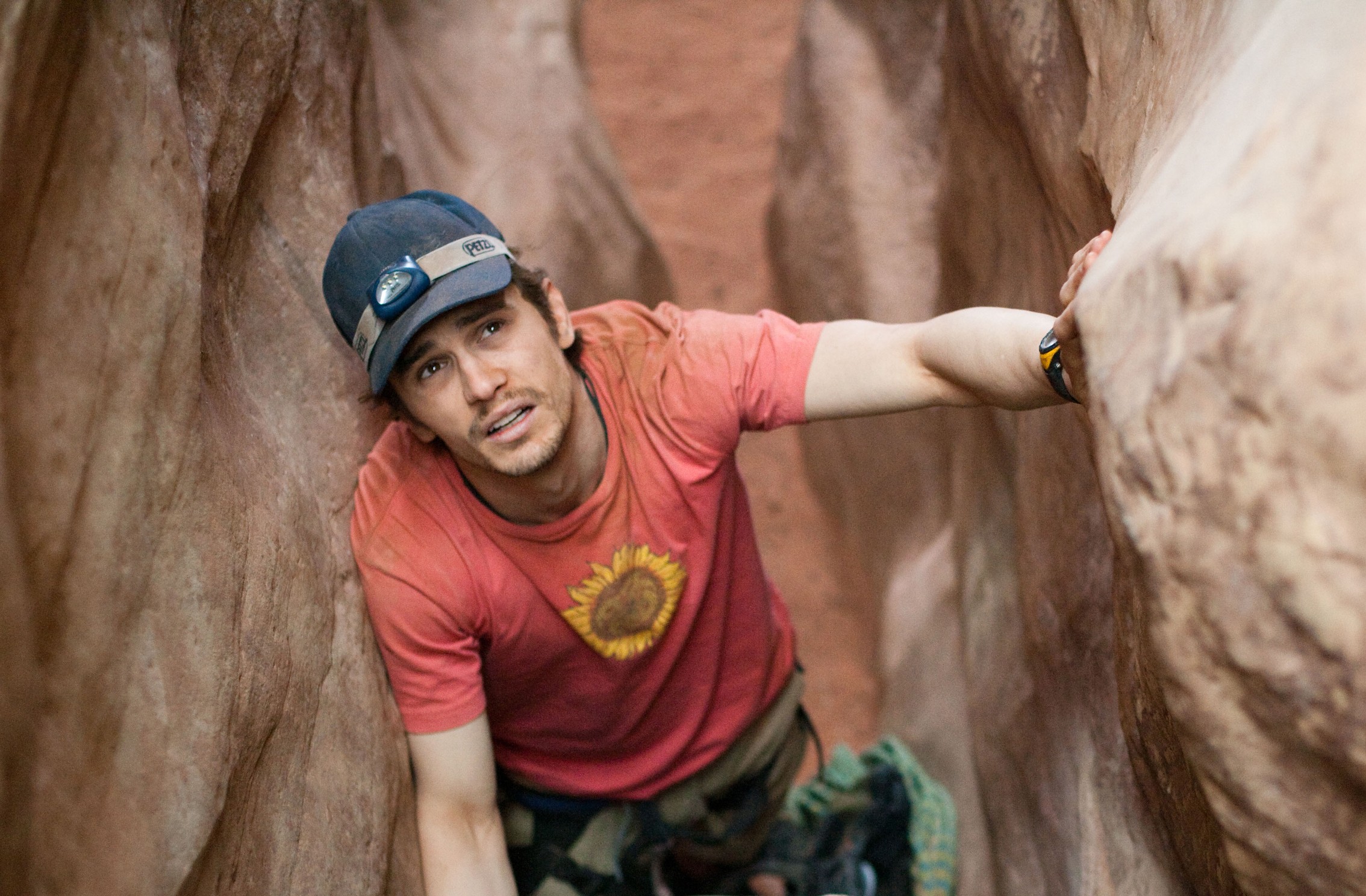 Cast: James Franco, Amber Tamblyn, Kate Mara, Clémence Poésy, Lizzy Caplan, Kate Burton, and Treat Williams
Directed By: Danny Boyle
Synopsis: While exploring a remote canyon in Utah, mountaineer and adventurer Aron Ralston (James Franco) becomes trapped when a boulder falls on his arm. Over the next five days, Ralston examines his life and considers his options, leading him to an agonizing choice: to amputate his arm so that he can extricate himself and try to make his way back to civilization or remain pinned to the canyon wall and likely die.
Domestic Box Office: $18,335,230
RT Score: 93%
My Thoughts: Honestly, I wished I saw 127 Hours in theaters because I flat love Danny Boyle's survival drama about how Aron Ralston was trapped with his right arm smashed by a rock for days. And mine you, it was playing near me a month after it came out. This was a true story, and you're left wondering if you'll get bored having most of the setting be in one location. It doesn't. Thanks to Boyle's direction and James Franco giving the best performance of his entire career, it's the kind of film that's unforgettable because if any of us were in the same situation as what the real Ralston went through, are we willing to do what it takes to keep ourselves alive? Not this is what a perfect follow-up after Slumdog Millionaire. 127 Hours is an incredible film that also good enough to make anyone sick during the arm cutting scene. Earning six Oscar nominations, including Best Picture, where was Boyle's nomination for Best Director, Academy?
November 10: 'Morning Glory'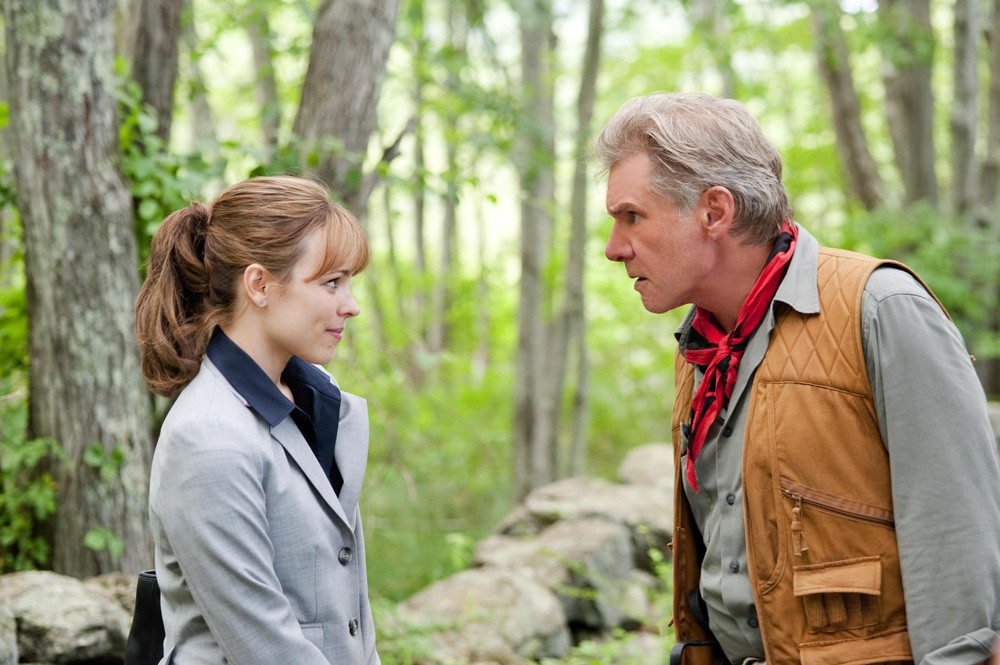 Cast: Rachel McAdams, Harrison Ford, Diane Keaton, Patrick Wilson, John Pankow, and Jeff Goldblum
Directed By: Roger Michell
Synopsis: Newly hired as a producer on a national morning-news program called "Daybreak," Becky Fuller (Rachel McAdams) decides to revitalize the low-rated show by bringing in legendary anchorman Mike Pomeroy (Harrison Ford). Pomeroy, however, refuses to do puff pieces like celebrity gossip and fashion, and clashes with his co-host (Diane Keaton). Meanwhile, Becky's romance with a colleague begins to unravel, leaving her struggling to save her relationship, her job and the show.
Domestic Box Office: $31,011,732
RT Score: 55%
My Thoughts: What's the story with Morning Glory? With a cast like this with Notting Hill's Roger Mitchell as director and J.J. Abrams' production company Bad Robot behind it, this would surely be right up my alley, right? Nope. Something about this didn't seem like it was even going to compare to similar movies like Broadcast News. Anytime it's free to watch online, I never know if it's worth it, but it's never been on my watch list, even if it has Harrison Ford phoning it in or not. You don't hear a lot of talk about this, but Natasha Bedingfield's "Strip Me" is a banger of a track.
November 12: 'Unstoppable'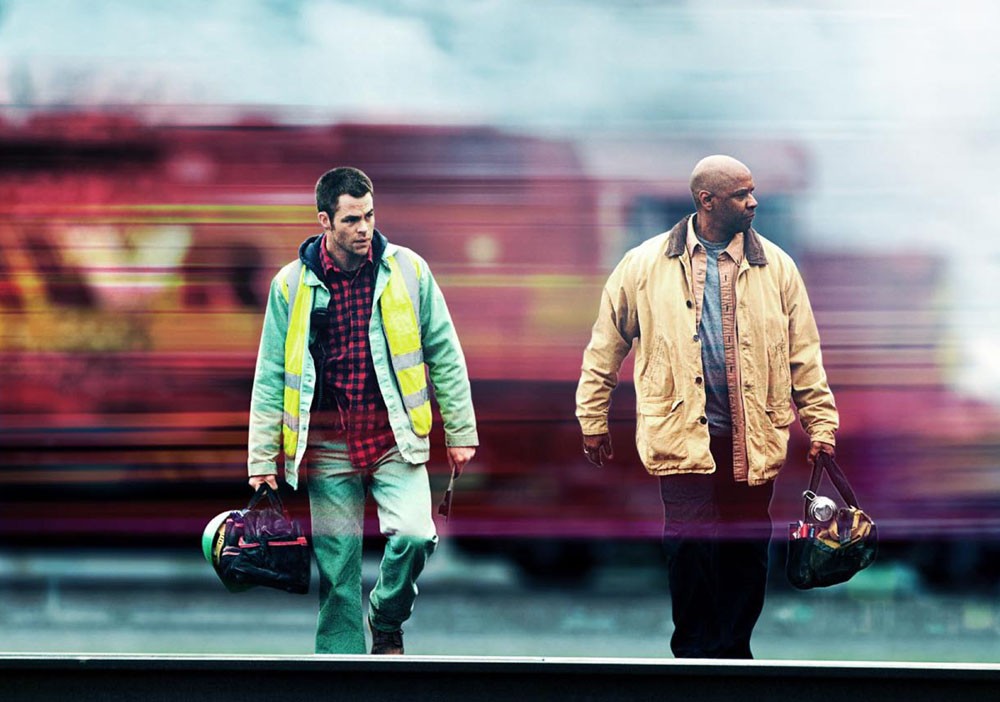 Cast: Denzel Washington, Chris Pine, Rosario Dawson, Ethan Suplee, Kevin Dunn, Kevin Corrigan, and T. J. Miller
Directed By: Tony Scott
Synopsis: When a massive, unmanned locomotive roars out of control, the threat is more ominous than just a derailment. The train is laden with toxic chemicals, and an accident would decimate human life and cause an environmental disaster. The only hope of bringing the train to a safe stop is in the hands of a veteran engineer (Denzel Washington) and a young conductor (Chris Pine), who must risk their lives to save those in the runaway's path. Inspired by true events.
Domestic Box Office: $81,562,942
RT Score: 87%
My Thoughts: What sounds more cool than a movie about a runaway train? A movie about a runaway train with Denzel Washington and Chris Pine trying to stop it. Unstoppable was sadly Tony Scott's last directed film before his death two years later, but I'm glad to say this is one of his best in a while that's a mix of Speed and the remake of The Taking of Pelham 123. I've always found this to be an entertaining and fairly underrated action movie that never falls off the track to recapture this story based on actual events. The pairing between Washington and Pine as the veteran and rookie train engineers, respectively, was better than I thought. I'm actually glad I saw this in theaters instead of waiting for Blu-Ray with a story carrying on a good amount of intensity to make it through.
Side note: I always think about the SNL parody sketch with Jay Pharoah and Taran Killam doing killer impressions of its stars. "Chaga-chaga chu chu."
'Skyline'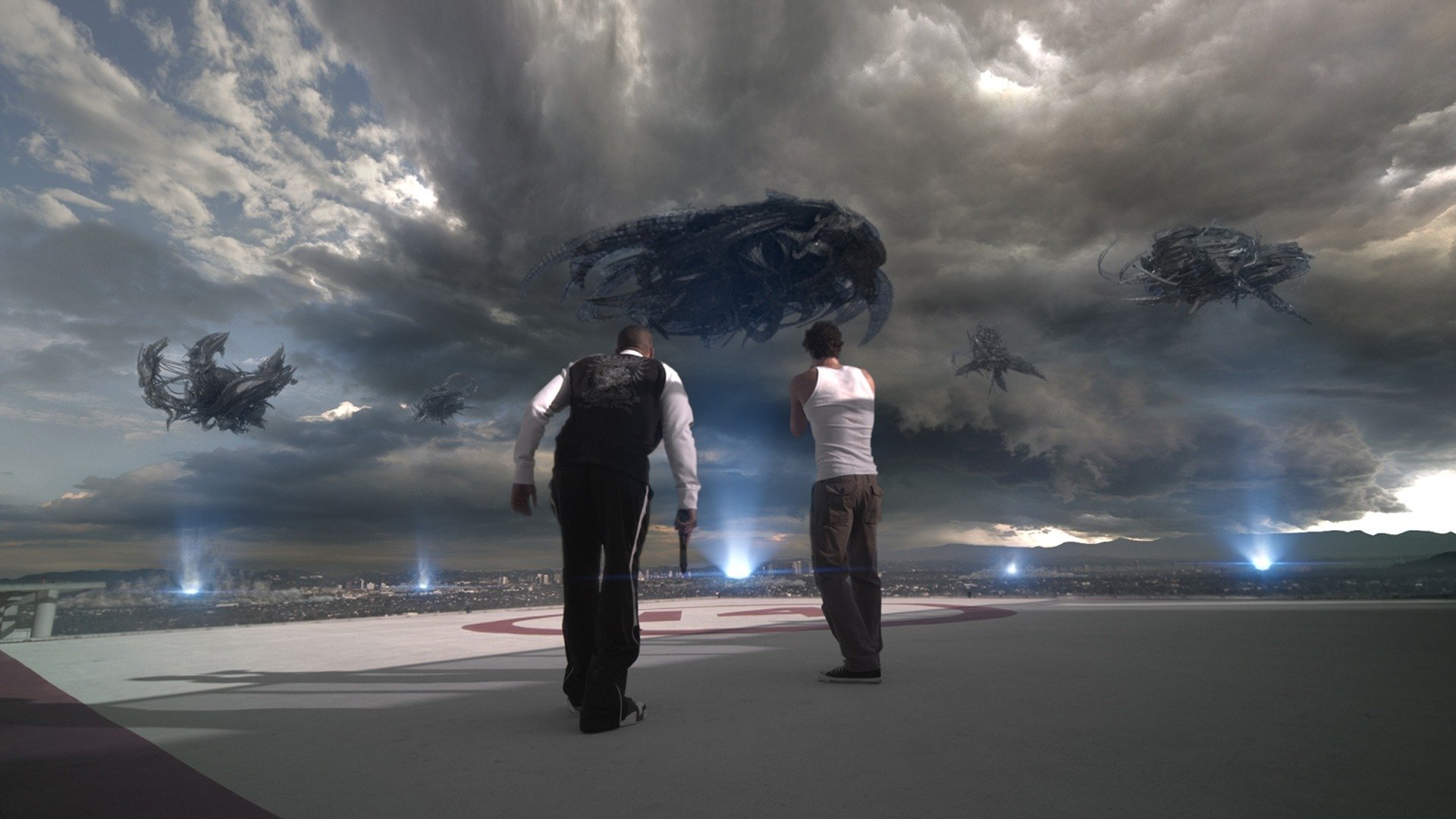 Cast: Eric Balfour, Donald Faison, Scottie Thompson, Brittany Daniel, Crystal Reed, and David Zayas
Directed By: Greg and Colin Strause (The Brothers Strause)
Synopsis: Jarrod (Eric Balfour) and Elaine (Scottie Thompson) take a trip to Southern California to visit his friend, Terry (Donald Faison), for a fun getaway, but it turns into a weekend of terror. During the night a cluster of strange, mesmerizing lights signals the arrival of an alien invasion. As thousands of terrified people are pulled into the maws of giant alien ships, Jarrod and his companions must use every skill they have to survive global genocide.
Domestic Box Office: $21,393,620
RT Score: 16%
My Thoughts: I'm gonna bet no one remembers what Skyline is. Well, it's an alien invasion movie, and it's freakin' abysmal. The trailers looked cool enough. So what happened? Skyline is a lame sci-fi that wasn't even good enough to be an original movie on the SYFY channel, with the only redeemable attribute is the visual effects. You know it's a hot plate of garbage when none of the characters are worth caring about, especially when one is Eric Balfour of all people. With terrible writing, poor acting, and an ending that's eye-rolling bad, Skyline is the second-worst movie of 2010, in my opinion. Was this a real shock from the guys who's responsible for the crap fest Aliens vs. Predator- Requiem?
November 19: 'Harry Potter and the Deathly Hallows Part 1'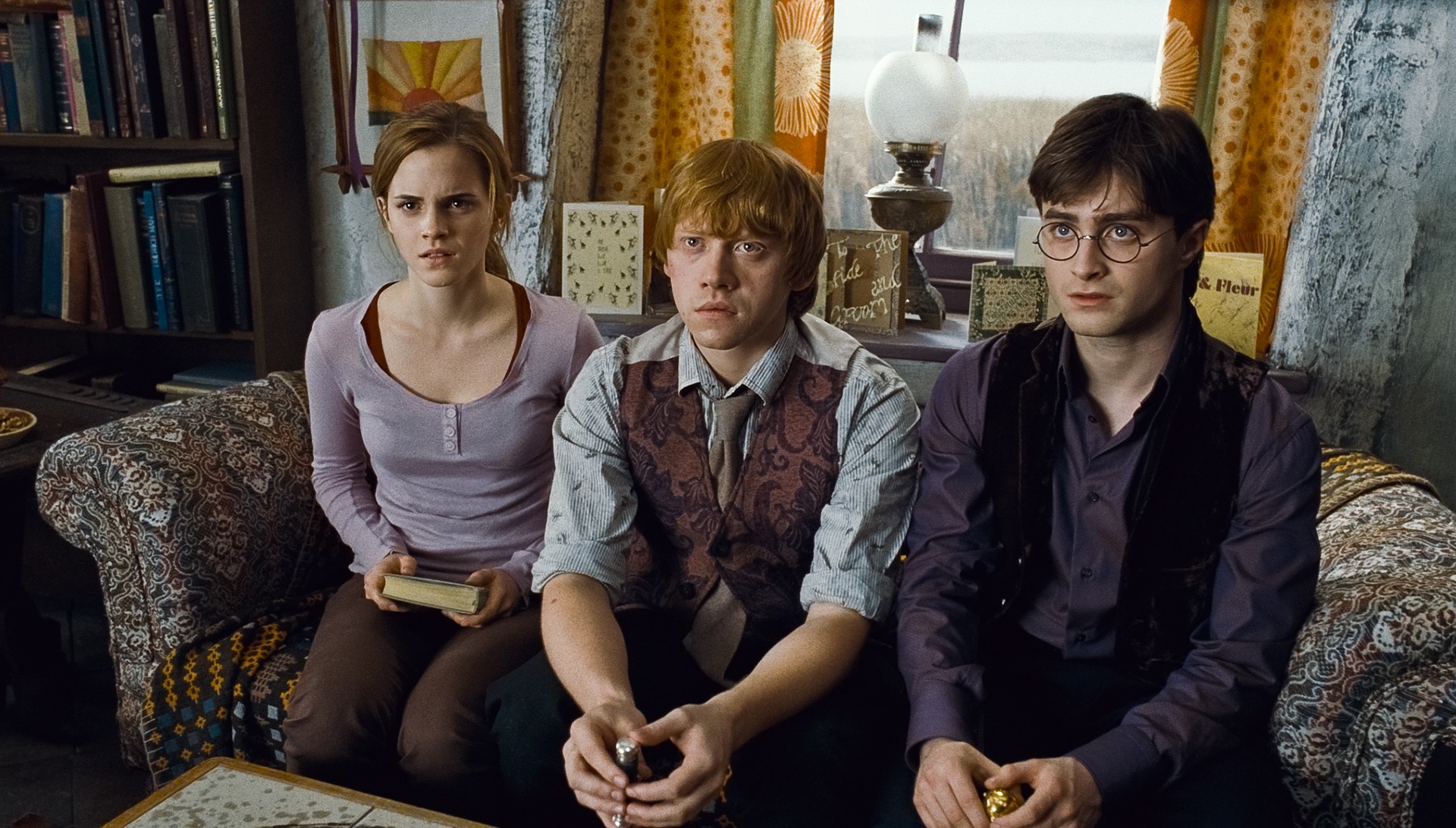 Cast: Daniel Radcliffe, Emma Watson, Rupert Grint, Helena Bonham Carter, Robbie Coltrane, Bill Nighy, Alan Rickman, Tom Felton, Brendan Gleeson, and Ralph Fiennes
Directed By: David Yates
Synopsis: Without the guidance and protection of their professors, Harry (Daniel Radcliffe), Ron (Rupert Grint) and Hermione (Emma Watson) begin a mission to destroy the Horcruxes, the sources of Voldemort's immortality. Though they must rely on one another more than ever, dark forces threaten to tear them apart. Voldemort's Death Eaters have seized control of the Ministry of Magic and Hogwarts, and they are searching for Harry — even as he and his friends prepare for the ultimate showdown.
Domestic Box Office: $295,983,305
RT Score: 77%
My Thoughts: It was the beginning of the end for the Harry Potter series, and the only way to do it was to split the last book into two parts. Probably the most anticipated film of the month, Harry Potter and the Deathly Hallows Part 1 is the buildup to what we'll see the following summer, but it's another satisfying entry. Harry, Ron, and Hermione are on this journey outside Hogwarts to destroy the Horcruxes and defeat Voldemort, but was it enough for this first half to be investing for almost two-and-a-half hours? Yes. There were a few slow moments when they're camping, but the performances of its three leads get better every time, impressive action and visual, and its cliffhanger ending was perfect. Also, I re-watched this twice before seeing Deathly Hallows Part 2: The first time during my binge of all the previous movies and the morning before I saw Part 2.
'The Next Three Days'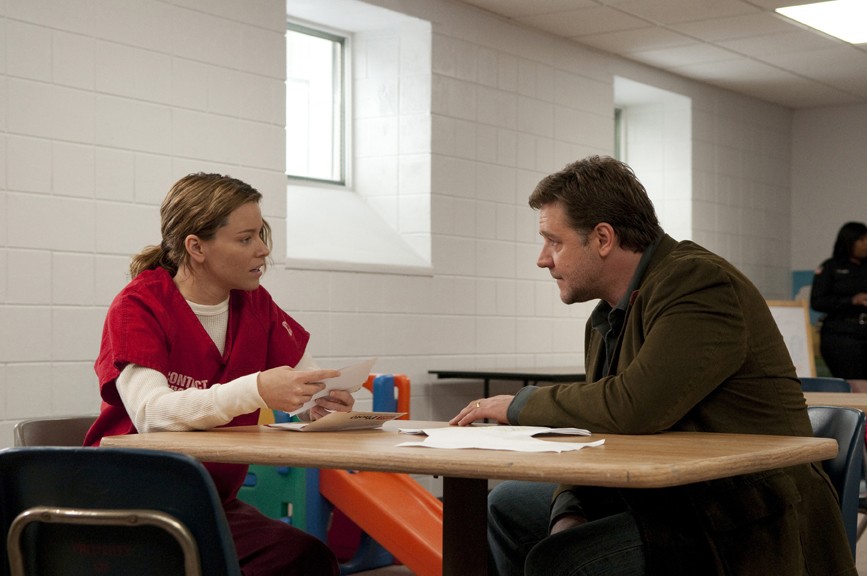 Cast: Russell Crowe, Elizabeth Banks, Brian Dennehy, Olivia Wilde, and Liam Neeson
Directed By: Paul Haggis
Synopsis: Life for John and Lara Brennan (Russell Crowe, Elizabeth Banks) is miserable after she is convicted of a murder she says she did not commit. Three years later while struggling with the demands of work and raising his son alone, John is still trying to establish her innocence. When her final appeal is rejected, Lara becomes suicidal, forcing John to exercise the only option he has left: Break her out of prison.
Domestic Box Office: $21,148,651
RT Score: 50%
My Thoughts: Never thought it was worth my time, especially when it came out the same weekend as Harry Potter. I didn't even know this was a remake of a French film called Anthing for Her until recently. The plot and Russell Crowe would be enough, but I heard lukewarm reviews, which coming from the director of Crash, that wasn't surprising. Did you see The Next Three Days?
November 24: 'Tangled'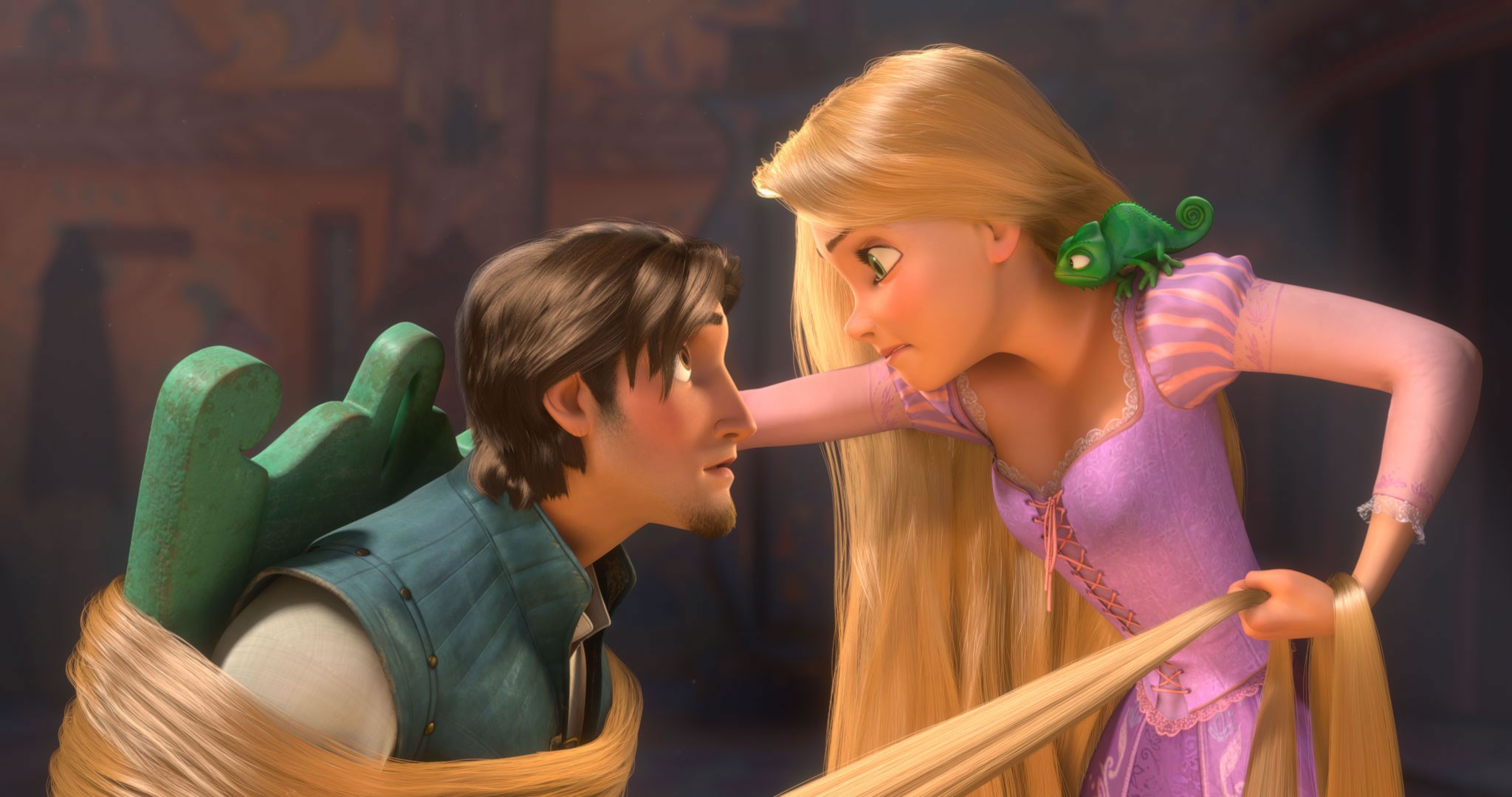 Cast: Mandy Moore, Zachary Levi, Donna Murphy, Brad Garrett, Ron Perlman, and Jeffrey Tambor
Directed By: Nathan Greno/ Byron Howard
Synopsis: When the kingdom's most-wanted bandit, Flynn Rider (Zachary Levi), hides in a convenient tower, he immediately becomes a captive of Rapunzel (Mandy Moore), the spire's longtime resident. Crowned with 70 feet of magical golden hair, she has been locked away for years and desperately wants freedom. The feisty teenager strikes a deal with Flynn, and together they begin a whirlwind adventure.
Domestic Box Office: $200,821,936
RT Score: 89%
My Thoughts: Just like with Enchanted, Tangled was a Disney movie that took me by surprise. Originally, I was gonna skip seeing this since even though I didn't hate the trailers, a Rapunzel movie wouldn't engross me. But I checked it out a month after it came out and loved it. What makes Tangled so special is that it was like watching one of the classic Disney princess movies with the adventure and music of it all, and this was a return to form for the studio and their animated filmography. You love spending time with the characters of Rapunzel (Mandy Moore) and Flynn Rider (Zachary Levi) as the former steps out of her comfort zone and experience the world out of her castle. It's funny, has gorgeous animation, and the music, while probably not the most memorable, has that certain amount of charm to them.
Is it better than Frozen, another Disney princess movie that is often compared to? I don't think so, since the aspect that makes Frozen better is the soundtrack. But if it's so great, why wasn't it nominated for Best Animated Feature, huh? "I See the Light" got a Best Original Song nod, but not the third-best animated movie of the year? After its release, a television series (Rapunzel's Tangled Adventure) aired on Disney Channel from 2017 to 2020. And since I was one of the last people to see it, this was the last movie I saw in theaters where I was the only person in the auditorium. The last time!
'Love & Other Drugs'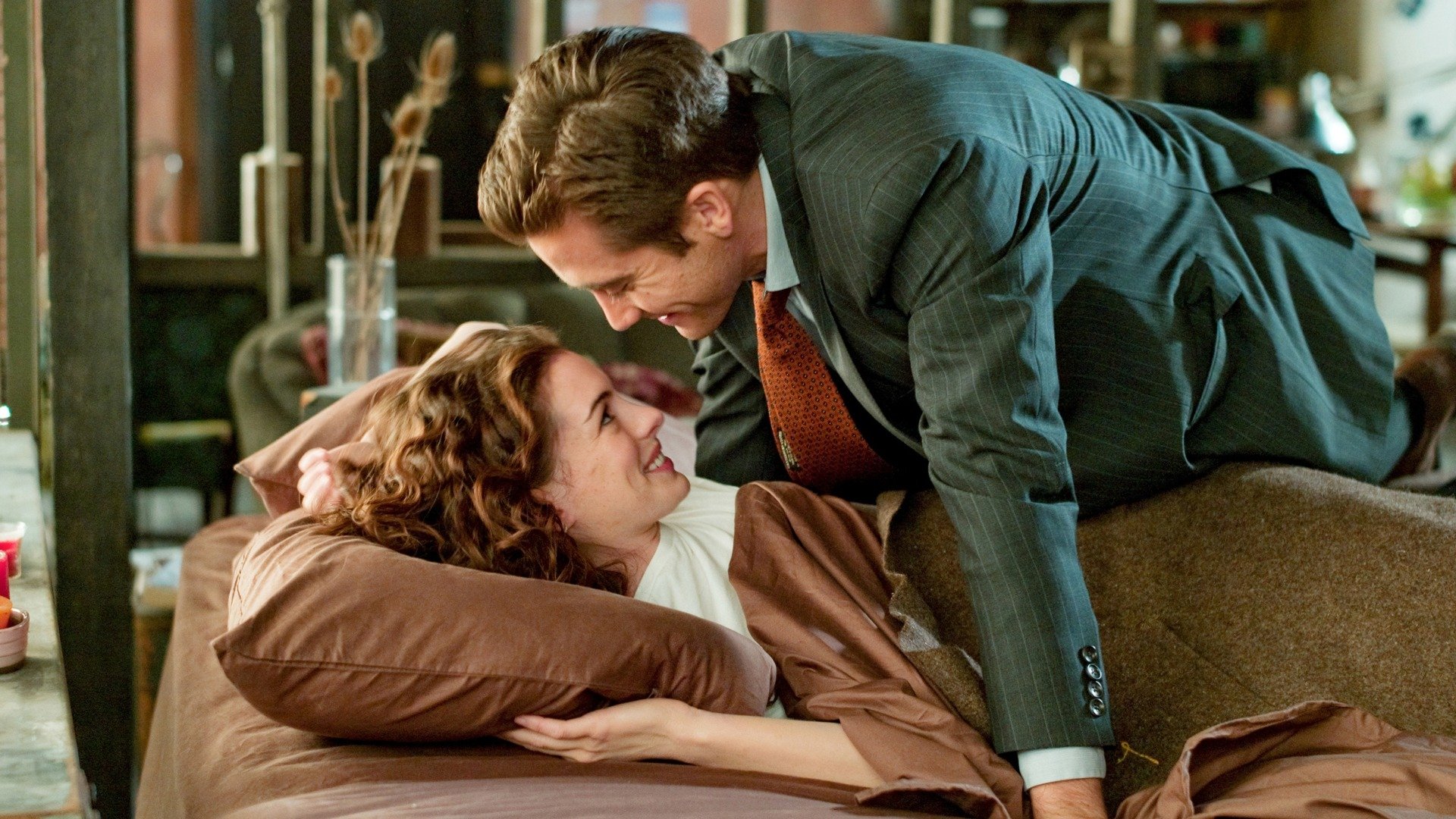 Cast: Jake Gyllenhaal, Anne Hathaway, Oliver Platt, Hank Azaria, Josh Gad and Gabriel Macht
Directed By: Edward Zwick
Synopsis: Handsome pharmaceutical salesman Jamie Randall (Jake Gyllenhaal) always has good luck with women. A chance encounter with Maggie Murdock (Anne Hathaway), a free-spirited Parkinson's patient, leads to a sexual relationship. As Jamie and Maggie become closer, each must question if a serious commitment is in their future.
Domestic Box Office: $32,367,005
RT Score: 49%
My Thoughts: I feel like Love & Other Drugs should've been a good R-rated romantic dramedy with Jake Gyllenhaal and Anne Hathaway reuniting after Brokeback Mountain and Edward Zwick behind the camera. I never had the urge to watch this again, and I can't recall what went on throughout. The chemistry between its leads was fine, and it was nice for the guys to see Hathaway's boobs, but then it turns into a Parkinson's movie, and the tone becomes all over the place after a while, feeling like three different movies. Even the funnier moments felt like it tried too hard. If you enjoy anything similar to In Good Company or A Lot Like Love, you'll be able to find some enjoyment from this. Both Gyllenhaal and Hathaway got Golden Globe nominations if that says anything.
'Burlesque'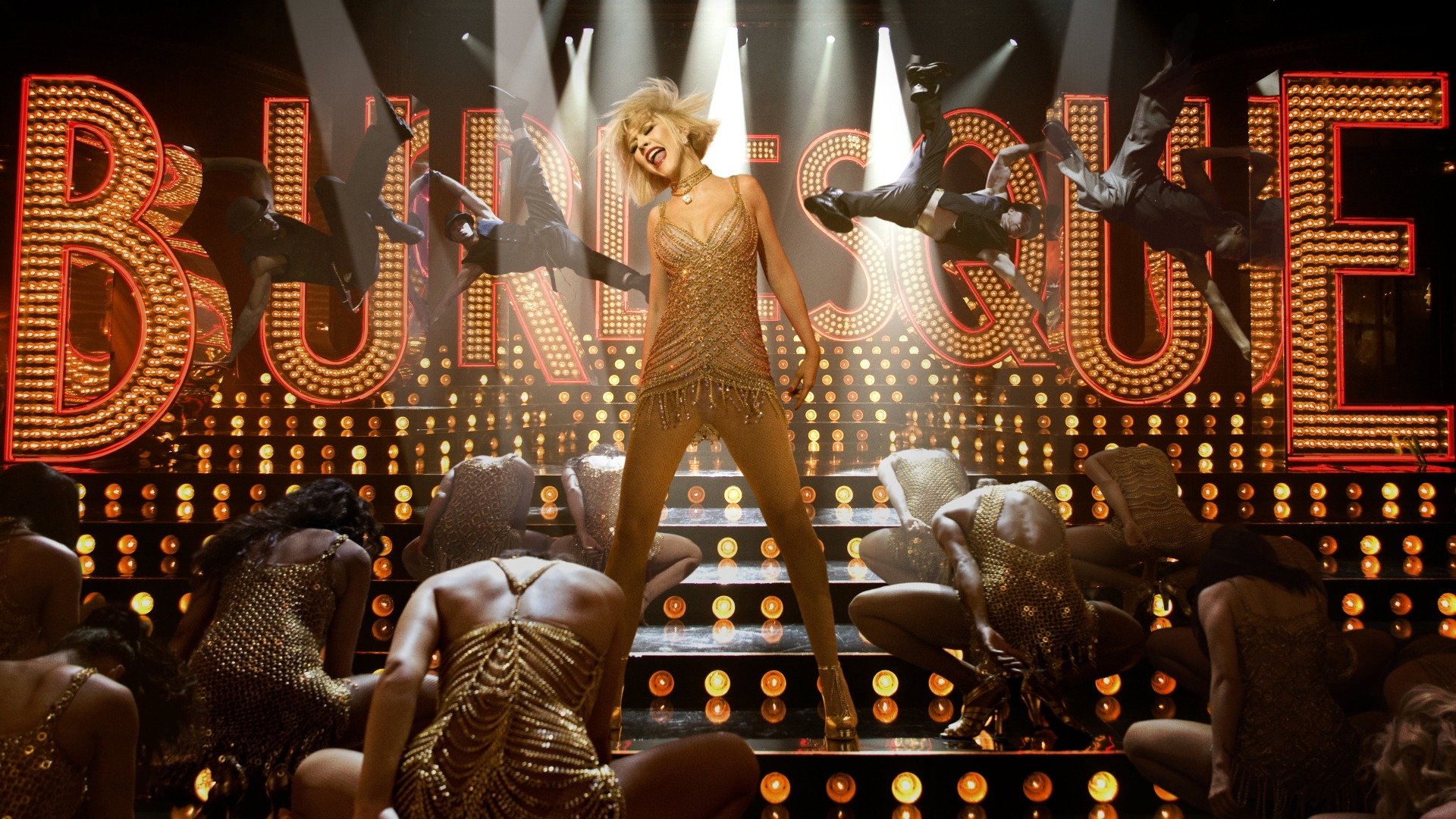 Cast: Cher, Christina Aguilera, Eric Dane, Cam Gigandet, Julianne Hough, Alan Cumming, Peter Gallagher, Kristen Bell, Stanley Tucci, Dianna Agron, and Tyne Stecklein
Directed By: Steve Antin
Synopsis: Ali (Christina Aguilera), a small-town gal with a great voice, leaves a troubled life behind and follows her dreams to Los Angeles. She lands a job as a cocktail waitress at the Burlesque Lounge, a once-majestic theater that houses an inspired musical revue led by Tess (Cher), the proprietor. Ali vows to perform there and, with the help of a savvy stage manager and a gender-bending host, she makes the leap from bar to stage, helping restore the club's former glory.
Domestic Box Office: $39,440,655
RT Score: 37%
My Thoughts: What happens when you make Showgirls PG-13 and mix it in with Coyote Ugly and Cabaret? What Burlesque wanted to be, I guess. I was never interested in ever watching this since it didn't appeal to me to make it on the "so bad, it's a good" type of fun. Christina Aguilera didn't look like she'll be convincing as the main lead, and this is coming from someone who hasn't really been a fan of her as a singer, while Cher should've been in anything that's not this. There are dancing and singing involved throughout, including a cover of Marilyn Manson's "The Beautiful People?" Huh? Maybe Stanley Tucci is good enough to give it a chance. Burlesque got mixed reviews, with many saying it's riddled with cliches, having no originality. Actually, Cher earned a Razzie nomination for Worst Supporting Actress, but yet, it still got three Golden Globe nominations, ending up winning Best Original Song for "You Haven't Seen the Last of Me," which is an okay song, and it didn't get an Oscar nomination.
'Faster'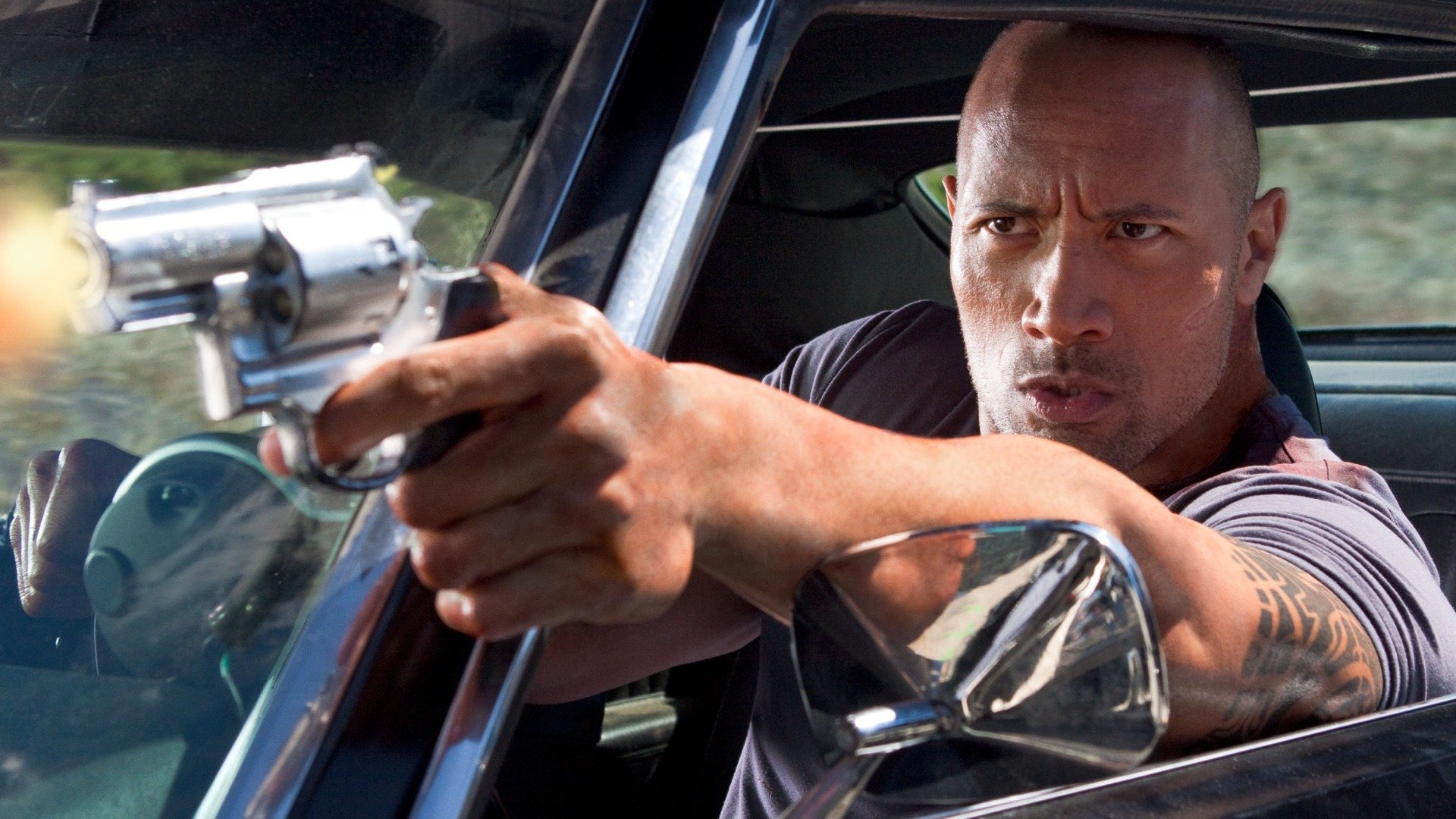 Cast: Dwayne Johnson, Billy Bob Thornton, Maggie Grace, Oliver Jackson-Cohen, Carla Gugino, Moon Bloodgood, and Courtney Gains
Directed By: George Tillman Jr.
Synopsis: Following a 10-year prison stint, Driver (Dwayne Johnson) sprints through the gates to take vengeance on those responsible for his brother's murder. Within hours of dispatching his first one, he has two men on his tail: a veteran police officer (Billy Bob Thornton) and an eager assassin (Oliver Jackson-Cohen). Driver tries to stay a step ahead of his pursuers, but there are hints that his list is incomplete, and the unknown person may endanger his life.
Domestic Box Office: $23,240,020
RT Score: 42%
My Thoughts: Fans of Dwayne Johnson were pleased to see him back in an action movie after doing some terrible family movies (Tooth Fairy, Race to Witch Mountain) in Faster. As a giant fan of him, something about this didn't look good for a revenge flick, and this gets by in the shuffle with his other work. A bloody, boring action movie is what most reviewers had to say about this.
November 26: 'The King's Speech'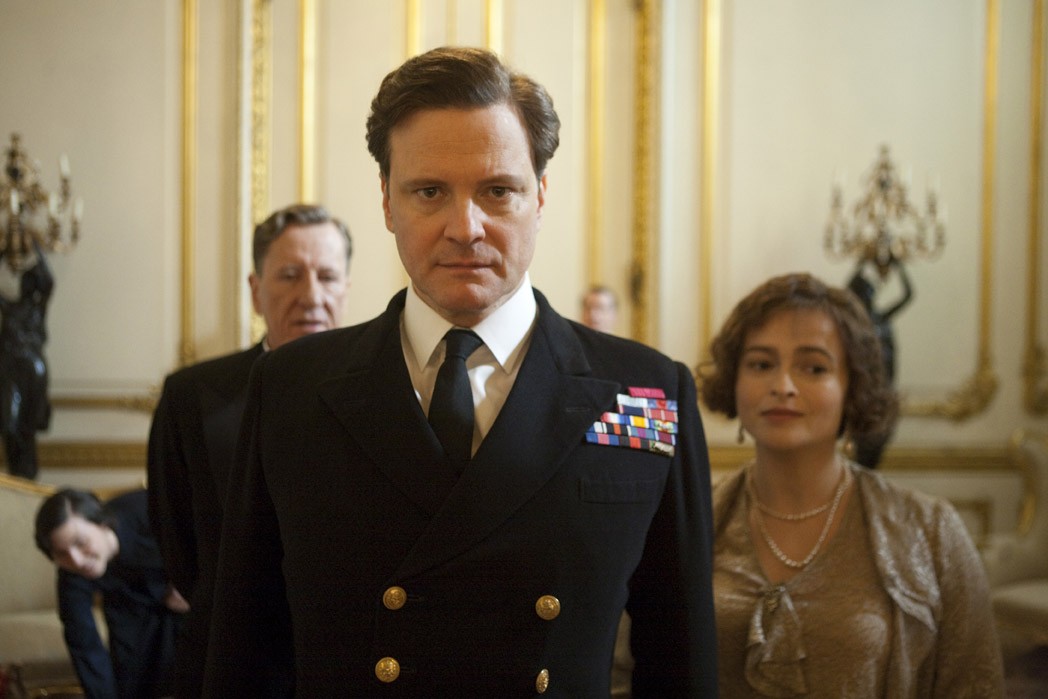 Cast: Colin Firth, Geoffrey Rush, Helena Boehm Carter, Guy Pearce, Timothy Spall, Derek Jacobi, and Jennifer Ehle
Directed By: Tom Hooper
Synopsis: England's Prince Albert (Colin Firth) must ascend the throne as King George VI, but he has a speech impediment. Knowing that the country needs her husband to be able to communicate effectively, Elizabeth (Helena Bonham Carter) hires Lionel Logue (Geoffrey Rush), an Australian actor and speech therapist, to help him overcome his stammer. An extraordinary friendship develops between the two men, as Logue uses unconventional means to teach the monarch how to speak with confidence.
Domestic Box Office: $135,453,143
RT Score: 94%
My Thoughts: I didn't know what The King's Speech was a month after it came out. A period piece drama about King George trying to overcome his stutter problem to deliver a message to his people? Sounds inspiring enough. I finally saw it the week before the Oscars, just to see if it's worthy of getting those accolades, and though I only saw it once, it's what I expected. There's no denying the performances are out of control seeing Colin Firth, Geoffrey Rush, and Helena Bonham Carter giving the best performances I've seen from all of them, making the best of the year without a doubt. Firth was so good I really thought he had a speech impediment. I didn't know what to expect from the story walking in, but Tom Hooper succeeded.
As popular as it was during awards season, The King's Speech won four Oscars, including Best Original Screenplay, Best Actor for Firth, Best Director for Hooper, and Best Picture. But I think everyone agrees The Social Network should've won, since this isn't talked about often anymore positively. Do I call it "overrated?" I wouldn't say that, but it's not a drama that made an enormous impact on the world. I'm also still wondering why it was rated R for one scene of profanity. A decade later and Hooper went from winning Best Director to the Worst Director for the flaming pile of cat turds known as Cats. Embarrassing.