People of the world, how's it going? I hope all of you are still staying safe, but we're so close to leaving the year behind, even though it feels like nothing new since mid-March. But it's about time for another monthly installment of Throwback Session- Remember These Movies?, and I'm on time and got everything written out a week ago. Thinking back in October 2010, there were some good movies, while also a few people who didn't care enough to see. I only saw two of this month since all the biggies were in coming up in November.
School was about the same as it mostly boring eighth-grade stuff from what I can recall. This was around the time I started requesting a ton of movies from the library, and it was about this time when I watched The Matrix for the first time and loved it. The crush I had back in seventh grade rejected me on October 29 after writing her a note I believe gave to her on the bus (Yes, that date will always be in my mind), and that was when I stopped having feelings for her. And this month was the last year I went trick or treating, getting the last rush of getting free candy and dressing up as a thrift shop MacGruber. True story.
Anyway, let's look back at what October 2010 offered to theaters.
October 1: 'The Social Network'
Cast: Jesse Eisenberg, Andrew Garfield, Justin Timberlake, Armie Hammer, Rooney Mara
Directed By: David Fincher
Synopsis: In 2003, Harvard undergrad and computer genius Mark Zuckerberg (Jesse Eisenberg) begins work on a new concept that eventually turns into the global social network known as Facebook. Six years later, he is one of the youngest billionaires ever, but Zuckerberg finds that his unprecedented success leads to both personal and legal complications when he ends up on the receiving end of two lawsuits, one involving his former friend (Andrew Garfield).
Domestic Box Office: $96,962,694
RT Score: 96%
My Thoughts: Not only was The Social Network one of the absolute best films of the year, but it's also one of my favorite films that gets better with every thought. It was almost like seeing it yesterday just thinking I wouldn't be invested in "The Facebook Movie," but it was more than that. What this David Fincher-directed, Aaron Sorkin-penned drama was like was a Shakespeare play when its themes of betrays and power are easy to pay attention to for two hours. Not everything is factually accurate, yet it doesn't entirely matter. Smart, remarkable, and all-around timeless, The Social Network is expertly directed, brilliantly written, and has incredible performances from Eisenberg, Garfield, and Timberlake. And even though it won three Academy Awards, we all agree this should've won Best Picture over The King's Speech, right? MY REVIEW—> RIGHT HERE
'Let Me In'
Cast: Kodi Smit-McPhee, Chloë Grace Moretz, Richard Jenkins, Cara Buono
Directed By: Matt Reeves
Synopsis: Bullied at school, neglected at home and incredibly lonely, 12-year-old Owen (Kodi Smit-McPhee) spends his days plotting revenge on his tormentors and spends his nights spying on other residents of the apartment complex. His sole friend is Abby (Chloë Grace Moretz), a strange girl who comes out only at nighttime. Both outcasts, the two form a strong bond. When Abby's caretaker disappears amid a series of gruesome murders, Owen begins to suspect that she is hiding a terrible secret.
Domestic Box Office: $12,134,935
RT Score: 88%
My Thoughts: I'm shocked I still haven't watched Let Me In. An American remake of the 2008 Swedish film Let The Right One In from director Tomas Alfredson, this got pleasant word of mouth for a vampire drama with a young Chloë Grace Moretz and Kodi Smit-McPhee. Matt Reeves has become one of my favorite directors with Cloverfield and later on. A good horror remake? How rare. Though having not seen it, one complaint I heard was it was too similar to the original, feeling pointless. When it's available to watch free to anywhere, I will see if it's worth my time.
'Case 39'
Cast: Renée Zellweger, Ian McShane, Jodelle Ferland, Bradley Cooper
Directed By: Christian Alvart
Synopsis: In her many years as a social worker, Emily Jenkins (Renée Zellweger) thinks she has seen it all — until she meets 10-year-old Lilith (Jodelle Ferland) and the girl's cruel parents. When the parents try to harm the child, Emily assumes custody of Lilith while looking for a foster family. However, she soon finds that dark forces surround the seemingly innocent child, and the more she tries to protect Lilith, the more horrors she encounters.
Domestic Box Office: $13,261,851
RT Score: 21%
My Thoughts: Does anybody remember this coming out or even saw this in theaters? I think my mom bought the DVD of Case 39 from Blockbuster, and I'm confused about why. Paramount kept this on the shelf for a while since it was done filming in 2007, as it was originally scheduled to come out the following year. They released it in New Zealand a year prior and opened in the U.S. to a dud for this supernatural thriller. All I heard about this was how it was not scary and it doesn't have the most original story to stay attached to. You got to feel bad for talents like Renée Zellweger and Bradley Cooper to be in here.
October 8: 'Life as We Know It'
Cast: Katherine Heigl, Josh Duhamel, Josh Lucas, Christina Hendricks, Hayes MacArthur, DeRay Davis, and Sarah Burns
Directed By: Greg Berlanti
Synopsis: After a disastrous first date, the only things Holly Berenson (Katherine Heigl) and Eric Messer (Josh Duhamel) have in common are mutual dislike and their love for their goddaughter, Sophie. When they unexpectedly become her caretakers, Holly and Eric have to put aside their differences and learn to work together for the sake of the child. Juggling competing career and social commitments, Holly and Eric look for common ground while living under the same roof.
Domestic Box Office: $53,374,681
RT Score: 29%
My Thoughts: What a surprise to have another Katherine Heigl movie from 2010 that I hated. Life as We Know It was a terrible comedy-drama to get through when the predictability factor reached the limit. Heigl and Josh Duhamel's chemistry was decent enough, but I couldn't find anything funny, and when it involves taking care of a baby, that's a fail right there. Like a soiled diaper, you want to stay far away from this that's suited better as a sitcom. At least director Greg Berlanti made a much better movie with the heartwarming Love, Simon.
'Secretariat'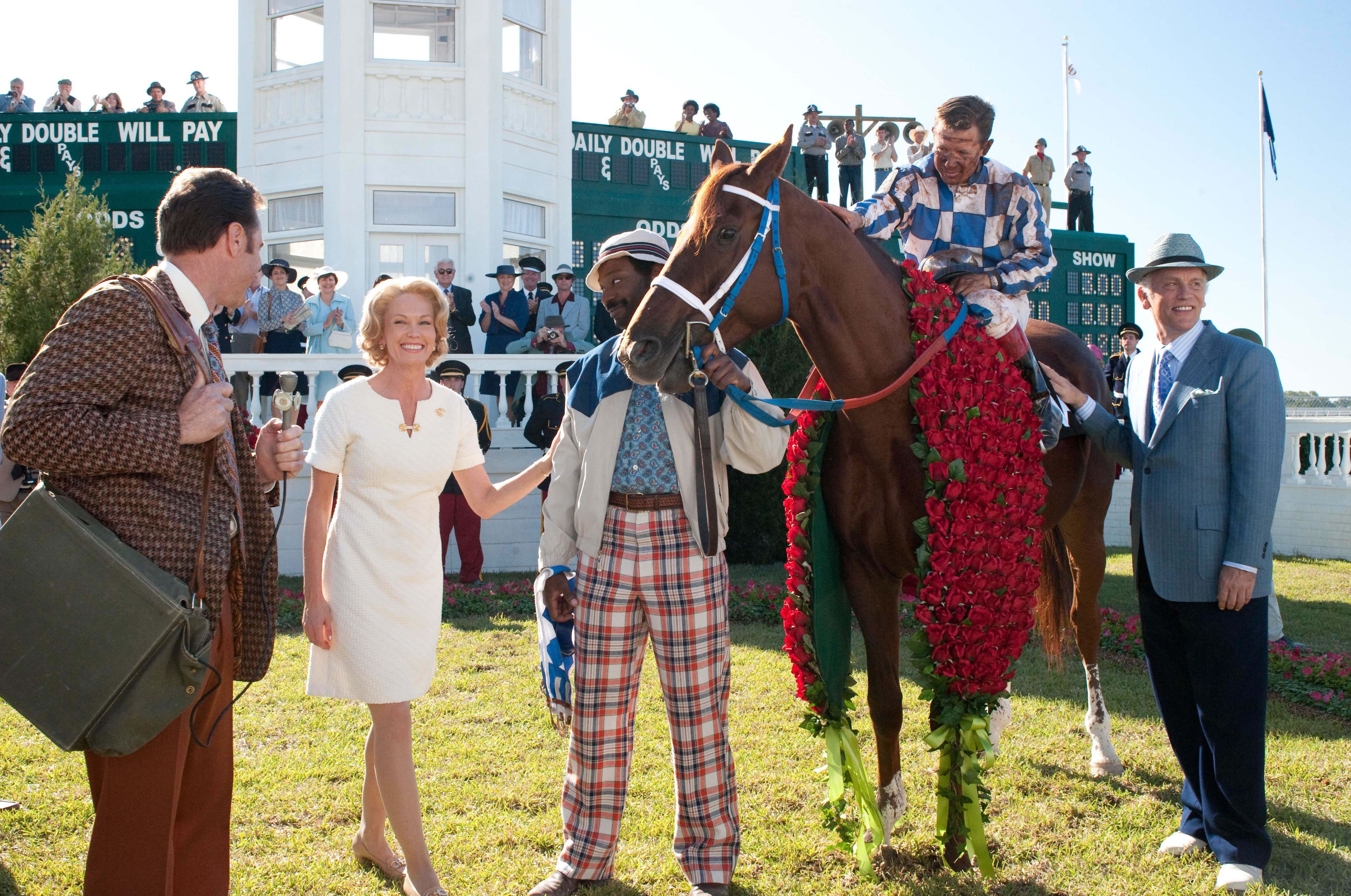 Cast: Diane Lane, John Malkovich, Dylan Walsh, James Cromwell, Kevin Connolly. Nelsan Ellis and Scott Glenn
Directed By: Randall Wallace
Synopsis: Despite her lack of experience, housewife and mother Penny Chenery (Diane Lane) agrees to take over management of the family Thoroughbred farm after her father (Scott Glenn) becomes ill. Successfully navigating her way through the male-dominated world of horse racing, Chenery, together with veteran trainer Lucien Laurin (John Malkovich), fosters a gifted colt that ultimately crosses the finish line into history as the Triple Crown winner in 1973.
Domestic Box Office: $59,713,955
RT Score: 63%
My Thoughts: I only watched Secretariat once, but I remember liking it, and I'm usually don't have a problem with Disney and sports movies. Director Randall Wallace handles the true story of the titular Thoroughbred horse and the rousing underdog tale that's enough to engage audiences. Those who know about this animal already know what will happen, but coming from someone who didn't do any research before, it wasn't all that surprising. While it might be better than another horse racing movie, Seabiscuit, that's some feel-pleasant moments to make it to the finish line with solid performances from Diane Lane and John Malkovich. It's available on Disney+, if you're interested.
'My Soul to Take'
Cast: Max Thieriot, John Magaro, Denzel Whitaker, Zena Grey, Nick Lashaway, Paulina Olszynski, Emily Meade, Raul Esparza, and Frank Grillo
Directed By: Wes Craven
Synopsis: In the small town of Riverton, a local legend tells of a serial killer's oath to come back and kill the seven children who were born on the night he supposedly died. Now 16 years later, Riverton residents are disappearing again, making some wonder if the legend is true. Bug (Max Thieriot), plagued by nightmares all his life, is one of the so-called Riverton Seven, and it's up to him to save his friends from an evil that will not rest.
Domestic Box Office: $14,744,435
RT Score: 10%
My Thoughts: Wes Craven writing and directing an original horror always sounds exciting to fans, yet My Soul to Take didn't look from the trailer. I watched most of it on SYFY one day and thought it was terrible, nowhere near the success of Scream or A Nightmare on Elm Street. Holding a 10% on Rotten Tomatoes and only making $14 million, this slasher flick wasn't the greatest from "Master of Horror" with its bad acting and story that lost potential. Despite the reception, Craven stated he was proud of the movie. And this was another 2010 release that had post-converted 3D added because of studio reasons, especially putting it in the trailer. Not always the best move.
October 15: 'Jackass 3D'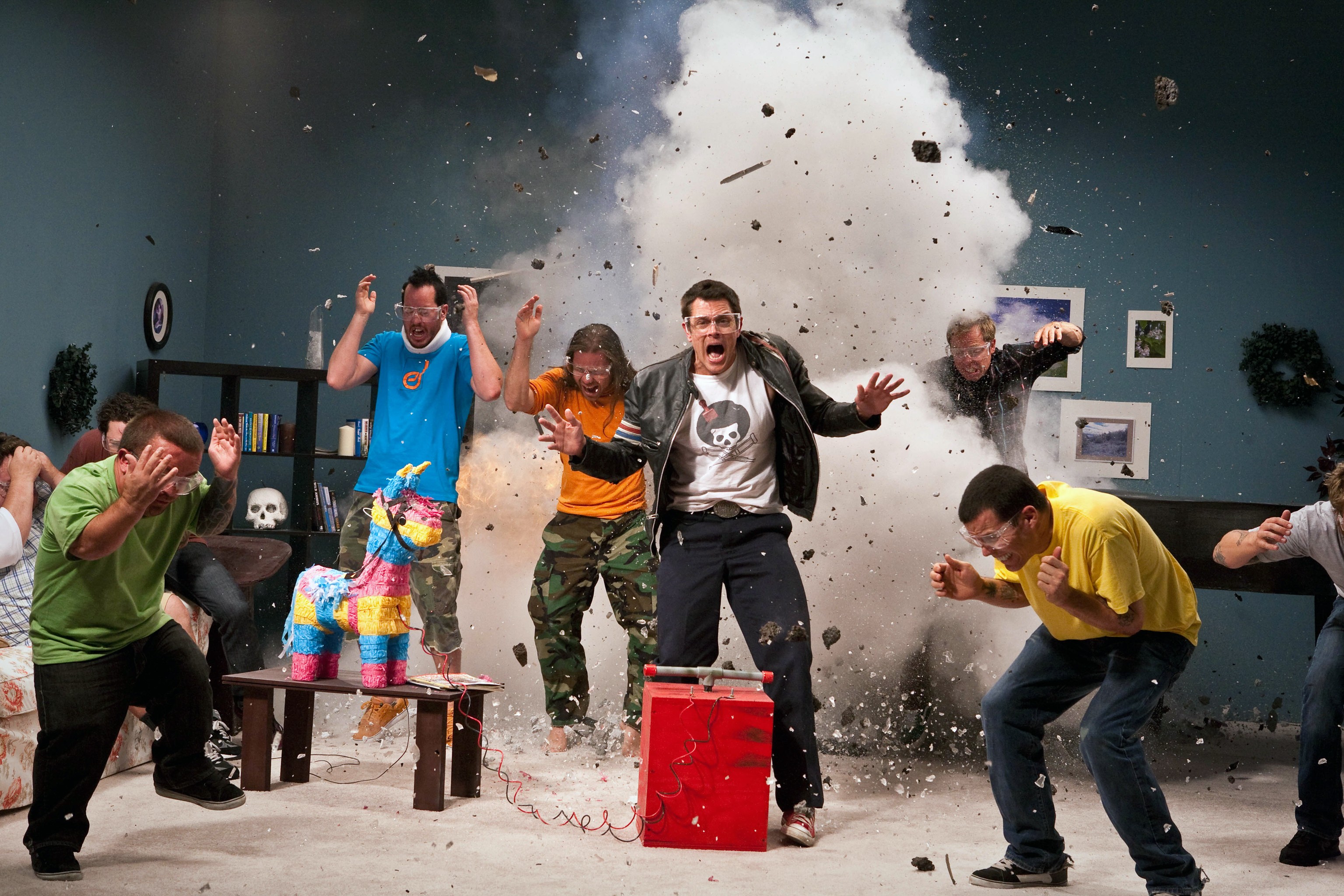 Cast: Johnny Knoxville, Bam Margera, Steve-O, Ryan Dunn, Jason "Wee Man" Acuña, Preston Lacy, Chris Pontius, Ehren McGhehey, and Dave England.
Directed By: Jeff Tremaine
Synopsis: Johnny Knoxville, Bam Margera, Steve-O, Wee Man and the rest of their fearless and foolhardy friends take part in another round of outrageous pranks and stunts. In addition to standing in the path of a charging bull, launching themselves into the air and crashing through various objects, the guys perform in segments such as "Sweatsuit Cocktail," "Beehive Tetherball" and "Lamborghini Tooth Pull."
Domestic Box Office: $117,229,692
RT Score: 65%
My Thoughts: You shouldn't be expecting high art when it comes to Jackass 3D or anything associated with the series. But I can't believe I missed this in theaters since this was a pretty funny comedy. All you're watching is Johnny Knoxville and his friends doing these crazy stunts and pranks, harming themselves, and this had some of the funniest ones out of the original three movies. The highlights include Steve-O in the porta-potty that's launched in the air and the "High Five." And I heard it had one of the better usages of the 3D technology that year. If you weren't fans of the previous two before, there's no way of liking this since it's more of the same.
'RED'
Cast: Bruce Willis, Morgan Freeman, John Malkovich, Helen Mirren, Karl Urban, Mary-Louise Parker, Brian Cox, Julian McMahon, Richard Dreyfuss, Ernest Borgnine, Rebecca Pidgeon, and James Remar
Directed By: Robert Schwentke
Synopsis: After surviving an assault from a squad of hit men, retired CIA agent Frank Moses (Bruce Willis) reassembles his old team for an all-out war. Frank reunites with old Joe (Morgan Freeman), crazy Marvin (John Malkovich) and wily Victoria (Helen Mirren) to uncover a massive conspiracy that threatens their lives. Only their expert training will allow them to survive a near-impossible mission — breaking into CIA headquarters.
Domestic Box Office: $90,380,162
RT Score: 72%
My Thoughts: RED looked cool from the trailers and how it was based on the limited DC Comics series. Who wouldn't want to see these older actors do some action? I didn't see it until a month later when it was the last day it was playing at the theater I used to go to, and I was the only person there. Honestly, I never saw the hype surrounding RED. It has an interesting story and a great cast, but nothing about it was all too memorable, and it appeared boring. I couldn't even finish it when I got it from the library. Willis was fine, but Malkovich and Mirren were my favorite performances. For me, it's not a bad action-comedy, but it's a mixed bag from my perspective. Somehow, it managed to earn not only a Golden Globe nomination for Best Picture-Musical or Comedy, a 2013 sequel that came out in which nobody remembers coming out.
'Hereafter'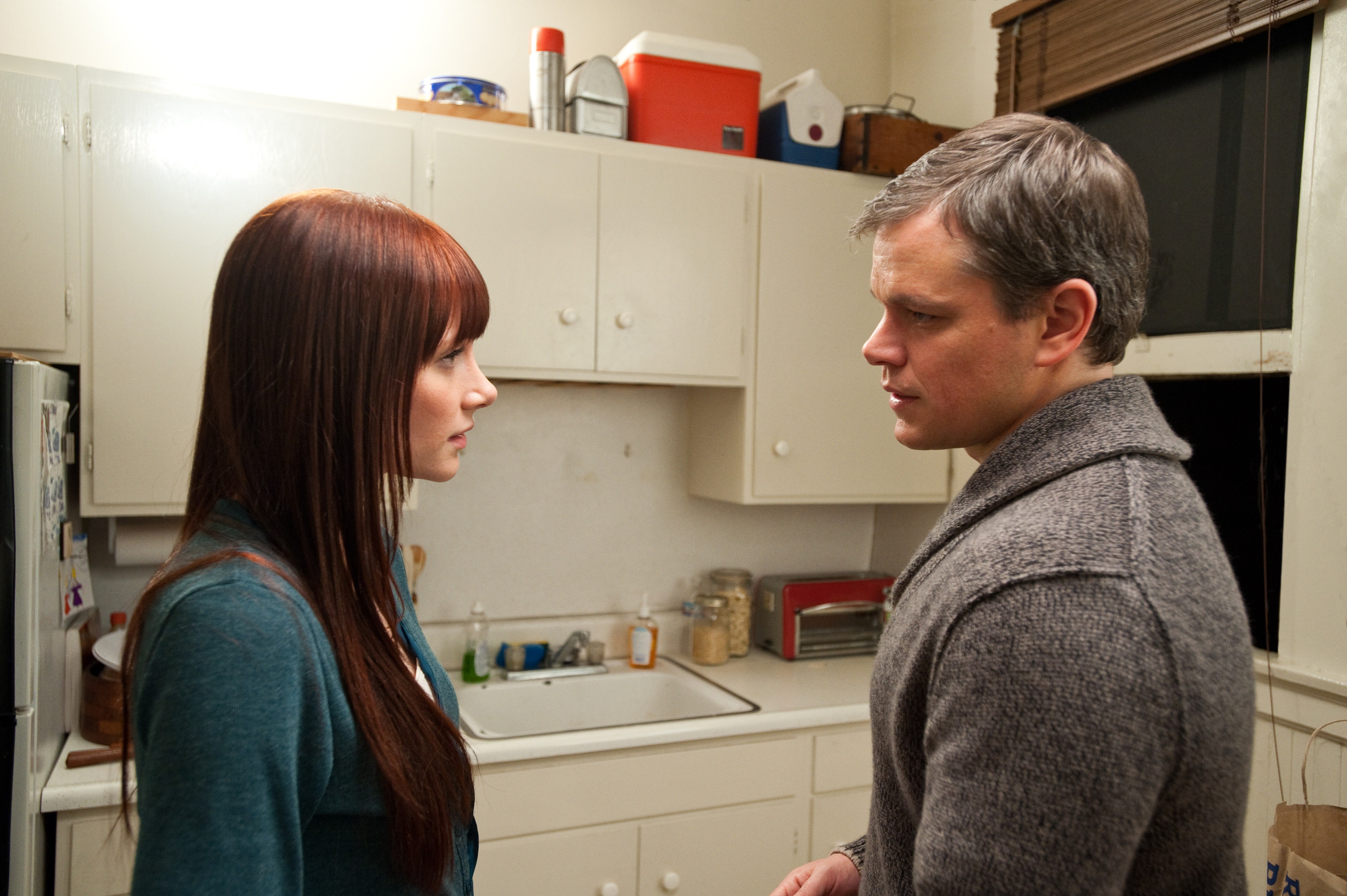 Cast: Matt Damon, Cécile de France, Bryce Dallas Howard, Lyndsey Marshal, Jay Mohr and Thierry Neuvic
Directed By: Clint Eastwood
Synopsis: Three people set out on a spiritual journey after death touches their lives in different ways. George (Matt Damon) is a construction worker in San Francisco who can communicate with the dead. French reporter Marie LeLay (Cécile de France) has a supernatural vision after nearly dying in the 2004 Indian Ocean tsunami. Meanwhile, a London schoolboy suffers the loss of the person closest to him.
Domestic Box Office: $32,746,941
RT Score: 47%
My Thoughts: The 2010s were a hit-or-miss decade for Clint Eastwood as a director. Despite it starring Matt Damon, Hereafter didn't look like it was going to live up to expectations. You don't have a lot of people bring this up in casual conversations since it came and went quickly. From what I heard, it should've been a much deeper drama for people wanting to know more about the afterlife, but it's three stories that'll connect somehow in what has be described as one of Eastwood's more boring efforts. It still got a Visual Effects Oscar nomination, for some reason, which was probably for the tsunami scene.
October 22: 'Paranormal Activity 2'
Cast: Sprague Grayden, Brian Boland, Molly Ephraim, Katie Featherston, and Micah Sloat
Directed By: Tod Williams
Synopsis: When the Reys move into their new Southern California home, little do they realize that the house is already occupied. After coming home one day to find the house in disarray — but with no signs of forced entry or robbery — they install a video surveillance system to catch the perpetrators. But nothing prepares them for what happens next.
Domestic Box Office: $84,752,907
RT Score: 58%
My Thoughts: I wasn't sure about Paranormal Activity 2 because I'm on the opposite side when it comes to the first installment since I didn't think it was scary until the end. But I saw it anyway on opening night with my sister and her friends to a packed theater, and honestly, I found this found footage sequel better than the original. The Paranormal Activity movies I've seen aren't great, but it's able to scare you in a way that almost feels natural. The formula has become overdone in the latter installment from people who saw them, but there was more in here that made it more effective with a family involved this time around. You don't care about the acting or the rehashed story; all you care about is delivering the scares these cameras capture. There was a jump scare that actually got me and the audience. Seeing it at night made me a little paranoid after leaving the theater.
October 29: 'Saw 3D'
Cast: Tobin Bell, Costas Mandylor, Betsy Russell, Cary Elwes, Sean Patrick Flanery, Chad Donella, and Gina Holden
Directed By: Kevin Greutert
Synopsis: As a fierce battle rages over Jigsaw's (Tobin Bell) terrible legacy, survivors seek support from a fellow survivor and self-help guru, who has a few dark secrets of his own. Meanwhile, crooked cop Hoffman (Costas Mandylor) seeks revenge against Jigsaw's wife and an author who has his own story.
Domestic Box Office: $45,710,178
RT Score: 10%
My Thoughts: Truth Time: I have never watched a single Saw movie in my life, and I don't tend to start now. Why? There shouldn't be pleasure in watching people getting tortured from unique death traps in every movie, which is why I stay away from "Torture Porn." By the time Saw 3D (or Saw: The Final Chapter) came out that Halloween weekend, fans have already become tired of the horror franchise. I heard this was the worst entry at that point, with reviews calling it poorly acted and a plot making little sense, along with a bad twist ending. And I knew they were lying about this being the last one since it didn't have a proper conclusion, and we got Jigsaw seven years later, and the upcoming Spiral now scheduled to come out in May 2021. Who cares?