Looks like it's time for a new edition of Throwback Session- Remember These Movies?. This is the segment where I take a look back at what came out in theaters ten years ago. Shocking how we are already in March, and worrisome in how in the month will treat us. But it might be a good time to reminisce, for better or worse.
During this time a decade ago, I was on spring break, and this was back when we had three weeks off from school. Oh, such good times. That means I was able to see whatever I want before going back the day after Easter. Also, this was around the time of getting my first cell phone: a Samsung GRAVITY T459. Like before, I'll talk about each movie and give my opinions of them, whether or not I've seen them. I'll also include the trailers if you can't wrap your heads around the movie itself.
March 5: 'Alice in Wonderland'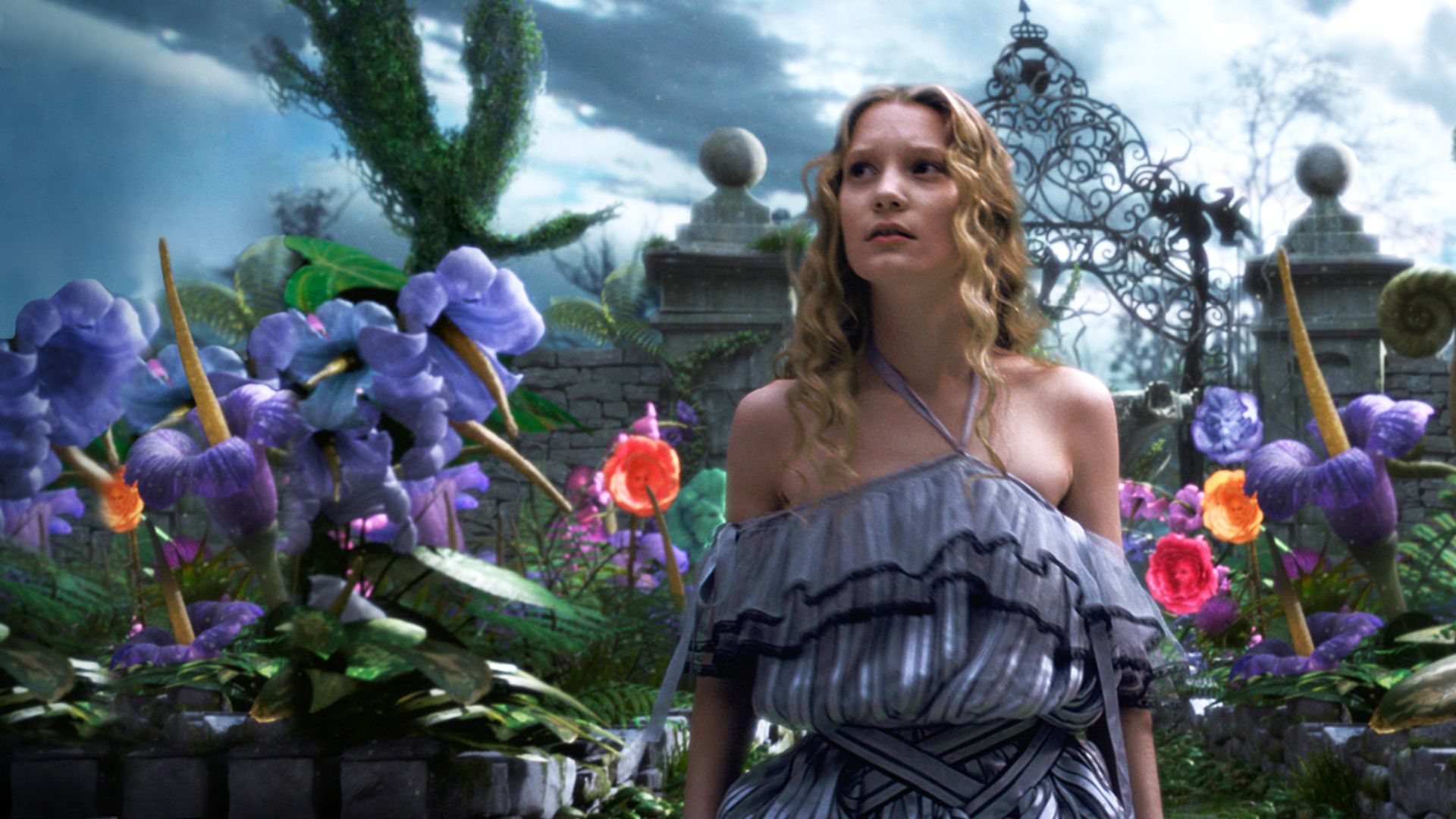 Cast: Johnny Depp, Anne Hathaway, Helena Bonham Carter, Crispin Glover, Matt Lucas, and Mia Wasikowska
Director: Tim Burton
Synopsis: A young girl when she first visited magical Underland, Alice Kingsleigh (Mia Wasikowska) is now a teenager with no memory of the place — except in her dreams. Her life takes a turn for the unexpected when, at a garden party for her fiance and herself, she spots a certain white rabbit and tumbles down a hole after him. Reunited with her friends the Mad Hatter (Johnny Depp), the Cheshire Cat and others, Alice learns it is her destiny to end the Red Queen's (Helena Bonham Carter) reign of terror.
Did I See It? Alice in Wonderland was the first huge blockbuster of the year, and it technically made Disney start the trend of remaking their animated movies after this made over a billion dollars worldwide. Tim Burton's take on the classic Disney movie from 1951 wasn't bad when I first saw in theaters. Thinking about it now, I can't say I'm a fan. Despite the box office success, it received mixed reviews with a 51% on Rotten Tomatoes.
First off, the fact that this is more of a continuation of the animated rather than a straight-up remake was something I wasn't a fan of (same with Dumbo). There were good aspects of the movie I remembered: Wasikowska as Alice was great, the costume design was colorful enough, and Bonham Carter's performance as The Red Queen (minus the huge head) made for a memorable villain. Going over to what I don't like about it now, it relied too much on the visual effects that made it looks throughout the movie dower, there isn't a sense of caring about what this new story brings, and this is one of those occasions where one of Johnny Depp's weird characters wasn't working for me.
Let's just say this isn't one of Depp and Burton's best pairings, but be glad it wasn't another Charlie and the Chocolate Factory on our hands. And don't get me started on its dreadful sequel. But that Avril Lavigne song wasn't bad, though.
'Brooklyn's Finest'
Cast: Richard Gere, Don Cheadle, Ethan Hawke, and Wesley Snipes
Director: Antoine Fuqua
Synopsis: A massive drug operation changes the lives of three conflicted New York cops. Burned-out vet Eddie Dugan (Richard Gere) is close to retirement; narcotics cop Sal Procida (Ethan Hawke) faces the difficult task of caring for his large family on his ordinary salary; undercover officer Clarence "Tango" Butler (Don Cheadle) finds his loyalties beginning to shift toward a powerful drug dealer. Over seven chaotic days, the three men are drawn toward a fateful crime and destiny.
Did I See It? The only time I saw the trailer was when I saw that movie Armored (remember that?), and it didn't look interesting despite Antoine Fuqua directing and the cast. Brooklyn's Finest didn't look like it was straying away from the typical cop dramas that fall under the cliches. From what I remember is that this was the first non-direct-to-video movie Wesley Snipes was in before going to jail for his income taxes.
March 12: 'She's Out Of My League'
Cast: Jay Baruchel, Alice Eve, Mike Vogel, T. J. Miller, Nate Torrence, Krysten Ritter, and Lindsay Sloane
Director: Jim Field Smith
Synopsis: Kirk (Jay Baruchel), an average guy stuck in a dead-end job, can't believe his luck when a gorgeous, successful woman named Molly (Alice Eve) falls in love with him. With no help from his stunned friends, relatives and ex-girlfriend, Kirk must figure out how to make this unlikely relationship work, even though he's the first to admit that Molly is way beyond him.
Did I See It? I saw She's Out of My League in theaters, and it honestly isn't half-bad. Sure, it might not be the best-written rom-com to come out, and it's instantly predictable for a story about a guy dating a woman who is WAY out of his league (get it?), but it can be seen as sweet. Maybe they tried to make this out to be the next There's Something About Mary, but they made the effort. The chemistry between Baruchel and Eve was surprisingly delightful, and this was the first movie I took notice of T. J. Miller, who I hate now, but he made me laugh in this. I might've also liked this because I used to have a crush on a girl named Molly when this was out.
She's Out of My League hasn't been a comedy I re-watched for a long time, but one thing I didn't like was Baruchel's family, who I felt were unlikable and didn't think they were funny at all. Besides that, it's that classic "nice guy gets the girl" movies that are an enjoyable watch. Plus, it had a montage set to "She's So High" by Tal Bachman.
'Green Zone'
Cast: Matt Damon, Greg Kinnear, Amy Ryan, Jason Isaac, and Brendan Gleeson
Director: Paul Greengrass
Synopsis: Chief Warrant Officer Roy Miller (Matt Damon) and his team of inspectors are on a mission in 2003 to find Iraq's reported stockpiles of weapons of mass destruction. Traveling from one dangerous site to another, Miller and his team fail to find any chemical agents or other weapons. Instead, they discover an elaborate coverup in which the most-elusive weapon is truth.
Did I See It? Green Zone didn't look like a thriller that would keep my attention. I checked it out from the library a year later, but I didn't watch it. The combination of Damon and Greengrass worked perfectly in the past with previously working together with The Bourne Supremacy and The Bourne Ultimatum, two awesome sequels. Don't ask me about what I thought of the war in Iraq because I don't have the brains for that, and from what I heard about Green Zone, it's rather forgettable, depending on your stance on politics.
'Remember Me'
Cast: Robert Pattinson, Emilie de Ravin, Chris Cooper, Lena Olin, and Pierce Brosnan
Director: Allen Coulter
Synopsis: Tyler (Robert Pattinson) has had a strained relationship with his father (Pierce Brosnan) since a family tragedy. Rebellious and troubled, he thinks no one can understand his pain, then he meets Ally (Emilie de Ravin). Her warmth and spirit soon begin to heal him, and they fall in love. But just when Tyler begins to rediscover happiness and meaning in his life, emerging secrets threaten their romance.
Did I See It? I made the right move in never seeing Remember Me. Back when this was about to come out, I had this dream about seeing this in a weird indie theater and not liking it. Robert Pattinson has proved himself to be a capable actor after Twilight, but even I can tell this looked like a boring performance he'll give. From what I heard about it, this is melodramatic with nothing redeemable about it except seeing beautiful leads fall in love.
But the thing I heard the most about Remember Me was the ending. Wow! I mean, after reading what happened, that has got to be one of the worst endings I've ever heard in my entire life, and it just appears offensive. If you want to read what went down, Entertainment Weekly posted something in 2013 about not getting over the ending.
'Our Family Wedding'
Cast: Forest Whitaker, America Ferrera, Carlos Mencia, Diana-Maria Riva, Lance Gross, Charlie Murphy, and Regina King
Director: Rick Famuyiwa
Synopsis: Soon after returning from college, Lucia (America Ferrera) and Marcus (Lance Gross) announce their engagement to their parents. Marcus and Lucia realize too late that, although it's their marriage, the wedding belongs to their families. Insults fly and tensions run high when their highly competitive fathers (Forest Whitaker, Carlos Mencia) get involved, threatening to wreak havoc with the couple's special day.
Did I See It? Did anybody see this? Our Family Wedding was quickly forgotten after it came out. I didn't even realize Rick Famuyiwa, the director of the underrated coming-of-age comedy Dope, was behind this. This is one of those many wedding comedies about conflicting families, particularly from different cultures, trying to get along, and I can assure I knew how everything will wrap up. Even with a cast full of talented people, except Carlos Mencia since he's not funny, aren't worth checking out.
March 19: 'Diary of a Wimpy Kid'
Cast: Zachary Gordon, Robert Capron. Devon Bostick, Rachael Harris, Steve Zahn, and Chloë Grace Moretz
Director: Thor Freudenthal
Synopsis: Middle school is not an enjoyable experience for preteen Greg Heffley (Zachary Gordon) but a horrid ordeal of social land-mines that he must bear. To do so, he devises schemes to win him the recognition and status he feels he deserves — all of which fail miserably. Greg chronicles his misadventures, thoughts and opinions in a diary to prepare for the day that he will no longer have to put up with nonsense.
Did I See It? I did, and I think the first three Diary of a Wimpy Kid movies (The Long Haul doesn't exist) are guilty pleasures I quite enjoy. The books by author Jeff Kinney were very popular when I was in grade school, and I can see where it's relatable to most kids when they were growing up. The first installment was by far the funniest out of the bunch, and it came out at the right time for me when I was in middle school.
This was the second movie I saw during my spring break, and there was enjoyment to be found in watching our main protagonist getting through his first year of middle school, thinking he's smarter than everyone around him. I also liked the decision to include animated sequences that's style is like the books. Zachary Gordon was really good in this as Greg, even though the character can be seen as selfish. I always thought this classically combines Max Keeble's Big Move and How to Eat Fried Worms into one. If you want to check it out for yourselves, it's available on Disney+.
'The Bounty Hunter'
Cast: Jennifer Aniston, Gerard Butler, Jason Sudeikis, Jeff Garlin, Cathy Moriarty, Ritchie Coster
Director: Andy Tennant
Synopsis: Milo Boyd (Gerard Butler), a down-on-his-luck bounty hunter, thinks he's seeing an upswing in fortune when he gets a call to bring in his bail-jumping ex-wife, a reporter named Nicole (Jennifer Aniston). Milo considers the job an easy payday, but Nicole quickly escapes to chase a lead on a murder case. The former spouses play an escalating game of one-upmanship, until they suddenly find themselves on the run for their lives.
Did I See It? Unfortunately, yes. The Bounty Hunter wasn't something I wanted to see at first, but I checked it out for $5 4 weeks after it came out. At first, I thought it wasn't very good, yet I didn't hate watching it. But as I grew up, I now realize how awful this turned out to be. Sitting through the bad performances/ chemistry between Aniston and Butler was embarrassing, especially when Butler is using a New York accent trying to disguise his Scottish accent. Back then, Aniston was one of those actresses that couldn't catch a break with the roles she picks and you just feel bad.
Try to think of this as a cross between The Mexican and The Ugly Truth (another stupid rom-com with Butler), and what you get is a very predictable rom-com that offers no laughs or charm to the point of knowing they will get back together. You know it will be bad when Sean Kingston's "Fire Burning" played during the opening credits and Kesha's "Your Love Is My Drug" gets played during the end credits. A movie so bad that it was nominated for 4 Razzies.
'Repo Men'
Cast: Jude Law, Forest Whitaker, Liev Schreiber, Alice Braga, and Carice van Houten
Director: Miguel Sapochnik
Synopsis: In the future, medical technology has advanced to the point where people can buy artificial organs to extend their lives. But if they default on payments, an organization known as the Union sends agents to repossess the organs. Remy (Jude Law) is one of the best agents in the business, but when he becomes the recipient of an artificial heart, he finds himself in the same dire straits as his many victims. With his former partner (Forest Whitaker) in hot pursuit, Remy runs for his life.
Did I See It? As much as Repo Men is a sci-fi movie that has a cool premise that sounds it could've come straight out of a Philip K. Dick story, I had a feeling it would not be entertaining. I've heard from multiple people that it suffers from an identity crisis in what it wanted to be. To my surprise, Sapochnik is the same guy that directed the last two episodes of Game of Thrones season 6. Imagine if this was a company that could happen soon. That's not a job that I want to get my hands bloody.
March 26: 'How to Train Your Dragon'
Cast: Jay Baruchel, Gerard Butler, Craig Ferguson, America Ferrera, Jonah Hill, Christopher Mintz-Plasse, T. J. Miller, and Kristen Wiig
Director: Chris Sanders and Dean DeBlois
Synopsis: Hiccup (Jay Baruchel) is a Norse teenager from the island of Berk, where fighting dragons is a way of life. His progressive views and weird sense of humor make him a misfit, despite the fact that his father (Gerard Butler) is chief of the clan. Tossed into dragon-fighting school, he endeavors to prove himself as a true Viking, but when he befriends an injured dragon he names Toothless, he has the chance to plot a new course for his people's future.
Did I See It? How to Train Your Dragon was one of my favorite movies of the year. I won't say too much since I'm planning to do a throwback review of the film later in the month, but this is one of the best DreamWorks Animation movies since Shrek 2. This is one of those movies I wasn't expecting a lot out of it since the trailers didn't appeal to me. It blew me away with how much I enjoyed HTTYD and how important this relationship between Hiccup (voiced by Jay Baruchel) and Toothless turned out to be. There's nothing forgettable with the beautiful animation, and an awesome score by John Powell.
Be on the lookout for a full review of this on its 10th anniversary, where I'll try to go full in-depth about it.
'Hot Tub Time Machine'
Cast: John Cusack, Rob Corddry, Craig Robinson, Clark Duke, Crispin Glover, Lizzy Caplan, Sebastian Stan, and Chevy Chase
Director: Steve Pink
Synopsis: Four pals are stuck in a rut in adulthood: Adam (John Cusack) has just been dumped, Lou (Rob Corddry) is a hopeless party animal, Craig (Craig Robinson) is a henpecked husband, and Jacob (Clark Duke) does nothing but play video games in his basement. But they get a chance to brighten their future by changing their past after a night of heavy drinking in a ski-resort hot tub results in their waking up in 1986.
Did I See It? Here's a quick story: Since this was an R-rated comedy and I was 13 when it came out, I usually get to see them by myself if my parents were there at the box office to pay my ticket. Except, this was one of the rare times I couldn't be let in, even though I consider myself a mature teenager. So I missed it that day. But it all worked out since my mom saw it with me the next day with no problems.
Hot Tub Time Machine has a funny enough premise that had the potential to be the next Bill & Ted's Excellent Adventure or The Hangover. Over the years, I'm surprised most people don't think this was funny. Is this a comedy that holds highly as one of the greatest ever made? No, but I had fun with it. They made this for those who grew up in the '80s and want a movie like this to be filled with familiar references and a sweet soundtrack, which includes Mötley Crüe. Do all the jokes work? Thinking it back, not really. There was this funny running gag throughout the movie where Crispin Glover might lose his arm.
Cusack and Robinson's likeness made it watchable; that goes the same with Duke. I will agree that Rob Corddry was annoying as Lou and he came across as obnoxious.
Even though this leaned in on the crude humor, the script could've used more heart. However, I don't hate the movie. What are my feelings about the 2015 sequel? Well, why was it made to waste my time in not making me laugh?
March 31: 'The Last Song'
Cast: Miley Cyrus, Liam Hemsworth, Greg Kinnear
Director: Julie Anne Robinson
Synopsis: Unruly New York teen Ronnie Miller is angered to learn that she and younger brother Jonah are being sent to stay with their father for the summer. The talented young pianist is already grappling with her mother over her refusal to attend the prestigious Juilliard music school, and is in no mood to spend the holidays away from her friends in a small Southern beach town.
Did I See It? Nope. In the same year Dear John came out, I didn't care one bit about The Last Song due to being based on Nicholas Sparks' novel. This drama is only famous for launching the relationship between Miley Cyrus and Liam Hemsworth, as they were a couple that was very on-again, off-again so many times. They married two years ago but separated last August. This was coming out at a time where I stopped caring about her and the trailer didn't sell me.
Question: Have you seen any of the movies I talked about? If so, do you think they still hold up today? Did you also sit through The Bounty Hunter and wondered if Jennifer Aniston fired her agent?