Everybody who knows me knows for a fact that I have a passion for loving movies. Movies are one of the many things I care about in life, and it's the kind of field I want to work for in the near future. But some might not know that my second favorite form of entertainment is music.
Listening to music gives me a sense of freedom in my everyday life. I love discovering new music from all types of artist, and I just love jamming out to whatever comes on the radio or anywhere. I don't have extensive knowledge for it, but I never realized that music can express all kinds of feelings and knowing people love the same kind of music as me. For me, there are two genres that get me in the zone: Rock and Alternative. But if you were to ask me what my top 5 bands that I listen to on a daily basis, my answer would be Muse, Imagine Dragons, Queen, Foo Fighters, and AC/DC. But I've been wanting to talk about Imagine Dragons for a while now.
"If you love somebody, better tell them while they're here 'cause they just may run away from you."
-Imagine Dragons, On Top Of The World
There's just something about this Las Vegas native band that reaches out to me. I discovered them around late 2012. It was the song "Radioactive", off their EP Continued Silence, that made me go, "Woah, that was incredible." The first heard it was in the trailer to The Host, and the rest is history. That was the song that pointed my direction towards them. Fun Fact: I sang this for my audition for choir in junior year of high school. So, I have to give them thanks for putting me in a much better choir class.
Seven years later and I'm still in love with Imagine Dragons. There's just something about the band's sound that feels unique and different from the rest of the other alternative bands out there. I just love how popular they've become over the past few years and how fans have come to respect them. Dan Reynolds, Daniel Platzman, Ben McKee, and Wayne Sermon have given us fans some of the most creative music that's out there for our pleasure. When your band sold over 12 million albums, has 35 million singles worldwide, and has music videos with millions of views, how could not at least think they're good?
What I care for about their music is that they are able to bring in a new sound to almost every one of their songs. This is the kind of pop-rock that's perfect for my taste. From how I view the songs, "Whatever It Takes" is all about motivation to oneself and doing what it takes to accomplish anything; "Gold" talks about how fame isn't gonna be all that everything one will expect it to be; "It's Time" reaches about a powerful message about changes and choosing our own destiny to make things right for ourselves, and "Walking the Wire" to where it's about taking chances on a relationship and being devoted to one another into making everything work in its path.
So far in their career, Imagine Dragons isn't a band that hasn't been flagged with controversy, unlike the usual suspects that been associated with trouble. None of their music videos or most of their lyrics involves sex, drugs, or swearing? That's the kind of band I appreciate nowadays. There's never a point where their songs get obnoxiously loud and give me a headache. They haven't been in the news where they said anything offensive. I get pumped up whenever they release a new single because I know I and everyone else is in for a treat for what could be a dreadful day.
Anytime I'm driving for a long distance from campus to back home, I'll always have a Spotify ready. At that point, I will turn up the volume and sing all to myself. I easily know almost all the words to their songs in a matter of seconds. I've listened to "Whatever It Takes" over a dozen times during the summer of 2017 because it's that amazing. Their discography, as a whole, is just relaxing depending on the mood.
It's crazy how the group has only been nominated for four Grammys and only winning once for Best Rock Performance ("Radioactive").
Though I put their style in the alternative group, the band's musical style tends to be different throughout their albums. Going from a pop rock-type tune to something more a fast-paced electronic style of music.
And just like with anything that becomes insanely popular over time, the occasional occurrence that it's going to be hated on by basically everybody. That's the thing that I get frustrated the most when something good needs to be hated for fun when it comes down to music and movies, respectively. Want to know who did it for me? Corey Taylor, frontman of Slipknot. His comments about how he thinks Imagine Dragons have dethroned Nickelback as the "Worst Band In The World" just infuriated me, and it just shows that artists don't give a crap when expressing their opinions. Did they hurt someone's dog? Why the need to trash the group and ruin everybody's fun?
Below is what Dan Reynolds put out on Twitter and Instagram after what Taylor said about them.
I respected what Dan had to say. Artists dissing other musical artists is a common occurrence in the music industry, but I never understand why someone needs to start a beef with someone. I assume Taylor called the band out for attention? When Dan stated, "I wish it felt like a place where artists stood by each other and supported one another- regardless of our different tastes and voices", we should all just get along and not cause any bad blood. I feel like Dan and his bandmates should be proud of the success they've made since they became famous. Why the need to bash them? To be cool?
This year, 2019, was the year that I couldn't take the hate anywhere. And if it means defending the living hell for them, then let it be. First, it was their halftime performance for the 2019 College Football Championship game. Everybody was exaggerating say it was horrible. I thought it was fine (except when Lil Wayne came in), but not every artist is gonna sound the best live. This wasn't like Ashlee Simpson and that cringe-worthy performance at the 2005 Orange Bowl.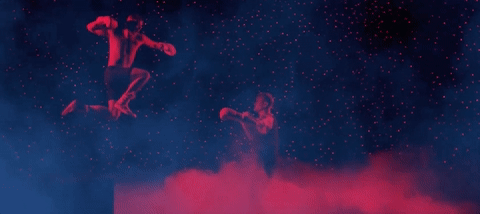 Then it was constant comparisons between Imagine Dragons to Nickelback, which is really insulting to both fans and the band itself. It is the "cool thing" to hate on Nickelback, but I've never liked their music in the first place. At least I can understand what Reynolds is singing since Chad Kroeger is mumbling throughout every song. But in all seriousness, nobody should use the band as a joke.
That's not to say that all of their albums (Night Visions, Smoke + Mirrors, Evolve, Origins) that have been released are the greatest things in the world. All of them have gotten mixed reviews from critics. There is a hand full of songs from their four albums that are great, while some do feel more to be desired. There's always a process that comes with certain bands and their songs where a certain song doesn't connect with you at first. But then it grows on you as time continues. I'm not at that point where I get tired of them.
When they contribute to a soundtrack to a movie, the song itself is probably the best thing about a mediocre movie. The only exception is Ralph Breaks the Internet, because that is a great movie. But with average-to-terrible movies like Transformers: Age of Extinction ("Battle Cry") and Passengers ("Levitate), their songs would be the only saving grace when it plays during the end credits. People have since complained about how they appear in almost every movie trailers in the past few years. Whenever a Kayne song is thrown in, it makes the movie look worse because his music doesn't match the tone. Look at the trailers for Mission: Impossible- Fallout (trailer below) or Wonder Woman; both used songs from ID and they fit perfectly.
Everybody preferences aren't going to be the same, and that's what makes us different. It's the same about not loving a certain genre of music. Our choices in music say a lot about a person. For me, I don't care about Country, but that doesn't mean I'm going to rip it to pieces. And regardless of the background of our religion and/or ethnicity, we should be able to enjoy any type of music that we choose to listen to.
Hearing negative things about the band is frustrating to ignore. But the truth is I love Imagine Dragons. Their style of music gets me going. Because of them, they're one of the few bands who is saving rock, in my opinion. And guess what? They aren't going anywhere. If you don't like their music, just don't listen to them and bag on the people who enjoys them. It's that simple. One of my goals in life is seeing them in concert. They came to Indy this past summer, but I couldn't get tickets. One day that will come true. To me, I consider them the "Underdog" band of the decade.
Top 10 Favorite Songs:
"Radioactive"
"Demons"
"It's Time"
"Whatever It Takes"
"On Top Of The World"
"Believer"
"Natural"
"I Bet My Life"
"Gold"
"Friction"